2023 IIHF World Junior Championship
2023 World Juniors Observations: Bedard's Brilliance; Czech-Slovak Revival
2023 World Juniors Observations: Bedard's Brilliance; Czech-Slovak Revival
Connor Bedard's record-chasing performances, Sweden's perfection and the overall competitive balance of this tournament have been big WJC storylines.
Dec 30, 2022
by Chris Peters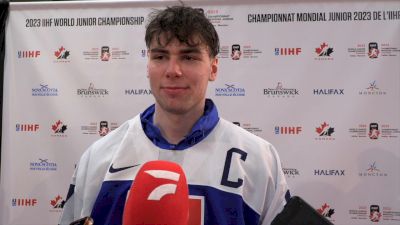 MONCTON, New Brunswick -- The 2023 World Juniors has been memorable for two things: The incredible games we've been treated to with unexpected results and Connor Bedard.
The 17-year-old phenom has lit up the scoresheets and through just three games has 14 points. The projected No. 1 pick in the 2023 NHL Draft may have done the biggest damage against weaker opponents, but it doesn't really matter who you are or who you're playing, 13 points over a two-game span is utterly absurd.
As we head into the final day of preliminary-round play, here is more on Bedard and a number of other notable topics I've observed on the ground at the 2023 World Juniors.
Connor Bedard's Brilliance In Context
The hockey world is buzzing over Connor Bedard right now and why wouldn't it? With 13 points over his last two games, he's running away with the tournament scoring title and has his sights set on rewriting Canadian record books and he's all doing it as an under-ager at this tournament. He'd technically have the eligibility to play twice more in this event, but we're all guessing he'll be pretty busy in the NHL instead.
Yes, Bedard and Canada played Germany and Austria in the games where Bedard had seven and six points, respectively, but there are only three other players who have scored at least seven points in a single game in the last 30 years. Bedard was also his team's best player in their loss to Czechia and has looked like he's taken it upon himself for this to be his World Junior. He dictates just about every shift he plays and is the offensive engine that drives Canada.
Connor. Bedard. Wow.#WorldJuniors pic.twitter.com/M6ie1gabqI

— TSN (@TSN_Sports) December 30, 2022
The way the record books look for Bedard is a little wonky, though. Apparently the IIHF will be counting stats from the cancelled 2022 World Junior Championship that was restarted last summer. Before that tournament was postponed, Bedard had four goals and an assist.
Those points still count towards his career ledger, which now reads 12 games played, 14 goals scored, 13 assists, 27 points. The 14 goals matches Jordan Eberle's Canadian record for most career goals at the World Juniors. It also puts Bedard in a position to break Eric Lindros's Canadian career record for points at the World Juniors as Lindros had 31 points over 21 games in three trips to the tournament.
BEDARD MAKES HISTORY 🚨

Connor Bedard has tied Jordan Eberle's Canadian record for most goals at the #WorldJuniors with 14 🇨🇦 pic.twitter.com/HOhu12CZMe

— TSN (@TSN_Sports) December 30, 2022
Peter Forsberg is the tournament's all-time leading scorer with 42 points collected over two tournaments.
Bedard's run at history here is pretty special, but the games only get harder from here and those are the games he'll ultimately be evaluated on closest. But even if you just look at how Bedard has played this winter relative to the summer World Juniors, you can see the marked improvement in his game.
He's stronger, he might be a touch faster and he's certainly more assertive. He was putting up points even when his foot was off the gas because he just makes the right play all the time. It's remarkable to watch.
Canada has their biggest game yet, with a chance to climb back into first if they can get some help. The only way to give themselves a chance though is to beat Sweden in regulation. It should be a fantastic closer for an awesome slate of games on New Year's Eve.
Sweden Near Perfect Thanks To Lindbom
Sweden has had a spectacular start to the tournament after a fairly rocky pre-tournament showing. The Swedes are undefeated and have collected eight of a possible nine points through three games. The Swedes can secure first in the group with a win of any kind over Canada Friday.
While all the talk surrounded their forwards as the strength of the team coming into the tournament, it's been goaltender Carl Lindbom (VGK) that has been the biggest reason for their success. Lindbom has played every minute of every game and has allowed just two goals over 181:35. He has a .974 save percentage. Granted, his two shutouts were against Germany and Austria, but he's been stopping an awful lot of pucks, 74 shots to be exact, over his three starts.
In Halifax, it's scoreless between 🇸🇪 Sweden and 🇨🇿 Czechia. Carl Lindbom has made some great saves in the first period, like this one. #CZESWE #WorldJuniors @Trekronorse @narodnitym

📱Download the IIHF App: https://t.co/disMCd9VW4 pic.twitter.com/EQB7j2v8Zv

— IIHF (@IIHFHockey) December 29, 2022
Even against Germany, Linbom had to be sharp as the German power play got a lot of good looks. Against Czechia, his goaltending was a major factor in the game. There has been a lot of talk about goaltending uncertainty in this tournament, but Lindbom has the inside track on being the top goalie in this event.
Before he can get there, though, he and Sweden are about to face their toughest test of the tournament against Canada.
Czechs, Slovaks Making Noise
At one point part of the same country, both Czechia and Slovakia have continued to produce players as two separate nations, but they haven't necessarily produced the results on the international stage. Now each is in a position to win their group. If Slovakia can beat Switzerland in regulation and USA beats Finland in any fashion, Slovakia is first in Group B. If Czechia beats Germany and Canada beats Sweden, Czechia takes the top seed in Group A.
You can read more about the various scenarios each team faces to win their group right here.
Another upset on Day 1 of the #WorldJuniors!

Czechia stuns Canada with a big 5-2 win. pic.twitter.com/zT1U1GdbjH

— TSN (@TSN_Sports) December 27, 2022
It's been a remarkable tournament for both teams as both look at least threatening to win a medal. Czechia, whose lone blemish is a tight OT loss to Sweden looks to be the bigger threat of the two to come away with a medal. If they do, it will be their first since 2005. Led by a tremendous D corps headed up by No. 6 overall pick David Jiricek and captain Stanislav Svozil, both Blue Jackets prospects, they seem to have a lot of the pieces in place to make this work.
As for Slovakia, they've gotten tremendous goaltending from relative unknown Adam Gajan, who beat the U.S. and shut out Latvia. Adding steady goaltending to a team that has a number of good offensive weapons and a D corps led by No. 2 overall pick Simon Nemec (NJD), there's plenty of reason to hope. I don't think Slovakia has the depth the Czechs do, but they have enough to be a threat.
🇸🇰 SLOVAKIA GOAL 🚨

Simon Nemec the #2 overall pick in the 2022 NHL Draft goes underneath the blocker and scores for @HockeySlovakia 🏹

🇸🇰 2-0 🇱🇻#SVKLAT #WorldJuniors pic.twitter.com/J4OiNWAEAM

— IIHF (@IIHFHockey) December 30, 2022
After years of these two teams straining for relevance at this level, to see them as competitive as they've been is great news for the WJC as a whole.
When Slovakia had natives Juraj Slafkovsky and Nemec go first and second in the draft, it seemed to be a watershed moment. Add in Filip Mesar later in the first by Montreal and it may as well have been a national day of celebration. This year, more Slovaks have a chance to go early in the draft including Dalibor Dvorsky, who has had an outstanding World Juniors.
It's been a long time since both of these teams have been this good at this level and you have to hope it's a sign of things to come. These teams have already shown they can hang with anybody in this tournament, but both teams have remained focused on the task at hand. This strong run through the preliminary round will not feel complete without some hardware.
News, Notes And Stats From The Tournament
Connor Bedard leads the tournament in scoring with 14 points. He has double the points of the next closest player, teammate Logan Stankoven (DAL), who has seven points. Eight other players are tied for third in tournament scoring with five points each.
Sweden's Ludvig Jansson (FLA), Czechia's Stanislav Svozil (CBJ) and Canada's Olen Zellweger (ANA) are tied for the scoring lead among defensemen. Each has five points.
Slovakia will be without 2023 NHL Draft first-round candidate Samuel Honzek, who sustained a lower-body injury against the U.S. Wednesday. He was replaced on the roster by Martin Misiak.
Topias Vilen (NJD) is leading all players in average ice time through three games with an average of 27:23 played for Finland so far. Slovakia's Simon Nemec (NJD) is second with an average of 26:22 per game through three games.
Adam Gajan (2023), who was added to Slovakia's team after they made their initial roster announcement, has won each of his first two World Junior starts. He stopped 95% of the shots he faced through two games, including all 28 he saw against Latvia in his first career WJC shutout.
Slovakia's Robert Baco sat out Friday's game against Latvia after he was suspended for a hit he delivered on USA's Gavin Brindley at the end of regulation of Wednesday's contest.