2023 IIHF World Junior Championship
2023 World Juniors: Quarterfinal Seeding Scenarios For New Year's Eve Games
2023 World Juniors: Quarterfinal Seeding Scenarios For New Year's Eve Games
Three teams in each group have a chance to take the top seed heading into the quarterfinals at the World Juniors in a year of unprecedented parity.
Dec 30, 2022
by Chris Peters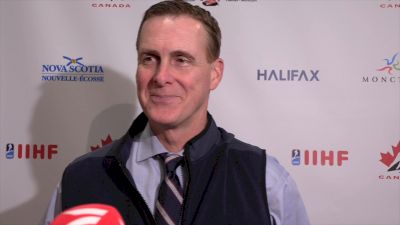 MONCTON, New Brunswick – Over the years, the World Junior Championship's competitive balance or lack thereof has been a major storyline. However, only one of the 10 teams failed to secure at least one standings point and only one team managed to get to New Year's Eve undefeated. Parity has seemingly never been better.
Finland's upset at the hands of Switzerland and Canada's stunning loss to Czechia on opening day proved to only be the beginning. Slovakia beat the United States handily, Germany held the high-scoring Swedes to just one goal before ultimately losing 1-0, and Latvia was two minutes from beating Switzerland. On top of that, we got one of the most competitive games of the tournament between Czechia and Sweden that went down to the wire and was decided in overtime.
With the exception of Austria, which is missing its best player in the age group (not that it would have helped all that much), allowing 31 goals through three games and Canada's game against Germany, pretty much every game has been at least competitive. That's a great thing for the World Juniors.
It's an especially good sign for Slovakia and Czechia, which has been a bit adrift over recent years at the U20 level. However, with legitimate star players that have some WJC experience already, they're competing and have legitimate medal hopes in this tournament.
Even Latvia, which was bounced to the relegation round Friday by losing to Slovakia, made every team that beat them work for it. The U.S. was tied 2-2 with them heading into the third period. They pushed Finland around at points in an eventual 3-0 loss and did the same against Slovakia. Their scores do not show how well they ultimately played.
The fact that there are three teams on each side of the bracket with a legitimate shot at first place in the group on the last day of the preliminary round is remarkable. It sets up an absolutely tremendous New Year's Eve slate of games where every single one of them matter.
Here's the schedule for Saturday (all times ET):
Switzerland 4 - Slovakia 3 (Shootout)
Czechia 8 - Germany 1
USA 6 - Finland 2
Canada 5 - Sweden 1
Here's all of the different factors that could be in play on a massive final day of preliminary play.
Quarter Final Seeding Scenarios (UPDATED)
When I graduated from journalism school, I was told there would be no math. Turns out, there's a lot of math at the World Juniors. Especially when we have the three-point system that I actually think works really, really well (just a thought, NHL).
So let's see if we can break this down here...
The standings going into the World Juniors look like this in both groups:
Updated 12/31, 9:08 p.m. ET
Group A: Czechia (10 points) 2. Canada (9 pts), 3. Sweden (9 pts), 4. Germany (3 pts), 5. Austria (0 pts)
Group B: 1. USA (9 pts), 2. Finland (7 pts), 3. Slovakia (7 pts), 4. Switzerland (6 pts), 5. Latvia (1 pt).
Czechia won Group A thanks to Canada beating Sweden in regulation. That put Canada into second place and Sweden into third.
Germany is solidified in fourth place in Group A.
In Group B, USA won the group with a win over Finland. The Finns finished second with the head-to-head tiebreaker with Slovakia.
Slovakia lost to Switzerland in a shootout and finished third in the group. They needed Finland to win to finish second.
Despite winning three of its group-stage games in overtime, Switzerland is locked into fourth place and will play the winner of Group A in the quarterfinal in Halifax.
We still won't know until the end of the day's games who plays who in the quarterfinals, but those are set up as follows. (Check back for updates throughout the day).
FINLAND vs. SWEDEN - 11 a.m. ET
CZECHIA vs. SWITZERLAND - 2:30 p.m. ET
USA vs. GERMANY - 4 p.m. ET
CANADA vs. SLOVAKIA - 7:30 p.m. ET
Regardless of seeding, Canada is staying in Halifax. So if they end up finishing third in their group, which is a possibility, the second place team from Group B, which is stationed in Moncton, will have to travel to Halifax to play Canada. Should Canada finish in the top two spots, there's no additional movement necessary for the top-seeded teams.
Basically, you won't want to leave your couch on Saturday from 11 a.m. until well after dinner. The World Juniors is on NHL Network in the U.S. and TSN in Canada.