2022 Des Moines Buccaneers vs Waterloo Black Hawks
Rinzel, Finley Highlight USHL Stars To Watch At World Junior A Challenge
Rinzel, Finley Highlight USHL Stars To Watch At World Junior A Challenge
With a roster comprised exclusively of USHL players, Team USA has eyes on winning the World Junior A Challenge.
Dec 9, 2022
by Chris Peters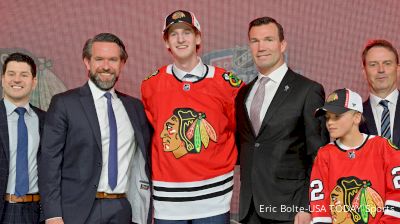 The 2022 World Junior A Challenge is back after a two-year absence thanks to the pandemic. The mid-season event has often been a fruitful scouting ground for NHL teams as it allows them to see USHL and Canadian Junior A players in a different environment from their regular teams, and also gets some extra views of top European players.
This year's event, which begins Sunday in Cornwall, Ontario, will feature the United States, two Canadian regional squads – Canada East and Canada West – plus Sweden and Latvia. Sweden is bringing its primary U18 national team which features a number of high-end draft prospects led by Otto Stenberg. The tournament is played in a round-robin style to determine the top four teams that advance to the semifinals. The championship game will be held Dec. 18 in Cornwall.
The U.S. Junior Select Team that will compete in this tournament will be made up entirely of USHL players and led by Sioux Falls Stampede head coach Eric Rud. You can see the full roster here.
There are five NHL draft picks on USA's roster highlighted by Chicago Blackhawks first-round pick Sam Rinzel. Additionally, a number of players on the roster are in their first year of draft eligibility, making this an important event for them to showcase themselves in front of a lot of NHL scouts that will be on hand.
With the tournament set to begin Sunday, here's a look at several of the players to keep a close eye on as the tournament progresses for Team USA.
Team USA Players To Watch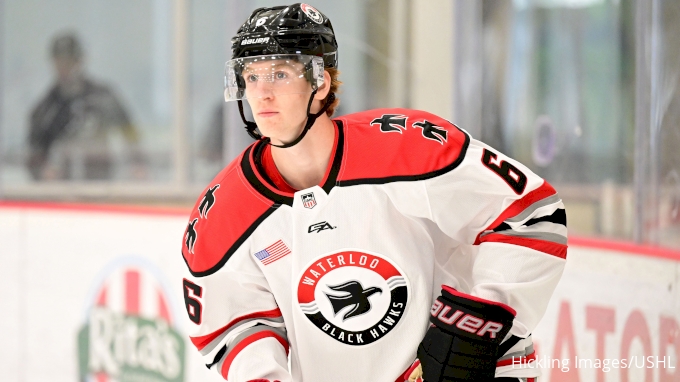 Sam Rinzel, D, Waterloo Black Hawks (CHI): The spotlight is always brighter when you're a first-round pick as Rinzel is. The 25th overall pick from last year's draft will be looked to for quality minutes and strong play at both ends of the ice. Rinzel is a remarkable skater and has some quality puck skills. He has 11 points in 19 games, which might be a bit below what you'd hope from a first-rounder, but he's still developing and still has some rawness in his game. That said, Rinzel is a graceful skater who can make a lot of plays and has continually improved in the defensive elements of his game.
Garrett Brown, D, Sioux City Musketeers (WPG): A big, right-shot defenseman picked 99th overall by Winnipeg last year, Brown has championship pedigree as he helped the Musketeers win the Clark Cup last season. The U.S. will likely be looking to Brown to play meaningful minutes and see a lot of the opposition's top lines. The San Jose native and Denver commit is developing quite nicely and should be an impact player for Team USA in this tournament.
Quinn Finley, LW, Madison Capitols (NYI): One of the more dynamic players in the USHL, Finley has puck skills for days. He's been trying to get bigger and stronger to be a bit tougher to play against and this season he's been a force in the USHL despite Madison's struggles. A third-round pick of the Islanders, Finley has 23 points in 18 games and has become one of the league's premier set-up men. The Wisconsin commit should stand out in this environment.
With the 78th selection of the 2022 #NHLDraft the #Isles select Quinn Finley.#LGI | @Jackpocket pic.twitter.com/fTlvwLGXpY

— New York Islanders (@NYIslanders) July 8, 2022
Jake Richard, C, Muskegon Lumberjacks (BUF): Drafted in the sixth round by Buffalo in 2022, Richard is having an excellent second season in the USHL. The Jacksonville, Florida native is up to 22 points through 19 games with Muskegon and has been a key driver for their offense. He has good size and strength among his peers, which allows him to win a lot of battles and get a lot of chances in tight to the net.
Alex Bump, LW, Omaha Lancers (PHI): After splitting last season between Omaha and Prior Lake H.S. in his native Minnesota, Bump is a full-timer with Omaha now and is averaging close to a point per game. He is the Lancers' leading scorer and has showcased the high-end skill that made him a draft pick last year. He has tacked on more strength this year and it's paying off on the scoresheet.
Cole Knuble, C, Fargo Force (2023+): Passed over in the 2022 draft, Knuble appears to be motivated and thriving in Fargo this season. Among the top scorers in the USHL with 27 points in 20 games, Knuble has been dominant in a lot of his games this season. He plays with good pace and has some clear puck skills. He's not the biggest guy, but the work ethic and compete are there. I think he's got a better shot at being picked in his second year of draft eligibility.
Congratulations to Force forward Cole Knuble (@c_knubz22) and Force defenseman Joe Palodichuk (@JoePalodichuk) on being named to the 2022 U.S. Junior Select Team!

📄 https://t.co/GcS0ovdwxd pic.twitter.com/qFKaak6V0f

— Fargo Force (@FargoForce) November 16, 2022
Andrew Strathmann, D, Youngstown Phantoms (2023): Averaging nearly a point per game this season from the back end, Strathmann has been an impactful presence despite Youngstown's struggles this year. The North Dakota commit is a higher-end skater who can navigate the ice well and is always looking to generate something. He moves pucks well and defends adequately. I'd expect him to play a substantial role on USA's power play.
Jacob Fowler, G, Youngstown Phantoms (2023): It's been a bit of an up-and-down season for Fowler as he made the full-time transition to the USHL this year after appearing in 18 games last season and performing quite well. In 15 games this season, he has a .906 save percentage, but did record two shutouts. When he's on his game, he's very tough to beat, but Youngstown had some early struggles that negatively impacted his numbers. Fowler was even in the mix for a spot on USA's World Junior Championship team, but playing in the WJAC should give him a great opportunity to showcase what he's capable of.
Mac Swanson, W, Fargo Force (2024): Swanson will become just the second 16 year old in the history of this tournament to play for Team USA. The last player to do it was defenseman Ian McCoshen, then of the Waterloo Black Hawks. It speaks to how special a season Swanson is having. The North Dakota commit is averaging better than a point per game on one of the league's top teams. Though undersized, it hasn't slowed Swanson down at all. Just making the team at his young age is a huge accomplishment for the Alaska native, but he should have a chance to put up some numbers, too.