USHL Clark Cup Final Game 2 Highlights: Andon Cerbone Scores OT Game-Winner To Give Youngstown A 2-0 Series Lead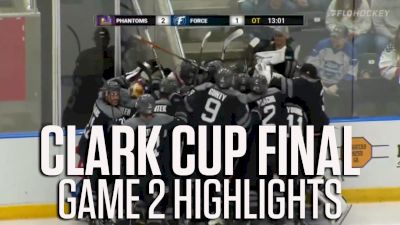 The Youngstown Phantoms earned a 2-1 win in overtime against the Fargo Force to take a 2-0 series lead in the Clark Cup Final.
Miles Gunty opened the scoring for the Phantoms in the second period, while Bret Link evened the score for Fargo. That set up overtime, which ended with Andon Cerbone's snipe from distance to give Youngstown the game.
Phantoms goalie Jacob Fowler made 30 saves in the contest as his team is now just one win away from being crowned Clark Cup champions.