Allen Americans, Idaho Steelheads Show Solidarity Ahead Of Game 2 Of Kelly Cup Playoffs Series To Honor Victims Of Allen Mass Shooting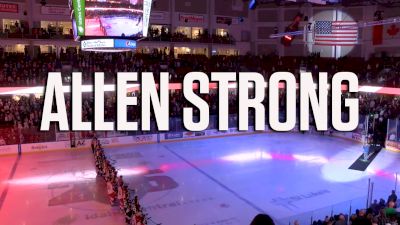 The Allen Americans and Idaho Steelheads lined up together on the red line for a stirring rendition of the national anthem in a show of solidarity after Allen tragedy before the puck dropped on Game 2 of their Kelly Cup Playoffs series.
Game 2 was originally due to be held in Allen on Saturday, but was postponed following the mass shooting at an outlet mall less than a mile from the Americans' home arena. The series scheduled was adjusted to have Games 2-5 played in Boise.
A packed house saw the Steelheads take a 2-0 series lead, but many Idaho fans in attendance were holding "Allen Strong" signs. Both teams also wore "Allen Strong" decals on their helmets for the game.
Should the series make it to Games 6 or 7, both of those games will be played at the Credit Union of Texas Event Center in Allen.