2022 Kalamazoo Wings vs Florida Everblades
Dominic Franco Making Impact, Leading Scoring For Everblades
Dominic Franco Making Impact, Leading Scoring For Everblades
It could be considered a surprise that, with all the firepower the Florida Everblades have on their roster, Dominic Franco is the team's leading scorer.
Dec 1, 2022
by Mike Ashmore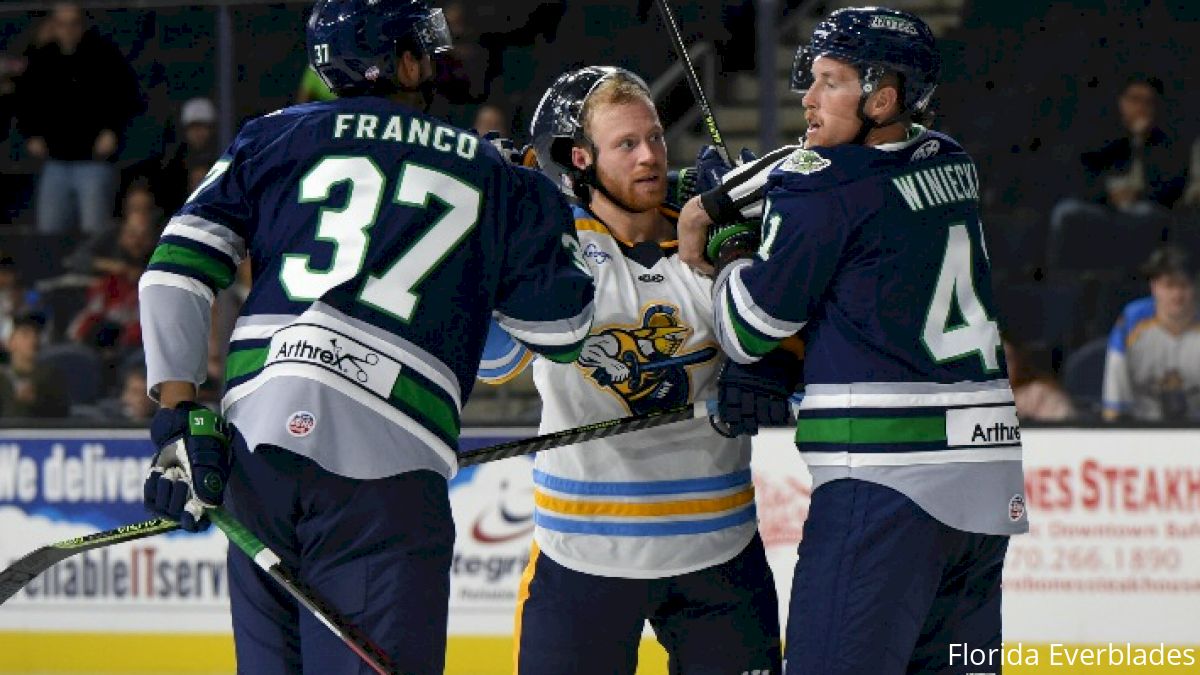 Heading into the final few games in November, it could be considered somewhat of a surprise that, with all the firepower the Florida Everblades have on their roster, Dominic Franco is the team's leading scorer.
Then again, if anyone knows about actual, real firepower, it would be Franco.
In 2019, he became the first Army athlete to sign a professional hockey contract. It came after the United States Secretary of Defense endorsed a policy that finally made it possible for exceptionally talented athletes who had graduated from a military service academy to pursue pro careers.
The 26-year-old Rhode Island native was one of the captains of the hockey team at West Point and says he had an unforgettable four-year experience playing there.
"I didn't know much about West Point or the service academies going in, but once I went down there, I fell in love with the place," Franco said via cellphone. "It definitely wasn't what I was expecting. It was a lot more challenging and rigorous than I ever could have imagined.
"I think the lessons you take out of West Point, the people you meet and the character development you get from going through a place with countless individuals is what makes that place so special. It makes me hold it close to home. I'm really glad I ended up there, and I'm proud to say I'm a graduate."
Even as a prolific scorer for Army in the AHA who potted double-digit goals in each of last three seasons, a career in pro hockey only started to become realistic during his junior year, in which there finally was some traction to change the rule, one that ultimately prevented a former Everblades goaltender Parker Gahagen from starting his career right away under similar circumstances.
Midway through Franco's senior campaign, the change officially went into effect, and he signed an American Hockey League contract for the 2020-2021 season shortly thereafter.
Franco now is on an eight-year reserve contract with the military that also requires him to promote and endorse the Army while he's playing, delaying his commissioning and subsequent service obligation.
While it's something he says he thinks about sometimes, and that he'll be ready whenever the time comes, it's also clear his playing days are far from over.
🚨SOUND THE SIRENS🚨

A SHORTY BY DOMINIC FRANCO!!! pic.twitter.com/o3czjLvzSZ

— Florida Everblades (@FL_Everblades) November 17, 2022
The 6-foot-5, 218-pound center spent all of his first professional season with the Rochester Americans, putting up modest numbers - both then and during several stints there last year as well - before a stay with the ECHL's Cincinnati Cyclones helped get his career back on track.
He posted 10 goals and 11 assists in 26 regular season games and added three more points in seven Kelly Cup Playoffs contests, making him once again a valuable commodity in free agency during the offseason.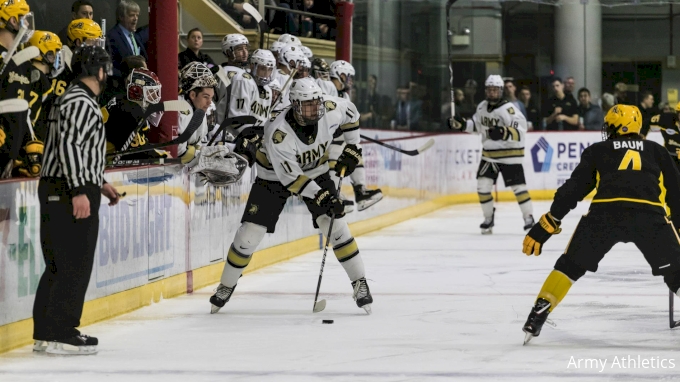 He signed an AHL deal with the Everblades affiliate, the Charlotte Checkers, and has been off to a strong start with Florida, posting 10 points in his first 12 games.
"When you're making a decision, you always try to plan for the best, so I really liked what they had in Charlotte," he said. "But, once you take a look at the organization as a whole, I was able to see that Florida was also a really good spot to end up in. I knew guys who have played here, and their track record speaks for itself. Charlotte does a great job as well, so this has been a great fit for me."
The increased ice time he's getting at the ECHL level has done nothing but benefit his development. That, along with playing with a veteran group that had significant time in the NHL, has him better prepared for a potential call-up to the Checkers.
"You're able to expand your role," he said. "Whereas, I might not be getting crunch time, offensive minutes in the AHL right now, down here I'm able to come in and expand my skillset and have more opportunities. So far, in my career in the ECHL, it's kind of gone that way, and I think it's been great for me, personally. Once you move up a league, it's a much wider and pretty talented group, and you learn a lot from the older guys on elements of consistency and work ethic I think separate players between leagues and separate players from opportunities in the team."