2022 Kalamazoo Wings vs Florida Everblades
Evan Fitzpatrick Hoping To Help Everblades Find Stride, Win Another Cup
Evan Fitzpatrick Hoping To Help Everblades Find Stride, Win Another Cup
Early as it may be in the year, Evan Fitzpatrick believes that once the team hits its stride, Florida will have a chance to bring another title to Estero.
Nov 30, 2022
by Mike Ashmore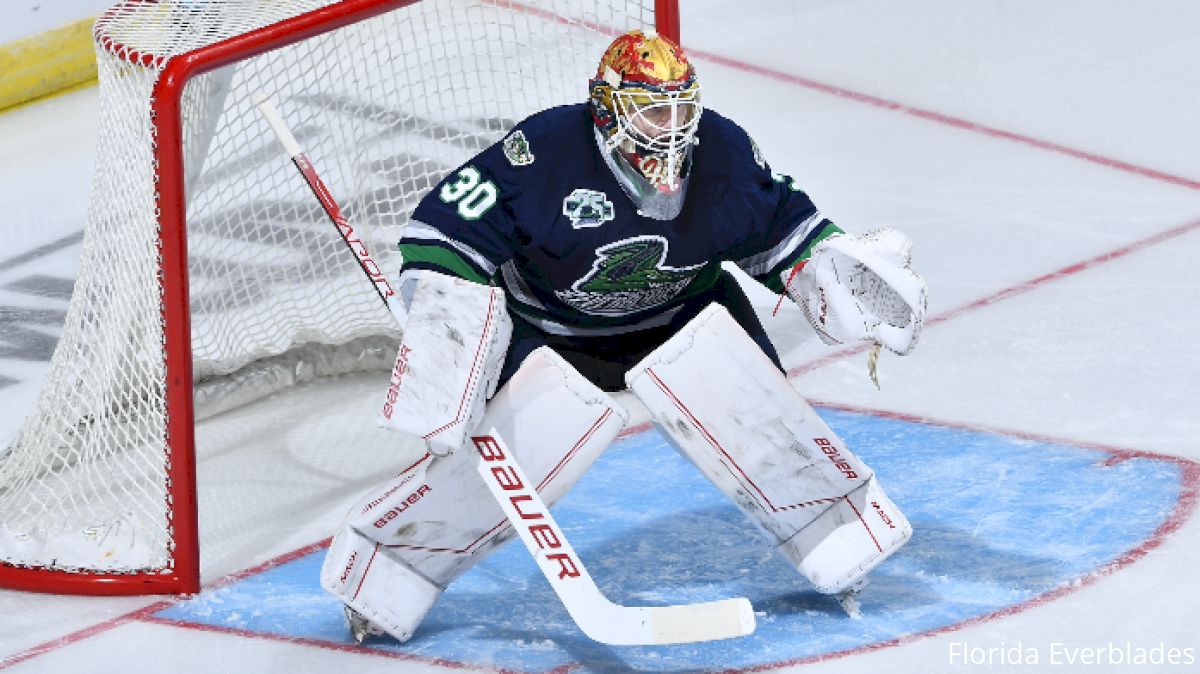 Even though both are considered veterans in pro hockey, Evan Fitzpatrick says he'd never met Florida Everblades tandem-mate Cam Johnson prior to finding out they'd be defending the net this season for the defending Kelly Cup champions.
So far, so good.
"It's been unreal," Fitzpatrick said via cellphone. "He's a great guy, and we've been getting along well. We're very close off the ice, and on the ice, we talk and joke around. We want each other to do well, we're supporting each other. I want him to win just as many games, or more, than I win. We want each other to do well for the team and for the end goal of trying to win another championship."
With Johnson returning to Florida for another year, the 24-year-old Fitzpatrick, a 2016 second-round draft pick of the St. Louis Blues who is on an American Hockey League contract with the 'Blades new affiliate, the Charlotte Checkers, is a key addition to the team after having proven himself at both of the highest levels of the minors over the past several years.
That includes a brief stint with Charlotte last year, where he spent the majority of his season with the rival Greenville Swamp Rabbits, posting a solid 2.50 goals against average and .915 save percentage in 24 appearances, capping a campaign in which he inked a one-year NHL contract with the Florida Panthers.
"Things went pretty well, and they wanted me back," Fitzpatrick said. "I liked the Florida Panthers organization. There's a lot of emphasis on improving and just getting better, and that was a big thing for me at this point in my career. This year, with the affiliation here in Florida, it's kind of a no-brainer. If you do get sent down, it's a good spot to be."
It's not a cakewalk by any means, however.
Expectations remain high in Estero, even coming off of the franchise's first championship in a decade.
Catch up on all of last night's highlights with @greatclips of the game!

— Florida Everblades (@FL_Everblades) November 20, 2022
It's a welcome change for the Newfoundland native, who has played in just two postseason games in his pro career after coming off a run in juniors with the QMJHL's Acadie-Bathurst Titan, where he helped the team to a title in 2018.
"Last year, I was in Greenville, and we were a bubble team for a while, before we went on a big heater to try to make the playoffs, which we did," he said. "Unfortunately, we fell short in Florida in the first round. Other years, my first year in Tulsa would have been the closest thing to a championship. We went to the Conference Finals and lost in Game 7. I'm just happy to be a part of it here. I won a championship in juniors with the Memorial Cup and the President's Trophy, so I know what it takes. The guys who were here last year, they know what it takes."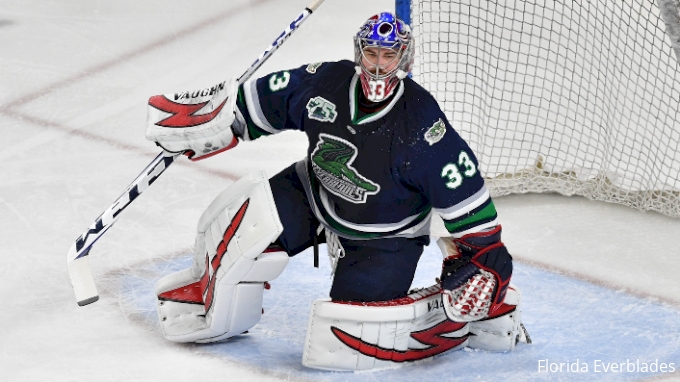 Early as it may be in the year, Fitzpatrick believes that once the team really hits its stride, Florida will have a chance to bring another title to Estero.
"I think we have a really good team, and we're still coming together," Fitzpatrick said. "Once we really find our identity together and play the way coach wants us to play, we'll be doing very well. It's a great start and stepping stone, but we want to be the best team in the league and win another Cup."
It is, of course, not ultimately the exact Cup that Fitzpatrick envisions hoisting over his head one day.
His NHL aspirations remain very real - he's backed up for the Blues on several occasions, but never got to play - and is hopeful that a big year with consistent playing time with the Everblades can help him continue to move up the ladder and achieve those goals.
"When I think about myself and my career and my future, I'm seeing myself in a Florida Panthers jersey or being a starting goalie in the NHL," he said. "I know where I'm at now and what I need to improve on. I know I can play at that level. I've shown it in exhibition games in the NHL, and I've had a lot of starts in the AHL. It all falls in line with doing the work with whatever league you're in. Hopefully, I get my games up again and get my numbers up, and everything will just fall into place."