Men's Big Ten Hockey
Hobey Baker Watch: Michigan's Fantilli, Northeastern's Levi Among Standouts
Hobey Baker Watch: Michigan's Fantilli, Northeastern's Levi Among Standouts
With more than a quarter of the men's college hockey season in the rearview, a number of players have made strong cases for their early Hobey candidacy.
Nov 28, 2022
by Chris Peters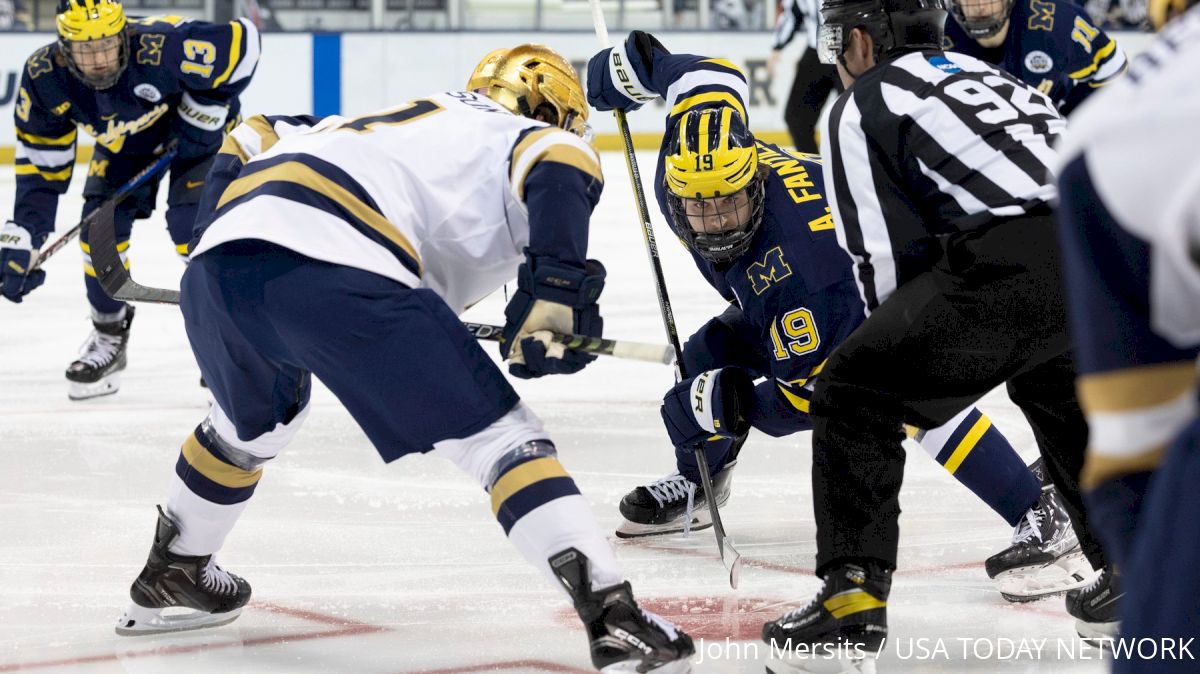 The men's college hockey season is a little more than a quarter of the way done, which gives us enough data to assess where things stand for both the teams and the individual players. The Hobey Baker race this season looks fairly open at this point with a lot of candidates putting together performances worthy of consideration.
There's still a lot of season left and second-half performances can often play a significant role in the decision process for the Hobey Baker committee.
What will make this process a bit more interesting this year is the influence of transfers, players on their fifth year of eligibility and the sizable impact of some freshmen, who typically have to have a monumental season to even be considered. On top of that, the incredible parity across the country has not allowed any one team to separate themselves from the pack, which makes it even harder to compare and contrast the players as team success can often be a factor even if this is an individual award.
It makes for a more fun process in that the Hobey Baker hunt is wide open and it seems like a lot of different players remain in the mix.
With a long season to go, here's who I think is among the strongest candidates at this stage of the campaign, broken out by the strongest early candidates to date, those that have put themselves in the discussion and a few we're not counting out.
Top Tier Candidates
Adam Fantilli, C, Michigan (2023 NHL Draft eligible)
The top draft-eligible player in college hockey, Fantilli has been as good or better than advertised throughout the season. The 18-year-old missed two games with illness, yet is still among the top scorers in the country with 25 points through his first 14 NCAA games. In doing so, he has helped Michigan overcome significant departures from last year's Frozen Four team by being the offensive catalyst who can make an impact in all three zones.
Adam Fantilli. SILKY. pic.twitter.com/MmqTC5Ukkx

— Michigan Hockey (@umichhockey) November 27, 2022
It is exceedingly difficult for freshmen to win the Hobey Baker. The last one to do it was Jack Eichel, who had 71 points and carried Boston University to the national championship game. The following year, Kyle Connor also had 71 points as a freshman, but did not win the Hobey. For the sake of comparison between these two sensational freshman and Fantilli, Eichel had 21 points through his first 14 games, Connor had 20. Again, Fantilli has 25.
The fact that he is a true freshman playing a leading role on one of the nation's top teams is going to go a long way. Both Connor and Eichel had excellent second-half performances which bolstered their cases, each finishing over 1.75 points per game. Fantilli is currently sporting a 1.79 points per game average.
It's not just about the points, but I've been watching a ton of NCAA games this season, especially since there's a number of draft prospects there and in all the games I've watched this season, there isn't a player that has impressed me more with his performance than Fantilli. The most talented player in the country doesn't always win the Hobey, but I think he's not just been the most talented, he's truly been the best of the best.
Devon Levi, G, Northeastern (BUF)
I still think Levi should have won the Hobey Baker last season, but the reigning Mike Richter Award winner is basically picking up right where he left off – though he did just have his toughest outing of the last two seasons last week against Western Michigan. Levi has a .936 save percentage, three shutouts and a 2.11 goals-against average. Those are below his numbers from last season, when he put together one of the best statistical seasons in the history of men's college hockey, but I wouldn't hold that against him.
Hey Buffalo Sabres fans, in case you're wondering how Devon Levi is doing this year, he made these 3 saves last night vs. BC. He is absolutely outrageous #LetsGoBuffalo pic.twitter.com/4bCRLgCLvV

— Spoked Z (@SpokedZ) November 13, 2022
Levi is facing an average of 33 shots against per game as Northeastern is one of the leakier teams in the country when it comes to shots allowed. Without Levi, the Huskies probably aren't a ranked team and not viewed as a credible threat within Hockey East. Few players in the country are more valuable to their team than Levi is to his. It takes something special for a goalie to win the Hobey, but I hope that Levi's incredible season in 2021-22 doesn't somehow diminish how good he's been this year because it's not up to that same historic standard.
Ryan McAllister, LW, Western Michigan (UFA)
The nation's leading scorer is always going to get consideration and McAllister has been an absolute scoring machine this season and has helped Western Michigan become the highest-scoring team in the country. McAllister is a 20-year-old freshman, who turns 21 next month. While he's not a true freshman, he's a rookie in the college ranks and he's absolutely torching the opposition.
🏅 𝗥𝗢𝗢𝗞𝗜𝗘 𝗢𝗙 𝗧𝗛𝗘 𝗪𝗘𝗘𝗞 🏅@WMUHockey's Ryan McAllister (@RyanMca19) for the 2nd straight week & 3rd time in 4 weeks

▪️ Career-high 3 assists each night in sweep of MU
▪️ Set up both GWGs 🍎

📰: https://t.co/VSAlDUKsHu#NCHChockey // #BroncosReign // @KJ_Branding pic.twitter.com/FWg7fXnYEl

— The NCHC (@TheNCHC) November 7, 2022
He leads the NCAA in both raw points (29) and points per game (1.81), allowing the Broncos to be a ranked team and perform well above expectations after they lost several key veterans last season. McAllister has routinely produced in games against top teams, with five points in a weekend series against Michigan, four points in two games against Minnesota Duluth and a three-assist game recently against Northeastern. He's always finding a way to impact the game.
McAllister's candidacy is likely impacted by his freshman status and the fact that teammates Jason Polin and Max Sasson are also among the nation's top scorers. He's got competition on his own team.
In The Hunt
Carter Mazur, RW, Denver (DET): Among the nation's leader in goals, being a top player on one of the country's best teams always gets you noticed. I think goals often play a big role in separating players from the pack and few in the country have been as prolific as Mazur in that department.
.@Carter_Mazur scores for the second time tonight 💪#MidcoSports | @DU_Hockey pic.twitter.com/vKyMpVEhK5

— 📣 Midco Sports (@MidcoSports) November 13, 2022
Mackie Samoskevich, RW, Michigan (FLA): A first-round pick of the Panthers in 2021, Samoskevich has broken out in a big way this year. He has 12 goals this season and nine assists. If Fantilli weren't on the same team, the Samoskevich Hobey talk would be a bit louder.
Matthew Coronato (CGY), Sean Farrell (MTL), Henry Thrun (ANA), Harvard: The Crimson have played fewer games, which makes it tough to gauge, but their top players have been their top players so far. Farrell has a team-best 14 points through nine games, while Thrun and Coronato each have 12. Coronato has six goals and is on a pretty good pace to start the campaign. Meanwhile, Thrun has the highest points-per-game average among all defensemen in the country.
Dylan St. Cyr, G, Michigan State: A grad transfer using his extra year of eligibility, St. Cyr has been a major factor in the resurgence of Michigan State. They're back in the rankings and especially competitive in a crowded Big Ten race. St. Cyr's numbers are comparable to Levi's under a similar workload. With how big of a surprise the Spartans have been, you have to wonder where they'd be without St. Cyr posting a .934 save percentage through 15 games.
Dylan St. Cyr made 13 saves in the second period - he's good at hockey. #GoGreen pic.twitter.com/9ppdYkv9TF

— Michigan State Hockey (@MSU_Hockey) November 19, 2022
Ryan Tverberg, RW, UConn (TOR): With 10 goals in 16 games, Tverberg has been among the offensive drivers for UConn which is off to its best start to a season in program history. Tverberg has 13 primary points so far this season and really seems to make the Huskies go offensively.
Aidan McDonough, LW, Northeastern (VAN): He's third in the country in points per game with a 1.50 mark, but it will be hard for him to get Hobey traction with Levi on the same team. That said, McDonough has had a very strong season and his goal-scoring exploits will not go unnoticed.
Lane Hutson, D, Boston University (MTL): The freshman blueliner is currently scoring 1.17 points per game, a rate that exceeds what Luke Hughes did last year as a Hobey Top 10 finalist. In fact, it's the best point-per-game rate by a U19 defenseman in college hockey since Brian Leetch in 1986-87. If Hutson keeps that up, he'll stay in the conversation all year.
A.J. Vanderbeck, C, Northern Michigan: With 10 goals and nine assists through 15 games, Vanderbeck has been among the best players in the CCHA. He's scored some massive goals for his team this season. His candidacy would probably be stronger if the Wildcats had a few more wins, but among the players I've watched in the CCHA this year, few have been as impactful as Vanderbeck.
Jake Livingstone, D, Minnesota State: The Mavericks haven't dominated the way they usually do in the CCHA, but they've had very strong performances and I don't think any one has been as important to their success as Livingstone. He's a point-per-game defenseman playing heavy minutes on a team that still feels like it can contend this season.
Jake Livingstone's second of the year gives No. 5 @MinnStMHockey a 3-0 lead after one! #CCHAHockey pic.twitter.com/Cx1yneHbXZ

— CCHA (@CCHAHockey) October 15, 2022
Watch Out In The Second Half
These are players who haven't necessarily pushed their way into the Hobey discussion yet, but I think they will over time.
Luke Hughes, D, Michigan (NJD): Hughes was a Hobey Top 10 finalist last season and that was built largely on his second-half success. His production has dipped this year, but I don't anticipate that to continue.
Jimmy Snuggerud, RW, Minnesota (STL): It takes something special for a freshman to win the Hobey as we've stated repeatedly, but Snuggerud is having a pretty special season. He has 10 goals and is averaging 1.25 points per game, which leads a veteran-laden Minnesota lineup.
BOMBS (and hats) AWAY!

Have a night why don't you @JSnuggerud! pic.twitter.com/lhQf5HmJxe

— Minnesota Men's Hockey (@GopherHockey) October 8, 2022
Riese Gaber, RW, North Dakota: North Dakota has underachieved this season, but not Gaber. He has 18 points in 15 games. I think the Fighting Hawks will get better and as they do, Gaber will be driving the bus.