2023 IIHF World Junior Championship
2023 World Juniors: Predicting Team USA's Roster
2023 World Juniors: Predicting Team USA's Roster
Team USA's World Junior camp roster is set to be announced Dec. 5, but prospect analyst Chris Peters offered his early prediction for how it may look.
Nov 25, 2022
by Chris Peters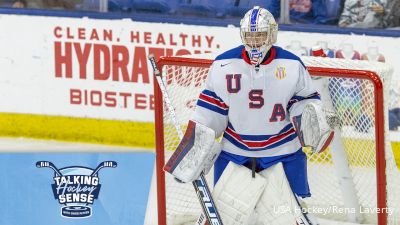 As it seemingly does every year, the World Juniors is sneaking up on us a little bit. The 2023 IIHF World Junior Championship is just over a month away and sooner yet the preliminary rosters for national team camps will be announced.
The U.S. National Junior Team's preliminary roster is expected to be unveiled Dec. 5, with Team USA holding camp in mid-December at USA Hockey Arena before embarking on their trip to Atlantic Canada for the main event starting Dec. 26 against Latvia in Moncton, New Brunswick. USA Hockey has traditionally invited a bigger roster, upwards of 29-30 players and cut down to get the final roster, which has been 25, 22 skaters plus three goaltenders.
The American squad will be led by Quinnipiac head coach Rand Pecknold, who is helming a U.S. national team for the first time in his career, though has been an assistant previously at the Men's Worlds and Men's Under-18s. He has nearly 30 years as a head coach at QU, but this will be his first go at the U20s, which makes it a little tougher to predict the makeup of the kind of team he wants.
The last several years, however, have followed largely the same template. The U.S. has built teams on speed with an aggressive, attacking style. They have the personnel to do that again, but there are plenty of questions left to be answered.
Though we'll have an idea of what Team USA is starting to look like next week. I thought I'd get a look at how I think the roster is breaking down presently, looking at the locks for the team, those likely to make it and some that I view as on the bubble.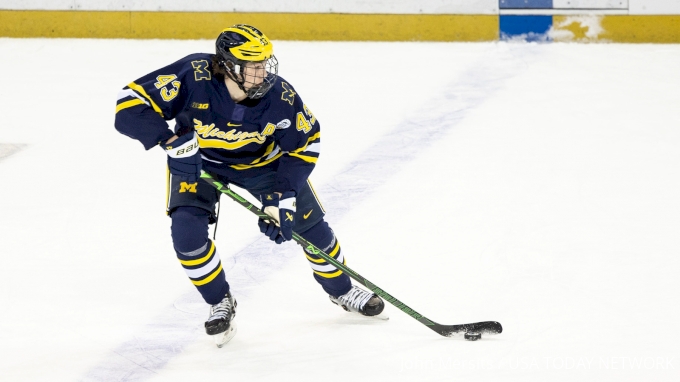 Locks
The U.S. has the possibility of bringing in upwards of nine returning players from the summer World Junior championship. Often, returning players are virtual locks, but I don't know that will be the case this year, nor should it be after a disappointing fifth-place finish.
With there being so many similar players that fit into similar roles, it makes building the team a little more challenging. As a result, there weren't many players that I would term as stone cold locks to make the final roster.
Goalie: Kaiden Mbereko (Colorado College)
Defense: Luke Hughes (Michigan/NJD), Jack Peart (St. Cloud State/MIN), Shai Buium (Denver/DET), Sean Behrens (Denver/COL), Lane Hutson (Boston University/MTL)
Forwards: Logan Cooley (Minnesota/ARI), Chaz Lucius (Manitoba Moose/WPG), Jimmy Snuggerud (Minnesota/STL), Cutter Gauthier (Boston College/PHI), Sasha Pastujov (Sarnia/ANA), Red Savage (Miami/DET), Rutger McGroarty (Michigan/WPG)
This group includes seven of the returning players eligible. Players like Luke Hughes and Logan Cooley are self-explanatory as they're each the best players in their respective birth years and have WJC experience. Peart, Behrens, Pastujov and Savage are all returnees that bring valuable experience to the table. Mbereko was USA's starter last year and has played well enough at CC to stay on the team, though he'll probably be in a battle for the No. 1 job.
Buium has that national championship pedigree on top of needed size and defensive net-front presence that the U.S. won't have a ton of on the back end. Meanwhile, Snuggerud and Gauthier have been excellent in their first NCAA seasons and have built-in chemistry with Cooley. Hutson has been an absolute dynamo in college, but I do wonder how he'll angle for power play time with Luke Hughes and Jack Peart as returnees. Lastly, Lucius was on the initial roster for the 2022 WJC before the pandemic canceled the tournament, but was unavailable to play in the summer. He'd be the only player on Team USA with pro experience as he is currently playing in the AHL.
Gophers Jimmy Snuggerud completes the hat trick pic.twitter.com/rdLWMlbN3Y

— CJ Fogler AKA Perc70 #BlackLivesMatter (@cjzero) October 8, 2022
Likely
If the player is in the "likely" category, they're at least a lock to be invited to camp, in my view, and very strong candidates for the roster.
Goalie: Trey Augustine (U.S. National Under-18 Team)
Defense: Ryan Chesley (Minnesota/WSH), Seamus Casey (Michigan/NJD)
Forwards: Tyler Boucher (Ottawa 67s/OTT), Will Smith (U.S. National Under-18 Team), Kenny Connors (UMass/LAK), Dylan Duke (Michigan/TBL)
Dylan Duke with his second of the game, burying a Luke Hughes drive off the boards and in pic.twitter.com/8RO279LFvE

— Michigan Hockey (@umichhockey) November 19, 2022
Trey Augustine may have the inside track to being USA's starter as he's probably played the best of any of USA's potential goaltenders, but he'll be in a battle with Kaidan Mbereko. I think the gap between Augustine and USA's collection of No. 3 options is fairly substantial.
As for the defense, Chesley is USA's best right-shot option, though he hasn't been terribly productive in his first season at Minnesota. His skating and defending, however are more than adequate to make up for it. On the opposite side of the production spectrum, Seamus Casey is averaging a point per game and also has the benefit of being a right-shot defenseman, but there are just already a lot of player slike him on the roster.
At forward, there are going to be a lot of tough decisions. Tyler Boucher brings a physical element and he's played well in the OHL this year. Will Smith is one of the most dynamic players in the selection pool and has been a scoring machine making him a good candidate to make it as an underager. Kenny Connors is a two-way center that can drive play and I think he fits the style USA wants to play.
Bubble
This is a big group of players, probably bigger than the U.S. would like in this particular year, but I think we're going to see some players make the camp out of this group. And I fully expect there to be a few from outside of this list to make the camp. There is almost always one or two surprise player that not only make the camp, but make the team. We won't know those until the camp roster is out in about 10 days.
Goalies: Andrew Oke (Saginaw Spirit), Braden Holt (Everett Silvertips), Tyler Muszelik (New Hampshire/FLA)
Defense: Roman Schmidt (Kitchener Rangers/TBL), Ty Gallagher (Boston University/BOS), Ryan Ufko (UMass/NSH), Luke Mittelstadt (Minnesota), Aidan Hreschuk (Boston College/CAR)
Forwards: Ty Voit (Sarnia/TOR), Charlie Stramel (Wisconsin), Cam Lund (Northeastern/SJS), Jackson Blake (North Dakota/CAR), Ryan Leonard (U.S. National Under-18 Team), Sam Lipkin (Quinnipiac/ARI), Gavin Brindley (Michigan)
The goaltending does not inspire a ton of confidence and with how this tournament can go, you never know when you might need a reliable No. 3. That's what I think the trio above represents. Muszelik may have the inside track as a former NTDP goalie, but the numbers for all three of those goaltenders don't suggest a lot
Team USA has a lot of blue line options, but so many of them are redundant with similar style of play. That's what makes it more of an uphill climb for the defenders listed here with the exception of Schmidt who is a towering blueliner. Among the undersized, however, Ufko has certainly had the strongest season to date, but with Hutson, Casey, Behrens and Peart already in the mix, it would be hard to find playing time. Though he may make it as an extra. I think Schmidt has a strong case for inclusion based on the size factor and his ability to play strong defensively.
OHL Performer of the Night 🌟@MapleLeafs pick @TyVoit set up FOUR of the @StingHockey's five goals in a narrow home win over the IceDogs.

Voit now leads the league in scoring with 21 points 📊 pic.twitter.com/aojaNYGZJI

— OntarioHockeyLeague (@OHLHockey) October 23, 2022
Ty Voit is the current leading scorer in the OHL. Production in the OHL has not guaranteed a spot in the past, and the fact that Voit is a bit on the smaller side on a roster that isn't collectively big doesn't help. That said, his playmaking ability is outstanding and I think he's done more than enough to put himself in a position to make the squad. I think ultimately he'll be there, but I'm not 100% convinced. That's also why it might be an uphill climb for Jackson Blake, who has had an impressive start to his freshman season at UND. He's just not different enough from what is already available to Team USA and it's unlikely he nudges anyone out of a top-six spot.
One of the real surprises of the bubble this year is Stramel, who was on the team in the summer. He still can make Team USA because he's a 6-3 center with speed and they need to beef up their forward lineup, but he has to be more than just a big body. He's seen his play pick up a bit in recent weeks, but we'll see if it's enough to get him. I fully anticipate he'll be invited to camp, but he's going to have to earn his spot.
There are plenty of other intriguing options, with the energetic Brindley and physical Leonard among good candidates. Meanwhile, Rand Pecknold will know Lipkin better than anyone as he coaches him daily. There are some very difficult decisions to be made.
Team USA Roster Projection
There's a camp to go before these decisions get made, but based on the season to date of these players, this is what I think Team USA could look like.
Cutter Gauthier – Logan Cooley – Jimmy Snuggerud
Chaz Lucius – Will Smith – Tyler Boucher
Sasha Pastujov – Kenny Connors – Ty Voit
Rutger McGroarty – Red Savage – Dylan Duke
Charlie Stramel
Luke Hughes – Ryan Chesley
Jack Peart –Shai Buium
Lane Hutson – Roman Schmidt
Sean Behrens
Trey Augustine
Kaidan Mbereko
Tyler Muszelik
Extras: Seamus Casey, Ryan Leonard