Men's CCHA Hockey
CCHA RinkRap: Vanderbeck's Gunslinging Heroics
CCHA RinkRap: Vanderbeck's Gunslinging Heroics
This week in CCHA RinkRap, the mythology of A.J. Vanderbeck continues with a game-winner in Mankato, and Ryland Mosley extends a supremely rare statistic.
Nov 21, 2022
by Tim Rappleye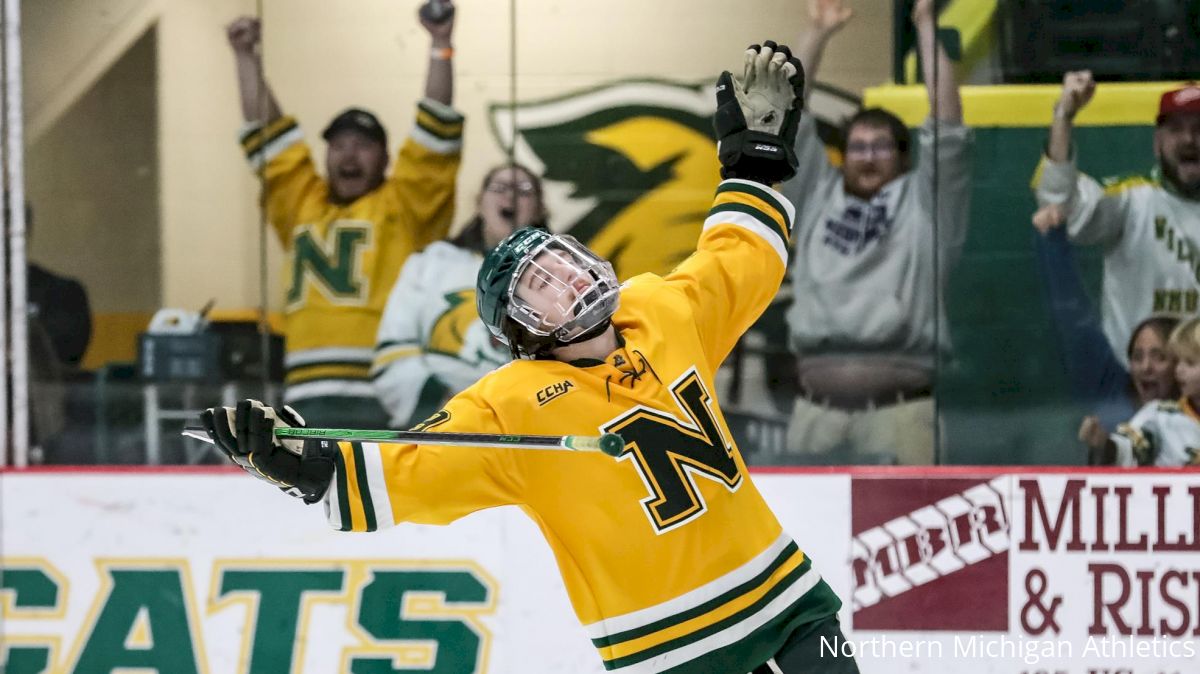 This week in CCHA RinkRap, the mythology of A.J. Vanderbeck continues with a game-winner in Mankato, and Ryland Mosley extends a supremely rare statistic.
The Gunslinger
Wyatt Earp's got nuthin' on A.J. Vanderbeck. In a sport where goal-scoring is at a desperate premium, where three goals by a team often represents a mountain, Northern Michigan's Vanderbeck makes putting a puck into a tiny space behind thickly padded goalies look like child's play. He is the ultimate gun-slinger, a guy who makes elite goaltenders feel like pee-wees quaking in their boots.
Never was his deadly skill more apparent than on Friday night in Mankato, with No. 8 Minnesota State defending their home ice like a junk-yard dog. Vanderbeck took over the game, starting with a short-handed breakaway.
He treated Maverick goalie Keenan Rancier with disdain, overpowering the sophomore low to the glove side to tie the contest. It was nearly identical to his overtime winner last month against Bowling Green's Christian Stoever. Vanderbeck is the quintessential sniper, a high-octane marksman who flips the script by tilting the odds toward the shooter.
Back to Vanderbeck's night of destruction in Mankato. His tying goal set the drama for overtime, where he cracked a defenders stick with his own, wrestled the puck free and immediately fired home the apparent game-winner. It was a startling turn of events that again veered instantly: the goal was immediately waived off for a slashing infraction, angering Wildcats' boss Grant Potulny and putting his most important player in the box.
The Wildcats survived for a pair of minutes, and then the sheriff returned to finish this business once and for all, whipping in yet another overtime winner. It was a milestone goal (Vanderbeck's 50th) and it was viewed nation-wide: all the other CCHA games had concluded, and the Northern-Minnesota State thriller had taken the spotlight.
There's that man again!

AJ Vanderbeck scores his THIRD overtime-winner of the year for @NMUHockey! Wilcats edge No. 7/8 Minnesota State, 3-2.

🎥: https://t.co/yRw1IaFMPQ#CCHAHockey pic.twitter.com/2v8l8Vny3X

— CCHA (@CCHAHockey) November 19, 2022
Forty skaters in colorful costumes flitted about Mankato's icy stage Friday, but one man and his weapon took over the drama, and then ended it in sudden death, twice for good measure. Minnesota State coach Mike Hastings gave muted praise to his conqueror in the post-game, calling Vanderbeck, "One of the best" in the league, making sure not to diminish the feats of his own supreme marksman, David Silye. But Vanderbeck transcends the CCHA—the entire hockey world both fears and covets his deadly skill.
Milestone Reverb
Vanderbeck's OT winner Friday achieved two milestones on the same play. The primary assist went to Andre Ghantous, elevating him to the 100-point plateau, a total that places him among the sport's elite. The fact that his prolific seniors combined on two historic milestones to beat the best team in their league was not lost on Potulny.
"In games like that, you need your biggest players to play big in those moments," said Potulny.
"It speaks to the consistency of what they've done. Game in and game out, those guys are always a threat."
Sniper 1-A
Vanderbeck may be the CCHA's top gun, but there is another contender to replace him if he ever catches a slump. The aforementioned David Silye just came off a blazing streak of goal-scoring that conjured up an old show-biz refrain—"A one, a two, a one-two-three." That was his exact scoring line in three straight games recently: a single tally against Bowling Green, a deuce in the opener against St. Thomas, and then a natural hat trick the following night against the Tommies.
His newfound goal-scoring prowess became known nationwide when he connected on a frozen rope under the bar against Minnesota in last spring's national semifinals. Hastings said Silye connected on one just like his Frozen Four snipe in last week's practice scrimmage. Silye now has nine goals on the season, second in the CCHA only to Vanderbeck. The Clarkson College transfer was known as a defensive forward in the ECAC, but has now transformed into an elite sniper.
"Something that was missing in my game was that shot-first mentality," said Silye last week.
"I've been working a lot in practice to get a shot off, and get it on net. Everyone loves scoring goals and getting points, that's the whole point of the game."
Five-Letter Goals
Michigan Tech junior Ryland Mosley is having a breakout season, 7-8-15 in 13 games played, second in the CCHA scoring race. But a gentle scratch of the surface of those stats reveals even more impressive numbers: three of his seven goals have come while short-handed, and two of those shorties goals have been game-winners. Five big letters accompany those tallies: SHGWG. There is no such statistic, and no one has tracked such a thing, until now, until Saturday night.
With the Huskies hanging on for dear life against hard-charging St. Thomas in the closing minutes of regulation, Mosley struck again, a nifty backhand finish to turn potential defeat into three points north in the standings.
In a season where the Houghton hockey faithful wondered where its offense would come from, the redhead with the quiet charm is helping fill the void of a prodigious graduating class, serving notice with a pair of five-letter goals.