2022 Chicago Steel vs Dubuque Fighting Saints
Maple Leafs Prospect Moldenhauer Stares Adversity In Face, Excels For Steel
Maple Leafs Prospect Moldenhauer Stares Adversity In Face, Excels For Steel
Selected in the third round by Toronto last July, Nick Moldenhauer has been among the top scorers in the USHL and recently committed to Michigan.
Nov 21, 2022
by Jordan McAlpine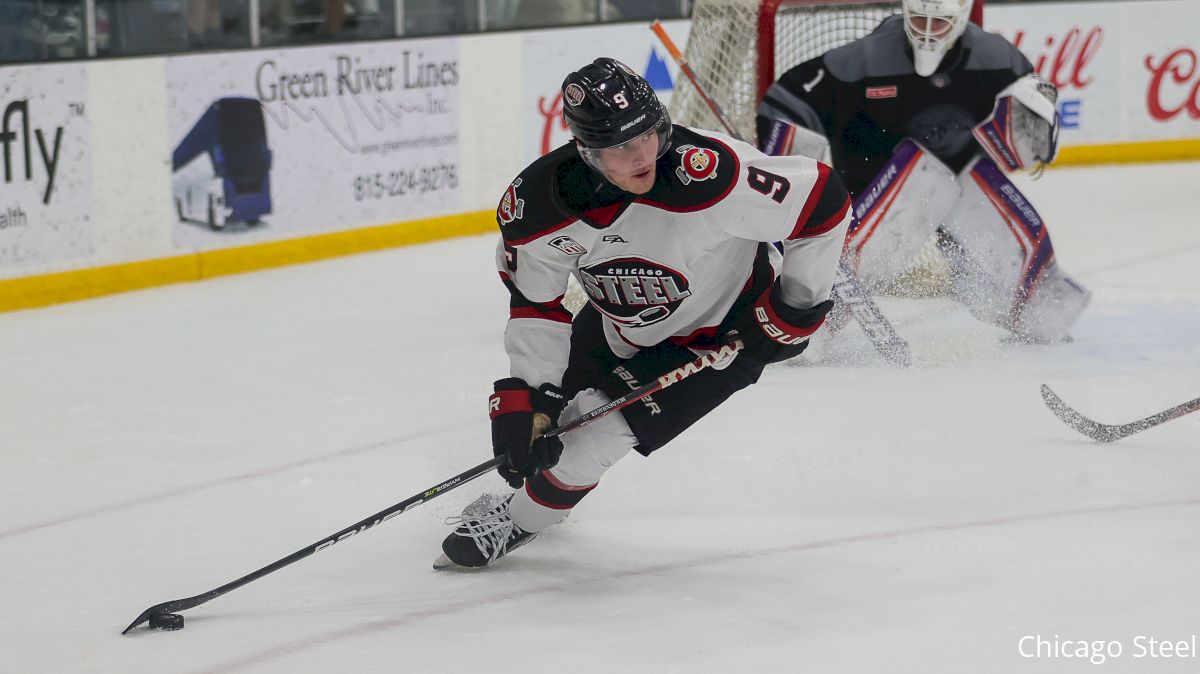 Growing up in Mississauga, Ontario, Nick Moldenhauer was a huge Toronto Maple Leafs fan, naturally. In July, Moldenhauer realized a dream that would make him the envy of the entire Greater Toronto Area when the Leafs selected him in the third round of the NHL Draft last July.
"It was just a surreal experience," Moldenhauer said. "Being able to share that with my friends and family was awesome, and it was a dream of mine ever since I was a kid to get drafted and one day play in the NHL.
"I know getting drafted is just the start, but it was an awesome moment. Then to get drafted by my hometown team on top of it, it was just such a cool moment."
Congratulations to the newest member of the @MapleLeafs organization, forward Nick Moldenhauer!#FeelSteel pic.twitter.com/AQWO6svk1N

— Chicago Steel (@ChicagoSteel) July 8, 2022
Four months later, Moldenhauer is 16 games into his third season with the Chicago Steel. The right-shot forward played in six games at the end of the 2020-21 season and 41 last year, along with four games for Canada at the 2022 IIHF World Under-18 World Championship. He's racked up points at each stop along the way, something that made him one of the top 2004-born Canadian players and the 95th overall pick last summer in Montreal.
Moldenhauer has already found the back of the net 11 times this season and has racked up 21 points, which ties him for second fourth in the USHL, respectively. After coming into the season as one of the top returning players in the USHL, Moldenhauer continues to live up to the hype he's earned with his play over the last season-plus.
"He's just an incredibly driven kid, both on and off the ice," said Chicago head coach Mike Garman. "He's a very intelligent kid, he's good academically and he's put in so much work off the ice. On the hockey side, it was a little bit of a bizarre year last season. Honestly, it was an unlucky year in a lot of ways. But at the same time, it was an impressive year production-wise, and he's continued to elevate his game this year.
"We love having Nick in our lineup, we love having him in our locker room and we love how hard he works."
Behind his prospect status and impressive stat line, there's been a turbulent road full of obstacles and adversity. That bizarre 2021-22 season Garman referred to started with a mono-like virus that hospitalized him for weeks. Then in his first game of the season, Moldenhauer took a skate to the face and was rushed to the hospital to treat a severe cut. There's still a scar to show for it.
"He's incredibly resilient," Garman said. "Shift to shift he's resilient and it's no surprise he's continued to bounce back after each injury or setback. It's one of his many great attributes and he's been through a lot. He's definitely not afraid of a little adversity and we all hope it's behind him."
Moldenhauer is hoping for the same. Even though his on-ice performance hasn't shown it, the injuries and the recoveries have been understandably taxing - both mentally and physically.
Starting this season healthy was both a huge sigh of relief and a weight off his shoulders.
"It's been awesome to do what I love and stay injury-free so far," Moldenhauer said. "I know the last couple years have been a bit of a roller coaster but I'm super happy that I haven't had to deal with anything. I hope to keep it that way."
A self-described 200-foot player that can put the puck in the net, Moldenhauer has shown his ability to generate offense, see the ice and set up his teammates – three things Garman touted him for. Moldenhauer said he also focused on getting faster and stronger this summer, along with improving his agility.
When asked about his fast start, Moldenhauer's strategy has been simple.
"I've just tried not to overthink things," he said. "I feel like sometimes when I start to overthink and kind of get in my own head, I lose sight of what I'm trying to do and get away from my game. So I've really just tried to play the game I love and not try to do too much."
If the on-ice results are any indication, it's working, and those around him have been impressed.
"It's so much fun playing with Moldy," said Jayden Perron, a 2023 NHL Draft eligible prospect and Moldenhauer's linemate. "You can give him any puck and he'll make a play. Honestly, he just makes his linemates better and playing with him gives you an extra boost of confidence on the ice."
"He's a high pick for a reason," Garman added. "He has the talent to be considered a legitimate NHL prospect but he also brings the compete and the work ethic that isn't always there for guys with that skill level. He really is the complete package."
There is only 1 player in the @USHL with 10 goals thus far this season.

His name is Nick Moldenhauer.#FeelSteel https://t.co/osOkSFtEzr pic.twitter.com/lo933b20S7

— Chicago Steel (@ChicagoSteel) October 29, 2022
That work ethic is something Moldenhauer said he's always prided himself on. But he especially realized the importance of it last year in his first USHL season.
"You quickly realize how many talented players there are in this league," Moldenhauer said. "You've got to bring it every night if you want to have any chance of winning games and having success yourself. So I think the biggest thing for me was learning you can't take any days off."
Moldenhauer has also had to learn how to handle the pressure and potential distractions that come with being a top prospect. Even though Moldenhauer was an NHL pick, he came into this season with his next step still up in the air despite a multitude of options and a long line of NCAA recruiters anxiously awaiting his decision.
Earlier this month, Moldenhauer made his commitment to join the University of Michigan's hockey program starting in 2023-24.
"I definitely waited a little bit longer than most kids, and yeah, it was stressful at times," he said. "But I felt like I just really wanted to make sure I was going to the right spot and the right fit for me. I think I have that and I'm really happy I ended up at Michigan. I'm looking forward to getting to Ann Arbor.
"There's a lot of high-end talent there and I think that's really going to help me push my game to another level and it's such a good hockey school."
Moldenhauer said when it came down to it, Ann Arbor just "felt like home." It's also just over a four-hour drive from home in Mississauga.
Before he makes the jump to the Big Ten though, he has more to work on and accomplish in the USHL.
"I just want to continue elevating my game and preparing myself for the future," Moldenhauer said. "I think having a good season here can help me moving forward and let me build my confidence so when I hop into the college level, I can make an impact right from the start."
And no matter where that future takes him, Chicago will always hold a special place in his heart.
"This place means a lot to me," Moldenhauer said. "I feel like they've helped me a lot the last few years and I'm thankful they've stuck by me through everything. Just the way they do things and the culture they have here, everything is high-end and I feel like I've been able to take advantage of so much with my development here. I'm very thankful for that."