2022 Florida Everblades vs Jacksonville Icemen
Is Another Kelly Cup Title In The Cards For Kaelble, Everblades?
Is Another Kelly Cup Title In The Cards For Kaelble, Everblades?
In the moments after he scored the biggest goal of his professional career, Lukas Kaelble's feet were almost numb. It wasn't out of excitement, however.
Nov 21, 2022
by Mike Ashmore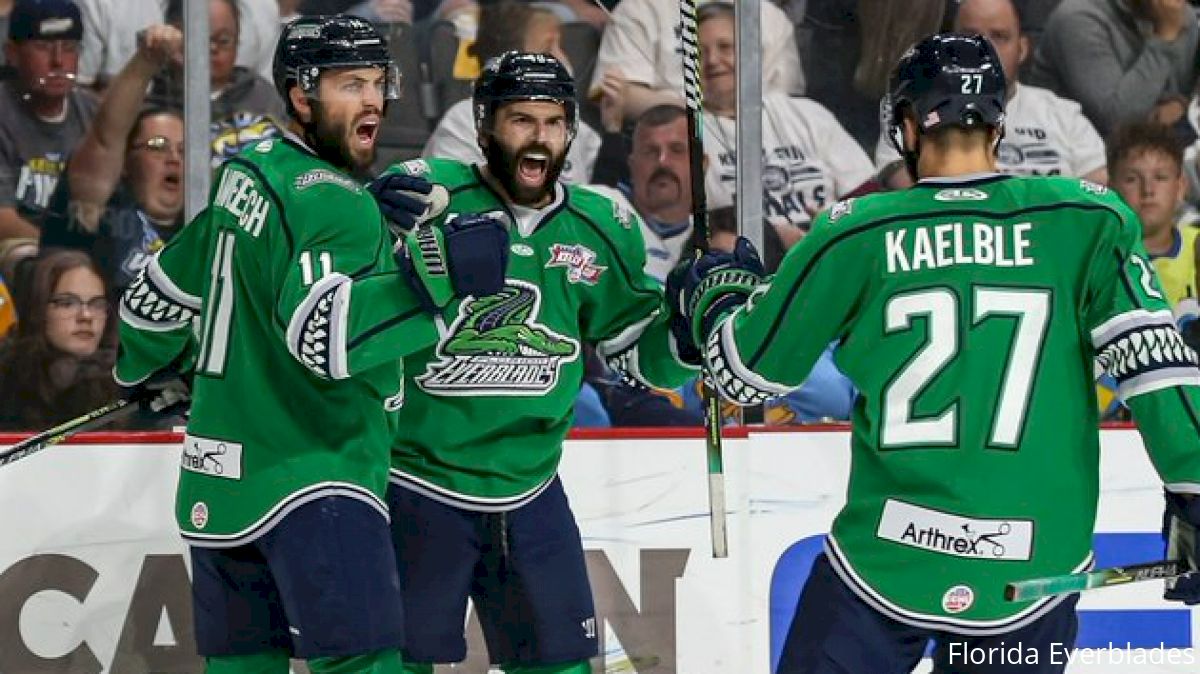 In the immediate moments after he scored the biggest goal of his professional career, Lukas Kaelble's feet were almost numb.
It wasn't out of excitement, however.
Not long before potting the overtime winner for the Florida Everblades in Game 4 of the Kelly Cup Finals, the German-born defenseman broke a skate late in regulation and had to put on a brand new pair that weren't even broken in during one of the most critical moments of the entire season.
🚨OT WINNER🚨
Lukas Kaelble scores & the @FL_Everblades take game 4! #KellyCupFinals22 pic.twitter.com/g7UUWvLLVC

— ECHL (@ECHL) June 11, 2022
"That was a wild one," he told FloHockey via cell phone. "I had to get off the ice, and I didn't know if I was going to be able to get back out there again or not, so I had to wear basically new skates for the overtime. That was kind of crazy, so I was happy to score and get it done with, because I was a little wobbly on the new ones."
By the time Kaelble and his new skates returned to the ice, his teammates already had been gliding through the extra period for 10 minutes. He joined the rush and took his shot, and the rest is history.
You couldn't blame Kaelble if all of last season was a blur, really.
After a four-year run at Lake Superior State University, he started the 2021-2022 season as a grad student transfer at Clarkson University, posting a career-high seven goals en route to earning an amateur tryout contract (ATO) with the 'Blades.

"I knew it was a really good organization," Kaelble said. "My head coach at Clarkson, Casey Jones, he knew the owner, (Craig Brush), really well, and my assistant coach at Clarkson, he'd played for (Florida head coach) Brad Ralph and played with Jesse (Kallechy), our assistant coach. I kind of knew everyone through them from the start, so that made it an easy transition, plus the reputation of the team being a really good organization - it made it all really easy."
Kaelble quickly earned a standard ECHL contract after producing right out of the gate, but he had a feeling he was going to be there for the rest of the season, after the team immediately began work on his immigration process.
That gave the 25-year-old some confidence as he started playing in his first pro games with Florida, not to mention that he physically felt good, despite a grueling NCAA season prior to heading to Estero.
"At Clarkson, our year got cut short a little bit," Kaelble said. "We had a really good team there, and we could have gone further. So, I still felt like I was peaking body-wise, and I definitely came here feeling good. The coaches helped me out a lot with getting adjusted to the pro game really quick with all the strategic stuff, as well as the playing time, it all helped make the transition here easier."
After playing a key role in helping the Everblades win their first Kelly Cup in a decade, an opportunity for which Kaelble was incredibly grateful, he again was rewarded for his hard work, signing his first American Hockey League contract during the offseason with Florida's new affiliate, the Charlotte Checkers.
Despite the fast and continued success, Kaelble doesn't let his focus stray. He knows his performance will speak for itself, and if he continues to do things well, more opportunities could be on the horizon.
"That was a great feeling, and with the new affiliation, it kind of worked out perfectly," Kaelble said. "Charlotte had said early that they were interested and we could get that done, so I was happy with that. Honestly, I don't think about (getting called up) that much. I'm just trying to play my game and do the things I do well. If I keep playing well, I'm going to get a shot eventually. I'm just enjoying my time here, playing as well as I can and seeing where that leads me."
If that road leads to his first AHL action at some point, so be it. But, with his focus remaining on Florida for the time being, it's only fair to wonder if Kaelble thinks another Kelly Cup title is in the cards for the Everblades.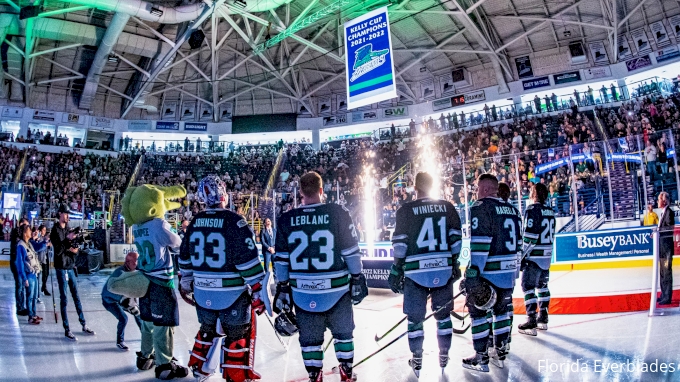 "It's definitely still early in the season to say so, but we retained a good number of guys, and we definitely have a good structure in place leadership-wise," he said. "There's a good number of guys here who know what it took last year to win, but there's also some good, new, young guys. We're off to a good start, and it's definitely looking promising."