2023 Boston College vs Sacred Heart - Men's
Recruiting: Boston College Hockey Lands Top-Tier Class On Signing Day
Recruiting: Boston College Hockey Lands Top-Tier Class On Signing Day
With a number of top recruits signing their national letters of intent this week, Boston College looks to have one of the best incoming classes in the NCAA.
Nov 18, 2022
by Chris Peters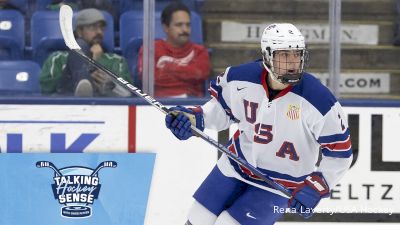 The last few years of NCAA men's hockey recruiting have seemingly been dominated by Michigan and Minnesota, but there could be a slight balance of power shift for the 2023-24 incoming class. For the first time in a while, Boston College looks to have the best incoming class on paper for next season based on the players that signed their national letters of intent earlier this week.
With an already loaded group on the way, BC's good fortunes improved even more Thursday when Youngstown Phantoms goalie Jacob Fowler announced he had flipped his commitment from Clarkson to Boston College, signing his national letter of intent with the Eagles to lock in that decision.
I'm proud and honored to announce my commitment and sign to officially play division 1 college hockey at Boston College . I would like to thank all of my friends, family, and coaches for their support to this point! #goeagles pic.twitter.com/XKjal0SFNL

— Jacob Fowler (@jacobfowler24) November 17, 2022
Nabbing a top goalie punctuated what was already a massive week that included a six-player contingent from USA Hockey's National Team Development Program, led by Will Smith who appears to be the No. 1 American prospect for the 2023 NHL Draft. The class also includes projected first-round forwards Ryan Leonard and Gabe Perreault, as well as forward Will Vote, and defensemen Aram Minnetian and Drew Fortescue, all of whom could hear their names called at the draft as well.
Smith, Leonard and Perreault currently make up the U.S. National Under-18 Team's top line and one would have to think the chemistry they've shown this season could translate to the NCAA.
Smith is the team's leading scorer, averaging over two points per game, with 39 in 19 games. He is one of the truly elite skill players in this forthcoming draft, which makes him one of the top incoming recruits in the country next season.
Leonard, meanwhile, has been a goal-scoring machine. The younger brother of NHL forward John Leonard who played at UMass, Ryan Leonard has scored at nearly a goal-per-game pace with 16 tallies in 17 contests so far this season. He is third on the roster with 28 points as well.
The second-leading scorer is Perreault, who only recently made his decision on which school he would attend next season. The son of former NHL center Yanic Perreault and younger brother of Anaheim Ducks first-rounder Jacob Perreault, Gabe has scored at one of the higher points-per-game rates in NTDP history with 36 points in 19 games. He tied with Smith for the scoring lead at the recent U18 Five Nations Tournament in Plymouth, Mich., with nine, and has some of the best vision of any player in this draft class.
Smith and Leonard said during the Five Nations that they did a little work to recruit their left winger to join them for next season and felt relieved when one of the last remaining top uncommitted 2005-born players announced his pledge to the Eagles.
COMMITTED 🦅

Congrats, Gabe! pic.twitter.com/JxOPs2J4wj

— USA Hockey's NTDP (@USAHockeyNTDP) November 2, 2022
While getting an entire line of high-scoring players is a huge pickup for BC, Fowler may be one of the most important pieces of this class. A goaltender who should hear his name called in the mid-rounds of the 2023 NHL Draft would help fill one of the team's most glaring needs.
Current Eagles starter Mitch Benson is a fifth-year transfer from Colgate who will exhaust his eligibility after this season and No. 2 goalie Henry Wilder has 11 total appearances over the last three seasons. Meanwhile, BC's top goalie recruit coming into 2022-23 was Dylan Silverstein, who withdrew from school due to health reasons before the season began. There's not a lot of depth or long-term solutions at the position.
Fowler could come in and potentially be a four-year starter based on the ability he's shown at the USHL level, with a .917 career save percentage for Youngstown. He'll also have two solid years of junior experience that should allow him for a smoother transition to the college game.
At 6-foot-2, 201 pounds, Fowler has the size and technique that NHL teams covet. Though his save percentage is hovering closer to .900 this season, he's done well amid Youngstown's struggles. In multiple viewings I've had of Fowler, he's kept his team in games and shows great fight between the pipes. According to sources around college hockey, Michigan was also believed to be in hot pursuit of Fowler once he decommitted from Clarkson, so this is a pretty significant recruiting battle win for BC.
The large incoming class should be well timed as the Eagles continue to transition under Brown, who took over the bench after the retirement of Hockey Hall of Famer Jerry York. Brown had been among the top recruiters in the country before making the jump to the NHL as an assistant coach under David Quinn with the New York Rangers. He returned to his alma mater after an additional year as head coach of the Dubuque Fighting Saints.
Though there can sometimes be strife in recruiting amid a coaching change, Brown's arrival seemed to solidify the plans of those already committed and brought in key new recruits like Fowler and Perreault. A lot of credit also should go to assistants Mike Ayers and Brandon Buckley who have been with the program from multiple years each and had a large hand in recruiting this particular class.
BC has had some recent struggles, which is rare for a program that has had a cavalcade of NHL talent come through Chestnut Hill for years. The Eagles were below .500 last season and started shaky during the 2022-23 campaign, with a 4-4-2 record to start.
This influx of talent should put BC back on track to be among the top teams sooner than later. Many schools had a very strong fall signing day, but few were able to secure what could be a truly transformational recruiting class.