ECHL
Brandon Hawkins Detours From Toledo Walleye Revenge Tour
Brandon Hawkins Detours From Toledo Walleye Revenge Tour
The "Revenge Tour" has taken a bit of a detour for Toledo Walleye forward Brandon Hawkins. It isn't necessarily an unwelcome one, either.
Nov 18, 2022
by Mike Ashmore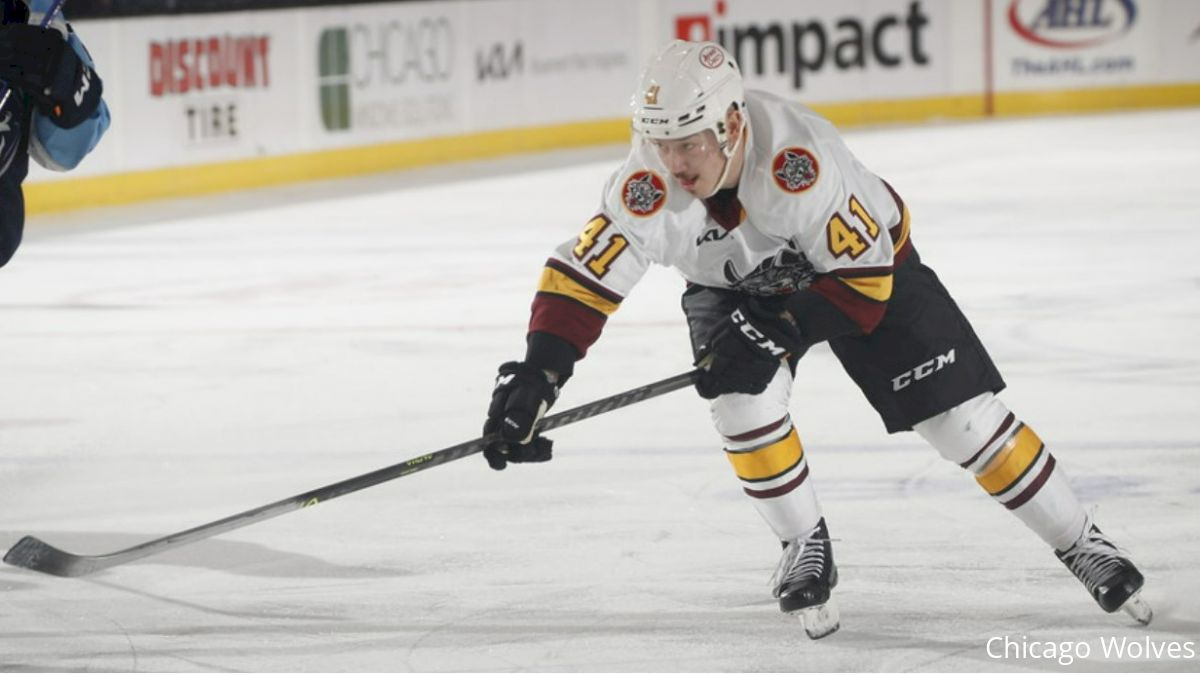 The "Revenge Tour" has taken a bit of a detour for Toledo Walleye forward Brandon Hawkins.
It isn't necessarily an unwelcome one, either.
A star winger for the Walleye, the 28-year-old Michigan native played an unquestioned huge role in their success last year, with his 35 goals leading the way in the regular season, followed by a stunning 33 points in 21 Kelly Cup Playoffs games.
The team made a run all the way to the Kelly Cup Finals, falling just short against the Florida Everblades.
With that individual success, however, comes some interest from the next level, and Hawkins was signed to a professional tryout contract with the American Hockey League's Chicago Wolves earlier this week.
GOOD hit from Brandon Hawkins today😤@CDECollision pic.twitter.com/1CbsZ8JfuG

— Chicago Wolves (@Chicago_Wolves) November 14, 2022
He'd just wrapped up a workout with the Walleye's training staff and was getting ready to put on his gear and head onto the ice, when he was summoned into head coach Dan Watson's office, where he was presented with the opportunity. It was explained to him that the Wolves were dealing with some injuries up front, and they weren't sure how long they might need him for.
"I don't know that (a call-up) was on my mind so much, as I try to just take things day by day and try to do my job to the best of my ability with Toledo," Hawkins told FloHockey via cell phone. "If an opportunity presents itself, and if it doesn't, it doesn't. My whole thing is to come in and help and do as much as I can to help a team win, so I'm very happy for the opportunity, and I want to make the most of it.
"For as long as I'm here, try to win as many games as possible. Help produce, help the team win in any way I can."
Production has never been a problem for Hawkins, who was a prolific point scorer in his college days, both with Bowling Green and at Northeastern, as well as in his pro hockey career, where he's been one of the most prolific scorers in the "E," year in and year out, first with the Wheeling Nailers, then the Fort Wayne Komets and now the Walleye.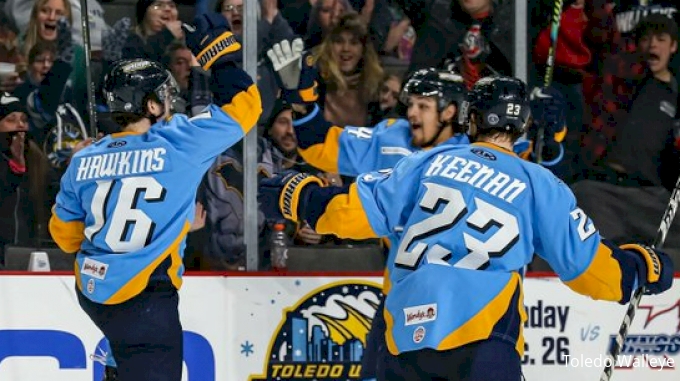 As such, there's never been a shortage of suitors for his services every off-season. This year, however, there was no doubt in his mind where he wanted to play.
"I wanted to come back to Toledo no matter what," he said. "To be frank with everyone, that's why I signed as fast as I did - to let everyone know I wanted to be there, because I do. I had a couple people reach out about potential two-way offers in the American League, but it's not something that enticed me, especially when I'm treated the way I am in Toledo. It just seemed as if my best option, and the thing I wanted the most, was to sign with Toledo and go from there."
Why?
Yes, Hawkins says he has been treated exceptionally well, but there's more to it than just that.
There's unfinished business.
"I'm on a revenge tour," he said. "That's the best way I can explain it. I hate losing more than I like winning, so I'm sure we'll get the opportunities to put ourselves in a position like that again. We want to bring it back to Toledo and go from there. We're here for unfinished business, and that's what it's going to be, plain and simple."
Now would be the time to tell you that this wasn't even his best goal …….. @ECHL @B_Hawkins17 https://t.co/j5CWjh9Vtj

— Katie Burt (@KatieBurt33) May 20, 2022
That's a task that might be easier said than done for Hawkins and the Walleye, who are without NHL veteran T.J. Hensick this season. Hensick, as expected, retired after a lengthy pro career, which was a move that also created a shift in the leadership group in Toledo, changing Hawkins' presence in the locker room in some ways.
With much of last year's group returning, the "revenge tour" concept is something that largely goes unspoken in the room, Hawkins says, with the bad taste in their mouths still very fresh.
"I think I have a little bit bigger of a role here leadership wise," he said. "Honestly, it's pretty cool to have the guys have the trust with me to be an assistant captain. That's a team vote thing, so to have my teammates think of me that way, it means a lot. But other than that, it's taking the things I've learned from T.J. and from John Albert, the older guys, and putting it to work and trying to help the team to the best of my ability."
Getting into a rhythm with some of the newer members of the group is key, which is something he's familiar with, given his summer spent with the upstart 3Ice league, where he quickly gelled with new teammates in a high-stakes setting that ended up being more well-received in the hockey community than many anticipated it would be.
The creativity involved also brought Hawkins back to his roller hockey roots. His father ran a roller hockey rink, and that's where Hawkins got started, before making the transition to the frozen sheet.
"It was a lot of fun because of how different it was and how it isn't something you see every day," he said. "It falls right into that roller hockey category with high speed, high offense and lots of time and space to make plays. It's a lot of the game that fans want to see. It was cool to be a part of the inaugural season, and from what I've understood, they'd like to have me back, so I hope to get that opportunity again."