Young Goalie Sebastian Cossa Already Proving To Be An Asset At Pro Level
Young Goalie Sebastian Cossa Already Proving To Be An Asset At Pro Level
Playing for the Toledo Walleye is the best thing for goaltender Sebastian Cossa, so the Detroit Red Wings can maximize the development of their prized pick.
Nov 18, 2022
by Mike Ashmore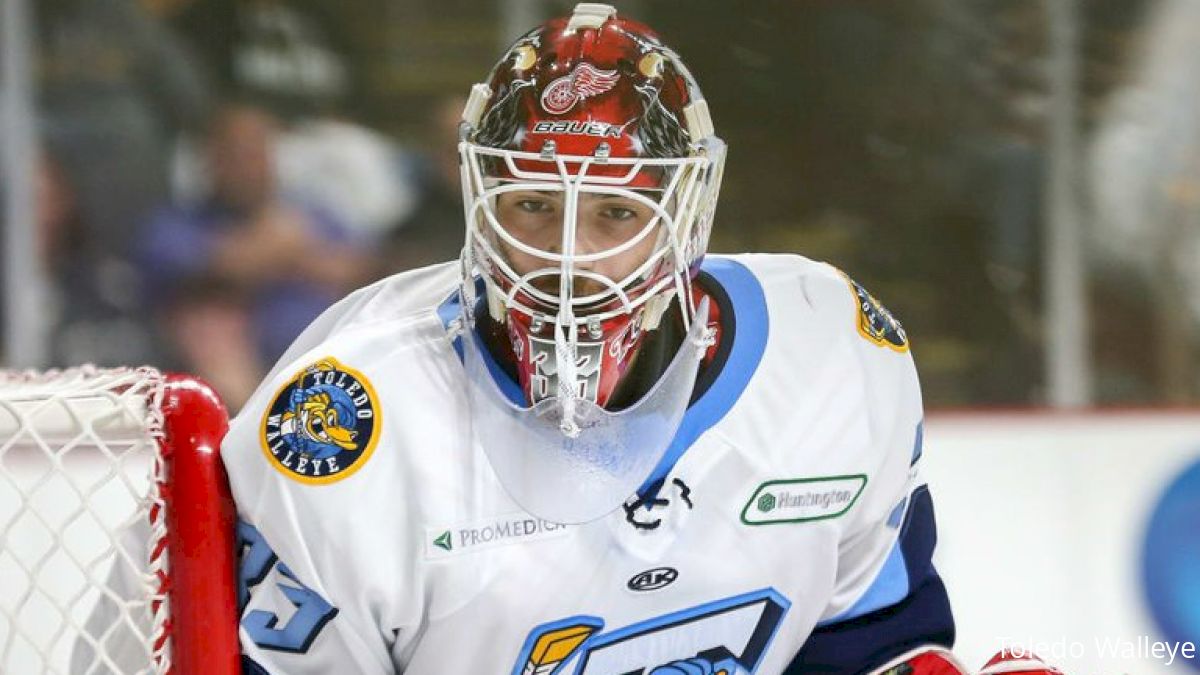 On the surface, seeing Sebastian Cossa on an ECHL roster is a bit jarring.
In reality, it's the best thing for the Toledo Walleye goaltender, as the Detroit Red Wings can maximize the development of their prized 19-year-old prospect, whom they selected with the 15th overall pick in the 2021 NHL Draft.
After a brief stint with the Grand Rapids Griffins in the American Hockey League, it has been Toledo's Huntington Center that Cossa has called home thus far, posting a 2.39 goals against average and a .913 save percentage in his first seven games with the Walleye, recording wins in four of them.
Just another day in the office for @SebastianCossa. 🫵 pic.twitter.com/6AJzlANSQS

— Toledo Walleye (@ToledoWalleye) November 15, 2022
"I came down here for a preseason game and then went back up to the A, so I had a little bit of a taste for what it was like down here," Cossa told FloHockey via cell phone. "I didn't really know what to expect. Obviously, you don't see a lot of first-rounders, but I think it doesn't really matter. It's different for a goalie, I think, and you're seeing pro shots still. That's beneficial for me. I've been playing a lot down here, which has helped me a lot."
The premier "AA" hockey league in North America has long been a feeder system to the NHL, but particularly for goaltenders.
The Red Wings alone have a long and recent history of players graduating from Toledo to manning the nets in the Motor City, including Jared Coreau, Thomas McCollum, Kaden Fulcher and perhaps, most notably, Petr Mrazek.
That's something that also hasn't gone unnoticed by Cossa, who currently is behind Jussi Olkinuora and Victor Brattstrom - both of whom have struggled early on this year - on the organizational depth chart in the AHL.
Cossa knows he's in a great position for him to develop as a player and says he's been happy with the way the team has gelled early in the season. He credits his teammates for helping him make the difficult transition to pro hockey as a teenager, not to mention one with very high expectations on him, having already had a brief taste of the game's highest level.
"Going to NHL development camp and training camp and playing in some preseason games, that was the top tier there," he said. "Going down to the AHL, people don't realize how good that league is, too. I was able to play in the two games there - one good one and one I want back, but it was a good learning experience. Down here, it doesn't have the reputation it deserves. It's still pro hockey, and for a goalie who's still developing, that's the most important thing."
The differences between the top two levels of the minors aren't as drastic as many think, Cossa said, with him noticing some more broken plays in the ECHL and some differences in structure.
Expectations remain the same wherever he goes, but particularly in Toledo, where they're freshly removed from a run all the way to the Kelly Cup Final last season.
Personally, Cossa is coming off some recent success, having helped the Edmonton Oil Kings to a Western Hockey League title, as well as with Team Canada in its most recent World Junior Championship triumph.
That seems to make a good fit for both sides, however long it may last.
"I was in a really good organization in Edmonton for the past three years, and it was a winning organization," Cossa said. "Coming here to Toledo, it's good. I'm a winner, and that's all I want to do. So, being around people with the same expectations and goals as me is really nice."

The expectations and goals set on Cossa were apparent ever since the Red Wings traded up to take him in the Draft, making him the first goalie off the board at the time.
It was an "amazing" experience, Cossa says, despite the Draft not being an in-person event, due to COVID restrictions. He instead watched from a suite at Rogers Place in Edmonton.
Being the first goalie taken was an honor, he said, but it served more as motivation to prove the Red Wings did the right thing by moving up to take him. Their feedback thus far in his first pro season has been, according to Cossa, "really good."
"There's a couple different goalie coaches I've been working with here, but they're all on the same page," he said. "The three of them are very tight, so whenever I'm working with one of them, we're still working on the same stuff, and everyone's on the same page."
What's the biggest thing they're focusing on while working with the 6-foot-6, 210-pounder in Toledo?
It's his skating - something he has worked hard to improve, while using his size to his advantage.
Whether the work ultimately continues in Toledo, Grand Rapids or perhaps even Detroit, Cossa is just happy to be in a situation where's able to consistently develop those skills and more.
"It's been awesome so far, especially with playing a lot of games, so it's making sure I'm taking care of my body and getting ready for those games and trying to be as consistent as I can," he said. "Winning as many of those games as I can is the biggest thing for me."