2022 Northern Michigan vs Minnesota State - Men's
CCHA Reasons To Watch: Slugfests & Sleeping Giants
CCHA Reasons To Watch: Slugfests & Sleeping Giants
This week Northern Michigan takes on a Minnesota State squad who have regained their footing. The tale of the tape portends it may come down to goaltending.
Nov 17, 2022
by Tim Rappleye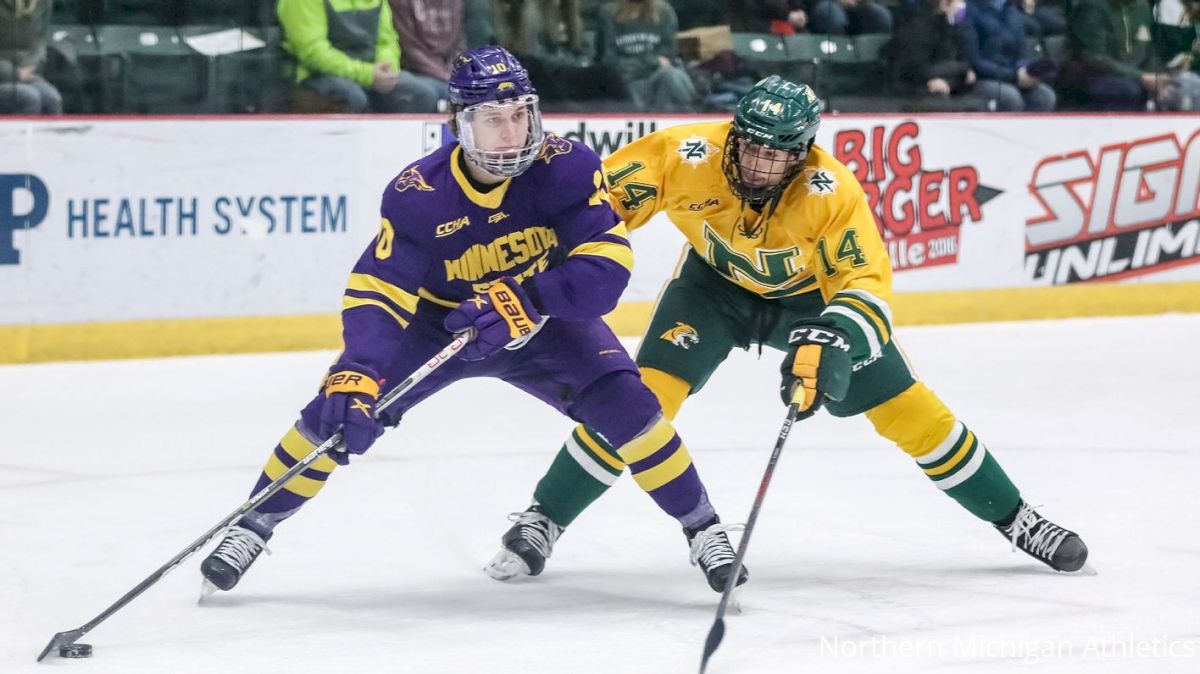 There is no friendly rivalry in the CCHA, and this week Northern Michigan takes on a Minnesota State squad who have regained their footing. The tale of the tape says it may come down to goaltending. Meanwhile, St. Thomas continues to frustrate teams before ultimately losing games--could they take a game from Michigan Tech this weekend?
Northern Michigan Vs. No. 8 Minnesota State
It may not be Ali-Frazier III, but the Northern Michigan-Minnesota State matchup demands the spotlight this weekend. These two schools have met in the league semifinals each of the past two seasons, taking turns eliminating each other. No, the Mason Cup won't be in the Mayo Clinic Events Center Friday, but it will still feel like a heavyweight battle when the puck drops at 8:07 ET.
There is plenty of star power on both sides, like scoring aces David Silye of MNSU (6G last 3 GP) and Northern's A.J. Vanderbeck (leads both teams with eight goals). Maverick defenseman Jake Livingstone and Wildcat goalie Beni Halasz regularly receive league honors.
But it's the tale of the tape that gives us the best insights into this slugfest: Minnesota State leads the conference with 3.5 goals per game—Northern is second at 3.3. The Cats lead the CCHA in power play efficiency at 26.7 percent—Mavericks a close second at 25 percent.
Minnesota State prides itself on its outrageous faceoff efficiency (59.8 percent), but Northern is nearly as proficient in the circle (57.4 percent).
There is one statistic, however, in which there is separation, and it is the most important statistic in the sport: Northern's freshman goaltender Halasz turns away 92.3 percent of the shots he sees; Minnesota State goalies kick out only 88 percent. For the first time in four years, Northern has a decided edge in goal, and that gives them a puncher's chance this weekend.
The departure of Dryden McKay finally makes Minnesota State vulnerable. The 2022 Hobey Award honoree's legacy came at the expense of teams like Northern Michigan.
"There was a moment in every game where the game was still 0-0," recalled Northern coach Potulny.
"He would make a major-league save on a major-league chance, and then they score."
That psychological roadblock is now gone from the Mankato net, a fact that gives the Wildcats a shot in this prize fight.
Prediction: No clean sweep for the Mavericks, Northern will chip points off the champs.
Bowling Green Vs. Ferris State
Bowling Green was last seen in delirium on home ice, celebrating a stolen win against St. Thomas. The Falcons sweep catapulted them to the top spot in the CCHA standings, a fact that obscures some of their flaws—like undisciplined penalties and leaky puck-management.
Ferris State, on the other hand, is playing some of their best hockey after their 5-goal rampage in their exhibition-game victory over Mercyhurst. The Bulldogs are healthy, and according to veteran coach Bob Daniels, coming off an excellent week of practice. Daniels likes to boast about having two elite goalies, but junior Logan Stein (.923 Save Pct) is the giant-killer of the two.
Prediction: Stein beats BG on Friday, guaranteeing a split for the Dogs.
Michigan Tech Vs. St. Thomas
Rico Blasi is building a monster in St. Paul. Their six leading scorers are freshmen. That stat is an absolute unicorn, and no other school comes close to that bizarre fact.
The Tommies were a prickly bunch last season, dragging Michigan Tech into overtime in a pair of games, and they are significantly more skilled this year. Anyone who saw them compete last weekend at Bowling Green—where they carried the play for lengthy stretches at Slater Arena against the first place team in the CCHA—knows that it's only a matter of time before Blasi's bunch not only claims a major victory, but goes on a winning streak. Will Tech be that victim?
Despite the weekly brilliance of MTU goalie Blake Pietila, he's been vulnerable in at least one game each of the past two weekends, coughing up leads against both Lake State and Bowling Green.
Tech has been bitten by the injury bug as well. The question is, will this be the weekend where the Tommies join the pack of contenders for home ice in the CCHA playoffs? This concept was first postulated by Tech coach Joe Shawhan on media day in September.
Prediction: The cycle of one-goal losses by the Tommies comes to a merciful end in America's hockey heartland this weekend, a true split for the sleeping giants of St. Thomas.