USHL
James Hagens, Cole Eiserman Smash Records As USA Wins U17 Challenge
James Hagens, Cole Eiserman Smash Records As USA Wins U17 Challenge
Team USA won the 2022 World Under-17 Hockey Challenge thanks in large part to record-shattering performances by Hagens and Eiserman.
Nov 13, 2022
by Chris Peters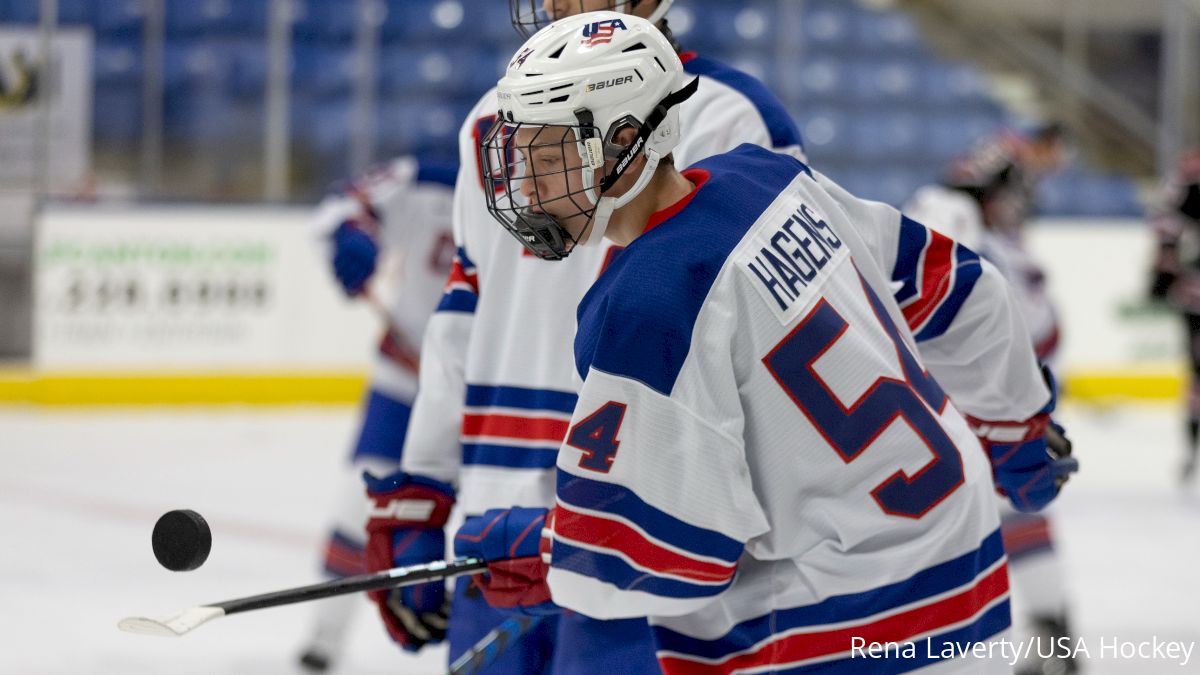 The U.S. National Under-17 Team claimed its sixth title at the World Under-17 Hockey Challenge with a rousing 11-3 victory over Canada Red in the championship game. The Hockey Canada-hosted event featured three Canadian teams, plus the U.S., Finland, Sweden and Czechia. The Americans ran the table going a perfect 7-0-0-0.
Team USA was led by a dynamic duo that completely rewrote the record books of a tournament that has featured many of the biggest stars of today's NHL.
James Hagens, a native of Long Island who will not be eligible to be drafted into the NHL until 2025, set a single-tournament record with 21 points after a five-point performance in the World U17 final. His linemate and Massachusetts native Cole Eiserman collected an astonishing six points with three goals and three assists in the final to finish second all-time in single-tournament scoring with 20 points. In the process, he tied Alexander Ovechkin's single-tournament record with 12 goals.
USA now leads 11-3 over Canada Red. Cole Eiserman has a hat-trick and has tied Alex Ovechkin for the all-time goal-scoring record with 12. #WorldU17 pic.twitter.com/ijH7uGKoBZ

— Steven Ellis (@SEllisHockey) November 13, 2022
Though this tournament had one extra game compared to most other years, Hagens' record is not the product of more opportunity. His 21 points over seven games gave him a points-per-game average of three, which is identical to the average Colin White scored for the previous record of 18.
The U.S. duo combined for a stunning 41 points, which also allowed them to surpass Czech forwards Petr Vrana and Ivo Kratena, who combined for 30 points at the 2002 World U17 Challenge as the previous highest-scoring teammates in the tournament's history. For further context, current NHL stars Jack Hughes and Cole Caufield scored 28 points collectively at the 2017 World U17 Challenge, which was the last time Team USA won the tournament.
James Hagens (#2025NHLDraft) scores his second goal of the tournament to put USA up 3-0. He's got 2 goals & 11 points through 3.66 games.

What a ridiculous set of hands on Cole Eiserman (#2024NHLDraft) for the assist. He's up to 8 goals & 10 points #WorldU17 pic.twitter.com/IS2zy0OqfJ

— Spoked Z (@SpokedZ) November 8, 2022
The exploits of Hagens and Eiserman also overshadowed the very impressive performances of Canada Red forwards Porter Martone and Berkly Catton, who each had 12 points in one of the better showings by a Canadian duo in the tournament. This year's collection of talent at the event was truly special with a lot of the top-tier prospects for the 2024 and 2025 NHL Drafts on hand.
In addition to Hagens and Eiserman, USA got major contributions from Max Plante (10 assists), Cole Huttson (10 assists) and Christian Humphreys (five goals, three assists), among many others.
The American entry, which comes from USA Hockey's National Team Development Program, outscored opponents 50-15 in tournament play in one of the most dominant showings in tournament history. It should be noted that this event usually includes Russia, which is an especially competitive nation at this age level. Russia remains banned from all international competitions due to the ongoing war in Ukraine. Despite their absence, there were some really good teams in the tournament, especially a Finland team that ended up placing third in the event after getting edged for a spot in the championship by Canada Red.
The 🇺🇸 won gold, 🇨🇦🔴 took silver and 🇫🇮 finished with bronze as the festivities wrapped up Saturday on the West Coast.

RECAP ⏩ https://t.co/K06MpNRA5Z
#WorldU17 pic.twitter.com/W1h9GlMHpR

— Hockey Canada (@HockeyCanada) November 13, 2022
The World U17 Hockey Challenge was back after a two-year absence amid pandemic restrictions. This was USA's first championship since 2017 when Hughes and Caufield led the U.S. to a 6-4 win, also over Canada Red.