2022 Lake Superior State vs Michigan Tech - Men's
CCHA Reasons To Watch: Lake State, Michigan Tech Battle In UP
CCHA Reasons To Watch: Lake State, Michigan Tech Battle In UP
Hockey is different in Michigan's upper peninsula, and that will be on full display when Lake Superior State take on white-hot Michigan Tech in Houghton.
Nov 10, 2022
by Tim Rappleye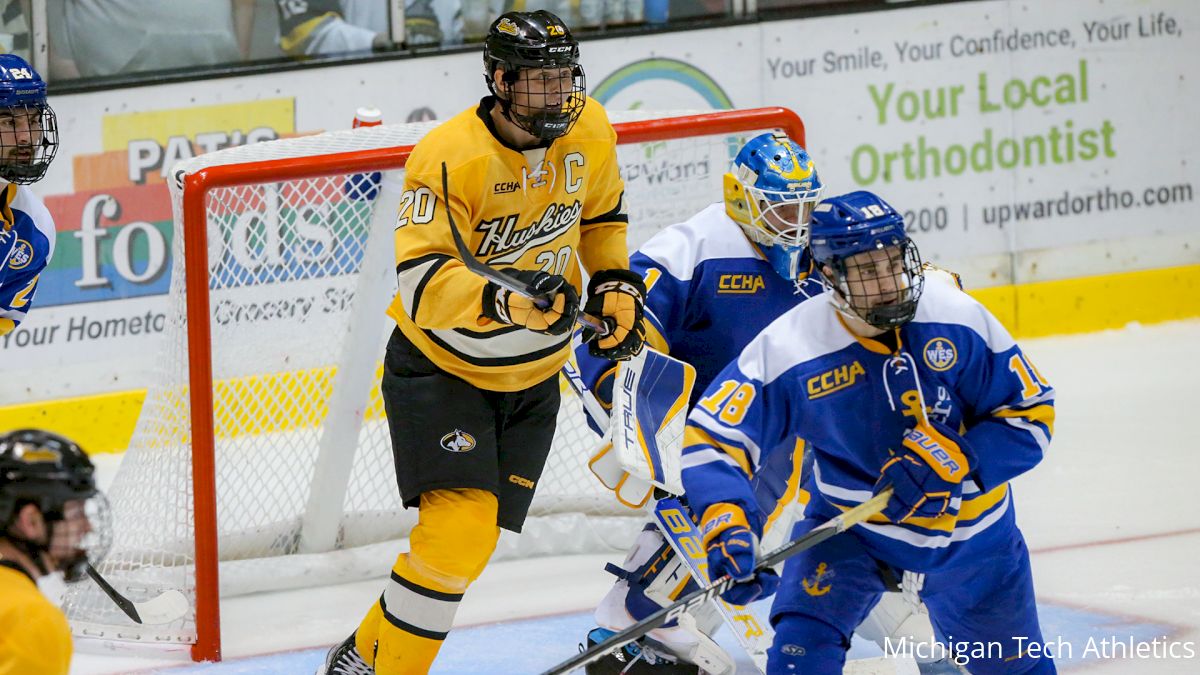 Hockey is different in Michigan's upper peninsula, and that will be on full display when Lake Superior State takes on white-hot Michigan Tech in Houghton. Elsewhere, a battle-of-the-netminders between Bemidji State and Northern Michigan and St. Thomas tries to right the ship after a miserable, but competitive, start.
Lake Superior Vs. Michigan Tech
In order to achieve greatness in Division-I hockey, a team has to win within its region before it can consider a view from the mountain top. Never is that more apparent than in Michigan's Upper Peninsula, the scruffy frontier that boasts seven national championships divided among the three CCHA schools.
The priorities at all three programs rank in this order: first win the Peninsula, then consider the MacNaughton Cup and the Mason Trophy, and finally the NCAA's. It is why, according to Michigan Tech's Joe Shawhan, that Laker coach Damon Whitten has but a single bonus clause in his contract, and that's for sweeping Michigan Tech.
"It's why I'm hoping for at least a split this weekend," said Shawhan on Monday, who also said that this might be Whitten's most talented team. That was a bit of posturing from Shawhan, because there has never been a better time to be playing Lake State, a team in despair after being swept at home against rival Northern Michigan. This team of promise is now in last place in the CCHA standings, their record a dismal 1-6-1. It is desperation time in the Soo.
"The frustration is really high," Whitten said in Saturday's post-game.
"We're hoping to find a way to win, a really tough thing for us now. Like a broken record . . ."
Tech, on the other hand, has piled up five wins in their eight games, though the club finds itself reliant on the supreme goaltending of Blake Pietila, including last Friday's masterpiece at Bowling Green (41 saves in a 3-2 win.)
"I don't want our goaltender to be spectacular every single night for us to have a chance," Shawhan said.
Prediction: Losing, like winning, is habit-forming. Whitten will not collect his bonus this year.
Bemidji State Vs. Northern Michigan
This is the only CCHA game on the DraftKings ledger this week, and they have made the powerful Beavers of Bemidji a 1.5 goal underdog. And if you choose to bet the Beavers to win outright, your $100 wager will earn you $190, should Serratore's six prove to be road warriors.
It's a tricky bet, because Northern is a battle-tested team this year, winning at least one game every weekend. Everyone talks about the scoring prowess of senior A.J. Vanderbeck (third in the NCAA with 17 points), but the guy who might be just as dangerous is Northern's sniper from Moscow, junior Artem Shlaine, who has chipped in a half-dozen goals. Coach Grant Potulny has two lines that must be defended carefully, featuring super frosh Joey Larson (9 points in 12 games) and senior David Keefer, second on the club with seven goals.
Conventional wisdom dictates a high-scoring game on the big ice of Marquette, writer's cramp for the scorekeepers. DraftKings follows the trend by setting 6.5 goals as the over/under, the fattest line of the weekend. This might be an opening, however, for the wise bettor. The two starting goalies have the best save percentages in the league: Bemidji's Mattias Sholl at 1.76 and Northern's Beni Halasz at 1.98. Even if both goalies give up a goal more than their statistical average, the smart bettor still wins by taking the under.
Prediction: Weekend split for the two MacNaughton contenders, but a win in the parlors for those who took the under on Friday.
St. Thomas Vs. Bowling Green
The storyline is getting stale up in St. Paul: another well-played weekend for the Tommies, but no points to show for it. Yes, they had No. 6 Minnesota State sweating and swearing up in Mankato, but St. Thomas still suffered losses seven and eight of the young season, the most in the CCHA.
Bowling Green, on the other hand, found their swagger this past weekend, pouring 43 shots on the Michigan Tech cage Friday night, and then chasing the vaunted Blake Pietila from his net on Saturday in the Falcons 6-1 victory. This is the wrong weekend to venture south to Mercer Street in Bowling Green, an address that might be better known as "Bloody-Nose Alley." They amassed three major penalties amid the cacophony this past weekend, separating Tech shoulders and running over goaltenders in their dominance.
Prediction: Hometown Falcons soar to at least five points in the standings to take the MacNaughton race lead over dormant Minnesota State.