Men's CCHA Hockey
CCHA RinkRap: Falcons Snap Home Losing Streak
CCHA RinkRap: Falcons Snap Home Losing Streak
This week in CCHA RinkRap, Bowling Green get their first home win of the season thanks to goaltender Christian Stoever.
Nov 7, 2022
by Tim Rappleye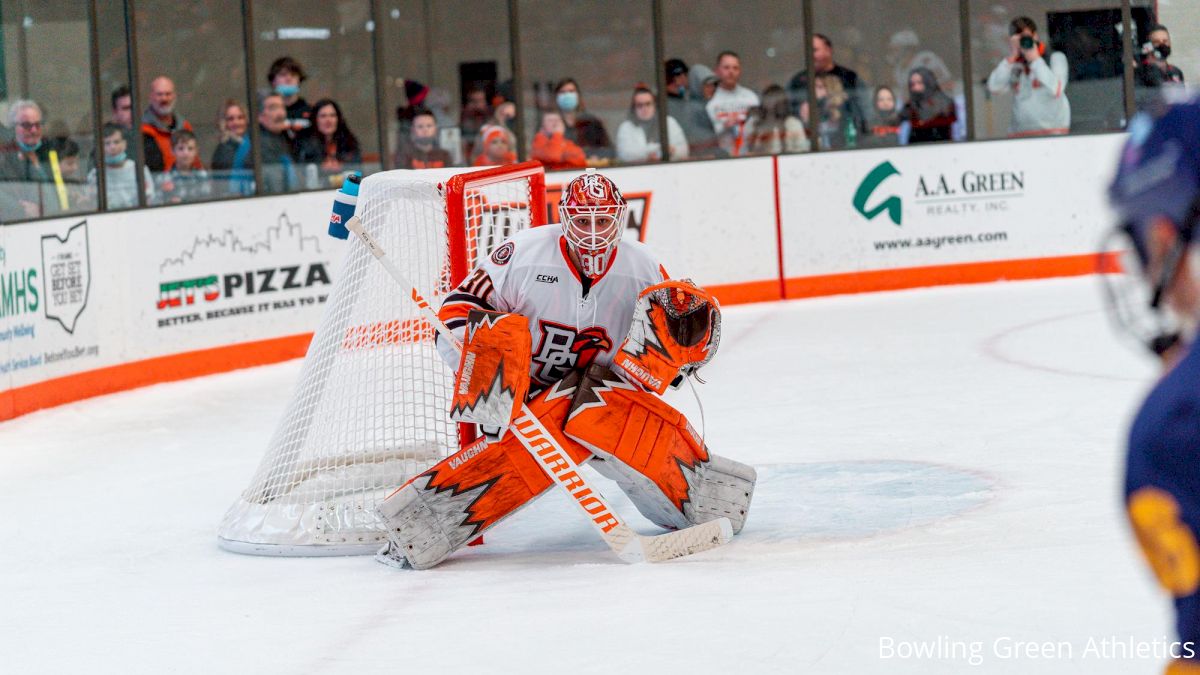 This week in CCHA RinkRap, Bowling Green goaltender Christian Stoever, backed by a strong and supportive family, turns in an incredible performance against Michigan Tech.
The First Responder
Bowling Green's hockey fortunes were hanging by a thread entering Saturday night's game versus Michigan Tech. The goalie who ended BG's seven-game home losing streak was Christian Stoever—36 shots, 35 saves in a 6-1 win, a guy who has been bailing out the Falcons ever since he arrived on campus 16 months ago. Stoever has a history of answering the call, and he comes by it honestly.
"My dad was a police sergeant for 20 years in New York City," said Stoever Saturday night.
"First responder for 9/11, and the '93 [World Trade Center] bombing and countless other things."
Coincidentally, Sergeant Randall Stoever happened to be at Slater Arena Saturday, honoring Christian on family night for the team. Randy also served another purpose: to console his son over a loss in the family. Shortly before taking the ice Friday night against Michigan Tech, the younger Stoever received the bad news.
"He got a text yesterday that his aunt died, he didn't tell anybody until after the game," said Ty Eigner in Saturday's post-game, breaking the news once the series was over.
"We called her Aunt Toni, short for Antonin," said Stoever, freshly showered in a dark suit after his teammates had cleared the locker room.
"It was definitely harder yesterday. My dad was able to fly back from New York, this morning, and talk about everything. Definitely made me calmer and comfortable knowing that he was here watching."
Enjoy the highlights from the offensive outburst that gave the Falcons their first home victory of the year! pic.twitter.com/NLKrgfKeDK

— Bowling Green Hockey (@BGFalconHockey) November 6, 2022
Christian went out and delivered a stellar performance before his dad and a packed house that woke the echoes of past Falcon greatness, helping stamp out Bowling Green's troubling home-ice losing streak.
He has been shouldering BG's goaltending load ever since October 13, when fellow starter Zack Rose went down with an injury. As an untested NCAA rookie last year, Stoever also stepped in for Rose when the veteran went down with a season-ending labrum tear. This season, Stoever has faced 252 shots on goal, second in the CCHA behind only Aaron Trotter of St. Thomas (255). According to Stoever, more is more.
"I had this load a lot in juniors, and then especially last year as a freshman, being thrown into the role with Rosey getting injured," Stoever said.
"I've been comfortable this year."
Never more comfortable than Saturday. The 6-1 final score does not reflect the tension between the Falcon pipes throughout the 60 minutes of often frantic action.
"We turned some pucks over and made some decisions that put Christian in a tough spot," Eigner said.
"We gave up two 2-on-1s in the third there, that's a tough spot. Christian did a great job, really happy for him."
Eigner failed to mention how Stoever calmly snuffed a Logan Pietila breakaway midway through the game while clinging to a 2-1 lead. To the throngs in press row, Stoever was clearly a difference maker.
He ended the weekend splitting victories against his Michigan Tech counterpart, the acclaimed Blake Pietila. It is a quiet rivalry that has been brewing since youth hockey in Detroit.
I grew up playing against Blake Pietila for a lot of years, we played against each other in juniors," said Stoever.
"It's fun to do it again in college."
On this night in northern Ohio, the Falcons had Pietila's number, chasing him from his net in the third period. It wasn't conducive to a lengthy chat in the handshake line.
"He wasn't in the greatest mood to catch up," said Stoever, "but he's a great goalie, it wasn't his night tonight, but he'll be fine going forward.
Since the departure of Hobey Baker Award winner Dryden McKay from Mankato, many believe the right goaltender might help threaten Minnesota State's stranglehold on the MacNaughton Cup. Players like Pietila, Mattias Sholl (Bemidji), NMU freshman Beni Halasz, Logan Stein of Ferris and now Stoever are all vying for CCHA's top spot in goal.
Stoever has once again stabilized the Bowling Green goaltending situation—despite playing with a heavy heart this past weekend—allowing the Falcons to climb up the ladder of the CCHA standings.