2022 Omaha Lancers vs Lincoln Stars
USHL What To Watch For: Lancers, Stars Meet In Key Rivalry Matchup
USHL What To Watch For: Lancers, Stars Meet In Key Rivalry Matchup
As the calendar flips to November, the USHL standings tighten and rivalries intensify.
Nov 2, 2022
by Chris Peters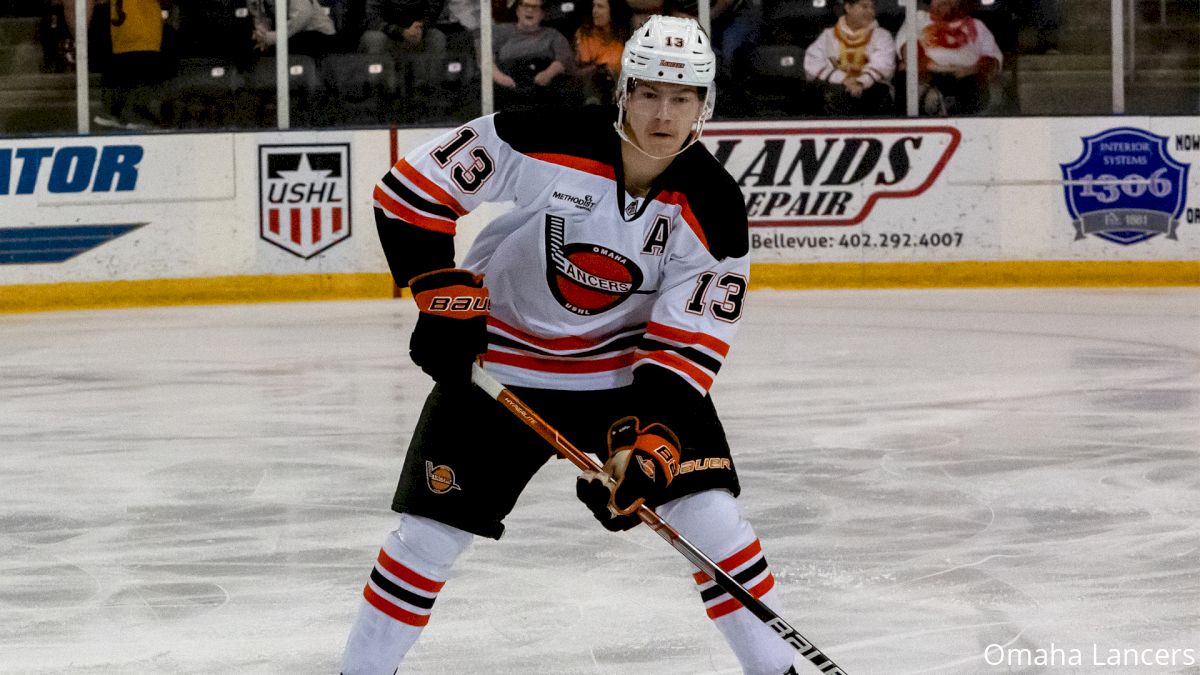 All 16 teams have at least eight games under their belt and from Wednesday to Sunday, 15 more games are on the USHL schedule. Although there's still a long, long way to go in the 62-game regular-season, the calendar has already flipped to November.
Without further ado, here's a look at the week ahead.
Tri-City (4-5-0-0) at Fargo (6-2-0-1). Nov. 3 & Nov. 4, 7:05 p.m. CT
Fargo and Tri-City will meet for the second time this season, coincidentally both on Thursday nights. Last time the Storm made the eight-hour drive to North Dakota's largest city - Oct. 20 - they were sent packing with a 4-0 loss.
Fast forward to this week and the Storm sit at the bottom of the Western Conference. However, they did get in the win column last time out with a 5-3 win over Lincoln.
The Aftermath: Storm win Halloween Game 5-3 https://t.co/7PjFFSw46E #StormAhead pic.twitter.com/tfCGIJanXw

— Tri-City Storm (@TriCityStorm) October 30, 2022
As for the Force, Fargo sits atop the Western Conference, one point ahead of Lincoln. Fargo split a pair of home games with Sioux City last weekend, falling 4-0 on Friday and responding with an impressive 7-2 win on Saturday. Cole Knuble and Verner Miettinen each netted a pair of goals, while Anthony Menghini, Kyle Smolen and Boris Skalos each found the back of the net.
The Force have lost just twice on home ice this season, last Friday and a shootout to Sioux Falls. Knuble still leads Fargo in points (10) and goals (6) and despite the loss last Friday, goaltender Anton Castro has continued his solid play between the pipes.
Omaha (4-3-2-1) at Lincoln (6-3-0-0) Nov. 4, 7:05 p.m. CT
One of the USHL's best rivalries, Omaha and Lincoln will meet for the third time this season. Lincoln won the first matchup, 6-1, but the Lancers came out on top last Friday, 4-1. Friday's game featured a chippy third period and before the two rivals hit the ice this time around, the fun has already started on Twitter.
Excellent work this weekend, @TriCityStorm 🤝 pic.twitter.com/jmy2F7RwcZ

— Omaha Lancers (@OmahaLancers) October 30, 2022
Omaha currently sits third in the Western Conference, one point behind their in-state rival. The Lancers lost in Sioux Falls last Sunday, 6-3, and have dropped three of their past four. Nebraska-Omaha commit Charlie Lurie leads the Lancers with four goals and seven points but Lurie was held scoreless against Lincoln.
The Stars dropped back-to-back road games last weekend in Omaha and at Tri-City on Saturday. Keaton Peters, Lincoln's leading goal-scorer, netted his sixth of the season against the Storm but it wasn't enough. The Stars enter this weekend with 38 goals – the most in the Western Conference and the third-most in the USHL.
Des Moines (4-5-1-0) at Cedar Rapids (4-4-2-0). Nov. 4, 7:05 p.m. CT
Des Moines and Cedar Rapids are separated by roughly two hours. And although the two teams play in opposite conferences, they're only separated by one point in the standings. Des Moines is currently fifth in the Western Conference with nine points, while Cedar Rapids sits fifth in the east with 10.
The Buccaneers faced a grueling three-in-three stretch last weekend, hosting Sioux Falls on Friday and Cedar Rapids on Saturday before traveling to Waterloo on Sunday. The Buccaneers finished the weekend with just one win, 3-2 over Sioux Falls, but ran out of gas by the weekend's end. However, last Saturday's loss to the RoughRiders could provide some motivation as they look for revenge in Cedar Rapids.
RoughRiders Win! RoughRiders Win! 4 to 2 over Green Bay pic.twitter.com/PZsvaqcbw3

— Cedar Rapids RoughRiders (@RidertownUSA) October 22, 2022
But it won't be an easy task. The RoughRiders – winners of three of their past four – carry a four-game point streak into Friday's contest. Cedar Rapids won its lone game last weekend, 3-0 in Des Moines, and got the streak started with home wins over Waterloo and Green Bay.
Goaltender Bruno Bruveris turned aside all 20 shots and picked up his fourth win of the season against Des Moines. Bruveris has won his last three starts. The RoughRiders have lost just once on home ice this season and will try to keep that number there. Cedar Rapids will host Green Bay on Saturday as well.
Youngstown (2-5-1-0) at Muskegon (6-4-0-0), Nov. 5, 7 p.m. ET
Speaking of streaks, Muskegon carries a three-game win streak into this weekend. The Lumberjacks went on the road and swept Madison last weekend, 5-3 and 4-3, and beat Dubuque the previous Saturday, 6-2.
With 15 goals over their past three games, the Lumberjacks are starting to find their scoring touch. A pair of Muskegon's top players, each of whom are among the team's five NHL draft picks -- Jake Richard (Buffalo, 2022 sixth-round) and Owen Mehlenbacher (Detroit, 2022 seventh-round) -- both found the back on the net in the wins over Madison. Richard had a pair of goals on Friday and rookie Sacha Boisvert scored a goal both nights. Boisvert will be missing from this matchup, however, as he is playing for Canada at the 2022 World U17 Hockey Challenge through next week.
ICYMI: Here are some highlights from last weekend's series vs Madison. See you at our place this Saturday for some more hockey and Top Gun Night! pic.twitter.com/uExP6CElj3

— Muskegon Lumberjacks (@MuskegonJacks) November 1, 2022
The Phantoms dropped a pair of games to the USNTDP last weekend but did walk away with a point on Friday in a 3-2 overtime loss. Youngstown is led by Jake Rozzi, Justin Varner and William Whitelaw, who have combined for 12 of the Phantoms' 23 goals. Shane Lachance (Edmonton, 2021 sixth-round) also has three.
Although that goal total is the lowest in the Eastern Conference, Ryan Ward's squad has still been competitive. As evident by their performance against a loaded USNTDP U-18 roster. They'll face that same team once again before heading to Muskegon on Saturday.
News and notes
Chicago's Macklin Celebrini vaulted up the USHL leader scorer board with a hat trick and four-point performance last Saturday in a 7-1 win over Green Bay. Celebrini's 14 points (9-5-14) are tied for third in the USHL, trailing his Chicago teammates Nicholas Moldenhauer (10-7-17) and Jayden Perron (5-11-16). Celebrini was recently spotlighted in an exclusive FloHockey video feature, which you can watch here.
Sioux Falls and Sioux City got this week's action started early - quite literally. The Stampede and Musketeers played an 11 a.m. school-day game on Wednesday at the Tyson Events Center. The Musketeers earned a decisive 5-1 over the Stampede in a crowd made up primarily of screaming school children out on a field trip. These two teams will meet again Friday in Sioux Falls.
Chicago, Green Bay and Madison will also be in action multiple nights this week. The Capitols will look to bounce back from their pair of losses to Muskegon. Madison plays at Dubuque on Friday and at Chicago on Saturday.
Dubuque's Nils Juntorp netted a power-play goal in a win over Waterloo last Saturday. Juntorp has four power-play goals in his last three games. His four goals on the man advantage are tied for second in the league, only trailing Celebrini.
Will Smith (USNTDP) had a three-point weekend against Youngstown. Smith – a likely first-round pick next summer – has seven points (4-3-7) in four USHL games.