2022 Cincinnati Cyclones vs Kalamazoo Wings
ECHL's Joel Martin, Jason Payne Make Pro Hockey History
ECHL's Joel Martin, Jason Payne Make Pro Hockey History
Wednesday's game between the Kalamazoo Wings and Cincinnati Cyclones was the first where both teams were led by Black head coaches.
Oct 26, 2022
by Chris Peters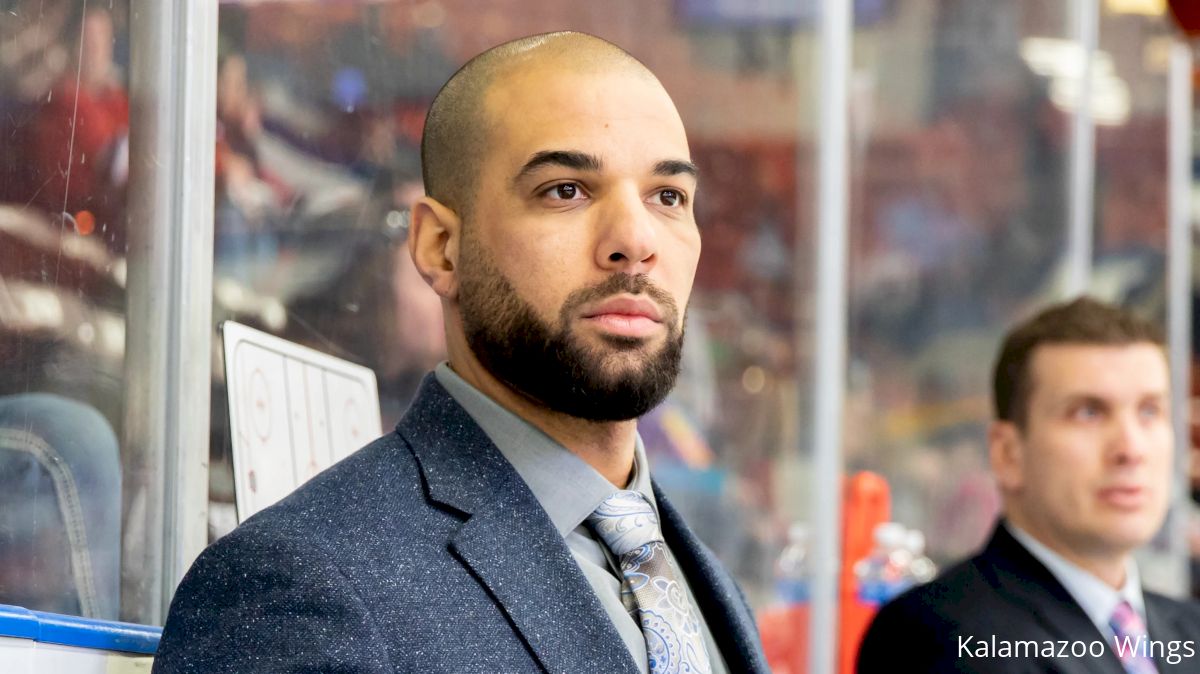 During a school day game Wednesday morning in Kalamazoo, Mich., history was made as the hometown Kalamazoo Wings took on Central Division rival Cincinnati Cyclones. For the first time in ECHL history and in North American professional hockey history, both teams competing were led by a Black head coach.
Joel Martin, in his first season as head coach of the K-Wings, was standing at the bench across from Jason Payne, who is in his second season as the bench boss of the Cyclones. They are the only two Black head coaches in North American professional hockey currently.
Martin was named head coach in Kalamazoo late in the summer when longtime head coach Nick Bootland moved on to a job in the American Hockey League. The 40-year-old Fort Worth, Texas native had been an assistant coach for the team the previous three seasons after closing a professional career that saw him rewrite the K-Wings record books while appearing in 422 games with the club. Last year, Martin was inducted into the ECHL Hall of Fame as a player.
Payne became the head coach of the Cyclones ahead of the 2021-22 season. He led the club to a 36-32-3 record and a playoff berth in his rookie campaign. Payne had spent the two previous seasons as an assistant coach with the club before being elevated to the top job. Payne started his coaching career after a 14-year career as a player at various levels of pro hockey, working his way up through hockey leagues in Canada. His first head coaching job was in the OJHL with the Toronto Patriots.
Wednesday's game was played in front of a crowd of more than 2,700, comprised largely of school children, as the K-Wings were hosting a school-day game, a common practice in minor league sports to provide a unique experience for a field trip.
🚨Joel Martin and Jason Payne are making @ECHL history today🚨

They are the first Black head coaches to face off against each other as Martin's @KalamazooWings take on Payne's @CincyCyclones!

We're fortunate to have both as members of the #NHLCA BIPOC Coaches Program. pic.twitter.com/p9VscTiixL

— NHL Coaches' Association (@NHLCoachesAssoc) October 26, 2022
Martin and Payne have joined a relatively small group of Black head coaches in North American pro hockey history.
John Paris, Jr., was the first Black head coach in North American pro hockey, leading the International Hockey League's Atlanta Knights for parts of three seasons before moving to the Central Hockey League's Macon Whoopee. Dirk Graham was the NHL's first Black head coach, leading the Chicago Blackhawks for a portion of one season. He also coached the Springfield Falcons in the American Hockey League. Shawn Wheeler was the first Black coach in the ECHL, serving in that role for the Charlotte Checkers for two seasons. Graeme Townsend coached in both the CHL and ECHL over the span of three seasons and Leo Thomas spent one season as a head coach of the Southern Professional Hockey League's Macon Mayhem.
"I think that there are a lot of trailblazers that came before me to kind of pave the road, and I want to represent the BIPOC (Black, Indigenous and People of Color) community the best that I can and try to open doors for other people down the road," Martin told MLive.com when he was promoted in August.
Both Martin and Payne are part of the NHL Coaches' Association BIPOC Coaches Program which is an initiative that "aims to specifically support Black, indigenous and coaches of color in several areas including skills development, leadership strategies, communication tactics, networking, and career advancement opportunities."
Though that program is still in its early stages, Wednesday's game between two members could be looked to as a watershed moment for the BIPOC Coaches Program as efforts continue to make hockey more diverse and inclusive at all levels.
As for Wednesday's contest on the ice, the Cyclones managed to pull out a 2-1 victory over the K-Wings in a tight back-and-forth game.