2022 American International vs Canisius - Men's
AIC Rookie Alexander Malinowski Bringing Immediate Offense
AIC Rookie Alexander Malinowski Bringing Immediate Offense
The step from juniors to the NCAA can prove trying, even for some of the most touted NHL prospects, but AIC freshman Alexander Malinowski isn't deterred.
Oct 27, 2022
by Jacob Messing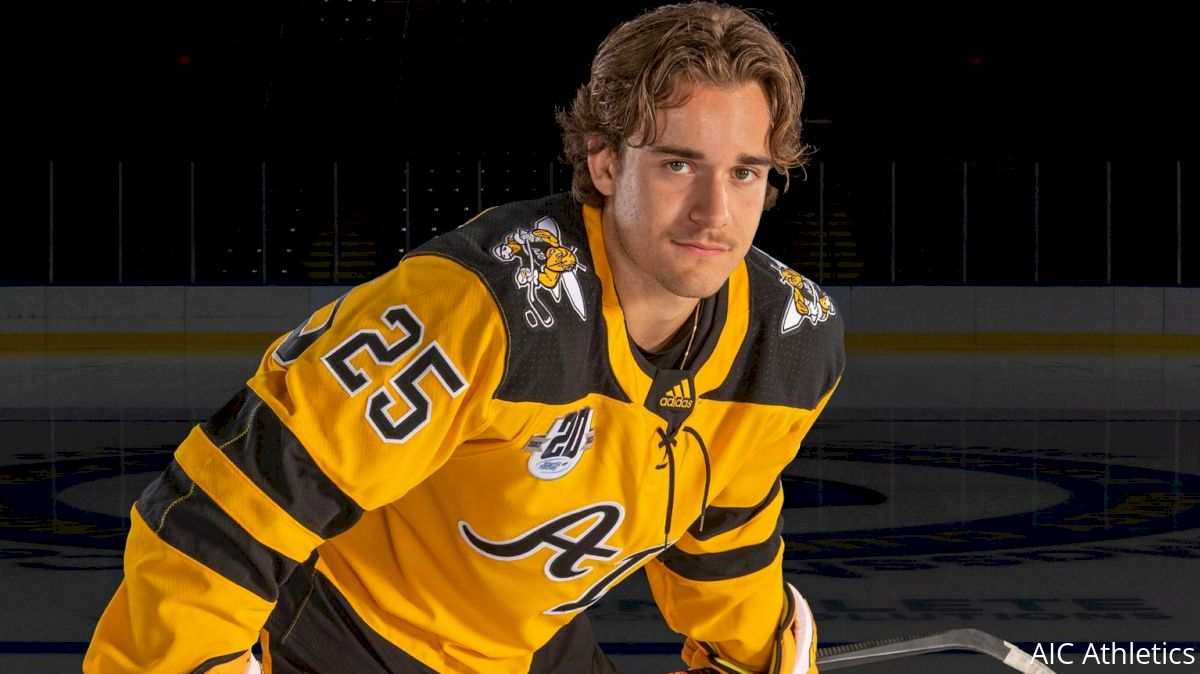 The step from juniors to the NCAA can prove trying, even for some of the most touted NHL prospects, but AIC freshman Alexander Malinowski isn't deterred.
A native of Malmslatt, Sweden, Malinowski entered AIC after a single year of North American hockey.
The adjustment to a smaller ice surface and an often more physical side to the game has been known to hinder overseas transfers, but it wasn't a problem for a 20-year-old joining the fittingly named North American Hockey League.
Malinowski excelled with the Fairbanks Icedogs in his first year in North America.
A transitional left wing comfortable on either side of the ice helped him stay unpredictable and presented more options for his coaching staff, line mates and him.
Fairbanks assistant coach Aaron McPheters labeled the Swede a competitive and natural leader, which helped him earn an 'A' as an alternate captain in his lone season.
"He's mature beyond his years. There's a reason he wears a (captains) letter for us this year," Fairbanks coach Trevor Stewart told Nik Speilopoulos of Webcenter Fairbanks. "It speaks a lot that he is doing that not only as a first-year, but also as a forward. He treats the game the right way, and now the game is paying him back a little bit."
That leadership started off the ice, but it certainly extended to its surface once Malinowski got the puck on his stick. His vision and determination helped him record a team-leading 33 goals and 75 points in 58 games.
From Sweden and @fbx_IceDogs, say hello to Alex Malinowski!

He had an eye-popping 75 points in 58 games in 2021-22!#AICommitted pic.twitter.com/mzMlvUzoyW

— AIC Hockey (@AIC_Hockey) July 26, 2022
Across the league, Malinowski finished fifth in goals, ninth in assists, fourth in points and 10th in shots. While he wasn't technically a rookie by league criteria, they are strong indicators of his ability for a first-year player.
Now, Malinowski brings his skillset to an NCAA program seeking its fifth-straight conference title and fourth consecutive NCAA national tournament berth, excluding the canceled 2020 event.
Programs like AIC are able to recruit on their merit and consistent history, which helped Malinowski opt for coach Eric Lang's team over other suitors. But it's also players like Malinowski who bring an extra level to winning cultures.
"First, they put a lot of effort into showing me what it will be like going to the school," Malinowski said to Speilopoulos. "I feel like I match with them on a lot of points, like what they want to do and what they want to achieve. I want to get better as a hockey player, and they want to improve as a hockey program."
It is a large reason why coach Lang has put Malinowski in a position to succeed, with powerplay time and playing on a line with Colorado College transfer Jordan Biro.
"Alex is a high-IQ offensive player," Lang said. "He understands how to work away from the puck and can make you miss in tight spaces. He has extremely quick hands with a very accurate hard shot."
Those assets are part of what has seen Malinowski help Biro to second in NCAA scoring with three goals and 11 points through eight games. Biro and Malinowski have combined for four goals, three on the man advantage and two powerplay goals for Malinowski.
Finally, Alexander Malinowski's redirect put the cherry on the sundae for tonight's win!#AICommitted pic.twitter.com/dlGMQ7olkv

— AIC Hockey (@AIC_Hockey) October 23, 2022
The man advantage can be a great confidence builder, and with Malinowski's natural offense, even strength scoring will come. For now, he sits with five points (2 G, 3 A) over his past four games.
Catch every second of Malinowski's season with the Yellow Jackets, live on FloHockey.
---
Have a question or a comment for Jacob Messing? You can find him on Twitter @Jacob_Messing.