ECHL
Joe Pendenza At Home With Florida Everblades, Ready To Defend Title
Joe Pendenza At Home With Florida Everblades, Ready To Defend Title
You can't win a title without big players stepping up. The moment wasn't too big for Joe Pendenza, who helped the Florida Everblades win it all last year.
Oct 25, 2022
by Mike Ashmore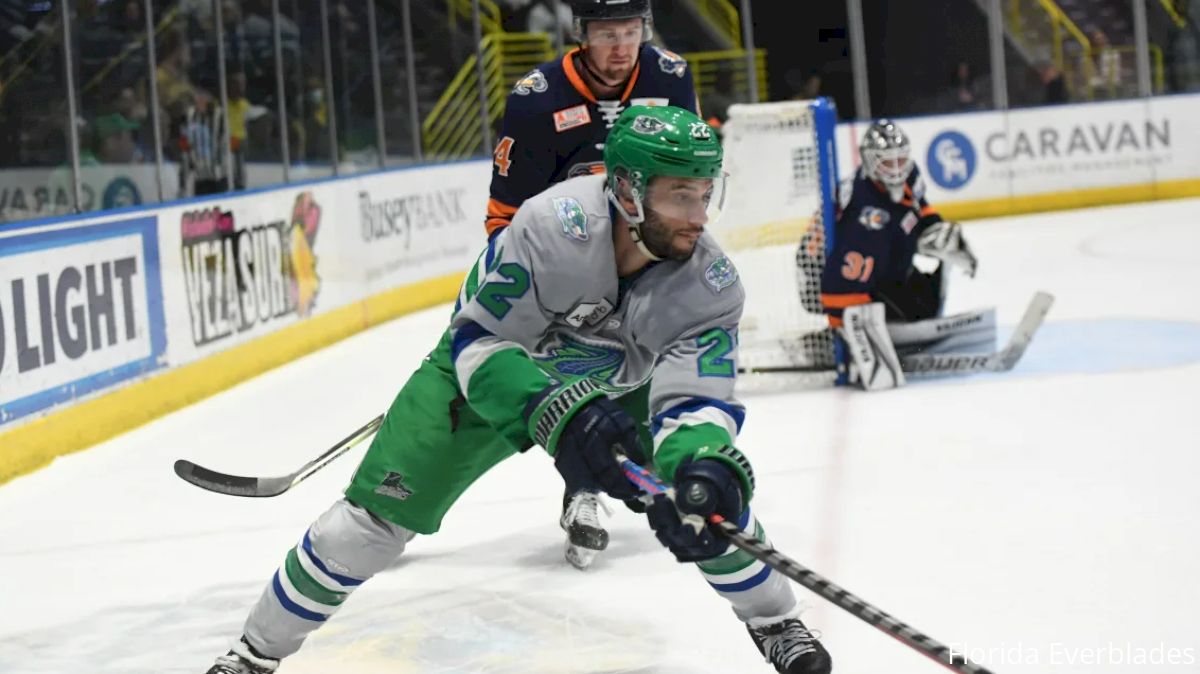 You can't win a championship without big players stepping up in big moments.
The moment wasn't too big for Joe Pendenza.
When the Florida Everblades were trailing by a goal late in regulation in Game 4 of the Kelly Cup Finals against the Toledo Walleye, it was the 31-year-old Wilmington, Massachusetts, native who came through in the clutch.
He ripped a one-timer from the top of the right circle with 20.2 seconds left to send the game to overtime, with Lukas Kaelble eventually scoring the game-winner deep in overtime to give the team a commanding 3-1 series lead.
One night later, the Cup was theirs.
"It means a lot to be able to contribute in whatever way possible," Pendenza said. "That goal I scored in Game 4, it had been a while since I'd scored the last one, so it was nice to finally get one. I'd had a lot of chances. That felt good.
"But I try to pride myself in playing a 200-foot game, so even when I'm not scoring goals and making plays, I'm still contributing to the team. That's been a big thing my entire pro career - even if you're not scoring, you're still doing something, whether it's being good defensively or being good on the penalty kill. To chip in with some goals and some assists, that obviously helps. It's always nice celebrating some goals."
After setting career highs during the regular season in goals (27), assists (37) and points (64), Pendenza kept it rolling through the Kelly Cup Playoffs, potting five goals and adding 11 assists in 20 postseason contests.
✍️ We have re-signed Joe Pendenza for the 22-23' season! 🐊

🔗 - https://t.co/YYHitJJWRs pic.twitter.com/VH6dgLyLte

— Florida Everblades (@FL_Everblades) July 21, 2022
The former UMass-Lowell standout seems to have finally found a home with the Everblades. He's now in his fourth season with the club, making getting to hoist the Cup over his head wearing their sweater all the more meaningful.
"It was crazy," he said. "Everything that goes into a whole year. We played 92 games, starting in early October and went to mid-June, so to go from that being your goal back then to finally reaching it, there's points you can't really believe it actually happened. It probably took me a few weeks to realize it. It's pretty surreal."
It came close to not happening at all.
The Everblades had a more difficult challenge than they probably expected in the first round against the Greenville Swamp Rabbits, needing six games to get past them, including overtime wins in Game 1 and Game 3.
"That Greenville series was a huge test, but we kind of just kept rolling from there," Pendenza said. "But we had a motivational speaker come in and talk to us right before the playoffs, and it kind of gave us that good mindset of 'We're going to win this.'
"Throughout the playoffs, everyone bought in, and no one was afraid to say, 'Hey, we're going to win the Kelly Cup.' I think when you have that kind of confidence, it's hard to stop that. We just willed it to win it. There were times we weren't playing good, but we just stuck with it."
The decade-long outside noise of wondering when the Cup would be coming back to Hertz Arena finally was silent.
Introducing your new Mascot Of The Year🏆👑 pic.twitter.com/Bz3cBiGypR

— Florida Everblades (@FL_Everblades) August 16, 2022
As much as many in the organization are happy it'll be gone, Pendenza used it as motivation, something that drove him to want to work harder to deliver the team's first championship since 2012.
"I think I kind of relished it, just because you want to win the Kelly Cup, that's what everyone wants at the end of the day, and I just never wanted to be in the situation where it was like you make the playoffs, so we'll have a good run and we'll see how it goes," Pendenza said. "I've always embraced that challenge of wanting to be the best, and wanting to win. For me to come to this organization, and that's where the expectation was, I loved it and embraced it. We got everyone on board with the team, and everyone else embraced it, and that's pretty hard to stop."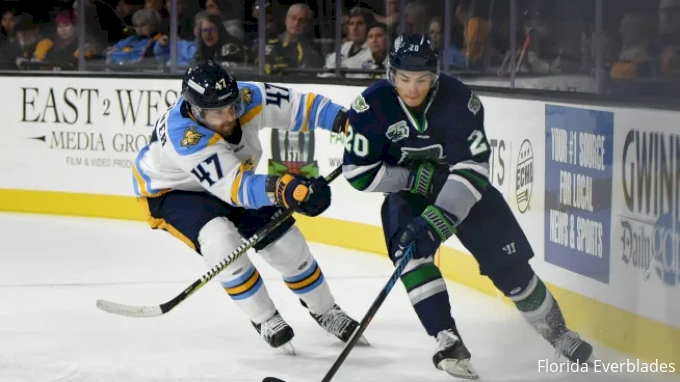 Pendenza and the 'Blades are hoping that momentum carries through into this season, where they'll have one last opportunity to reflect on their accomplishments when the Kelly Cup Championship banner is raised to the rafters of Hertz Arena on Oct. 29, prior their opener against the Jacksonville Icemen.
"I think the banner raising and all that will be a fun time, but at the same time, we have to turn the page on last year," he said. "This year, everyone knows who won, so everyone's going to bring their best every night. We have to know that going into every game. I think going into this season, the biggest thing for us is we learned from our experience last year and what it took, but we have to turn that page and get going on this year. It's a whole new season."