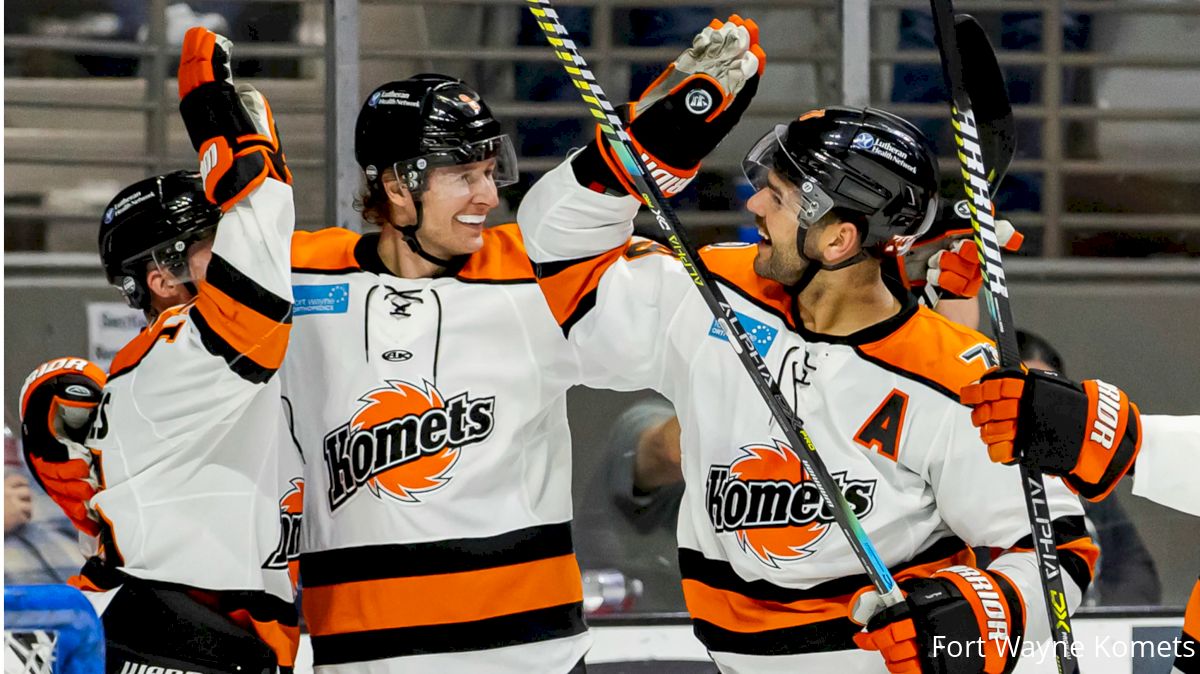 The ECHL announced Thursday the opening rosters for all 28 teams ahead of the league's opening weekend starting with a slate of eight games Friday night on FloHockey.
The league allows for each team to carry 20 players, with a maximum of 18 skaters. However, during the first 30 days of the regular season, teams can carry a maximum of 21 players, with a maximum of 19 skaters. Additionally, each team is able to carry a up to two players on their reserve list, with an unlimited number of players allowed to be placed on the 14-day injured reserve.
The ECHL season opens Friday night with the Newfoundland Growlers playing host to the Reading Royals in the first official game of the 2022-23 campaign. Every single ECHL game throughout the regular season and on demand on FloHockey. See the full broadcast schedule here.
Here is a look at the announced rosters for all 28 teams via the ECHL.
Adirondack Thunder
Isaac Poulter, G; Mareks Mitens, G; Jeff Taylor, D; Jarrod Gourley, D; Filip Bratt, D; Ryan DaSilva, D; Ivan Chukarov, D; Daniel Maggio, D/F; Noah Corson, F; Nick Rivera, F; Colin Long, F; Ryan Smith, F; Billy Jerry, F; Shawn Weller, F; Shane Harper, F; Vladislav Mikhalchuk, F; Patrick Grasso, F; Sebastian Vidmar, F; Yannick Turcotte, F; Garrett VanWyhem, F; Xavier Parent, F
Reserve – Jake Theut, G; Cory Dennis, D
Injured Reserve – Rex Moe, F; Jake Ryczek, D
Allen Americans
Luke Peressini, G; Logan Flodell, G; Nick Albano, D; Lordanthony Grissom, D; Kris Myllari, D; Colton Saucerman, D; Ryan Gagnon, D; Dalton Skelly, D; Jared Bethune, D; Jack Combs, F; Hank Crone, F; Spencer Asuchak, F; Jackson Leppard, F; Zach Pochiro, F; Justin Young, F; Colton Hargrove, F; Liam Finlay, F; Mikael Robidoux, F; Andrew Durham, F
Reserve – Marcel Godbout, F; Stephen Baylis, F
Atlanta Gladiators
Tyler Parks, G; David Tendeck, G; Zach Yoder, D; Dylan Carabia, D; Bode Wilde, D; Dalton Thrower, D; Jacob Graves, D; Noah Laaouan, D; Tim Davison, D; Derek Topatigh, D; Kaid Oliver, F; Reece Vitelli, F; Cody Sylvester, F; Eric Neiley, F; Michael Turner, F; Paul McAvoy, F; Kameron Kielly, F; Brandon Schultz, F; Mike Pelech, F; Sanghoon Shin, F; Gabe Guertler, F
Reserve – Alex Sakellaropoulos, G; Josh Thrower, D
A new era has just begun.

The Atlanta Gladiators are proud to announce new team owners, Alex Campbell and Anson Carter!

Read more: https://t.co/uaYi7gOmI4 pic.twitter.com/7nF0kTszQl

— Atlanta Gladiators (@atlgladiators) October 18, 2022
Cincinnati Cyclones
Mark Sinclair, G; Beck Warm, G; Sean Allen, D; Zach Berzolla, D; Matt Cairns D; Arvin Atwal, D; Dakota Betts, D; Josh Burnside, D; Jalen Smereck, D; Matt Berry, F; Zack Andrusiak, F; Louie Caporusso, F; Lee Lapid, F; Emmett Sproule, F; Justin Vaive, F; Cody Caron, F; Matt McLeod, F; Lincoln Griffin, F; Patrick Polino, F; Josh Passolt, F; Philip Lagunov, F
Reserve – Trevin Kozlowski, G
Injured Reserve – Dajon Mingo, D; Brandon Yeamans, F; Jeremiah Addison, F
Florida Everblades
Evan Fitzpatrick, G; Cam Johnson, G; Lukas Kaelble, D; Austin Crossley, D; Robert Calisti, D; Nathan Staios, D; Stefan LeBlanc, D; Ben Masella, D; Brandon Hickey, D; Cole Moberg, D; Robert Carpenter, F; Kody McDonald, F; Levko Koper, F; Oliver Chau, F; Michael Neville, F; Kobe Roth, F; Joe Pendenza, F; Dominic Franco, F; Blake Winiecki, F; Xavier Cormier, F; Cam Morrison, F
Reserve – Nolan Kneen, D; Kyle Neuber, F
Injured Reserve – Cam Darcy, F
Fort Wayne Komets
Colton Point, G; Ryan Fanti, G; Scott Allan, D; D.J. King, D; Clark Hiebert, D; Blake Siebenaler, D; Marc-Antoine Pepin, D; Marcus McIvor, D; Aiden Jamieson, D; Benjamin Gagne, D; Matt Boudens, F; Mark Rassell, F; Matt Alvaro, F; Jordan Martel, F; Semyon Babintsev, F; Anthony Petruzzelli, F; Shawn Boudrias, F; Stefano Giliati, F; Tyler Busch, F; Oliver Cooper, F; Drake Rymsha, F
Reserve – Josh Winquist, F; Tye Felhaber, F
Injured Reserve – Owen Savory, G; Louie Rowe, F
Greenville Swamp Rabbits
Michael McNiven, G; David Hrenak, G; Bryce Reddick, D; Ethan Cap, D; Christian Kasastul, D; Justin Hamonic, D; Joe Gatenby, D; Bobby Russell, D; Max Martin, D; Frank Hora, D; Nikita Pavlychev F; Chase Zieky, F; Ayden MacDonald, F; Anthony Beauchamp, F; Ben Freeman, F; Ethan Somoza, F; Alex Ierullo, F; Austin Eastman, F; Justin Nachbaur, F; Tanner Eberle, F; Jake Elmer, F
Reserve – Luke Santerno, F; Carter Souch, F
Injured Reserve – Cameron Supryka, D; Dallas Gerads, F; Kevin McKernan, D
Idaho Steelheads
Remi Poirier, G; Jake Kupsky, G; Adam Scheel, G; Matt Register, D; Dawson Barteaux, D; Darren Brady, D; Cody Haiskanen, D; Owen Headrick, D; Patrick Kudla, D; Jordan Kawaguchi, F; Ryan Dmowski, F; A.J. White, F; Jack Becker, F; Zach Walker, F; Colton Kehler, F; Janis Svanenbergs, F; William Knierim, F; Wade Murphy, F; Ty Pelton-Byce, F; Jade Miller, F
Reserve – Nicholas Canade, D; Justin Misiak, F
Injured Reserve – Matt Stief, D; Jordan Timmons, F; Michael Pastujov, F
A little extra responsibility for our captain this year... Congrats A.J. White on being named player assistant coach for the 2022-23 season!

📝READ: https://t.co/848H2Pw7LM pic.twitter.com/ezYShVDZPz

— Idaho Steelheads (@Steelheads) October 19, 2022
Indy Fuel
Mitchell Weeks, G; Dylan Wells, G; Josh McDougall, D; Chris Cameron, D; Kirill Chaika, D; Cam Bakker, D; Keoni Texeira, D; Andrew Perrott, D; Koletrane Wilson, D; Jakub Pour, F; Riley McKay, F; Chris Van Os-Shaw, F; Bryan Lemos, F; Jan Mandat, F; Chad Yetman, F; Seamus Malone, F; Spencer Watson, F; Kale Howarth, F; Chase Lang, F; Mitch Hoelscher, F; Alex Wideman, F
Reserve – Matt Watson, D; Nate Pionk, F
Iowa Heartlanders
Hunter Jones, G; C.J. Motte, G; Nolan Orzeck, D; T.J. Fergus, D; Ryan Wheeler, D; Riese Zmolek, D; Connor Russell, D; Justin Wells, D; Carter Shinkaruk, D; Kevin Conley, F; Cole Stallard, F; Jake Smith, F; Mitchell Balmas, F; Zach White, F; Tommy Parrottino, F; Alec Broetzman, F; Brendan Robbins, F; Matthew Boucher, F; Nick Campoli, F; James Sanchez, F; Patrick Curry, F
Reserve – Yuki Miura, F; Bo Hanson, D
Injured Reserve – Corbin Kaczperski, G; Guus van Nes, F
Jacksonville Icemen
Parker Gahagen, G; Olof Lindbom, G; Victor Hadfield, D; Jacob Panetta, D; Jacob Friend, D; Luke Martin, D; Tim Theocharidis, D; Brandon Fortunato, D; Garret Cockerill, D; Zach Jordan, F; Cristiano DiGiacinto, F; Matt Salhany, F; Ryan Lohin, F; Easton Brodzinski, F; Alex Whelan, F; Travis Howe, F; Christopher Brown, F; Ara Nazarian, F; Luke Lynch, F; Brendan Harris, F; Derek Lodermeier, F
Reserve – Jake Hamacher, F; Louka Henault, D
Injured Reserve – Charles Williams, G; Ben Hawerchuk, F
Kalamazoo Wings
Trevor Gorsuch, G; Hunter Vorva, G; Ryan Cook, D; Justin Murray, D; Jeremy Masella, D; Olivier LeBlanc, D; Chad Nychuk, D; Tyler Rockwell, D; Joe Masonius, D; Collin Saccoman, D; Max Humitz, F; Raymond Brice, F; Mason McCarty, F; Logan Lambdin, F; Anthony Collins, F; Matt Iacopelli, F; Justin Taylor, F; Erik Bradford, F; Daniel D'Amico, F; Brandon Saigeon, F; Shaw Boomhower, F
Reserve – Josh Victor, D; Coale Norris, F
Injured Reserve – Anthony Florentino, D; Tanner Nagel, F
Kansas City Mavericks
Dillon Kelley, G; Shane Starrett, G; Dalton Gally, D; Theo Calvas, D; Jake McLaughlin, D; Tommy Muck, D; Jordan Sambrook, D; Nate Knoepke, D; Marc McNulty, D; John Schiavo, F/D; Garrett Klee, F; Keeghan Howdeshell, F; Loren Ulett, F; Luke Morgan, F; Hugo Roy, F; Jake Jaremko, F; Josh Lammon, F; Nick Pastujov, F; Cole Coskey, F; Pascal Laberge, F; Jeremy McKenna, F
Reserve – Josh Elmes, D; Geoff Kitt, F
Injured Reserve – Ryan Harrison, F
Mavericks hockey returns to the Cable Stable Saturday, October 22nd 👊 pic.twitter.com/QiXfPEsNhi

— Kansas City Mavericks (@kc_mavericks) October 4, 2022
Maine Mariners
Francois Brassard, G; Josh Boyko, G; Brandon Bussi, G; Nate Kallen, D; Marc-Olivier Duquette, D; Connor Doherty, D; Andrew Peski, D; Fedor Gordeev, D; Gabriel Chicoine, D; Grant Gabriele, D; Mathew Santos, F; Nick Jermain, F; Cameron Askew, F; Conner Bleackley, F; Keltie Jeri-Leon, F; Mitch Fossier, F; Nick Isaacson, F; Patrick Shea, F; Nick Master, F; Tim Doherty, F; Reid Stefanson, F
Reserve – Alden Weller, D; Josh McKechney, F
Newfoundland Growlers
Dryden McKay, G; Luke Cavallin, G; James Melindy, D; Taylor Egan, D; Brennan Kapcheck, D; Michael Joyaux, D; Tommy Miller, D; Simon Kubicek, D; Orrin Centazzo, F; Zach O'Brien, F; Zach Solow, F; Nathan Noel, F; Derian Plouffe, F; Todd Skirving, F; Jordan Escott, F; Brandon Kruse, F; Brett Budgell, F; Keenan Suthers, F; Isaac Johnson, F; Tyler Boland, F; Nolan Walker, F
Norfolk Admirals
Tomas Vomacka, G; Cale Morris, G; Carson Musser, D; Elijah Vilio, D; Luke Prokop, D; Eric Williams, D; Nick Schaus, D; Nick Leitner, D; Xavier Bouchard, D; Denis Smirnov, F; Tag Bertuzzi, F; Brett Van Os, F; Joe Widmar, F; Cody Milan, F; Eric Cooley, F; Aidan Brown, F; Liam MacDougall, F; Jordan Kaplan, F; Ryan Foss, F; Todd Burgess, F; Blake Murray, F
Reserve – Michael Bullion, G; Danny Katic, F
Injured Reserve – Carter Robertson, D; Kenny Hausinger, F
Orlando Solar Bears
Brad Barone, G; Jack LaFontaine, G; Chris Harpur, D; Luke McInnis, D; Michael Brodzinski, D; Jimmy Mazza, D; Jack Dougherty, D; Andrew McLean, D; Dmitri Semykin, D; Steve Oleksy, D; Joe Carroll, F; Tyler Bird, F; Ross Olsson, F; Brian Bowen, F; Luke Boka, F; Brendan van Riemsdyk, F; Carson Denomie, F; Shawn Szydlowski, F; Tristin Langan, F; Karl El-Mir, F; Adam Varga, F
Reserve – Matthew Sredl, D; Andrew Sturtz, F
Injured Reserve – Brandon Halverson, G; Matthew Barnaby, F; Dante Sheriff, F; Maxim Cajkovic, F; Hunter Fejes, F
The stage is set 🥶 See you on October 23!

Don't have tickets yet? GET THEM NOW!
🎟️: https://t.co/I2g9bEqB4V pic.twitter.com/dz1IekE36f

— Orlando Solar Bears (@OrlandoHockey) October 12, 2022
Rapid City Rush
Adam Carlson, G; Daniil Chechelev, G; Callum Fryer, D; Simon Lavigne, D; Quinn Wichers, D; Tyson Helgesen, D; Kenton Helgesen, D; Ryan Zuhlsdorf, D; Rhett Rhinehart, D; Ilya Nikolayev, F; Rory Kerins, F; Colton Leiter, F; Alex Aleardi, F; Keegan Iverson, F; Jon Martin, F; Keanu Yamamoto, F; Matt Marcinew, F; Logan Nelson, F; Max Coatta, F; Lucas Feuk, F; Calder Brooks, F
Reserve – Tanner Schachle, F; Zach Court, F
Injured Reserve – Brad Arvanitis, G; Garrett Klotz, F; Brett Gravelle, F
Reading Royals
Nolan Maier, G; Pat Nagle, G; Dominic Cormier, D; Ryan Romeo, D; Mike Chen, D; Colin Felix, D; Max Balinson, D; Will MacKinnon, D; Garrett McFadden, D; Mason Millman, D; Tyler Kirkup, F; Kamerin Nault, F; Yvan Mongo, F; Zane Franklin, F; Max Newton, F; Alec Butcher, F; Trey Bradley, F; Jacob Gaucher, F; Brendan Hoffman, F; Shane Sellar, F; Sam Sternschein, F
Reserve – Justin Kapelmaster, G; Devon Paliani, F
Savannah Ghost Pirates
Darion Hanson, G; Jordan Papirny, G; Clayton Phillips, D; Tristan Thompson, D; Darian Skeoch, D; Brandon Estes, D; Will Riedell, D; Aaron Thow, D; Connor Corcoran, D; Westin Michaud, F; Brent Pedersen, F; Spencer Dorowicz, F; Spencer Naas, F; Brian Hawkinson, F; Lynden McCallum, F; Vincent Marleau, F; Alex Swetlikoff, F; Marcus Kallionkieli, F; Daniel D'Amato, F; Logan Drevitch, F; Patrick Guay, F
Reserve – Darick Louis-Jean, D; Max Kaufman, F
Injured Reserve – Marshall Moise, F; Brennan Blaszczak, F
South Carolina Stingrays
Riley Morris, G; Chase Stewart, D; Connor Moore, D; Carter Allen, D; Matt Anderson, D; Evan Wardley, D; Chaz Reddekopp, D; Michael Kim, D; Benton Maass, D; Bear Hughes, F; Josh Wilkins, F; Kevin O'Neil, F; Ryan Scarfo, F; Justin Florek, F; Andrew Cherniwchan, F; Alexandre Fortin, F; Carter Turnbull, F; Jarid Lukosevicius, F; Tarek Baker, F; Jonny Evans, F
Reserve – Lawton Courtnall, F; Anthony Del Gaizo, F
Injured Reserve – Gavin Gould, F; Sean Gulka, F; Garin Bjorklund, G; Kylor Wall, D
Toledo Walleye
Max Milosek, G; Rylan Parenteau, G; Simon Denis, D; Cole Fraser, D; Gordi Myer, D; Cam Clarke, D; Kurt Gosselin, D; Tommy Parran, D; Joseph Nardi, F; Conlan Keenan, F; Sam Craggs, F; Lukas Craggs, F; Brett McKenzie, F; Gordie Green, F; Brett Boeing, F; John Albert, F; Thomas Ebbing, F; Mitchell Heard, F
Reserve – Ryan Lowney, D; Brandon Hawkins, F
This season, it's all about you.

Our Fish.
Our Fight.
Our FANS. pic.twitter.com/J9boSTB9Vy

— Toledo Walleye (@ToledoWalleye) October 7, 2022
Trois-Rivières Lions
Philippe Desrosiers, G; Joe Vrbetic, G; Mathieu Brodeur, D; Santino Centorame, D; Olivier Galipeau, D; Alex Breton, D; Philippe Bureau-Blais, D; Connor Welsh, D; John Parker-Jones, D; Cedric Montminy, F; Anthony Beauregard, F; William Leblanc, F; Ryan Francis, F; Nicolas Lariviere, F; Conner Chaulk, F; James Phelan, F; Nicolas Guay, F; Cameron Hillis, F; Emile Poirier, F; Brett Stapley, F; Colin Bilek, F
Reserve – Francis Thibeault, D; Jonathan Joannette, F
Injured Reserve – Thomas Sigouin, G; Bradley Johnson, D
Tulsa Oilers
Eric Dop, G; Daniel Mannella, G; Alex Pommerville, D; Karl Boudrias, D; Jarod Hilderman, D; Adam Samuelsson, D; Andrew Jarvis, D; Justin Bean, D; Mike McKee, D; Maxim Golod, F; Dylan Sadowy, F; Alex Kromm, F; Ethan Stewart, F; Tyler Poulsen, F; J.C Campagna, F; Jackson Leef, F; Alex Gilmour, F; Michael Farren, F; Eddie Matsushima, F; Jack Doremus, F; Jimmy Soper, F
Reserve – Evan Weinger, F; Chris Perna, D
Utah Grizzlies
Lukas Parik, G; Trent Miner, G; James Shearer, D; Kyle Pouncy, D; Joey Colatarci, D; Brycen Martin, D; Connor McDonald, D; Nate Clurman, D; Andrew Nielsen, D; Victor Bartley, D; Tarun Fizer, F; Dakota Raabe, F; Zachary Tsekos, F; Johnny Walker, F; Tyler Penner, F; Dylan Fitze, F; Cameron Wright, F; Kyle Betts, F; Keaton Jameson, F; Cam Strong, F; Benjamin Tardiff, F
Reserve – Garrett Metcalf, G; Christian Simeone, F
Injured Reserve – Jordon Stone, D; Neil Robinson, F
Wheeling Nailers
Tommy Nappier, G; Taylor Gauthier, G; David Drake, D; Louie Roehl, D; Adam Smith, D; Dilan Peters, D; Davis Bunz, D; Clay Hanus, D; Josh Maniscalco, D; Chris Merisier-Ortiz, D; Carter Johnson, F; Sean Josling, F; Cedric Desruisseaux, F; Justin Addamo, F; Max Johnson, F; Bobby Hampton, F; Tyler Drevitch, F; Felix Pare, F; Cam Hausinger, F; Samuel Tremblay, F; Brooklyn Kalmikov, F
Reserve – Ryan Bednard, G
Injured Reserve – Peter Laviolette, F; Matt Quercia, F
Wichita Thunder
Evan Buitenhuis, G; Liam Hughes, G; Kyle Rhodes, D; Connor Walters, D; Bray Crowder, D; Jordan Muzzillo, D; Dominic Dockery, D; Billy Constantinou, D; Dylan MacPherson, D; Jay Dickman, F; Stefan Fournier, F; Logan Fredericks, F; Michal Stinil, F; Brayden Watts, F; Peter Bates, F; Mitchell Russell, F; Mark Liwiski, F; Timur Ibragimov, F; Jake Wahlin, F; Quinn Preston, F; Dillon Hamaliuk, F
Reserve – Zack Hoffman, D; Barret Kirwin, F
Injured Reserve – Chris McKay, D
⚡️ PLAYER SIGNING ⚡️

Our reigning team MVP is back! Jay Dickman is returning to the Thunder for the 2022-23 season. Welcome back Wichita, @Dicky26Jay!

READ MORE ⬇️

— Wichita Thunder (@Wichita_Thunder) October 6, 2022
Worcester Railers
Henrik Tikkanen, G; Ken Appleby, G; Trevor Cosgrove, D; Jared Brandt, D; Myles McGurty, D; Connor McCarthy, D; Christian Evers, D; Noah Delmas, D; Philip Beaulieu, D; Collin Adams, F; Reece Newkirk, F; Liam Coughlin, F; Anthony Repaci, F; Blade Jenkins, F; Nolan Vesey, F; Steven Jandric, F; Bobby Butler, F; Brent Beaudoin, F; Quinn Ryan, F; Jacob Hayhurst, F; Blake Christensen, F
Injured Reserve – Conor Breen, D; Zack Bross, F; Jack Quinlivan, F