ECHL
ECHL Central Division Preview: Can Toledo Walleye Maintain Dominance?
ECHL Central Division Preview: Can Toledo Walleye Maintain Dominance?
The Walleye were the class of their division last season, advancing to the Kelly Cup Finals, before the Everblades ended their season. Can that continue?
Oct 19, 2022
by Mike Ashmore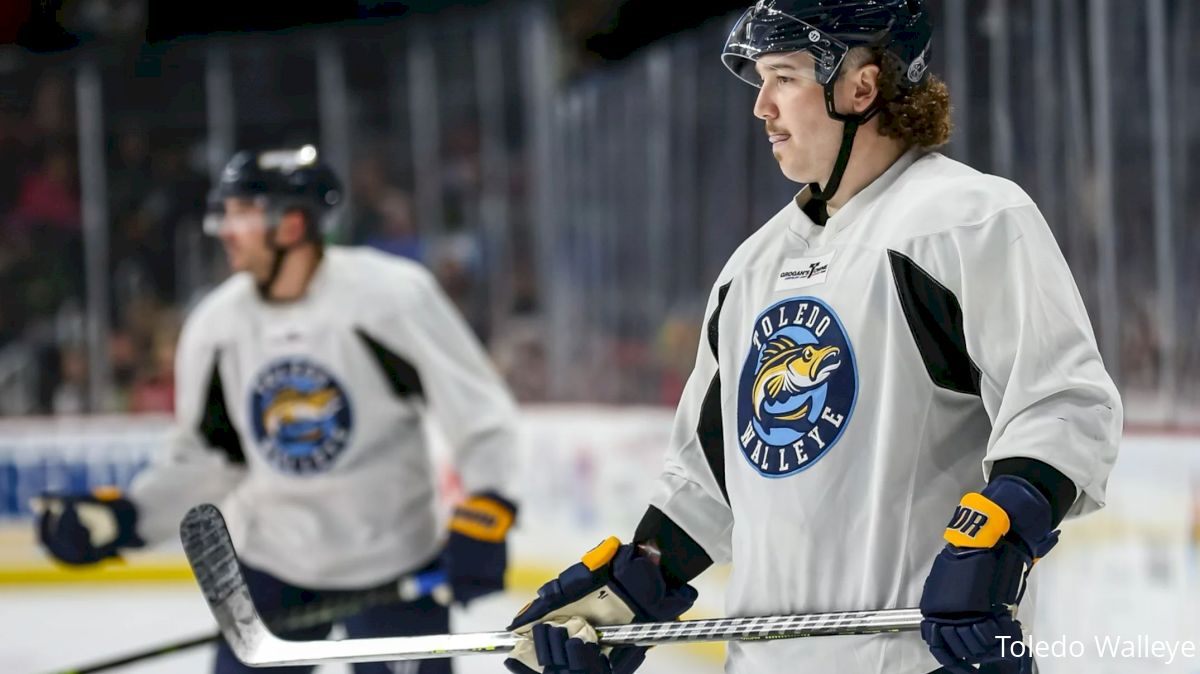 The Toledo Walleye were the class of the Central Division last season, advancing all the way to the Kelly Cup Finals, before the Florida Everblades eventually ended their season.
There was a 15-point gap between the Walleye and the next closest team, the Fort Wayne Komets, in the standings, with a four-horse race for the final two playoff spots keeping things interesting in the final weeks.
Will the dynamic change this year? Or will the Walleye run away with it yet again?
CINCINNATI CYCLONES
KEY ADDITIONS: Matt Berry, Zach Andrusiak, Zach Berzolla, Jalen Smereck, Trevin Kozlowski, Beck Warm
KEY DEPARTURES: Jesse Schultz, Michael Houser
KEY RETURNEES: Louie Caporusso, Justin Vaive, Patrick Polino, Matt McLeod, Dajon Mingo, Wyatt Ege
OUTLOOK: The Cyclones earned the final playoff berth in the Central Division under first-year head coach Jason Payne, who comes back with a group that seems poised to potentially do more.
Louie Caporusso, the team's second-leading scorer with 66 points in 67 games, leads the charge of returnees, but the big news is the addition of Matt Berry, who was a key part of the Walleye team that got all the way to the Kelly Cup Finals.
Trevin Kozlowski and Beck Warm will provide a very different look in net.
WHEELING NAILERS
KEY ADDITIONS: Ryan Bednard, Cedrick Desruisseaux, Eetu Selanne, Peter Laviolette III
KEY DEPARTURES: Patrick Watling, Justin Almeida, Timothy Doherty
KEY RETURNEES: Josh Maniscalco, Adam Smith, Tommy Nappier
OUTLOOK: Currently, the Nailers roster looks vastly different than it did last season, with many of their top scorers not set to return, including Patrick Watling, who paced the team with 77 points in just 55 games.
There will be some interesting names to watch this year, however, as the sons of Teemu Selanne and Peter Laviolette are on the club.
In net, Tommy Nappier returns and will split duties with Ryan Bednard, a Florida Panthers draft pick who saw the bulk of the duties in South Carolina last year.
TOLEDO WALLEYE
KEY ADDITIONS: Simon Denis, Thomas Ebbing, Lukas Craggs, Gordie Green
KEY DEPARTURES: Matt Berry, T.J. Hensick, Randy Gazzola
KEY RETURNEES: Mitchell Heard, Conlan Keenan, Brett Boeing, John Albert, Brandon Hawkins, Max Milosek, Cole Fraser, Ryan Lowney, Cam Clarke, Gordi Myer
OUTLOOK: The powerhouse group in Toledo will look different this year without their leading scorer up front, T.J. Hensick, and their top scorer on the back end, Randy Gazzola.
Not to mention that Matt Berry has left for greener pastures within the division, and it could be a tough task for the Walleye to dominate the division like they did last season.
They're hopeful that the additions of proven scorers, such as Thomas Ebbing, Lukas Craggs and Gordie Green, can help soften the blow, as well as the return of veteran defenseman Simon Denis, who hasn't played for the club since the 2017-2018 season.
KALAMAZOO WINGS
KEY ADDITIONS: Joe Masonius, Brandon Saigeon
KEY DEPARTURES: Tanner Sorenson, Jet Greaves, Kyle Blaney, Jake Slaker
KEY RETURNEES: Justin Taylor, Erik Bradford, Trevor Gorsuch, Justin Murray, Matheson Iacopelli, Max Humitz, Logan Lambdin
OUTLOOK: The K-Wings shockingly missed the playoffs last year, despite a talented group, both up front and on the back end.
With that said, they largely didn't make any truly significant additions to the club, instead relying on that core group to turn things around this year.
Trevor Gorsuch, who was the team's workhorse between the pipes last year, returns for another season, as does ECHL vet Justin Taylor, who returns for a 12th season in the 'Zoo.
ONE. WEEK. AWAY. 🥳

The puck drops for season 35 on Friday, October 21.

Watch every game live on @FloHockey ⬇️

— ECHL (@ECHL) October 14, 2022

IOWA HEARTLANDERS
KEY ADDITIONS: Matthew Boucher, James Sanchez, Mitchell Balmas, Brendan Robbins
KEY DEPARTURES: Kris Bennett, Ryan Kuffner, Kaid Oliver
KEY RETURNEES: Corbin Kaczperski, Jake Smith, Hunter Jones, Jake Stevens, Riese Zmolek, Yuki Miura, Zach White, Cole Stallard
OUTLOOK: Even with missing the playoffs, the 'Landers were one of the best stories in the league last year as the little expansion team that could.
They contended for a playoff spot until the last two weeks of the year, thanks to a big second half turnaround, and will see some of the players who were most integral to that return for another year.
Kris Bennett, the league's Rookie of the Year, parlayed his success into a deal in Switzerland, but the team will see the likes of 25-goal scorer Jake Smith and Corbin Kaczperski, who was a solid presence in net, come back to the Heartland for the 2022-2023 season.
Matthew Boucher and James Sanchez should add some more scoring touch up front.
INDY FUEL
KEY ADDITIONS: Alex Wideman, Mitchell Hoelscher, Dylan Wells
KEY DEPARTURES: Jared Thomas, Darien Craighead, Cale Morris, Mitch Gillam
KEY RETURNEES: Seamus Malone, Jan Mandat, Chase Lang, Spencer Watson, Chad Yetman, Keoni Texeira
OUTLOOK: A late run wasn't enough for the Fuel to sneak into the postseason, as they fell three points shy of the fourth, and final, playoff spot.
Spencer Watson, Seamus Malone and Jan Mandat will return as three of their top-5 scorers from last year, but they'll likely look different in net with Cale Morris or Mitch Gillam set to come back, as of now.
Dylan Wells, who was the starter on an undermanned Norfolk team last year, likely will split duties with an AHL or NHL contracted goalie.
FORT WAYNE KOMETS
KEY ADDITIONS: Brett Bulmer, Sam Babintsev, Tye Felhaber, Joshua Winquist, Stefano Giliati, Colton Point
KEY DEPARTURES: Will Graber, Kellen Jones, Zach Pochiro, Samuel Harvey
KEY RETURNEES: Matt Alvaro, Matthew Boudens, Shawn Boudrias, Anthony Petruzzelli, Oliver Cooper, Blake Siebenaler, Marcus McIvor
OUTLOOK: Fort Wayne finished second in the division last year but never truly contended for the top spot, with Toledo running away with it from the first drop of the puck.
This year, the Komets have taken an interesting approach in free agency by making several key additions of players who've been proven ECHL scorers in the past but haven't played in the league in at least several years.
Brett Bulmer, a former NHLer, played one year with the Florida Everblades (2017-2018), before heading overseas.
Sam Babintsev posted 22 points in 33 games with Newfoundland Growlers three seasons ago when we last saw him, while Stefano Giliati hasn't played in North America since the 2010-2011 campaign, when he was one year removed from posting a 23-32—55 line for the Reading Royals.