2022 Tri-City Storm vs Fargo Force
USHL What To Watch For: Fargo On Fire; Gamblers, RoughRiders Weekend Clash
USHL What To Watch For: Fargo On Fire; Gamblers, RoughRiders Weekend Clash
USHL writer Jordan McAlpine breaks down some key games to watch on FloHockey this week.
Oct 19, 2022
by Jordan McAlpine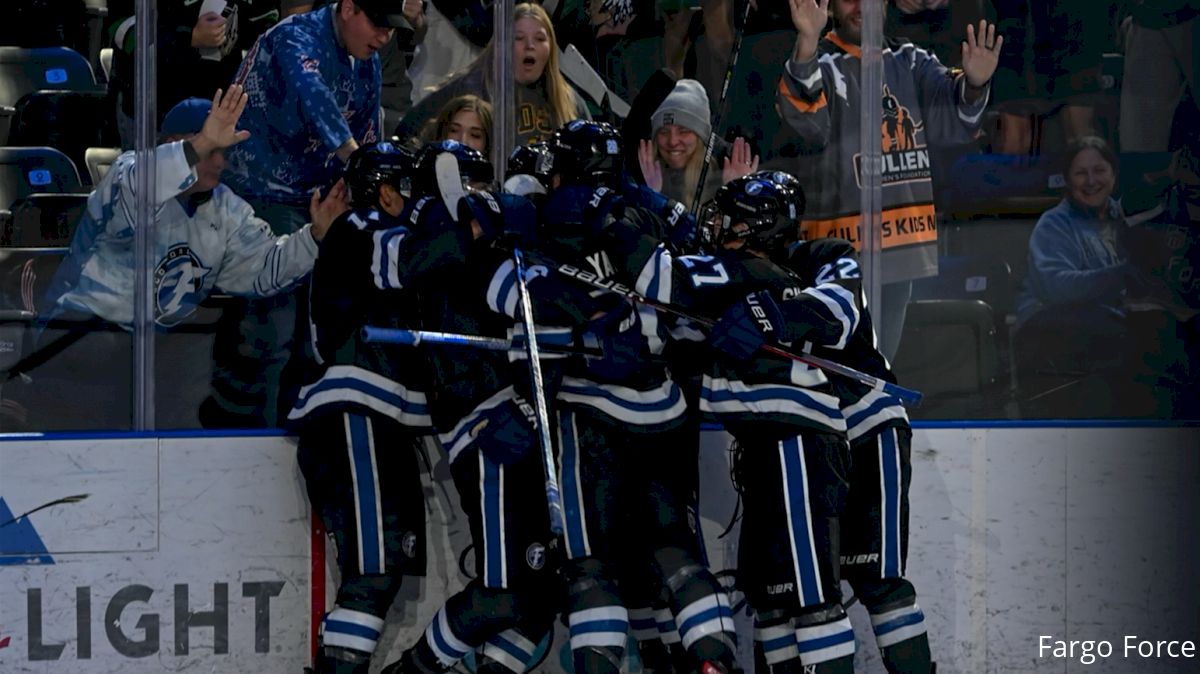 Week 3 in the USHL did not disappoint as conference leaders clashed and rivalries filled the schedule. All 16 teams hit the ice last weekend and although that number is down to 15 this time around, there are, once again, important early-season points on the line.
Here's a look at the week ahead, plus some thoughts from FloHockey's Senior Content Creator and prospects analyst Chris Peters, who shares his prospects to watch for each game.
Tri-City (3-3-0-0) at Fargo (4-1-0-1). Thursday, Oct. 20, 7:05 p.m. CT
An early game on Thursday features two of the top teams in the Western Conference, one of them being the hottest team in the league. After dropping their season-opener at the Fall Classic, the Force have now won four of their past five games -- the one outlier being a shootout loss to Sioux Falls on Oct. 8.
Nick Oliver's group responded last Saturday with an impressive 5-1 win at Sioux Falls, spoiling the Stampede's home opener.
Fargo enters Thursday's contest riding a five-game point streak and the Force have scored four or more goals in all but one game. Cole Knuble leads the way with four goals and six points, while Anthony Menghini also has four goals - two of them coming last Saturday. Goaltender Anton Castro (2-1-0-1) has also been sharp as he owns a 1.73 goals-against and .940 save percentage.
Tri-City will look to get back in the win column Thursday night. After getting off to a hot start, the Storm have now dropped three straight, including both games in a home-and-home with Lincoln last weekend. Sebastian Tornqvist netted his second and third goals of the season in the Friday loss while Kieran Cebrian scored his team-leading fourth of the season.
Prospect To Watch: Tanner Adams, RW, Tri-City Storm -- Adams broke a brief scoreless drought last weekend as he continues to be a key asset to Tri-City's top line. Adams plays the game with a lot of energy and can impact the game even when he's not scoring. With five points through his first six games this season, I think there's going to be a lot more production in him as he makes a push to be drafted. Adams is 2023 NHL Draft-eligible committed to Providence College. -- Chris Peters
Dubuque (3-2-0) at USNTDP (4-2-0) Friday, Oct. 21, 7:05 p.m. ET
The Fighting Saints continued their climb up the standings last Saturday with a 2-0 win at Des Moines. Goaltender Marcus Brannman (2-1-0) impressed with a 32-save shutout, earning his first career USHL shutout. Brannman also backstopped Dubuque to a 6-4 win at Chicago one week prior.
A milestone win for The Swede 🇸🇪 #HailToTheHalo pic.twitter.com/sVeaGzJWLt

— Dubuque Fighting Saints (@fightingsaints) October 16, 2022
The Fighting Saints have allowed the second-fewest goals in the Eastern Conference (15) and the offense has been led by Ryan St. Louis and Michael Burchill, who scored both goals in the win at Des Moines. They'll look to extend their win streak to three against a potent U.S. National Under-17 Team roster.
As for the home side, Team USA split a pair of games against conference-leading Chicago last weekend. The Steel took game one, 8-3, while Team USA bounced back with a 5-4 win on Saturday. James Hagens had another strong night with two goals while Cole Eiserman had a goal and two assists in the win.
The USNTDP heads into this weekend third in the east while Dubuque is just two points behind in fifth. The Fighting Saints will also play at Muskegon on Saturday.
Prospect To Watch: Michael Burchill, LW, Dubuque -- After playing down the lineup last season, Burchill is in a top-line role with the Saints during his second USHL campaign. He provides some good speed, energy and work ethic to go along with a higher-end hockey sense and ability to spot plays he can make. Burchill has been more of an offensive catalyst in the early stages of this season, scoring three goals and six points through his first five games. Burchill is NHL Draft-eligible this season. -- Chris Peters
Cedar Rapids (2-4-1) at Green Bay (4-2-1), Saturday, Oct. 22, 7:05 p.m.
The RoughRiders and Gamblers will open the weekend Friday night in Cedar Rapids and close it out Saturday in the Badger State. Green Bay has climbed all the way to second in the Eastern Conference, while Cedar Rapids is just four points behind. That makes this home-and-home series a bit bigger with four standings points on the line.
Green Bay comes in winners of two straight and has collected points in each of their last four games with an overtime loss to Madison as the only blemish. A team that had won its first two games in low-scoring fashion, 4-2 and 2-1, the Gamblers quickly flipped that narrative last weekend, finding the back of the net 12 times in a pair of wins over Muskegon.
Gamblers Win‼️Gamblers complete the weekend sweep over Muskegon and beat the Lumberjacks 6-3 #GoGamblers pic.twitter.com/313DXME9F1

— Green Bay Gamblers (@GamblersHockey) October 16, 2022
The RoughRiders enter this weekend's games fresh off a win over Waterloo, 4-2. The win was just their second of the season. Goaltender Bruno Bruveris made 33 saves in the win while Zaccharya Wisdom found the back of the net again. Wisdom leads Cedar Rapids in goals (4) and points (8), showing that his second USHL campaign is set to be a big one.
Prospect To Watch: Artyom Levshunov, D, Green Bay: Levshunov, a big defenseman from Belarus, is turning a lot of heads in his rookie season. The 16-year-old blueliner has three goals and an assist through his first seven USHL games. Not NHL Draft eligible until 2024, Levshunov is still growing into his frame and generating buzz as a potential high NHL pick. The upside for this player appears exceptionally high due to his mobility and skill level. -- Chris Peters
News and notes
• Omaha will host Des Moines on Friday and Waterloo on Saturday, a pair of Western Conference rivals. The Lancers (3-1-1-1) have won two straight and head into this weekend third in the conference with eight points.
• Lincoln will host Des Moines on Saturday. The Stars have won three straight, including two games over Tri-City last weekend - both by a 6-3 final. Lincoln now sits atop the Western Conference.
• Madison also won a pair of games last weekend, winning at Youngstown 5-3 on Thursday and 4-3 on Friday. The Captiols (4-3-0) are currently third in the Eastern Conference. Madison will be off this weekend.
• Sioux City is still the lone USHL team without a win this season. The Musketeers (0-3-2) will have two chances on home ice this weekend against Tri-City and Sioux Falls.
• Omaha goalie Michael Hrabal turned aside 39 of the 41 shots he saw in the Lancers' 4-2 win at Waterloo last Friday. Hrabal now has a league-best .946 save percentage amongst goalies with more than one start. Hrabal has been establishing himself as one of, if not the top goaltender eligible for the 2023 NHL Draft.
• Chicago's Jayden Perron had a pair of goals and three assists last weekend, which saw him named USHL's Forward of the Week. The North Dakota commit currently leads the USHL with 11 helpers.
• Perron's teammate, Nicholas Moldenhauer, also found the scoresheet last weekend with two more goals. Moldenhauer has six goals in his last four games and he leads the USHL with nine goals on the season. Four players are tied for second with five.
• Joining Perron with USHL weekly honors, U.S. National Under-17 Team blueliner Cole Hutson was named defenseman of the week after a three-assist performance over the weekend in a weekend split with the Chicago Steel. Also lauded for his efforts this week was Dubuque Fighting Saints netminder Marcus Brannman who was named Goaltender of the Week after a 35-save shutout against the Des Moines Buccaneers.
Congratulations to the Week 4 USHL Players of the Week! #StarsRise https://t.co/dVuj7fi2Tn pic.twitter.com/fcv8gtNTtz

— USHL (@USHL) October 19, 2022