2022 Reading Royals vs Newfoundland Growlers
ECHL North Division Preview: Competitive North Adds Admirals
ECHL North Division Preview: Competitive North Adds Admirals
The Reading Royals paced the North last season, but the upstart Newfoundland Growlers are closing the gap after a successful inaugural campaign.
Oct 19, 2022
by Mike Ashmore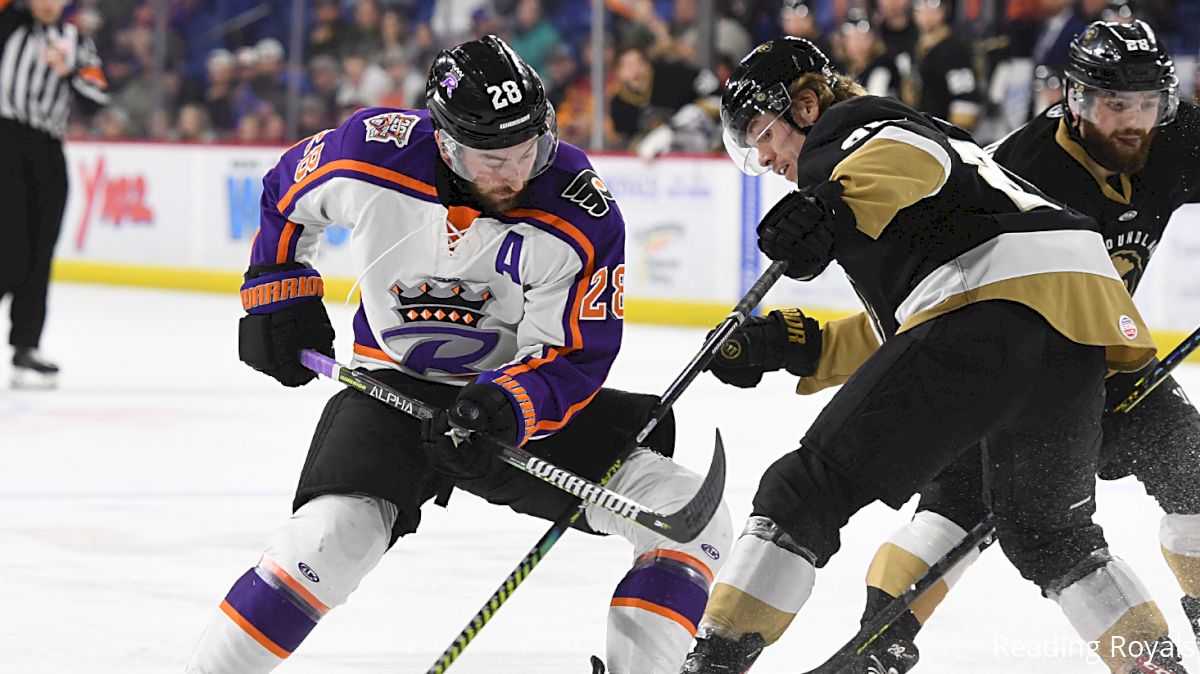 The ECHL's North Division is always an intriguing one, and becomes even more so this year with the addition of a seventh team, the Norfolk Admirals.
The Reading Royals paced the North last year, but may be surpassed by several other teams that have taken big strides, particularly the Newfoundland Growlers, who are always a legitimate threat to win it all heading into any season.
READING ROYALS
KEY ADDITIONS: Alec Butcher, Trey Bradley, Justin Kapelmaster
KEY DEPARTURES: Patrick Bajkov, Trevor Gooch, Thomas Ebbing, Jacob Pritchard
KEY RETURNEES: Dominic Cormier, Mason Millman
OUTLOOK: A Reading Royals group that was the best in the Eastern Conference during the regular season has been largely overhauled, with a big chunk of the team's top performers from last year not currently set to return.
Patrick Bajkov, who led the team with a nice 69-point campaign in 2021-22, is currently playing in Sweden, with only Dominic Cormier set to come back out of the team's top eight point scorers from last season.
While their roster will surely be bolstered thanks to a strong affiliation with the American Hockey League's Lehigh Valley Phantoms, for now, their key additions rest on the shoulders of ECHL veterans Alec Butcher and Trey Bradley—proven scorers from other teams who will have to pick up the slack.
NORFOLK ADMIRALS
KEY ADDITIONS: Kenny Hausinger, Ryan Valentini, Jordan Kaplan, Jeremy Brodeur
KEY DEPARTURES: Alex Tonge, Noah Corson, Blake Murray, Chase Lang
KEY RETURNEES: Cody Milan, Elijah Vilio
OUTLOOK: The Admirals move from the South to the North for the 2022-23 season, giving each division seven teams for the upcoming year. If things go similarly as they did last year for the Admirals, it may not matter, as they were hopelessly out of the playoff race for most of the campaign.
As such, their roster is also largely a retooled one, with 51-point scorer Cody Milan joined by newcomers Kenny Hausinger and Ryan Valentini to hopefully provide a scoring boost. Jeremy Brodeur, who handled the starters workload for the Maine Mariners last year, remains in the division with a similar role for the Ads.
MAINE MARINERS
KEY ADDITIONS: Francois Brassard, Brandon Bussi, Tim Doherty, Fedor Gordeev
KEY DEPARTURES: Pascal Laberge, Zach Malatesta
KEY RETURNEES: Alex Kile, Nick Master, Mathew Santos, Conner Bleackley, Keltie Jeri-Leon, Patrick Shea, Cameron Askew, Nate Kallen, Conner Doherty
OUTLOOK: A hard fight to even get into the Kelly Cup Playoffs last season ultimately ended in a first-round exit for an overachieving Mariners team, one that will bring back some key components for this upcoming year.
Three of their top five scorers will return, in addition to Alex Kile, who spent most of his season in the AHL after posting 18 points in just 11 regular season games. The most noticeable difference this year will be in net, where the NHL-contracted Brandon Bussi will be joined by Francois Brassard to form one of the better tandems in the league.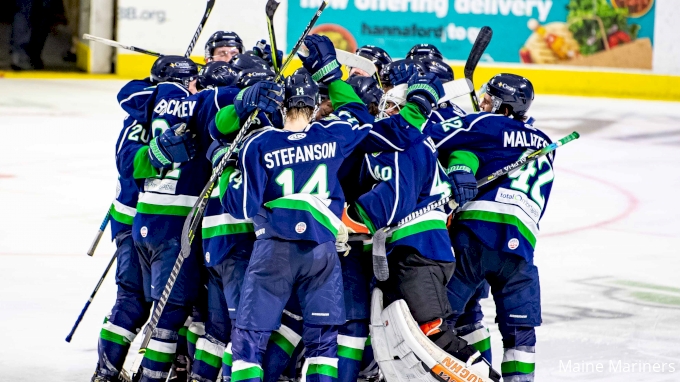 TROIS-RIVIERES LIONS
KEY ADDITIONS: Emile Poirier, Anthony Beauregard, Alex Breton
KEY DEPARTURES: Anthony Nellis, Oliver Archambault, Alexis D'Aoust, William Leblanc
KEY RETURNEES: Cedric Montminy, Oliver Galipeau, Mathieu Brodeur, Philippe Desrosiers
OUTLOOK: The Lions have loaded up for the season. At least for now, their three leading scorers from last year won't be back. However, they've gone to great lengths to make sure that they won't skip a beat after a largely successful first year in the league in which they made the playoffs as the North Division's three-seed.
Emile Poirier, a one-time first-round draft pick of the Calgary Flames, has eight games worth of experience at the game's highest level. He is joined by prolific ECHL scorers up front in Anthony Beauregard and on the back end with Alex Breton.
ADIRONDACK THUNDER
KEY ADDITIONS: Noah Corson, Jeff Taylor, Jake Theut
KEY DEPARTURES: Tyler Irvine
KEY RETURNEES: Shane Harper, Patrick Grasso, Sebastian Vidmar, Nick Rivera, Jake Ryczek, Mareks Mitens
OUTLOOK: An absolutely horrid 2021-22 season—the Thunder posted a league-low 58 points—wasn't met with the wholesale changes you might have expected for this upcoming season. Alex Loh was let go as the team's head coach and replaced by long-time Adirondack player Pete MacArthur, but the team's core of top talent remains intact.
Shane Harper, Patrick Grasso and Sebastien Vidmar were the top three scorers last year and will be joined by Noah Corson, who was a point-per-game player for Norfolk.
WORCESTER RAILERS
KEY ADDITIONS: Quinn Ryan, Philip Beaulieu, Henrik Tikkanen
KEY DEPARTURES: Jordan Lavalee-Smotherman*
KEY RETURNEES: Ken Appleby, Bobby Butler, Liam Coughlin, Nolan Vesey, Brent Beaudoin, Blake Christensen, Reece Newkirk
OUTLOOK: Similar to Adirondack, Worcester will turn to a player-turned-coach to head in a new direction. Last year's leading scorer, Jordan Lavalee-Smotherman, will take over as the team's head coach to try to help spark a club that finished just three points out of a playoff spot.
On paper, this team should again contend for a postseason berth. Bobby Butler, a former Olympian and NHLer, is back, and will be a significant presence if he's able to take on a full-time role. Ken Appleby, another former NHL'er, returns in net and will be joined by Henrik Tikkanen, an Islanders prospect who will be seeing his first action in North America.
NEWFOUNDLAND GROWLERS
KEY ADDITIONS: Zach Solow, Dryden McKay
KEY DEPARTURES: Benjamin Finkelstein, Gordie Green, Jeremy McKenna, Keith Petruzzelli, Evan Cormier
KEY RETURNEES: Zach O'Brien, Todd Skirving, Orrin Centazzo, Brennan Kapcheck, James Melindy,
OUTLOOK: A perennial Kelly Cup contender, the Growlers were bounced in the Eastern Conference Finals last year by the eventual champion Everblades. This year, they bring back a group that has a chance to go that far again—if not further.
Zach O'Brien is back, last season's second leading scorer, and is joined by a solid returning group that's seen a boost with the addition of Zach Solow, who helped the 'Blades to the Cup. Dryden McKay may be the best goaltending prospect in the league as the reigning Hobey Baker Award winner. But, he has the potential to move up the ladder quickly with the perpetual instability in net for the parent Toronto Maple Leafs.