ECHL
Coast To Coast: Keeping Tabs On The Rookies
Coast To Coast: Keeping Tabs On The Rookies
As seasons get going, new names and faces will be plentiful for fans at every level, so consider this your official cheat sheet for those to keep tabs on.
Oct 18, 2022
by Jacob Messing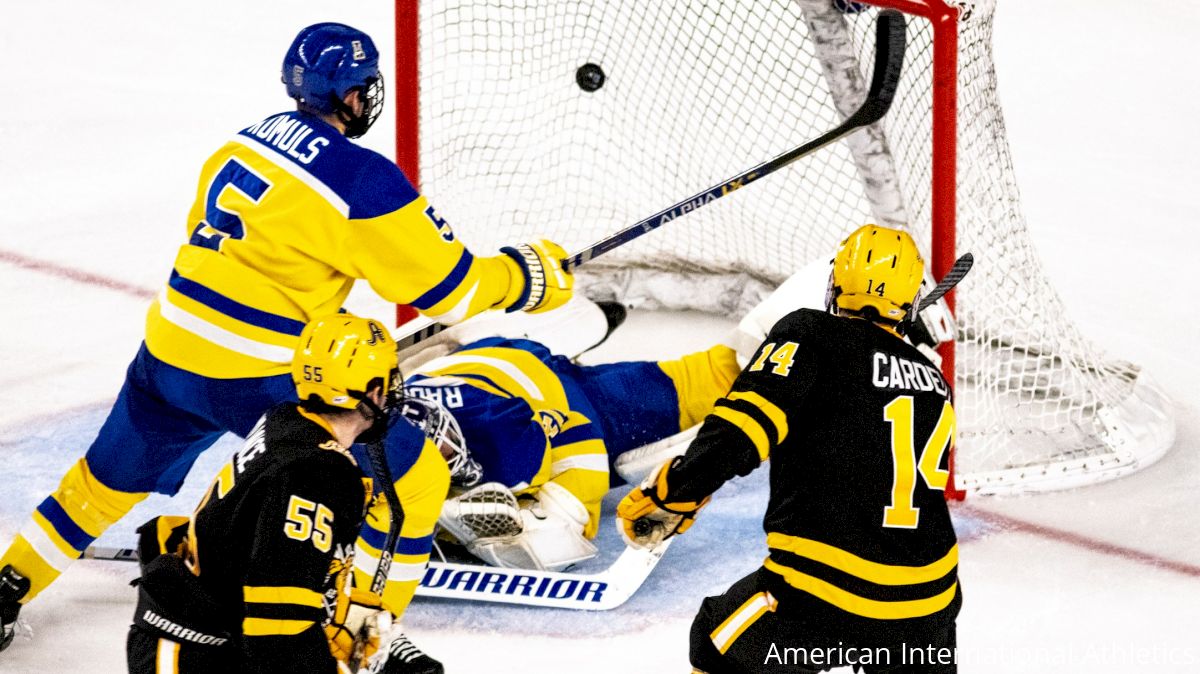 Coast To Coast is FloHockey's monthly, cohesive news on North American hockey and livestreaming partnerships.
As seasons get underway, new names and new faces will be plentiful for fans at every level, so consider this your official cheat sheet for the teams and players to start keeping tabs on.
Don't miss a second of Atlantic Hockey, CCHA, USHL or ECHL action. Catch it all live all season long, right here on FloHockey.
Atlantic Hockey Apprentices
American International is eyeing its fifth straight conference title and fourth consecutive berth to the national tournament (excluding the canceled 2019-2020 season).
Depth has been key, so having two freshmen on this list shows the type of program coach Eric Lang runs.
Among those, Brett Rylance brings a stocky, determined game that sees him tied for team scoring with two assists through three games. Rylance's drive and skating earn him early recognition as a rookie-of-the-year candidate.
Should the adaptation to the NCAA prove difficult, teammate Alex Malinowski brings offensive firepower too potent to not earn him trickle-down production. But once his confidence levels, the Yellow Jackets will have two must-watch rookies.
Army West Point already has seen its collective squad of rookies step up, accounting for three points through three winless games. Max Itagaki brings an undersized, yet tenacious and speedy element, to the forward ranks and doesn't hesitate to use a shot that's almost as good as his goal-driving playmaking.
He's in contention with Sean Vlasich, Reese Farrell, and other teammates for noticeable rookies early on.
CCHA Contenders
Bowling Green's cupboards are being restocked after major summer turnover in 2021, leading to a grinding, every-inch-counts program in 2021-2022.
Enter Dalton Norris, whose offensive inclinations on the blue line will push the play forward, while maintaining his duties defensively.
Immediately impactful defensemen are coveted at every level. Norris shares his surname with the NHL's trophy annually awarded to, in layman's terms, the best defenseman. He's out to show why.
Northern Michigan will ice a pair of freshmen out of the USHL with early consideration.
Tanner Latsch and Joey Larson will look to contribute toward the Wildcats' growth. Latsch brings a gritty style of play that often sees him crash the net and enjoy success around the crease.
Larson's more flashy sense of play already has earned him four points (1 goal, 3 assists) in the Wildcats' first four games. An offensive contributor at every level, Larson already is making moves in the race for CCHA Rookie of the Year.
CCHA Rookie of the Week has a pretty nice ring to it!

Joey Larson takes the award for week 1! #ShareNMU #NMUwildcats pic.twitter.com/LHJj1ox8y6

— NMU Men's Hockey (@NMUHockey) October 3, 2022
USHL Youths
Omaha Lancers goaltender Michael Hrabal enters the USHL as an early candidate for USHL Rookie of the Year. He would become the second netminder to claim the award, dating back to goaltender Karl Goehring, who earned the first handout in the 1996-1997 season.
Hrabal, a Czech native, has carried league-driving stats throughout his career and holds a 1-0-2 record through three games in the USHL as a true rookie, backed by a 1.94 GAA and .943 SV%.
Aside from needing a standout season to break the trend of the award going to a skater, Hrabal faces other tough competition.
Center William Whitelaw with the Youngstown Phantoms got a nine-game stint in 2021-2022, scoring two goals and an assist. Still technically a rookie by league standards, Whitelaw already has matched his output of two goals and an assist through his first two games.
Related: Hrabal, Fegaras, Strathmann Among 15 Standouts At USHL Fall Classic
Mack Celebrini is another name to watch early, and he already has registered three goals and six points through his first four USHL games as a true rookie with the Chicago Steel.
He brings immense skill and already is slated as a top pick in the 2024 NHL Draft.
ECHL Entrees
Out of Northern Michigan, Hank Crone is expanding on a breakout senior season and enters the ECHL with the Allen Americans, recording a preseason-leading three points in his first game. Sure, it's the only game of the preseason thus far, but Crone's 2021-2022 season suggests continued production.
The son of former NHL forward Todd Bertuzzi and cousin to current Red Wings agitator Tyler Bertuzzi, Tag Bertuzzi enters his first ECHL season with a mix of grit and work ethic.
Those are things that come with the name Bertuzzi, and they are known to combine for scoring.
Tag joins the Norfolk Admirals after recording 46 goals and 92 points over 120 games in the OHL. He'll play with higher talent at the next level and will face the adversity head on.
TRANSACTION | We have officially signed forward Tag Bertuzzi to a standard player contract for the 2022-23 season. Welcome to Norfolk, Tag! 👏 https://t.co/sACV1VOxyh

— Norfolk Admirals (@NorfolkAdmirals) October 12, 2022
Carter Turnbull stepped into the ECHL last season with ease, scoring five points through 11 games with the South Carolina Stingrays. It came after four seasons with UConn and balanced two-way play. He's a must-watch entering his first full season.
Have a question or a comment for Jacob Messing? You can find him on Twitter @Jacob_Messing.