2022 Rapid City Rush vs Utah Grizzlies
ECHL Mountain Division Preview: Balanced Division Returns Talent
ECHL Mountain Division Preview: Balanced Division Returns Talent
The ECHL Mountain Division will be an intriguing watch for those tuning in this year, but how different will the standings look this time around?
Oct 14, 2022
by Mike Ashmore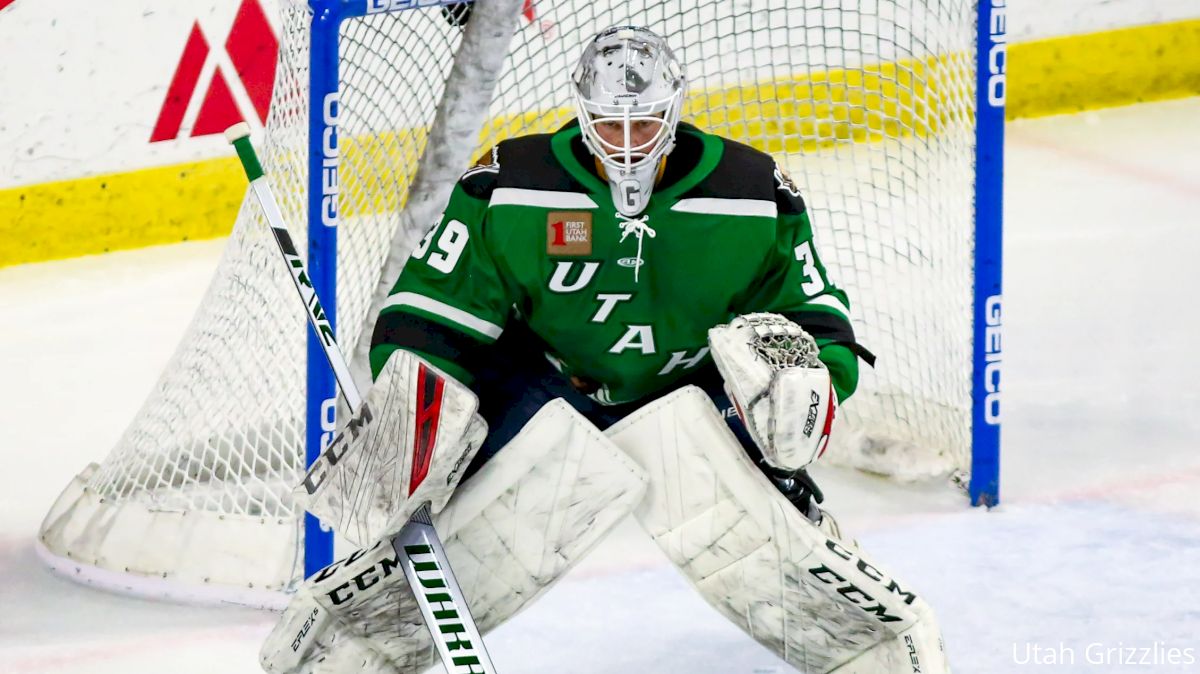 The Mountain Division arguably was the most balanced in the league last year, with all but one team having a chance to make the postseason heading into the final 10 days of the regular season.
Ultimately, it was the Utah Grizzlies who held off the Rapid City Rush to take home the division title last year, with the Allen Americans and Tulsa Oilers claiming the last two spots.
The Idaho Steelheads and Kansas City Mavericks were in it until the very end, with only the Wichita Thunder lagging behind the pack late in the season.
Surely, the Mountain Division again will be an intriguing watch for those tuning in to FloHockey this year, but how different will the standings look this time around?
Here's an early peek at how rosters are looking in advance of the season's start.
UTAH GRIZZLIES
KEY ADDITIONS: Vic Bartley, Lukas Parik, Cam Strong
KEY DEPARTURES: Charle-Edouard D'Astous, Benjamin Tardif, Mason Mannek, Trey Bradley, Luke Martin
KEY RETURNEES: Garrett Metcalf, Johnny Walker, Tarun Fizer, Zach Tsekos, Andrew Nielsen
OUTLOOK: It was the Grizzlies who emerged out of the Mountain side (mountainside, if you will) of the Kelly Cup Playoffs bracket, only to fall to the Toledo Walleye in five games in the Western Conference Finals.
The Grizzlies will not be the same, however, without Charle-Edouard D'Astous, who put up absurd numbers en route to being the no-brainer winner of the league's Defenseman of the Year honors, a run he continued during the postseason.
With their top blueliner having departed for Finland, and all of their top-5 scorers not currently on the roster, it's hard to imagine that Utah will be able to repeat its same success from last year.
The return of Vic Bartley to the ECHL is an interesting story.
He last played in the ECHL during the 2009-2010 season, before embarking on a lengthy stay in the NHL. He played with the Nashville Predators and Montreal Canadiens, before spending the last few seasons in the KHL.
KANSAS CITY MAVERICKS
KEY ADDITIONS: Josh Lammon, Jake Jaremko, Keeghan Howdeshell, Cole Coskey, Jordan Sambrook, Shane Starrett
KEY DEPARTURES: Darik Angeli, Nick Pastujov, Marcus Crawford, Ben Johnson,
KEY RETURNEES: Ryan Harrison, John Schiavo
OUTLOOK: After a disappointing end to the season last year, the Mavericks are retooled this time around, with a new starting netminder in Shane Starrett and some interesting new talent to replace, for now, key offensive losses - four of their top-5 scorers.
Perhaps most intriguing additions are Cole Coskey and Jordan Sambrook
Coskey was nearly a point-per-game player in Worcester last year, while Sambrook was a key part on the back end of a Florida Everblades team that won it all in the 2021-2022 season.
TULSA OILERS
KEY ADDITIONS: J.C. Campagna, Karl Boudrias
KEY DEPARTURES: Adam Pleskach
KEY RETURNEES: Daniel Mannella, Jack Doremus, Dylan Sadowy, Jimmy Soper, Eddie Matsushima, Mike McKee
OUTLOOK: A strong finish to the year got the Oilers into the postseason, and that's an accomplishment Tulsa is looking to build off of this year.
They bring back Daniel Mannella, their workhorse goaltender, and will pair him with either Eric Dop, who is fresh out of Boston College, or well-traveled Bailey Brkin.
Tulsa also returns two of its top-3 scorers from last year in Jack Doremus and Dylan Sadowy and bolstered the team's forward group with the addition of J.C. Campagna, who potted 10 goals in just 21 games with Allen last season.
IDAHO STEELHEADS
KEY ADDITIONS: Matt Register, Jade Miller
KEY DEPARTURES: Luc Brown, Will Merchant, Michael Prapavessis
KEY RETURNEES: Jake Kupsky, A.J. White, Colton Kehler, Darren Brady
OUTLOOK: Three straight losses to end the season also ended any chance Idaho had to make the playoffs, so it was fair to assume the Steelheads needed to make a big splash in free agency this summer.
Matt Register, one of the perennial top scorers among defenseman in the league, was added late in the offseason and could make a huge difference to not only the blueline, but the team as a whole.
It's a group that also returns top scorer A.J. White and starting goaltender Jake Kupsky, who held the reins in net for the majority of last season.
ALLEN AMERICANS
KEY ADDITIONS: Zack Pochiro, Stephen Baylis, Colton Saucerman
KEY DEPARTURES: Chad Costello, Branden Troock, Philip Beaulieu
KEY RETURNEES: Jack Combs, Spencer Asuchak, Lucas Peressini, Jackson Leppard, Kris Myllari
OUTLOOK: While it's hard to replace Chad Costello on the ice - he's since signed as the team's coach and general manager - who better than him to try?
With Jack Combs and Spencer Asuchak already returning, he added proven ECHL scorers Zack Pochiro and Stephen Baylis up front, and bolstered the back end with Colton Saucerman, a once-viral-for-his-beard defenseman who has played in Europe over the past two years.
Lucas Peressini is set to return in net, where he hopes to provide some stability to a team that used six different goaltenders over the course of the 2021-2022 campaign.
RAPID CITY RUSH
KEY ADDITIONS: Alex Aleardi
KEY DEPARTURES: Brett Gravelle, Alec Butcher, Gabe Chabot, Stephen Baylis
KEY RETURNEES: Logan Nelson, Max Coatta, Colton Leiter, Calder Brooks, Kenton Helgeson, Adam Carlson
OUTLOOK: The Rush recovered from a tough 2020-2021 campaign to find themselves as the second seed in the Mountain Division when the playoffs got underway last season.
Alex Aleardi may put them over the top.
Nearly a point-per-game scorer on the Everblades last year, the Kelly Cup champion made the move to Rapid City during the offseason. He joins Logan Nelson and Max Coatta as a dangerous trio of top forwards.
Adam Carlson, who didn't play last year after undergoing preseason surgery, returns to the team in net.
the boys are buzzin' 🐝 we checked in with a few players and Head Coach Scott Burt for some thoughts on training camp and the upcoming season!

//twitter.com/SD_Guard?ref_src=twsrc%5Etfw">@SD_Guard pic.twitter.com/MIvRrhT4nl

— Rapid City Rush (@RapidCityRush) October 13, 2022
WICHITA THUNDER
KEY ADDITIONS: Gianluca Esteves, Quinn Preston
KEY DEPARTURES: Peter Crinella, Jake Theut
KEY RETURNEES: Jay Dickman, Brayden Watts, Carter Johnson, Stefan Fournier, Evan Buitenhuis, Michal Stinil, Billy Constantinou, Jake Wahlin
OUTLOOK: After a difficult season in Wichita last year, the Thunder elected to bring back a lot of their core group up front, with three of their top-4 scorers returning for another season.
Evan Buitenhuis, who split the starting duties in net with Jake Theut last year, also is back and likely will share the duties this year with a contract goalie from the San Jose Sharks organization.