ECHL
Flyers' Hayden Hodgson Among 78 ECHL Alumni On NHL Opening Night Rosters
Flyers' Hayden Hodgson Among 78 ECHL Alumni On NHL Opening Night Rosters
For the 21st consecutive season, more than 50 ECHL alumni were named to opening-night rosters across the NHL.
Oct 13, 2022
by Mike Ashmore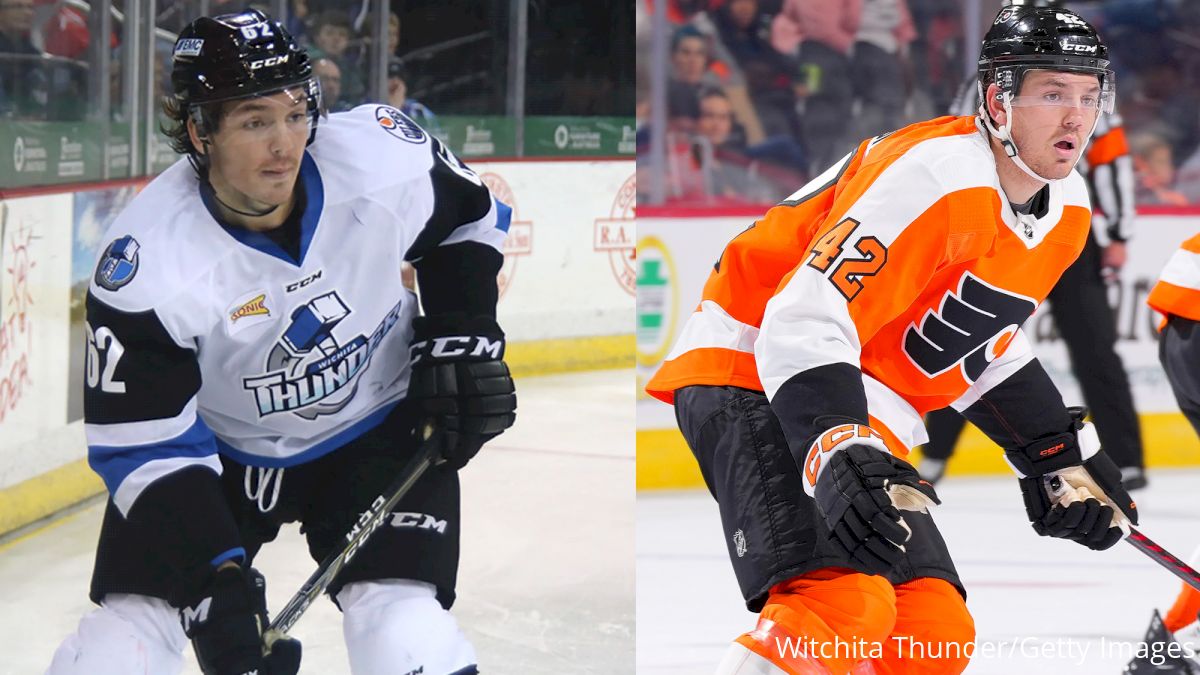 As the premier "AA" hockey league in North America, it should come as no surprise that the ECHL has sent well over 700 players to the National Hockey League since its inception, including 29 new alumni just last season.
This year, there are 78 alumni on NHL opening night rosters – with 30 of the league's 32 teams represented. Additionally, 49 coaches who have an ECHL background are on NHL team staffs, including Jared Bednar, who returns to take the helm of the defending Stanley Cup Champion Colorado Avalanche after both a lengthy playing career and stint behind the bench with the South Carolina Stingrays.
The full list of alumni, which you can find below, features a bevy of unique stories, but perhaps none better than that of Hayden Hodgson, a "true" ECHL alum who grinded his way up the ranks. He played for six different teams in the league over four seasons before the skilled, tough winger made his long-awaited NHL debut with the Philadelphia Flyers late last season.
Hodgson became the 724th player in ECHL history to skate in his first contest at the game's highest level when he debuted on March 24 against the St. Louis Blues, just two days after signing his first NHL contract. The former Florida Everblades, Manchester Monarchs, Wichita Thunder, Reading Royals, Wheeling Nailers and Utah Grizzlies standout went from scoring goals on FloHockey's exclusive broadcasts of the ECHL to doing it in the NHL. He had a goal and an assist in his very first game with the Flyers.
While there are plenty of under the radar-type players like Hodgson, there's also no shortage of household names now in the NHL who've come through the "E," including Conn Smythe trophy winner Jonathan Quick, fellow Stanley Cup Champion goaltender Jordan Binnington and star Canadiens forward Mike Hoffman, among many others.
The 2022-23 ECHL season will begin Oct. 21 with eight games streamed exclusively on FloHockey.
Former ECHL Coaches, Players On NHL Opening Rosters:
ECHL affiliates listed in parenthesis
(*) – Injured Reserve/Non-Roster
Anaheim Ducks (Tulsa Oilers) – Sam Carrick* (Idaho, 2012-13), Anthony Stolarz (Reading, 2017-18) and Colton White (Adirondack, 2017-18)
Arizona Coyotes (Atlanta Gladiators) – Goaltending Coach Corey Schwab (Cincinnati, 1991-92); Josh Brown (Manchester, 2015-16); Connor Ingram (Adirondack, 2017-18 and Orlando, 2018-19); Jonas Johansson* (Cincinnati, 2017-19) and Dysin Mayo (Rapid City, 2016-17)
Boston Bruins (Maine Mariners) – Matt Filipe* (Jacksonville, 2020-21)
Buffalo Sabres (Cincinnati Cyclones) – Head Coach Don Granato (Columbus, 1991-93 and 1997-99 and Peoria, 1999-00); Assistant Coach Jason Christie (Columbus, 1991-93 and 1998-99; Charlotte, 1993-94; Peoria, 1999-2005; Utah, 2005-08; Ontario, 2011-15; Tulsa, 2015-17 and Jacksonville, 2017-21); Assistant Coach Matt Ellis (Toledo, 2002-03) and Assistant Coach Marty Wilford (Columbus, 1998-99).
Calgary Flames (Rapid City Rush) – Assistant Coach Cail MacLean (Jacksonville, 1997-99; Trenton, 1999-02; Reading, 2004-05; South Carolina, 2005-11 and Adirondack, 2015-17); Goaltending Coach Jason LaBarbera (Charlotte, 2000-02); Trevor Lewis (Utah, 2012-13); Nicolas Meloche (Colorado, 2017-18); Dan Vladar (Atlanta, 2016-18 and 2019-20) and MacKenzie Weegar (Cincinnati, 2014-15)
Chicago Blackhawks (Indy Fuel) – Assistant Coach Kevin Dean (Cincinnati, 1991-92 and Trenton, 2010-11); Petr Mrazek (Toledo, 2012-13); Buddy Robinson (Elmira, 2013-14) and Alex Stalock (Stockton, 2011-12)
Colorado Avalanche (Utah Grizzlies) – Head Coach Jared Bednar (Huntington, 1993-96 and South Carolina, 1996-09); Assistant Coach Nolan Pratt (Richmond, 1995-96) and Jacob MacDonald* (Elmira, 2014-16 and Toledo, 2016-17)
Bringing it back to where his coaching career began! #stanleycup champion @Avalanche coach Jared Bednar brings the Cup back to Charleston. @SCStingrays @ECHL @NHL @HockeyHallFame pic.twitter.com/cZtdJDgqYs

— Philip Pritchard (@keeperofthecup) July 23, 2022
Columbus Blue Jackets (Kalamazoo Wings) – Associate Coach Pascal Vincent (Knoxville, 1992-93); Assistant Coach Steve McCarthy (Kalamazoo, 2015-16); Goaltending Coach Manny Lagace (Richmond, 1996-97) and Justin Danforth (Reading, 2016-17 and Cincinnati, 2017-18)
Dallas Stars (Idaho Steelheads) – Assistant Coach Steve Spott (Richmond, 1990-91); Luke Glendening (Toledo, 2012-13); Jani Hakanpaa (Quad City, 2014-15); Joel Hanley (Gwinnett, 2014-15); Mason Marchment (Orlando, 2016-17) and Scott Wedgewood (Trenton, 2012-13 and Adirondack, 2015-16)
Detroit Red Wings (Toledo Walleye) – Head Coach Derek Lalonde (Toledo, 2014-16); Associate Coach Bob Boughner (Toledo, 1991-92); Goaltending Coach Alex Westlund (Dayton, 1999-2001; Cincinnati, 2001-02; Toledo, 2001-02; Trenton, 2003-04; Charlotte, 2004-05 and 2006-07 and Wheeling, 2013-14); Seth Barton* (Toledo, 2021-22); Ben Chiarot (Colorado, 2011-12); Ville Husso (Missouri, 2016-17) and Alex Nedeljkovic (Florida, 2014-15 and 2016-17)
Edmonton Oilers (Fort Wayne Komets) – Head Coach Jay Woodcroft (Jackson, 1999-00); Assistant Coach Glen Gulutzan (Las Vegas, 2003-09); Jack Campbell (Idaho, 2014-16); Vincent Desharnais* (Wichita, 2019-21); Brett Kulak (Colorado, 2014-15); Stuart Skinner (Wichita, 2018-20) and Mike Smith* (Lexington, 2002-03)
Florida Panthers (Florida Everblades) – Assistant Coach Jamie Kompon (Hampton Roads, 1989-90; Cincinnati, 1990-91 and Winston-Salem, 1990-91); Goaltending Coach Rob Tallas (Charlotte, 1994-95); Ryan Lomberg (Adirondack, 2016-17) and Carter Verhaeghe (Missouri, 2015-17)
Los Angeles Kings (Greenville Swamp Rabbits) – Jonathan Quick (Reading, 2007-08)
Good Luck this season @LAKings!
#GoKingsGo pic.twitter.com/UMsdA1MnFD

— Greenville Swamp Rabbits (@SwampRabbits) October 11, 2022
Minnesota Wild (Iowa Heartlanders) – Assistant Coach Bob Woods (Johnstown, 1990-94; Hampton Roads, 1995-96; Mobile, 1996-97; Tallahassee, 1997-98 and Mississippi, 1998-05); Assistant Coach Brett McLean (Johnstown, 1999-00); Goaltending Coach Frederic Chabot (Winston-Salem, 1991-92); Frederick Gaudreau (Cincinnati, 2014-15); Filip Gustavsson (Brampton, 2018-19); Dakota Mermis* (Rapid City, 2015-16) and Jacob Middleton (Manchester, 2015-16)
Montreal Canadiens (Trois-Rivières Lions) – Assistant Coach Alexandre Burrows (Greenville, 2002-03; Baton Rouge, 2002-03 and Columbia, 2003-05); Goaltending Coach Eric Raymond (Wheeling, 1993-94; South Carolina, 1995-96 and Huntington, 1995-96); Mike Hoffman (Elmira, 2010-11) and Chris Wideman (Elmira, 2012-13)
Nashville Predators – Tanner Jeannot (Florida, 2019-21); Kevin Lankinen (Indy, 2018-19) and Cole Smith (Florida, 2020-21)
New Jersey Devils (Adirondack Thunder) – Associate Coach Andrew Brunette (Hampton Roads, 1993-94); Mackenzie Blackwood (Adirondack, 2017-18) and Vitek Vanecek (South Carolina, 2015-16 and 2017-18)
New York Islanders (Worcester Railers) – Ross Johnston (Missouri, 2015-16)
New York Rangers (Jacksonville Icemen) – Jaroslav Halak (Long Beach, 2005-06); Dryden Hunt (Manchester, 2016-17) and Ryan Reaves (Alaska, 2007-08 and Orlando, 2012-13)
Ryan Reaves ready for puck drop in O-town. #ECHL #Enforcer pic.twitter.com/jGKwcuR2dM

— Five For Fighting Podcast (@5ForFightingPod) March 15, 2021
Ottawa Senators (Allen Americans) – Associate Coach Jack Capuano (Tallahassee, 1995-97, Knoxville, 1996-97 and Pee Dee, 1997-05); Assistant Coach Davis Payne (Greensboro, 1992-95; Greenville, 1998-00; Pee Dee, 2000-03 and Alaska, 2003-07); Goaltending Coach Zac Bierk (Augusta; 2001-02); Magnus Hellberg (Cincinnati, 2012-14) and Cam Talbot* (Greenville, 2010-11)
Philadelphia Flyers (Reading Royals) – Assistant Coach John Torchetti (Carolina, 1988-89; Winston-Salem, 1989-91 and Greensboro, 1993-95); Assistant Coach Darryl Williams (Newfoundland, 2019-21); Hayden Hodgson (Florida, 2017-18; Manchester, 2017-18; Wichita, 2018-19; Reading, 2019-20; Wheeling, 2020-21; Utah, 2020-21) and Felix Sandstrom* (Reading, 2019-20)
Pittsburgh Penguins (Wheeling Nailers) – Assistant Coach Todd Reirden (Raleigh, 1994-95; Tallahassee, 1994-96 and Jacksonville, 1995-96); Assistant Coach Mike Vellucci (Erie, 1989-90 and Winston-Salem, 1989-90); Goaltending Coach Andy Chiodo (Wheeling, 2003-06; Elmira, 2009-10 and Bakersfield, 2013-14); Josh Archibald (Wheeling, 2014-15) and Casey Desmith (Wheeling, 2015-16)
San Jose Sharks (Wichita Thunder) – Assistant Coach Scott Gordon (Johnstown, 1988-89; Nashville, 1992-93; Knoxville, 1993-94; Roanoke, 1998-2000); Assistant Coach Ryan Warsofsky (South Carolina, 2013-18); Goaltending Coach Thomas Speer (Idaho, 2011-12 and Las Vegas, 2011-12); Steven Lorentz (Florida, 2017-19) and James Reimer (Reading, 2008-09 and South Carolina, 2008-09)
Our search for an affiliate is FINished 🦈

We are excited to announce our new NHL & AHL affiliates, @SanJoseSharks & @sjbarracuda!

READ → https://t.co/l9xGJhLZdf pic.twitter.com/Wi9kh5hMtB

— Wichita Thunder (@Wichita_Thunder) August 25, 2022
Seattle Kraken (Kansas City Mavericks) – Assistant Coach Jay Leach (Mississippi, 2001-02; Augusta, 2002-03; Long Beach, 2003-04 and Trenton, 2003-05); Goaltending Coach Steve Briere (Mississippi, 2000-01; Cincinnati, 2001-02 and Toledo, 2001-02); Chris Driedger* (Elmira, 2013-14 and Evansville, 2014-15); Yanni Gourde (San Francisco, 2012-13 and Kalamazoo, 2013-14); Philipp Grubauer (South Carolina, 2011-12 and Reading, 2012-13) and Martin Jones (Ontario, 2010-11)
St. Louis Blues – Jordan Binnington (Kalamazoo, 2013-14); Thomas Greiss (Fresno, 2006-07) and Nathan Walker (South Carolina, 2014-15)
Toronto Maple Leafs (Newfoundland Growlers) – Assistant Coach Spencer Carbery (Bakersfield, 2007-08; Stockton, 2007-08; Fresno, 2007-08; South Carolina, 2008-16); Goaltending Coach Curtis Sanford (Peoria, 2000-02); Jordie Benn* (Victoria, 2008-09); Michael Bunting (Rapid City, 2015-16); Justin Holl (Indy, 2014-15) and Timothy Liljegren* (Newfoundland, 2018-19)
Vancouver Canucks – Head Coach Bruce Boudreau (Mississippi, 1996-99); Kyle Burroughs (Missouri, 2015-16); Dakota Joshua (Tulsa, 2019-20) and Spencer Martin (Fort Wayne, 2015-16 and Orlando, 2019-20)
Vegas Golden Knights (Savannah Ghost Pirates) – Head Coach Bruce Cassidy (Jacksonville, 1996-98 and Trenton, 1999-00); Assistant Coach Ryan Craig (Pensacola, 2003-04); Laurent Brossoit* (Alaska, 2013-14 and Bakersfield, 2013-14); Adin Hill (Rapid City, 2016-17); Keegan Kolesar (Quad City, 2017-18) and Logan Thompson (Adirondack, 2018-19 and South Carolina, 2019-20)
We're gettin' lucky as we officially announce our NHL affiliate the @GoldenKnights, our AHL affiliate, the @HSKnights, and our Head Coach Rick Bennett! 🎲
-
Full Details | https://t.co/eZ2bA2pvfZ | @enmarketarena pic.twitter.com/No3jEeuiLo

— Savannah Ghost Pirates (@SavGhostPirates) May 19, 2022
Washington Capitals (South Carolina Stingrays) – Head Coach Peter Laviolette (Wheeling, 1997-98); Assistant coach Scott Allen (Carolina, 1988-89; Winston-Salem, 1989-90; Erie, 1989-90; Greensboro, 1989-90; Cincinnati, 1990-91 and Johnstown, 1996-2002); Nick Jensen (Toledo, 2013-14) and Darcy Kuemper (Ontario, 2011-12 and Orlando, 2012-13)
Winnipeg Jets – Assistant Coach Marty Johnston (Florida, 2002-03; Trenton, 2003-04; Long Beach, 2003-04 and Peoria, 2003-04) and Goaltending Coach Wade Flaherty (Greensboro, 1989-90)