2022 Minnesota vs Minnesota State - Men's
NHL College Free Agents: Jake Livingstone Leads List Of Top Available UFAs
NHL College Free Agents: Jake Livingstone Leads List Of Top Available UFAs
As NHL teams continue to pursue undrafted NCAA free agents, FloHockey looks at some of the top available for 2022-23.
Oct 7, 2022
by Chris Peters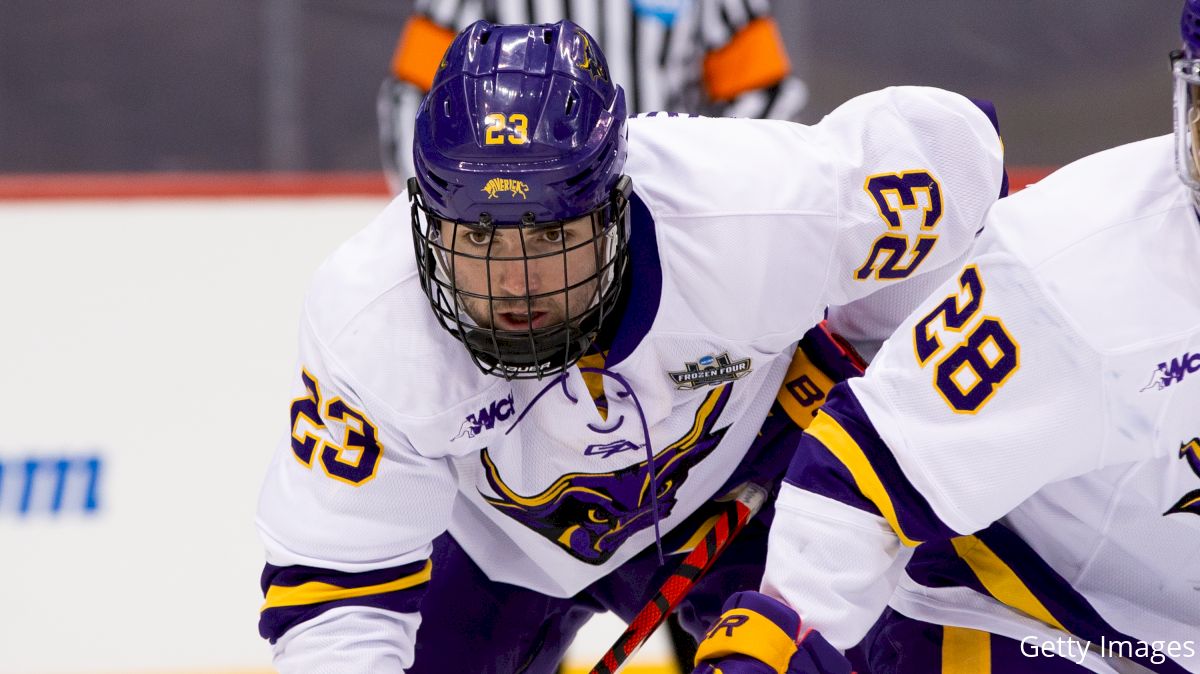 Each season, NHL teams send pro scouts to college arenas across the country to see if they can find an undrafted player that will help their team. The pursuit of these free agents has only intensified over the last several years, with some teams dedicating scouts specifically to the evaluation and recruitment of these undrafted players. It shows how far teams are willing to go for just the smallest edge because most of these players are not going to be much more than depth and others may never play in the NHL at all. Sometimes, however, teams will land an impact player that significantly helps their team at a fairly low cost.
The reason teams pursue college free agents in particular is because they're often, older but not too old, and more physically advanced than their younger peers. There are fewer surprises that way. Most college free agents are close to finished products, what you see is what you get. Some have that little bit more upside to reach before fulfilling their potential and those tend to be the players that provide the most value. Think of guys like Chris and Brandon Tanev, both of whom were undrafted, signed as free agents and found ways to play significant roles for their respective NHL teams. Get players like that and you may as well have won the lottery, because the cost of acquisition was incredibly low.
College free agents can only sign entry-level deals in the NHL. That keeps their cap hits low and teams don't have to spend as much if they're sent to the minors which is where most college UFAs will start. Last year's class of college UFAs saw a number of players make instant impacts for their NHL teams. Players like Ben Meyers (Colorado Avalanche) and Marc McLaughlin (Boston Bruins) managed to score goals late in the season with their NHL clubs and could see NHL time this season as well.
The 2022-23 college free agent class does not, at this point at least, look like it will be as impactful as last year's. That said, a lot can change over the course of the season and this list could look a lot different in the spring.
Here's a look at 10 college free agents of note heading into the season.
Jake Livingstone, D, Minnesota State (Age 23)
A 6-foot-3, right-shot defenseman who produces points and can defend at a high level, Livingstone fits the profile of the kind of player that is most often highly-coveted by NHL teams in the college free agent market. He has the size, he has the ability, but there's also a bit of a track record going back to junior hockey. In his last season with the Langley Rivermen, he had 49 points in 52 games. His production grew each year and that's been the case in college as well.
Jake Livingstone (@jlivingstone99) is first to find the back of the net to earn #1 @MinnStMHockey the lead over #7 @UMDMensHockey.

📺 MY9 Sports pic.twitter.com/2MOZSHLvbb

— CCHA (@CCHAHockey) January 2, 2022
After putting up 14 points as a freshman, Livingstone had 31 points last season as the Mavericks made it all the way to the national championship game. He plays major minutes, gets into any situation and has the physical tools that allow him to excel at the collegiate level. NHL teams have shown interest in Livingstone going back to his freshman season and some thought he might sign after last season. Choosing to go back to school and get another year was likely the wise choice as he appears to be at the top of the free agent class this season. There will be a lot of NHL scouts at Minnesota State games this season as a result.
Akito Hirose, D, Minnesota State (Age 23)
Like Livingstone, Hirose has been pursued by NHL teams since his freshman season at Minnesota State. Hirose does not have the size on his side, but he is an excellent skater who moves pucks with proficiency. He had 26 points as a sophomore last season, 24 of which were assists. His ability to get pucks up ice and make high-level reads is part of why NHL teams are very interested in signing him. Hirose also has a long history of production from the blue line going back to his BCHL days and there should be a reasonable expectation he can be a 30-point or better defenseman as a junior. Hirose can go back to school for another year if he chooses, but more NHL teams could be working to entice him to give the pros a shot.
Jacob Bengtsson, D, Lake Superior State (Age 23)
Bengtsson had a big break out as a sophomore, improving his point production from his freshman season by 20 points. At 6-foot-3, 203 pounds, Bengtsson has good mobility and defends at a high level. He has some good physicality and strength that makes him difficult to play against. The edge in his game is part of what is attracting NHL scouts because he could potentially play down their lineup. The fact that he's starting to collect points and move pucks with a greater degree of success is also encouraging. Bengtsson may be best served spending this season and next in college to continue rounding out his game, but NHL teams are going to make that decision tougher for him this spring.
Parker Ford, C, Providence (Age 22)
A tenacious forward who has a strong two-way game, Ford had NHL deals on the table last year but ultimately decided to return to Providence for his senior season. His journey as a player has been an interesting one. Undrafted out of the USHL, Ford managed to make the U.S. World Junior Team during his freshman season at Providence. His production has fluctuated a bit, but he did have a career-best 27 points last season for the Friars. Teams that are interested in Ford are likely not expecting him to be a scorer at the next level, but he could provide valuable depth with good defensive instincts and a work ethic that makes him a thorn in the side of his opponents. Ford's list of suitors won't be as long as some other UFAs because he doesn't have the size NHL teams covet, but there are definitely teams that he has endeared himself to based on his potential as a depth piece.
Zach Metsa, D, Quinnipiac (Age 23)
One of the more fascinating college UFAs, Metsa is not a lock to get an NHL deal despite his impressive production over the last three seasons. He is going to get scouted a lot, and I think ultimately he finds a team that wants him in their organization one way or another, whether it be with an AHL deal or if there's enough of a market where a team has to give him an NHL ELC.
Part of what makes Metsa fascinating is that he returned to Quinnipiac for a fifth season, taking advantage of the extra year of eligibility players were granted due to COVID-19 cancellations and postponements. Metsa is the third-most productive defenseman over the last four years in college hockey. He is an expert distributor and scored a career-best 10 goals last year. Now as Quinnipiac's captain, Metsa has a chance to lead the Bobcats to new heights, which would definitely help his chances of attracting more NHL evaluators.
Riese Gaber, RW, North Dakota (Age 22)
2021-22 𝙁𝙞𝙧𝙨𝙩-𝙏𝙚𝙖𝙢 𝘼𝙡𝙡-𝙉𝘾𝙃𝘾

🏅 @UNDmhockey's Riese Gaber

Last year's All-Rookie Team member ranked 3rd in #NCHChockey play averaging 1.21 ppg, totaling 23 points in 19 games. He has 35 points overall this season

📰: https://t.co/SnikhrUOh6 | #UNDproud pic.twitter.com/uuzpv7eT1Z

— The NCHC (@TheNCHC) March 9, 2022
Gaber may lack size, but he's attracted many admirers over the last few years. Every team he's played on, he's left an indelible mark. When we spoke with Dubuque Fighting Saints GM on Talking Hockey Sense a few weeks ago, he mentioned that Gaber was the model player they want their teams to emulate. He is all-out effort all the time and the points have followed. A former USHL Player of the Year, Gaber has made an instant impact at North Dakota. He had 21 points as a freshman and that jumped to 37 last year as a sophomore. A big season with UND as a junior could allow NHL teams to overlook some of their concerns about his size. I've always thought Gaber plays bigger than he is and while it's not a lock that leads to NHL contracts coming his way after this season, he's going to continue to win more fans in the scouting community if he continues on his current trend line.
Jaxon Nelson, C, Minnesota (Age 22)
On the opposite end of the size spectrum from Gaber, Nelson has more NHL admirers because he's a 6-foot-4, 220-pound center that plays defensively responsible hockey. His physical profile screams NHL, but the points have not been there in his collegiate career. He actually saw a decline in points last season going from 15 as a sophomore to 10 as a junior, though he did miss some games last season, too. Nelson already has two points to start his senior campaign. If he can have a decent year, I'm sure there will be a few teams that look to get him under contract and try to accelerate his development in the AHL. Nelson will be 23 by the time he's able to sign an NHL contract, which keeps him on the younger end for college free agents. Whichever team signs him is betting more on raw potential than proven ability, but big guys like Nelson so often will get the benefit of the doubt.
Ondrej Pavel, C, Minnesota State (Age 22)
Pavel may fly a little under the radar as a college free agent, but I think he could ascend much closer to the top of the list if he has the kind of season I think he's capable of. The Czech forward went from barely playing as a freshman to not missing a game in his sophomore season. He had 22 points in 44 games, but I thought he played some of his best hockey at the end of the season in the games that mattered most. Pavel is a gritty two-way player who is physical and very difficult to get off the puck. He has decent speed and can get in on the forecheck well. He might not want to sign coming out of this season as there's more development time ahead of him yet, but he should be more firmly on NHL radars as this season progresses. He has the size, he has the skillset and he just seems like a bear to play against.
Ondrej Pavel puts a one-handed backhand shot over the shoulder of Arizona State's goalie to put Minnesota State ahead 3-1 on the Sun Devils. pic.twitter.com/IVwq4QZitz

— Chris Dilks (@ChrisDilks) January 29, 2022
Hunter McKown, C, Colorado College (Age 20)
A rangey right-shot center with size and some understated skill, McKown took a big step forward last season at CC. He had one impressive game at the last World Juniors that showed some of the skills that could allow him to get an NHL contract. He didn't quite sustain that success in that tournament, but he's on an upward trajectory. Until last season, he hadn't really scored at any level and was viewed more as a defensive specialist. Then he had 13 goals and 21 points in 35 games as a sophomore. His presence at the WJC most definitely got notice, but he'll need to take another step forward to show his true overall value to an NHL team. McKown has the appearance of a late bloomer that so many teams are glad to find once the player starts figuring things out.
Gustavs Davis Grigals, G, UMass-Lowell (Age 24)
There are almost always goalies that find themselves an NHL contract and Grigals looks like the best bet at this point to garner NHL interest. He started 31 games for independent Alaska Fairbanks last season, posting a respectable .919 save percentage while picking up some key wins over good teams like Clarkson, Minnesota, and tying national champion Denver. Now at UMass-Lowell, which has been a haven for goaltenders over the years, Grigals has a chance to be on a competitive team. Should he have success this season, he'll definitely garner more NHL interest. Additionally, Grigals was selected for Latvia's men's national team last spring. Even though he did not play in a game, being named to that squad is quite an accomplishment. Grigals will be 25 before next season begins, but NHL teams may be interested in the opportunity to work with a player who's spent much of his career in the hockey wilderness and maybe hasn't gotten as many close looks as some of his peers.
Others of note
Matthew Kopperud, LW, Arizona State (Age 23)
Louis Boudon, C, Lake Superior State (Age 24)
Nick Poisson, LW, Providence (Age 21)
Ondrej Psenicka, RW, Cornell (Age 21)
Lukas Sillinger, C/W, Arizona State (Age 22)