2022 Notre Dame vs Air Force - Men's
Air Force, Denver Co-Host 2022 Ice Breaker
Air Force, Denver Co-Host 2022 Ice Breaker
The 26th annual Ice Breaker welcomes a new college hockey season this weekend as Air Force Academy and the University of Denver co-host the event.
Oct 6, 2022
by Jacob Messing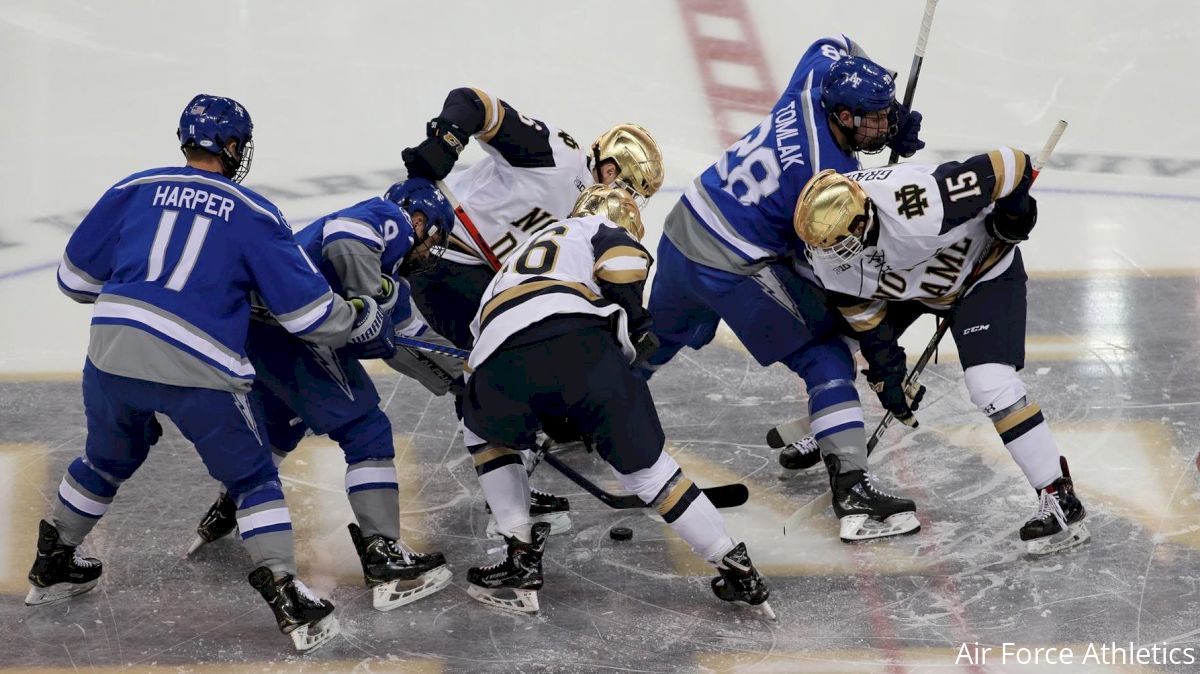 The 26th annual Ice Breaker welcomesa new college hockey season this weekend as Air Force Academy and the University of Denver become the first-ever co-hosts.
The perennial amalgamation of conferences sees Air Force (Atlantic Hockey) and Denver (NCHC) welcome University of Maine (Hockey East) and the University of Notre Dame (Big Ten) to Colorado.
Air Force will host Maine on Friday, Oct. 7 followed by No. 11-ranked Notre Dame on Saturday, Oct. 8. Both games are at Cadet Ice Arena in Colorado Springs, and both will be streamed live right here on FloHockey.
An hour north at Magness Arena in Denver, defending National Champion and No. 1-ranked Denver, will host Notre Dame at 7:00pm Friday, Oct. 7 followed by Maine the next evening.
Air Force will be competing in its fourth Ice Beaker Tournament (2005, 2011, and 2016), winning the title in 2016 in none other than host city, Denver.
Coach Frank Serratore will ice a young program that began to find an identity late in 2021-22, losing just two of their final eight games, including a runner-up finish to AIC in the AHA Conference Tournament. Air Force is representing Atlantic Hockey at the tournament for the seventh time.
𝙏𝙝𝙞𝙨 𝙬𝙚𝙚𝙠 𝙞𝙣 𝙁𝙖𝙡𝙘𝙤𝙣 𝙃𝙤𝙘𝙠𝙚𝙮⚡️ pic.twitter.com/RDPPrAXFjN

— Air Force Hockey (@AF_HKY) October 4, 2022
Denver, a staple in the NCAA when it comes to NHL prospect recruiting and overseas solicitation, is entering its fourth Ice Breaker. The Pioneers are playing host for the third time (1999 and 2016). Denver claimed the title in 1999.
Notre Dame enters its sixth representation at the annual tournament (1999, 2010, 2012, 2014, and 2018), bringing home the title in 2012 and 2018 and hosting in 2014. The Fighting Irish have been among the top programs in each of the past six seasons, with six consecutive National Tournament berths (excluding the canceled 2019-20 tournament).
Maine brings the second-most experience in the Ice Breaker, preparing for its fifth trip to the tournament (2001, 2005, 2012, and 2015). The Black Bears hosted in each of 2001 and 2015, but have yet to be the last team standing as the title winner.
The Black Bears are entering a new era with coach Ben Barr beginning his second season in Orono. The Bears are hoping to get recruitment and the program back to the high standards of the early 2000s, when they earned six straight National Tournament berths from 2002-2007.
The season-opening tournament can go a long way for confidence and chemistry with non-conference stakes against strong opponents. Maine, Air Force, Denver and Notre Dame will all look to start the season off well.
---
Have a question or a comment for Jacob Messing? You can find him on Twitter @Jacob_Messing.