Men's CCHA Hockey
CCHA RinkRap: Sparkling Debut For Potential Rookie Of The Year
CCHA RinkRap: Sparkling Debut For Potential Rookie Of The Year
CCHA's projected rookie of the year, Northern Michigan's Joey Larson, has seamlessly jumped from USHL to Division-I.
Oct 3, 2022
by Tim Rappleye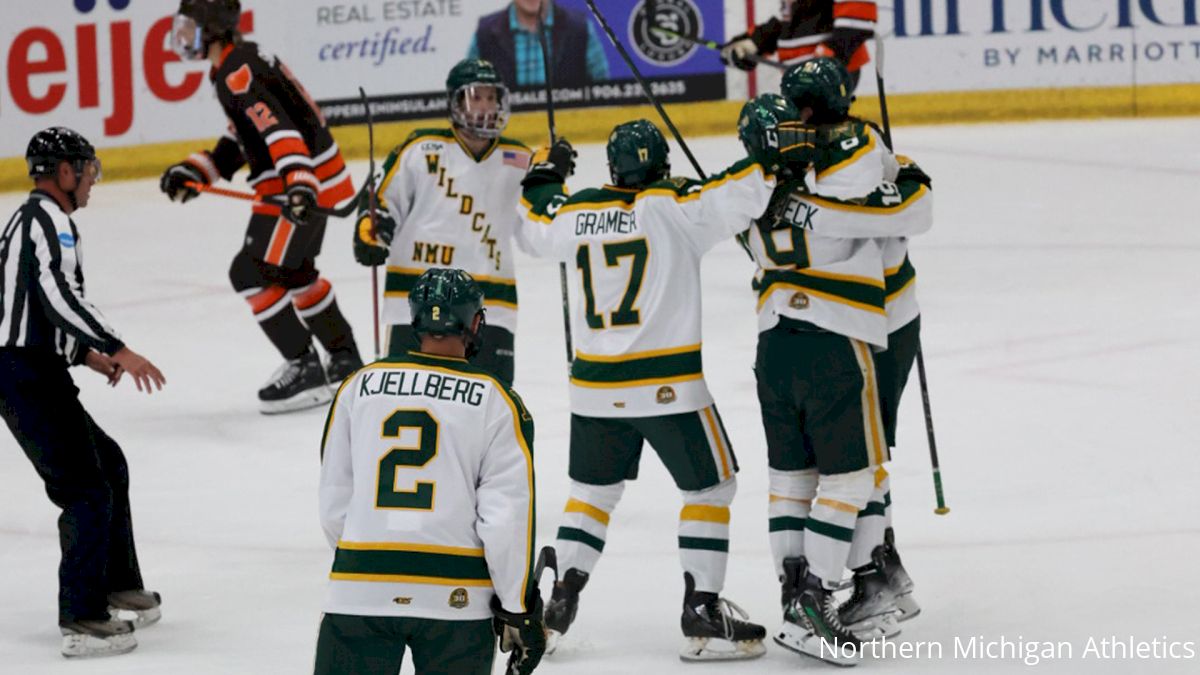 The jump from playing against teenagers in junior hockey to the men of Division-I can be daunting. Northern Michigan winger Joey Larson, the CCHA's projected rookie of the year, embraces the challenge.
"Pressure is a good thing," said Larson after Sunday's dramatic overtime win against Bowling Green.
"I figured I just work as hard as I can, and just try and prove it."
Larson had a big weekend, firing eight shots on goal, picking up two assists in Saturday's loss, and opening the scoring with a power play tally on Sunday. In terms of ice time, Northern coach Grant Potulny has thrown Larson into the deep end of a very big pool.
"We're putting him in positions that can be stressful," said Potulny.
"You're on the power play as a freshman, you're expected to produce, you're on the first line, you're expected to keep up with everybody, it's not easy for freshmen."
Potulny has sanded out Larson's path by putting him with exceptional veteran linemates: gritty center David Keefer and the creative distributor Andre Ghantous. The Los Angeles native known as "Dre" has 55 career assists, a dreamy wingman for a rookie scorer.
"Really good with the puck, great passer," said Larson of Ghantous, who dished out three tap-in helpers Saturday night.
"Super fun to play with."
But it's not just being thrust onto a premier line that has accelerated Larson's advancement. His captain, A.J. Vanderbeck, knows his new teammate's successful transition to the Division-I bigs is not by chance.
FINAL

Northern Michigan scores in overtime to take the second point in the conference standings. We'll be back next weekend for a home-and-home series with Michigan State! pic.twitter.com/iouBmxkqdT

— Bowling Green Hockey (@BGFalconHockey) October 3, 2022
"He's a pro when it comes to the game," said Vanderbeck, now in his fourth year of Division-I hockey.
"He takes care of his body the right way, works hard every single day, puts in all those extra hours after practice."
Potulny knows Larson is a young man that takes no shortcuts.
"The thing about Joey is that he hit every step at the right time, never skipped a step. So as a freshman, he's got tons of confidence."
Bowling Green coach Ty Eigner is not surprised by the Northern rookie's big splash.
"Got a chance to see him in high school, had a really good junior career, great job in Muskegon last year." said Eisner.
"Big kid, going to be a really good player."
Eigner has several elite freshmen of his own on this year's Bowling Green roster, forwards Jaden Grant, Brett Pfoh, and Quinn Emerson, along with defenseman Dalton Norris. But unlike the case of Larson, Eigner is watering his young plants slowly, carefully parceling out game opportunities and fourth-line minutes in the season's opening series.
"It's probably as hard a place to play in your first weekend of your college career, big sheet and all that stuff," said Eigner of Norther's cavernous Berry Events Center.
Falcon freshman Norris was another strong candidate for CCHA pre-season Rookie of the Year, and is no stranger to Larson.
"I played with him in Lincoln two years ago, great guy, really good player."
In his first NCAA post-game interview, Larson was asked if there was any sense of competition with his rival for the CCHA's top rookie.
"He could have been up for it as well, he had a really good year last year," said Larson with a smile.
"But no, we're friends, he's a really good guy."
So with no small help from the league's top rookie, Northern escaped a major scare from Bowling Green and heads out on an extended road trip. With three points and plenty of hard-earned confidence, Joey Larson looks to shoulder the Wildcats offensive load.
"The USHL is a great league, and I felt like it developed me really well to jump in right away," said Larson, who was asked if he expected to keep putting up big numbers.
"I hope so, that's what I'm here to do."
Notes:
Reigning MacNaughton Cup champion Minnesota State got punched in the mouth in their exhibition game opener with Omaha, losing 7-2. The trademark of Mike Hastings' dynastic Mavericks was goaltending and special teams. Hastings used three very green goaltenders in the loss, all were scored on. His power play was held pointless and his penalty kill gave up three goals. Without the departed Hobey Baker Award winner Dryden McKay as a safety net, Hastings will be facing his biggest challenge in recent years to once again claim the CCHA top spot. Things don't get easier for the Mavericks—they will be facing No. 1-ranked University of Minnesota in a home-and-home series next. The Gophers remain sore over NCAA elimination at the hands of Minnesota State the last two years.
The frontrunner for the battle of Michigan's three Upper Peninsula teams is Michigan Tech after their convincing 5-2 exhibition conquest of Lake Superior State on Saturday. The most impressive Huskies forward was senior Logan Ganie, with two goals against the Lakers in front of a raucous matinee crowd in Houghton. Ganie continues his hot hand at MacInnes Arena, having lit up Ferris State in the CCHA quarterfinals with a huge goal and an assist in the sweep back in March.
There were four Pietilas at the the MacInnes Center for Saturday's exhibition: veteran star twin brothers Blake (G) and Logan (F), junior Jed Pietila (D) and color commentator Phil in the booth. They are all from Howell, Michigan, a wide-open recruiting faucet for Tech over the years.
Lake State transfer junior center Harry Roy is one of 16 Lakers over six feet tall on this year's prodigious LSSU roster. He scored impressive goals in both his exhibition games this past weekend and is expected to be a force in the Soo early and often. "I'm excited to hit the ground running," said Roy. "This is going to be a big year for us. We have 18 guys returning and a grad transfer. Experience trumps a lot of things, we've got a highly motivated group, big expectations."
Grant Potulny faced a minor crisis this weekend, nearly being swept on home ice by league rival Bowling Green. He got little or no sleep after his club surrendered countless turnovers Saturday, coughing up too many soft goals, and an officiating non-call that looked dubious on BGSU's winning goal in the opener. "You score four goals, you expect to win." He rubbed his unshaven face after the conclusion of Sunday's press conference after his club eked out a come-from-behind overtime victory, having coughed up an early two-goal lead. He was asked if he might finally get some rest Sunday: "I'll sleep better tonight, that's for sure."