2022 Michigan vs Lake Superior State - Men's
Hobey Baker Watch: Luke Hughes, Devon Levi Lead Preseason Top 10 List
Hobey Baker Watch: Luke Hughes, Devon Levi Lead Preseason Top 10 List
Luke Hughes and Devon Levi return after Hobey Top 10 finishes last season.
Sep 30, 2022
by Chris Peters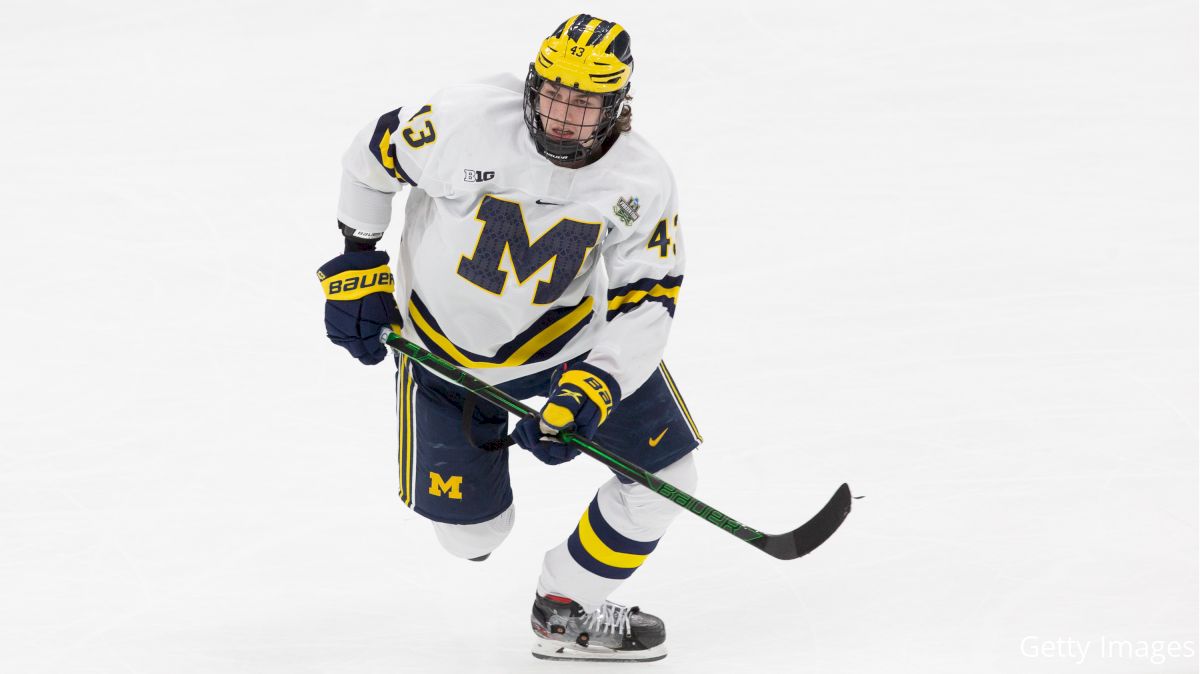 Predicting the Hobey Baker Memorial Award field in a given season is always difficult. There are so many variables at play over the course of a season and in the end, you never quite know what way the selection committee is going to go. Still, every year, I do my best to share thoughts on the players I think that are most likely to contend for men's college hockey's top individual honor.
This year, three players that were part of the Hobey Baker Top 10 Finalists list last season are still in the NCAA ranks -- Devon Levi, Luke Hughes and Yaniv Perets. That leaves a lot of room for new stars to emerge this season.
This preseason list includes a good mix of players at various stages of their NCAA careers and while the Hobey committee is often more partial to upperclassmen, I didn't let that deter me from listing out a few sophomores and even one freshman that has a chance to do something special this season.
So let's get to it. Here are the 10 players I think will be among those chasing one of hockey's most prestigious individual honors, plus a couple of dark horse candidates I think are worth watching.
Devon Levi, G, Northeastern (Buffalo Sabres)
Levi was named the Mike Richter Award winner as the nation's best goaltender, but was not voted as a top three finalist for the Hobey Baker last season. That award was won by another goalie, Dryden McKay, who had completed his fourth sparkling season for Minnesota State. By most metrics, Levi had the more impressive season, though did not play as many or win as many games as McKay. He did, however, post the second-highest save percentage for a single season in NCAA history with a .952 mark while facing 1,000 shots on goal.
Northeastern is going to need Levi to be sharp this season. They have excellent forwards that can score, but defending remains a question. If Levi can even come close to the performance he had last season and the Huskies make some noise in Hockey East, he's got a great chance to come away with the Hobey in what is likely to be his last collegiate season before joining the Buffalo Sabres.
Luke Hughes, D, Michigan (New Jersey Devils)
Three of the last six Hobey Baker winners have been offensive defensemen – Will Butcher, Cale Makar and Scott Perunovich. None of those three, however, had a freshman season like the one Luke Hughes had in 2021-22. The No. 4 overall pick by the New Jersey Devils in 2021, Hughes scored 17 goals last season and set Michigan's single-season record for points by a freshman with 39 in 41 games.
Now Hughes returns to Michigan as the team's No. 1 defenseman, their No. 1 power play quarterback and is a year stronger. He can be the guy that dictates a lot of what Michigan does this season with a young team in need of sophomores to carry heavier loads. Hughes looks more than capable to do that. The only concern coming into the season is that Hughes was injured at the summer World Juniors and only just resumed skating a few weeks ago. Assuming he's back to full strength, he should make an immediate impact.
Aidan McDonough, C, Northeastern (Vancouver Canucks)
McDonough surprised a lot of people when he said he was going to return for his senior season at Northeastern. After an All-American performance that included scoring 25 goals last season for the Huskies, McDonough will serve as the captain in 2022-23. The Hobey Baker committee has historically been partial to seniors, especially those that had a chance to go pro but decided to stay, which only helps McDonough's chances. If he can continue the improvement he showed in his breakout junior season, he's going to be a big-time candidate for this award.
Ryan Tverberg, C, UConn (Toronto Maple Leafs)
Returning for his junior season after an incredible breakout performance as a sophomore, big things are going to be expected for Tverberg at UConn this season. The Toronto Maple Leafs draft pick had 32 points in 36 games last year and the Huskies are expected to have an even better offensive attack this season. Team success definitely plays a role in Hobey Baker voting and we'll have to wait and see how UConn does this season, but Tverberg is absolutely one of the players to watch closely this season.
Some more post season hardware for Ryan Tverberg

NE All-Star ⭐️ and Best Defensive Forward 🏆 pic.twitter.com/jLgLtNyfAZ

— UConn Men's Hockey (@UConnMHOC) April 27, 2022
Matt Coronato, RW, Harvard (Calgary Flames)
After putting up 36 points in 34 games as a freshman last season, Coronato looks poised for an even bigger role on a Harvard team that has high expectations coming into the season. Coronato is a natural goal scorer who filled the net 18 times last season. The year prior, he had 48 goals in 51 USHL games, which was a 30-goal improvement from his rookie season. We won't see a jump that big, but it's not out of the realm of possibility for Coronato to score 25 to 30 goals. In NCAA hockey, hitting 30 is extremely tough to do, but I think he has the skillset for it. I also think Coronato's teammate Sean Farrell has a really strong shot at contending this year as an exceptional playmaker.
Louis Boudon, C, Lake Superior State
The nation's top-returning scorer, Boudon spent last spring representing France at the IIHF Men's World Championship, where he registered one assist in six games as a first-year attendee. After Dryden McKay opened the door for a Hobey Baker to come from the revamped CCHA, it has to give players like Boudon a little more hope that they can ascend to college hockey's top prize. He'll be a second-year captain and a senior, which will speak to the committee. Meanwhile, after putting up 44 points in 36 games last year, an even higher level of production undoubtedly gets him on the radar. If the Lakers are in the hunt for CCHA hardware, it only strengthens his cause.
Boudon & Bengtsson named to the 2022 CCHA All-Preseason Team! Congrats, fellas!

The program has been slated to finish 6th in the CCHA in the Preseason Poll, as voted on by coaches.

🔗 https://t.co/mFxupqQi5E pic.twitter.com/4asmUMGzKE

— Lake State Hockey (@HockeyLSSU) September 19, 2022
Logan Cooley, C, Minnesota (Arizona Coyotes)
He hasn't played a second of college hockey, but I think Cooley has a chance to be among the nation's most dynamic players. The Gopher freshman was the No. 3 overall pick in the NHL Draft in July after averaging 1.47 points per game in 51 games last season including 13 points in 13 games against NCAA Division I opponents. He's going to be a top-six contributor and likely see significant ice time on the power play throughout the season. It's very difficult for a freshman to win this award without having a near-historic level of production, but I also don't think it's out of the realm of possibility that Cooley inserts himself in this conversation over the course of the season.
Riese Gaber, C, North Dakota
After averaging 1.09 points per game in his sophomore season, Gaber should continue to be the focal point of the offense. The Fighting Hawks aspire to be more than just a competitive team this season, so it will require veteran forwards like Gaber to step up. After improving his freshman point total by 16 points last season, look for another bump for him as a junior. Gaber is not the biggest guy, but he has an unrelenting motor and some good skill to be a difficult player to slow down.
Zach Metsa, D, Quinnipiac
Though his goaltender, Yaniv Perets, was one of the Hobey Top 10 nominees last season, Metsa might be more essential to QU's chances of contending in 2022-23. Returning for an extra season thanks to the year granted to athletes coming out of the COVID-shortened seasons, Metsa has all the tools to get himself into the Hobey conversation. The fact he's returning to school for an additional year will speak to the committee, but he's also coming off a season during which he led his team in scoring. Metsa produced 37 points last season and a lot of Quinnipiac's offense runs through him. As an experienced puck-mover, he can take over shifts and really make things go. A season of high-level production combined with Quinnipiac being among the top contenders this season could be a winning combination for Metsa, who should get quite a bit of attention as a potential free agent for NHL teams to consider signing.
Matthew Kopperud, RW, Arizona State
Another of the nation's top returning scorers, Kopperud doubled his point total from the 2020-21 season in his sophomore campaign. With 40 points in 34 games last season, including 22 goals, he was among the top scorers in the country. The Sun Devils have a pretty balanced schedule, playing a number of highly-competitive programs and also filling their independent schedule with some of the "mid-major" style teams as well. In the new building, look for Kopperud to provide a veteran presence and a consistent source of offense for a team that should have its mind set on reaching the NCAA tournament this year, or at least contending for one of the at-large bids.
Dark Horse Candidates
Carter Mazur, RW, Denver (Detroit Red Wings)
The Pioneers have eyes on contending again, but the only way it happens is if players like Mazur can fill the scoring gap left by departing players. DU has to replace its four top scorers. Mazur was the NCHC Rookie of the Year in 2021-22 after posting 38 points and was a key player on the Pios' championship team. He also had a good showing at the World Juniors this summer, posting seven points and a team-best five goals in five games.
Mazur is going to be a top-line player for Denver, will be on their top power play and should put up good numbers. He's an older sophomore, too, which helps. He's never averaged over a point per game in his junior or collegiate career, so there would be a big stem for him to take, but I think he's an impressive forward that is only getting better. He could be a breakout performer this season.
Brock Faber, D, Minnesota (Minnesota Wild)
Though he hasn't been a major producer, Faber is one of the best overall defenders in college hockey. He impacts the game in so many more ways than just on the score sheet. It takes a lot for a defenseman to win, but I think Faber's production is going to be higher this season, Minnesota is one of the top overall contenders and he may be the team's most important player overall. Either way, Minnesota is going to go as far as Faber and the veteran D corps can carry them. Though I think guys like Logan Cooley and Matthew Knies can lighten the load.
Sean Farrell, C, Harvard (Montreal Canadiens)
I have Matt Coronato ahead of Farrell because I think Coronato's going to be one of the nation's top goal scorers this year, but don't count on Farrell to just be a set-up man this season. As one of the quicker, smarter playmakers in the college game, Farrell has a chance to put up big points. He should play in all key situations for the Crimson and could be a key to their chances as a contending team.
Mike Benning, D, Denver (Florida Panthers)
Being the top scoring defenseman on the NCAA champion last season did not get Benning enough attention last year because so many of the forwards were putting up even bigger numbers. Benning was near a point per game and dictates a lot of the offensive attack from the back end. He's going to have fewer weapons to get the puck to this year, so I don't know if he'll have the same kind of production, but if he does, he'll get consideration.
Others of note
Yaniv Perets, G, Quinnipiac
A.J. Vanderbeck, C, Northern Michigan
Josh Doan, RW, Arizona State (Arizona Coyotes)
Brendan Furry, C, Minnesota State
Scott Morrow, D, UMass (Carolina Hurricanes)