United States Hockey League (USHL)
USHL What To Watch For: Tri-City, Chicago, Lincoln Look To Stay Perfect
USHL What To Watch For: Tri-City, Chicago, Lincoln Look To Stay Perfect
USHL writer Jordan McAlpine previews some notable games from this weekend's slate.
Sep 29, 2022
by Jordan McAlpine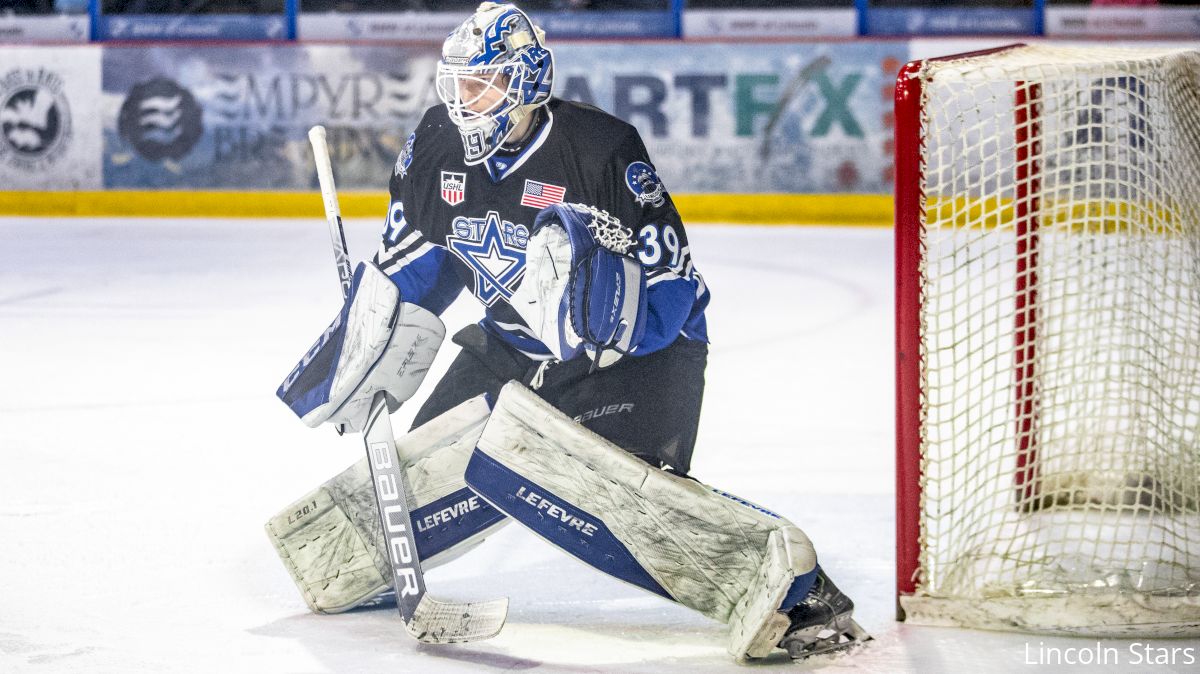 After a successful weekend in Pennsylvania at the Fall Classic, 14 of the 16 USHL teams are back in action this weekend. Nine games are on the docket and there are several early-season storylines around the league. Without further ado, here's a look at the week ahead.
Omaha (1-0-1) at Tri-City (2-0-0). Friday, 7:05 p.m. CT
A pair of Western Conference rivals, Friday will mark the first of 10 battles between the Lancers and Storm this season. Omaha opened the Fall Classic with an overtime loss to Team USA, 3-2. However, the Lancers bounced back behind the play of goaltender Michael Hrabal and earned a 3-0 win over Dubuque last Sunday.
Hrabal finished the weekend with a .959 save percentage as the UMass commit stopped 70 of the 73 shots he saw. Omaha forward Alex Bump also got off to a strong start as the Philadelphia pick netted a pair of goals.
As for the Storm, Tri-City sits tied with Lincoln atop the west through two games. Tri-City kicked off the 2022-23 campaign with a 4-1 win over Madison and a 6-4 win over Muskegon. Graham Gamache led Tri-City with two goals and a pair of assists, while Sebastian Wraneschitz backstopped the Storm to the win over Madison with 29 saves.
STORM SHORTHANDED GOAL!! Tic-Tac-Toe from Tanner Adams to Graham Gamache and the good guys take a commanding 5-2 lead!!#StormAhead pic.twitter.com/AqvSE6vwp5

— Tri-City Storm (@TriCityStorm) September 23, 2022
Many expect Anthony Noreen's group to be a factor in the west this season and although two games is a small sample size, so far so good. Friday night's game in Kearney could be an early-season preview of two of the west's top contenders.
Chicago (2-0-0) at Muskegon (1-1-0). Friday, 7:10 p.m. ET
The calm before the storm… HOME OPENER IN 2 DAYS‼️ pic.twitter.com/mJJfHFxusQ

— Muskegon Lumberjacks (@MuskegonJacks) September 28, 2022
Chicago came into this season with one of the USHL's most exciting and talented rosters. And through two games, that talent has been on display. Chicago opened the season with a 3-1 win over Fargo and the offense exploded in a 7-4 win over Sioux City, which included four first-period goals.
Nick Moldenhauer leads Chicago with three goals, while Jack Harvey and Mick Thompson both netted a pair at the Fall Classic.
As for the Lumberjacks, Muskegon split its first two games against Sioux Falls and Tri-City. But there's a lot to like about the Lumberjacks so far, starting with rookie Sacha Boisvert. Muskegon has scored 11 goals as a team through two games, which is the second-highest total in the league.
Friday night's tilt in Muskegon should feature a lot of talent, a lot of offense and two of the top teams in the east.
Sioux Falls (1-1-0) at Lincoln (2-0-0). Friday, 7:05 p.m. CT
A matchup between the western conference-leading Lincoln Stars and Sioux Falls Stampede could come down to special teams and goaltending.
Lincoln impressed last weekend in wins over Cedar Rapids and Green Bay. But the Stars were especially impressive on the power play. Lincoln finished 3-for-5 on the man advantage, which included a pair of goals from Mason Marcellus.
The Stars also received excellent goaltending from Cameron Whitehead. The Vegas pick stopped all 30 shots he saw against Green Bay and finished the weekend with a .978 save percentage and 0.50 goals-against.
Congratulations to Cameron Whitehead on winning @USHL Goaltender of the Week for the first week of the season! #AllAboard🚂

Read more: https://t.co/1Ve5KgMTnU pic.twitter.com/De5RPHqRhX

— Lincoln Stars (@LincolnStars) September 28, 2022
As for Sioux Falls, the Stampede had some power-play success of their own. Sioux Falls finished the weekend 3-for-8 on that unit and the Stampede scored a league-leading 12 goals as a team overall. Forward Samuel Harris netted a hat trick and goaltender Jackson Irving turned in a 27-save shutout of his own in the 8-0 win over Cedar Rapids.
News and notes
Youngstown (1-1-0) and Sioux City (0-2-0) will be the lone two USHL teams off this weekend.
Cedar Rapids (0-2-0) and the USNTDP (2-0-0) will play a pair of games this Friday and Saturday in Cedar Rapids. The RoughRiders are one of four USHL teams still looking to enter the win column. Meanwhile, Friday's game will mark the first USHL action for the U.S. National Under-17 Team as the Under-18s represented the NTDP at the USHL Fall Classic. The two NTDP squads split the USHL schedule over the regular season.
Chicago and Green Bay will also play on back-to-back nights this weekend. The Steel will return home to host Green Bay on Saturday. Green Bay hosts Fargo on Friday.
Three different goalies notched a shutout last weekend - Whitehead, Hrabal and Irving. Whitehead was named the USHL's Goaltender of the Week after his efforts.
Harris leads the USHL with four goals, and was named the USHL Forward of the Week. Moldenhauer and Sioux City's Kaden Shahan are right behind with three each.
Youngstown Phantoms blueliner and 2023 NHL Draft-eligible Andrew Strathmann was named the USHL's Defenseman of the Week after posting three points (two goals, one assist) at the Fall Classic.