USHL
Hrabal, Fegaras, Strathmann Among 15 Standouts At USHL Fall Classic
Hrabal, Fegaras, Strathmann Among 15 Standouts At USHL Fall Classic
Chris Peters details some of the standout performances and notable prospects from the 2022 USHL Fall Classic.
Sep 27, 2022
by Chris Peters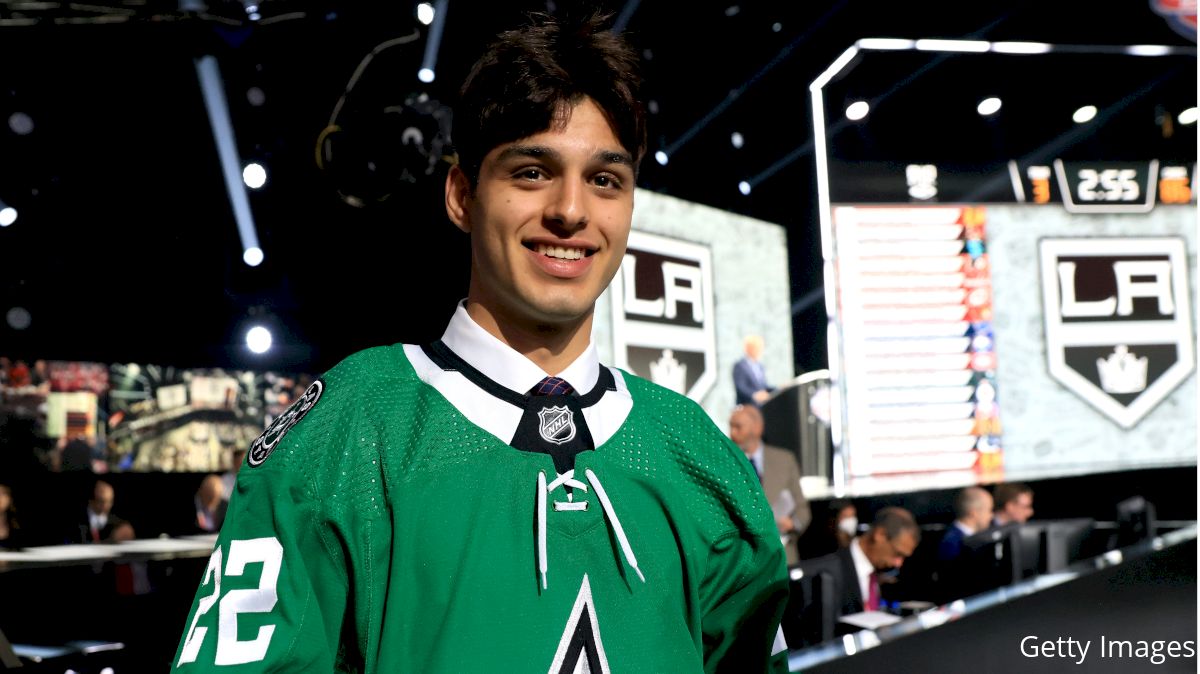 You couldn't walk two steps at the UPMC Lemieux Sports Complex without running into an NHL scout or college recruiter. The top rows of each of the two arenas were lined up with black jacket-clad, notebook-toting individuals hoping that they might be catching a glimpse of their next big prospect for their NHL organizations or college hockey teams while at the 2022 DICK'S Sporting Goods USHL Fall Classic. There was plenty for them to see, of course.
With all 16 USHL teams competing in their first two regular-season games of the year, dozens of players put their best foot forward to impress some of the top hockey talent evaluators in the world.
In order to give you an idea of who put their best foot forward, here's a look at some of the top performers based on what I saw at the USHL Fall Classic, broken down into three different groups.
2023 NHL Draft Eligible
Michael Hrabal, G, Omaha Lancers: If there was one player who demanded the attention of scouts at this event, it was Hrabal. The 6-foot-6 goaltender stopped 70 of 73 shots he faced over two games as Omaha went 1-0-1 in the Fall Classic. Hrabal showed excellent control to go along with that big frame of his, dealing with traffic exceptionally well and making the opposition work that much harder to try to find ways to beat him. He managed to stifle the U.S. Under-18 Team for much of their game before he made a miscue in overtime that allowed the national team to get the overtime winner, but Hrabal bounced back with a shutout in his next game. His size already makes him an attractive goaltending prospect, but we're seeing that he's not just a big body. There are some real tools there and if he can play as well as he did on opening weekend or at least show consistency throughout the season, he's got a chance to be among the first goaltenders selected in the 2023 NHL Draft.
Andrew Strathmann, D, Youngstown Phantoms: Expectations were high for Strathmann coming into the season and they'll remain so after his first weekend. The slick-skating defenseman made a lot of clean plays, good reads and ended up scoring two goals. There's an easiness to his game with the puck on his stick that I like a lot. Being able to make plays on the move throughout the offensive zone makes him a weapon that teams have to be aware of. Defensively, I didn't see any noticeable deficiencies aside from his not being an especially big player. That said, Strathmann was engaged physically, made a few nice hits and has a good defensive stick to make forwards work to get through him. The North Dakota commit does a lot of little things well and if he can produce at a reasonably high clip, he'll have a chance to make some noise at the draft as well.
Will Smith, RW, U.S. National Under-18 Team: Quick and shifty, it's impossible not to notice Smith every time he hits this ice. He was a factor in both games for the U18s, scoring two goals and adding an assist. Smith's speed led to USA's OT winning goal against Omaha as he won a footrace to a loose puck and beat Hrabal, who was charging from the net to try to clear the loose biscuit. Smith makes a ton of plays every game and has the ability to get behind defenses with those wheels. As he gains more strength and becomes a bit tougher to move off the puck, he's going to have a chance to be an even bigger impact player.
SMITH POTS THE OT WINNER!!#USAvsOMA pic.twitter.com/j3sxGzTNjH

— USA Hockey's NTDP (@USAHockeyNTDP) September 25, 2022
Tanner Adams, RW, Tri-City Storm: Tri-City got out of Pittsburgh with a pair of wins and Tanner Adams was in the middle of everything they were doing. He finished the weekend with three points including a beautiful goal to help the Storm pull away in a hard-fought game with Muskegon. He showed off his speed and offensive prowess as well as high motor that helps him be a consistent contributor. With the number of losses Tri-City sustained from its Anderson Cup team, Adams will have to be one of the go-to players on the roster and got off to an early start.
STORM GOAL!! What a goal from Tanner Adams! Falling down and he still tucks the puck behind the goaltender and the Storm take a 6-3 lead!!#StormAhead pic.twitter.com/OZYBC1DIp4

— Tri-City Storm (@TriCityStorm) September 23, 2022
William Whitelaw, C, Youngstown Phantoms: An especially skilled forward with loads of confidence on the puck, Whitelaw had a three-point weekend for Youngstown. He was around the puck a lot in both games and was able to make some pretty plays and get to the interior to pick up some of the garbage around the net as well. As Whitelaw's season progresses, building strength and continuing to get inside is going to be key for him. He doesn't have your typical NHL size, but he's got the skill level that certainly gives him a chance. There are some elements of his game that have to be cleaned up as he can hold onto the puck a bit too long at times instead of making the simple plays, but you also don't want him to lose some of that confidence with having the puck on his stick.
Whitelaw's power play goal was straight 🔥🔥 pic.twitter.com/f8VfuNbmrI

— Youngstown Phantoms (@YtownPhantoms) September 24, 2022
Tanner Ludtke, C, Lincoln Stars: Among the draft-eligible players in the league, none had more points than Ludtke's four. The Nebraska-Omaha commit who starred for Lakeville South in the Minnesota High School ranks last season scored twice and added a pair of assists at the Fall Classic. A late 2004 birthdate, Ludtke might have a bigger uphill climb than some of his USHL peers in order to get drafted, but he represented himself well in Pittsburgh. Lincoln had a very strong weekend as a team, with three different players registering four points over the first two games, but Ludtke was around the puck a lot and making a lot of positive plays to help his team get to 2-0-0.
Drafted NHL Prospects
Cameron Whitehead, G, Lincoln Stars (Vegas Golden Knights): A fourth-round pick last year, Whitehead started off his draft-plus-one campaign in impressive fashion. After stopping 15 of 16 shots against Cedar Rapids in a 4-1 win, Whitehead made 30 saves in a shutout of Green Bay to allow Lincoln to skate out of Pittsburgh with all four possible points. Whitehead has good size and solid technique. He had to split time last season in Lincoln's net, but this year will be carrying the mail which will be great for his overall development.
George Fegaras, D, Muskegon Lumberjacks (Dallas Stars): A four-assist performance in his first USHL weekend was quite the showing for Fegaras, who spent last season in the OJHL. The Stars third-rounder looked like a veteran out there, skating well and getting pucks to the net. There's a quiet confidence in his game, which allowed Fegaras to navigate the ice well, play physical defense and make some solid plays with the puck. While he's not really a rookie thanks to his previous junior experience, he is new to this league. It's pretty safe to say the USHL is going to get very familiar with him very quickly.
Nick Moldenhauer, C/W, Chicago Steel (Toronto Maple Leafs): Returning to Chicago after being drafted in the third round over the summer, Moldenhauer has a chance to be the go-to scorer for his team. He certainly was at the Fall Classic, scoring three goals and adding an assist to be among the league's top performers of the first week of the season. Moldenhauer's shot looks even better than last year as he's got a quick release that caught goaltenders off guard. He averaged over a point per game last season, but it would not shock me to see Moldenhauer be among the league's dominant scorers in his second full year in the league.
Let it rip, Moldy!#FeelSteel | @RiverFrontCJD https://t.co/LGOoO8aV80 pic.twitter.com/mgjqcIecDr

— Chicago Steel (@ChicagoSteel) September 23, 2022
Sam Rinzel, D, Waterloo Black Hawks (Chicago Blackhawks): Though he had just one assist, to the eye Rinzel looks poised to have a big season. The big defenseman jumped into plays a lot and is among the best skating blueliners in the entire league. After splitting time with Waterloo and Chaska High School last season, Rinzel is going to benefit from a full USHL campaign, playing in every situation, logging massive minutes and being a key player for his team. Based on the first weekend of action, he looks like he's up to the task. The highest drafted player returning to the USHL this season, having gone 25th overall to Chicago in July, is looking like he can live up to the hype.
Jake Richard, RW, Muskegon Lumberjacks (Buffalo Sabres): A year of USHL experience did Richard a lot of good. He was among the most assertive forwards I saw, using his strength as much as his skill to be effective. Richard won his fair share of puck battles and was doing a good job of getting to the net. He looks stronger and more prepared for to take charge this season. He finished the Fall Classic with two goals and an assist.
Alex Bump, LW, Omaha Lancers (Philadelphia Flyers): After starring for Prior Lake last season in the Minnesota High School ranks, Bump looks ready to be an everyday impact player for the Lancers this season. He's got decent size, but his puck skills really jumped out during his performance at the Fall Classic. He's able to pressure defenders and back them down with his hands and he's got enough speed to beat them to the outside. He scored two goals in the Fall Classic and if he can get a little more shift-to-shift consistency, he's got a chance to put up a lot of points this year.
Alex Bump (Prior Lake, Minn) of the @OmahaLancers is back for the 2022-23 season after being drafted by the Philadelphia Flyers in the 5th round and 133rd overall at the 2022 NHL Draft. pic.twitter.com/GjkB1iZJtk

— The Rink Live (@TheRinkLive) September 25, 2022
Futures
Sacha Boisvert, C, Muskegon Lumberjacks: The transition from 15U hockey to the USHL is supposed to be tough, but Boisvert made it look pretty easy. The 16-year-old rookie scored twice in the Fall Classic and added an assist. You can see there will still be a learning curve for him, but Boisvert held up well to the physicality of the league and never really looked out of place. Muskegon has a pretty good team top to bottom, but if they can get big contributions out of this young rookie throughout the year, they'll really be a team to watch.
Macklin Celebrini, C, Chicago Steel: Though he sustained an injury halfway through his second USHL game, Celebrini still had enough time to produce three points. He netted his first USHL goal on a power-play snipe in the first game and notched two assists early in the next game before being sidelined by an upper-body injury. In the time he played, though, you can see all the reasons there's so much hype about this young player. Celebrini was crossing up defenders and creating space, while using his strength to cut inside and make plays in tight to the net. His ability to create off the rush was also quite impressive. Once he's healthy, he's going to have a big-time impact on this league this season.
Keith McInnis, D, Waterloo Black Hawks: McInnis was a player I knew very little about coming into the season, but coming out of the Fall Classic I'm going to be paying very close attention to going forward. Though just 16, McInnis played essentially top-four minutes for Waterloo over the weekend. He handled his defensive responsibilities well, but also managed to jump into plays and produce a bit. He scored his first USHL goal on a bar-down wrister that stunned the goaltender. He also finished plus-3 in his first ever USHL game. He's still developing, but you can see some of the makings of a very strong USHL defenseman.