2022 Penn State vs Lindenwood - Women's
CHA Women's Hockey Preview: Can Syracuse Continue Success Under New Coach?
CHA Women's Hockey Preview: Can Syracuse Continue Success Under New Coach?
College Hockey America starts its 21st season of play this week. Once again, five teams will be part of the action.
Sep 26, 2022
by Nicole Haase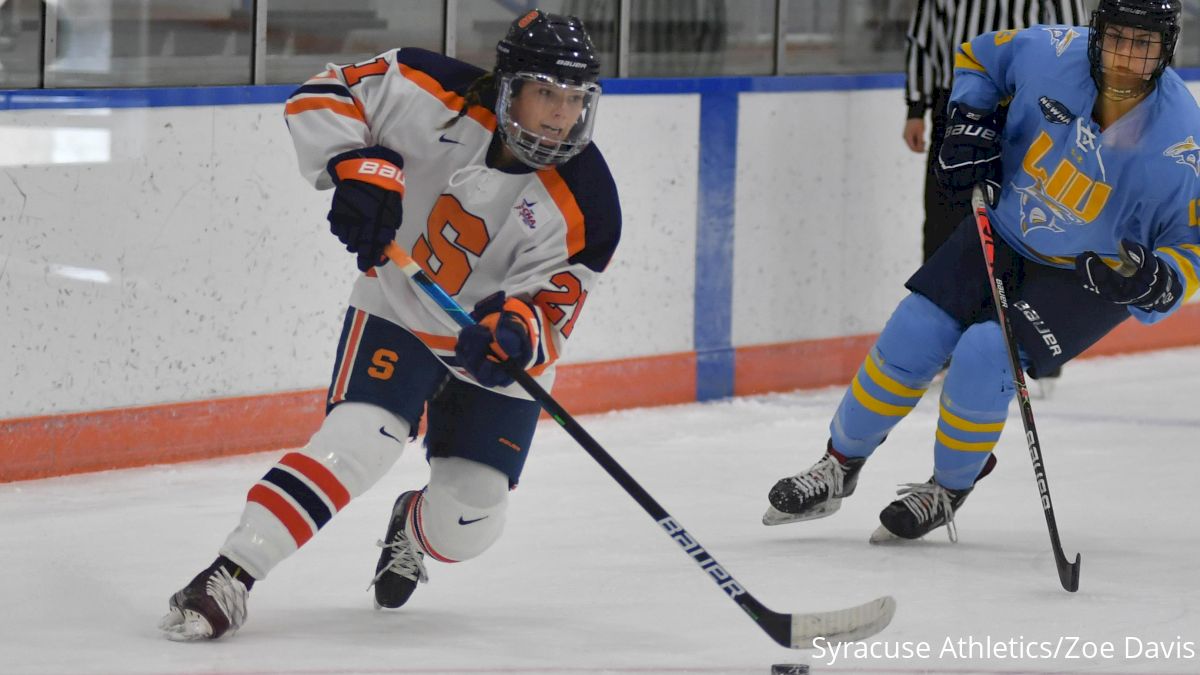 College Hockey America starts its 21st season of play this week. Once again, five teams will be part of the action.
Robert Morris, which reinstated its hockey programs in December 2021, was readmitted to the CHA in March for play during the 2023-2024 season.
Syracuse is the reigning regular-season and tournament champion, but Penn State has put together a team its thinks can achieve the school's first NCAA berth - and the preseason coaches' poll agrees.
Here's a look at each team:
Lindenwood
Last Year's Record:
Overall: 6-22-1
Conference: 4-9-1
Finish: Fourth
Coach: Shelley Looney, fourth season
Key losses: Sierra Burt, Casey Adimey
Key additions: Karolina Sykorova, Quinn McLaren
It's going to be an uphill battle for the Lions, with an opportunity for younger players to step up and play a big role.
The skaters responsible for more than 51% of the team's scoring last season are no longer on the roster, including the top two in goals and assists. That's a big hit for a team that had doubled its offensive output from the past two seasons, putting them in the top half of the country in team offense.
Unfortunately, they were the second-worst team in the country on defense, allowing 4.62 goals per game.
Junior Teagan Heaslip and senior goalies Natalie Ferenc and Julia Maguire will look to shore up Lindenwood in their own zone. Heaslip led the team with 39 blocks, while the goalies split time in net.
The trio will be joined by newcomers Sarah Waszkielewicz and Quinn McLaren, a pair of 5-foot-11 rookie defenders who use their size and strength well along the boards and disrupting pucks through the middle.
Mercyhurst
Last Year's Record:
Overall: 21-12-2
Conference: 10-6
Finish: Third
Coach: Mike Sisti, 24th season
Key losses: Jenna Silvonen, Kristy Pidgeon, Alexa Vasko
Key additions: Jada Brenon, Frankie Sanchez, Thea Johansson
The Lakers have a large group of newcomers this season, with seven freshmen and two grad transfers. However, they also return most of their top scorers from last season, including reigning USCHO and CHA Rookie of the Year Vanessa Upson, who's 19 goals and 39 points were best among newcomers nationwide.
With young players leading the way last season, they made the CHA tournament title game, losing a one-goal game to Syracuse.
Just putting this back in the Twitterverse......

Hey @ESPNAssignDesk you might want to see this......#SCtop10 https://t.co/Ge9zkXlMqW

— Mercyhurst Women's Hockey (@HurstWHockey) September 24, 2022
A resilient team that got up to speed quickly, Mercyhurst will look to replicate that this season with a tough early non-conference schedule that should leave the Lakers in a very comfortable place heading into conference play.
The defense is anchored by sophomore Sydney Pedersen, who was named to the preseason all-CHA team. A great two-way player, she registered 56 blocks and contributed 15 assists.
Last season, Mercyhurst split time in net, but one half of that combo has graduated.
The returner is Ena Nystrom, who tied with Penn State's Josie Bothun for the goalie spot on the preseason all-CHA team. Her .939 save percentage and 1.87 goals allowed average both ranked in the top-15 nationwide.
Penn State
Last Year's Record:
Overall: 18-10-5
Conference: 8-3-3
Finish: Second
Coach: Jeff Kampersal, seventh season
Key losses: Natalie Heising, Avery Mitchell
Key additions: Tessa Janecke, Courtney Correia, Eleri MacKay
Freshman Tessa Janecke is as good as advertised and will not have any difficulty transitioning to the college game. At the U-18 Women's World Championships in Madison in June, she stood out among a cadre of young talent that will make an impact across women's hockey this season.
Janecke a fast, smart player with a slick wrist shot that allows her to pick out corners, she will be a big boost on the offensive end. But she's also a good defender, keeping pressure through the neutral zone and selling out to block shots.
The Nittany Lions had something of a breakthrough year during the shortened 2019-2020 season, but weren't quite able to recapture that last season. I don't think that will be the case this season.
They've added some veterans, have a really strong goalie in Bothun and have a defense that gets in passing lanes.
At the moment, they're allowing a little too much freedom in transition and through the neutral zone, so I'd like to see that shutdown defense cover a bit more of the ice. But this is a very good team with a lot of potential.
RIT
Last Year's Record:
Overall: 2-27-4
Conference: 1-12-3
Finish: Fifth
Coach: Celeste Brown, third season
Key losses: Abby Davies, Taylor Sims
Key additions: Amy Dobson, Karly Kolssak
As the overall parity in women's college hockey grows, it becomes harder for programs to show growth through more wins or higher finishes in the standings.
The Tigers have shown steady improvement over the past few seasons, thanks in part to great goaltending. Sarah Coe is just a sophomore, but she already rewrote the program record books in a number of categories. She gives RIT a chance to win every game while facing - and stopping - a barrage of shots.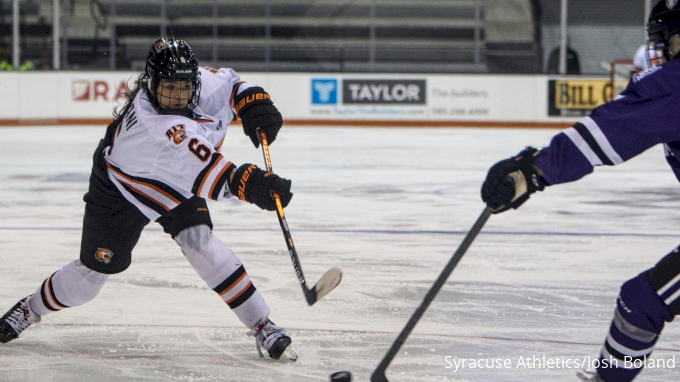 With 16 underclassmen on the roster, the Tigers are a young team with room to grow.
Sophomores Athena Vasdani and Kylie Aquaro were immediately impactful on offense, and Kyla Bear showed off her 200-foot game, ending the season sixth on the team in points, while finishing third on the team and fifth in the CHA with 64 blocks.
Syracuse
Last Year's Record:
Overall: 15-11-6
Conference: 11-4-1
Finish: CHA regular-season and tournament champions
Coach: Britni Smith, first season
Key losses: Abby Moloughney, Victoria Klimek, Jessica DiGirolamo
Key additions: Rhea Hicks, Maya D'Arcy
The Orange sent longtime coach Paul Flanagan into retirement with the team's first regular-season title and second conference tournament win (and accompanying NCAA bid).
Now they look to defend their dual titles under new coach, longtime Clarkson assistant Britni Smith.
Syracuse is without three of its five leading scorers from last year's team, but the roster does include reigning CHA Goaltender of the Year Arielle DeSmet, who's back in net for her final year of eligibility.
DiGirolamo was an important two-way player for the Orange, blocking nearly twice as many shots as anyone else on the team, while leading the team in shots on goal. Last season, he was named one of the top 20 players in the first 20 years of the conference.
Expect grad student Lauren Bellfontaine to take on an even bigger role this season, particularly on the defensive end of the ice. She's an asset at the faceoff dot and great at tracking back, and she should join preseason all-CHA pick Mae Batherson in leading the defense.