2022 American International vs Alaska Fairbanks
Atlantic Hockey Season Preview: Challengers Await AIC
Atlantic Hockey Season Preview: Challengers Await AIC
American International locked up their fourth straight Atlantic Hockey conference title, but contenders like Air Force and Sacred Heart will put up a fight.
Sep 23, 2022
by Jacob Messing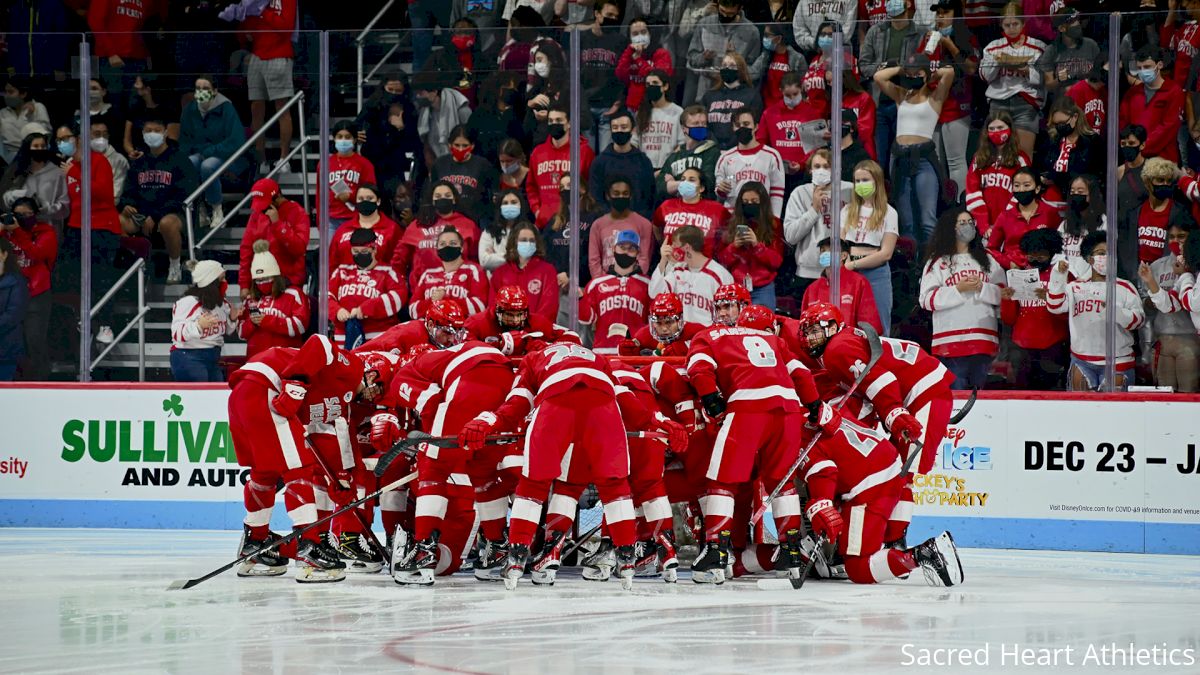 The chatter about prospects grows louder, breakout contender lists grow, and 'way too premature' articles begin to flood social media—that's right hockey is almost back.
Training camps open soon and practices begin to ramp up intensity as October nears as the 20th season of Atlantic Hockey will soon be underway.
American International (AIC) returns as the team to beat. Coach Eric Lang is preparing for his seventh season with the team and has led the Yellow Jackets to four consecutive conference titles—with four National Tournament berths.
The Jackets continue to carry the torch in the conference after a 16-5-1-4 record (22-13-4 overall) and a conference-winning 54 points in 2021-22. But as parity grows in a widening NCAA league, competition remains fierce and the target on the Jackets back will remain until they can be dethroned.
A handful of programs hold the tools to do just that.
Among those programs sits last year's regular season runner-up, Canisius. The Golden Griffins went 12-9-2-3 (16-16-3 overall) for 45 points.
Coach Trevor Large's returning cast will be eager to outshine their near .500 record entering his sixth year at the helm.
Three other programs were breathing down the Griffins' necks last season, separated by just three points between second and fifth place. Third place finisher RIT went 9-9-6-2 (18-16-4 overall), chipping away for 41 total points and boasting the 2022 Rookie of the Year, forward Carter Wilkie.
Wayne Wilson enters his 24th season with the program and is hoping Wilkie and company are the group to earn the Tigers their first National Tournament bid since 2016.
Army West Point also finished with 41 points last season, but ultimately fell behind RIT via a tiebreaker, despite three more wins. It shows the power of collecting points every weekend, which is what Black Knights coach Brian Riley expects every series.
Riley enters his 19th year, hoping to build on the 12-10-1-3 record (14-17-4 overall) last season without the option of the transfer portal the majority of his colleagues pursue.
A point behind the Knights, Sacred Heart concluded the 2021-22 season with an 11-11-3-1 record (15-18-4 overall). The Pioneers held the third-lowest goals-against average in the conference, but lacked a consistent offensive threat like their breakout team of 2019-20.
Coach CJ Marottolo enters his 14th season with a team, who earned praise by finishing second in the annual coaches poll.
The AIC Yellowjackets are the coaches' choice to top Atlantic Hockey this season!

📰 https://t.co/GUFswDgpy5#AHA20 | @AIC_Hockey pic.twitter.com/RAeGYnxTen

— Atlantic Hockey (@Atlantic_Hockey) September 20, 2022
Among the younger teams in the conference, Air Force took strides forward in 2021-22 with a 8-10-5-3 (16-17-3 overall) season after going 3-10-1 as the lone non-pod team in 2020-21, requiring more wear and tear through extra travel.
Frank Serratore enters his 30th NCAA season, and 26th with the Falcons, hoping this is the team to continue its ascent and return to the national stage since their back-to-back National Tournament berths in 2017 and 2018.
Behind the Falcons' 37 standings points, the Mercyhurst Lakers would finish with 36 points of their own with a 10-11-1-4 record (16-19-4 overall). Coach Rick Gotkin's run-and-gun offense took a hit this summer as Dante Sheriff, Austin Heidemann, and Noah Kane all departed on the transfer portal.
The loss of offense, combined with last year's third-worst goals-against total in the conference leaves a lot of questions. Gotkin enters his 35th season behind the bench in search of his 600th win, sitting at 588 overall.
The Purple Eagles suffered a similar fate, struggling to score or defend consistently. Still, a 8-11-4-3 record (11-22-3 overall) for 35 points shows the parity of the conference, just six points out of last place and eight out of second.
Coach Jason Lammers prepares for his sixth season and is hoping four additions on the transfer portal—with no losses—brings competition as five freshmen defensemen and three rookie forwards are added to the mix, too. Friendly competition for ice time and roles could be the missing ingredient to a step in the right direction.
As the ninth-place finisher, Bentley's 9-12-2-3 record (14-20-2 overall) puts an early 2022 first place spot well in the past. But coach Ryan Soderquist is presented with a unique opportunity with his team ahead of his 21st season.
Thirteen players depart as seniors or grad transfers. Add in the loss of last year's leading scorer and a formidable two-way blue liner in Drew Bavaro and the Falcons will have a lot of spots to be earned.
Bill Riga enters his second season at Holy Cross, eager to ascend from last place after a 7-14-3-2 record (12-23-2 overall).
Still, the Crusaders would claim six of their 12 wins on the season over the course of their final 11 games. Riga's systems and his team buy-in began to show through as they looked to play the spoiler and shake up the conference standings late into the season. A strong start to the 2022-23 season could see them start to shuffle the standings in their favor.
Stream the entirety of the 2022-23 Atlantic Hockey season live, right here on FloHockey beginning this October.
---
Have a question or a comment for Jacob Messing? You can find him on Twitter @Jacob_Messing.