2022 Lake Superior State vs Michigan Tech - Men's
CCHA Season Preview: A Well Shuffled Deck
CCHA Season Preview: A Well Shuffled Deck
Delving into the ruckus caused by the yearly CCHA Coaches Poll, and declaring a few season predictions of our own.
Sep 23, 2022
by Tim Rappleye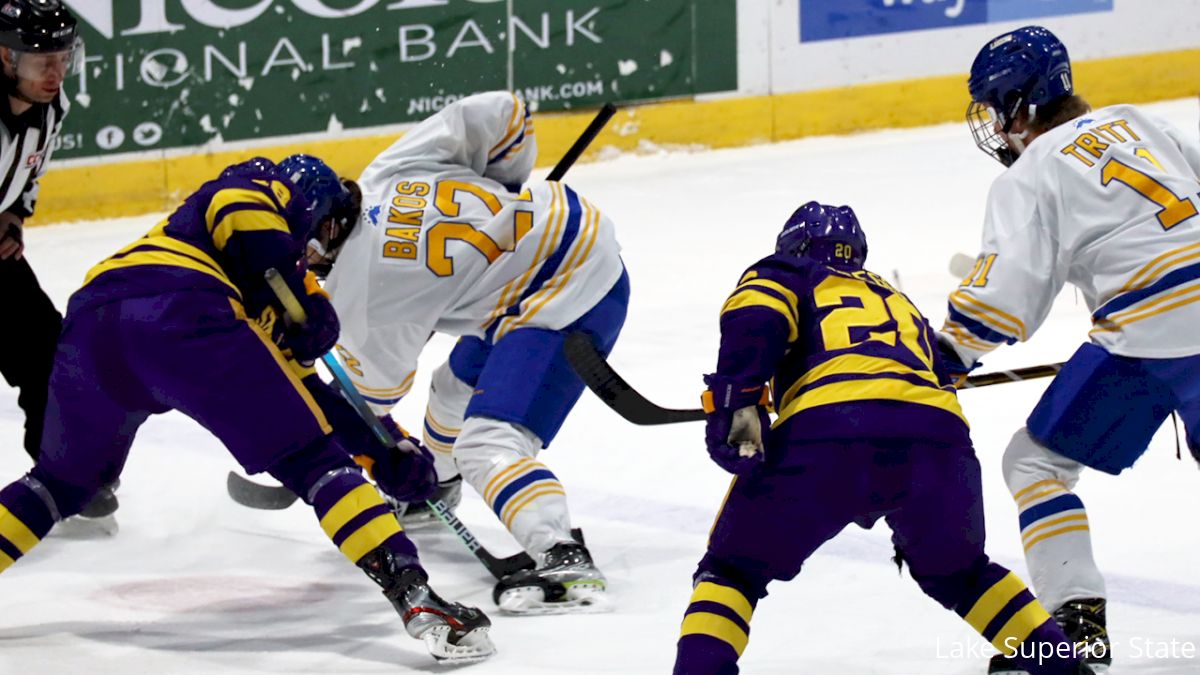 Shortly after lunch on Monday, the news was spreading fast up in the Soo: Lake State had been picked sixth in the CCHA coaches poll. The team's captain sought out the coach.
"Right away Louis Boudon approached me with it," said 9th-year Lakers coach Damon Whitten.
"With social media in today's world it didn't take long. He kind of smiled a little bit and said, 'We were picked sixth two years ago, when we hung a banner and went back to the [NCAA] tournament.'
"That's where we expect to be again this year, competing for a banner," Whitten said.
"This is our best team in nine years, and I think the polls will prove to be a little off."
Historically, Whitten has a habit of accentuating the positive when it comes to portraying his team's success. He argued that last year's .500 club was a serious contender. But despite a season ravaged by COVID complications, injuries and decimated practice sessions, he and his staff willed his Lakers to home ice, and gave Northern Michigan all they could handle in the CCHA quarters.
Lights, camera, action! 📸🎥

We have just one question, is it October yet? pic.twitter.com/BrTs84HfN7

— Lake State Hockey (@HockeyLSSU) August 19, 2022
The Lakers were just one of several controversial picks in this year's poll, a successful newsmaker heading into the CCHA season. The biggest head-turner was Northern Michigan.
Grant Potulny's Cats were picked second, the highest projection of his tenure. One reason is the entry of the CCHA's projected newcomer-of-the-year Joey Larson, a scoring force arriving from the USHL. But it is the transfer from UConn that has hockey insiders leaning toward Marquette.
Muscovite Artem Shlaine is a 6-1 center that should be an impact player on both sides of the puck.
"He's got a high motor, very good skill set, but he doesn't just play offense," Potulny said of the New Jersey Devils daft pick.
"He wants to kill penalties, take draws. That's the sign of a really good player."
Northern has a ton of returning offense and veteran defensemen to buttress newcomers, but in this time of five-year COVID eligibility, so do their peers. Potulny has given sophomore goalie Charlie Glockner the keys to his crease, but a save percentage below .900 and a goals against above 3.00 simply won't get the Cats to second place. The CCHA coaches may have forgotten to check between the pipes when awarding Northern the silver medal.
Because of Minnesota State's incredible decade of dominance, only one coach picked against them winning their sixth straight MacNaughton Cup. But Mike Hastings has never had a club so vulnerable as this season.
He has lost six terrific skaters to graduation, and that's the least of his worries. There is a gaping whole in the net for the Mavericks due to the loss of Hobey Baker winner Dryden McKay. The three goalies on the MNSU depth chart have played a combined total of two games of action. Unless sophomore Keenan Rancier can fill the void, someone will beat the Mavericks early on, and other clubs will join the party.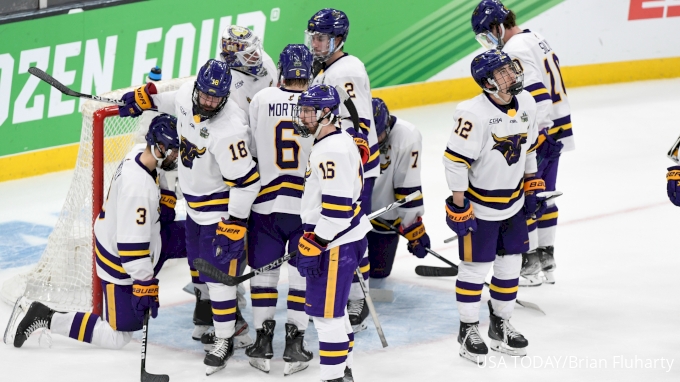 Bemidji lost five of its top seven scorers from last year, not to mention the gritty leadership of two Sillinger brothers. They are coming off a season in which the Beavers surrendered three goals a year and saw their vaunted penalty kill slip 10 percentage points. Even Tom Serratore concedes that this is a rebuilding year, not a home ice year that was predicted by the coaches.
After two consecutive seasons without a playoff series win for Bowling Green, Ty Eigner's recruiting ship has come in. Five newcomers should get quality ice time for the Falcons, none more than the latest Norris brother—Dalton—who comes to the Madhouse to replace his brother Coale on the Bowling Green blue line.
The younger Norris was the deadliest shooting defenseman in junior hockey last year with an incredible 19 power play snipes. Norris will wear the same jersey and sit in the same locker as his older brother.
"There wasn't a whole lot of maintenance to do," wisecracked Eigner, who is sitting in catbird seat with a boatload of talent and healthy Zack Rose in goal. The Falcons are a legit home ice team—we project them at number three over Northern due to their edge in goal.
Michigan Tech, the only CCHA team that qualified for the NCAA tournament other than Minnesota State, will drop precipitously unless coach Joe Shawhan can manage his goalies with a magic touch. He lost the best senior class of his tenure, a class that carried him into the national tournament.
He is counting on the two Pietila twins, Blake and Logan, for goaltending and goals respectively. If he chooses to work Blake as hard as he did last season (40 starts), the pre-season goalie-of-the-year might falter down the stretch. Tech has recruited three Finns, including elite goalie Max Vayrynen of Espoo.
If Vayrynen is the goalie he appears to be on paper, and Shawhan marshals out the minutes with a surgeon's touch, Tech could find a way into the CCHA semis once again. That is not Shawhan's way, however. The former goalie has stated that two games a week for a goalie is no burden, and he will die on that hill.
As for the rest of the league, both Ferris State and St. Thomas will prove to be thorns in the side of their CCHA rivals every weekend, bleeding points from their favored opponents each weekend until they slip past one or two clubs in the standings. Wise elder Bob Daniels never exaggerates about his Bulldogs, and he insists that Ferris is better than a seventh place club. Smart money follows Daniels.
FloHockey's fearless predictions entering the 2022-23 season:
Lake Superior State (two 1A goalies)
Minnesota State (first time in memory, no hoisting MacNaughton)
Bowling Green (home ice at the Madhouse)
Northern Michigan (a ton of goals in both nets)
Ferris State (beware the Bulldogs)
Bemidji State (stifling D returns to the Bold North)
Michigan Tech (the rebuild begins)
St. Thomas (Blasi's push still a year away)
---
Tim Rappleye has just written his third book: A Miracle of Their Own, co-authored by Keith Gave. Available online in October. You can reach Tim on Twitter @TeeRaps