AHL
NHL Prospect Tournaments: Slafkovsky, Edvinsson Among 10 To Watch Closely
NHL Prospect Tournaments: Slafkovsky, Edvinsson Among 10 To Watch Closely
Chris Peters details 10 particularly intriguing prospects as rookie tournaments open across the NHL this week.
Sep 15, 2022
by Chris Peters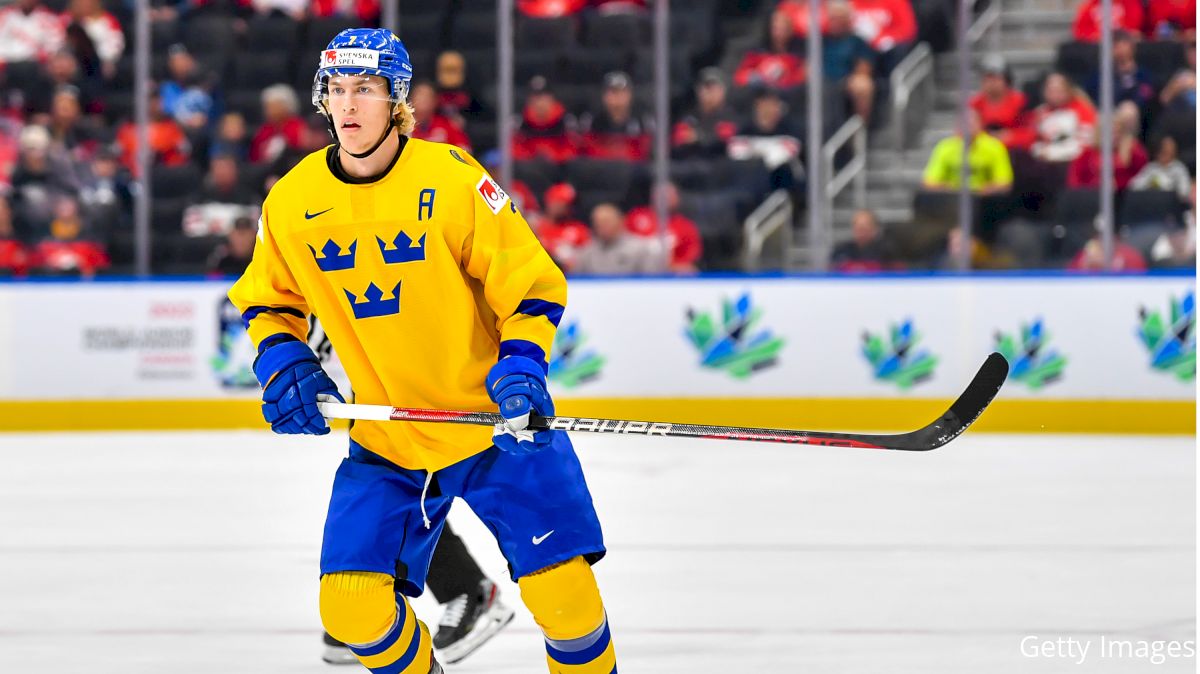 Over the next five days, prospects from 29 of the NHL's 32 teams will compete in various tournaments and series designed to help them prepare to compete for spots on NHL rosters when training camps open next week.
These tournaments are a very small piece of the puzzle as a team prepares for the season, but they offer a unique measuring stick that puts their prospects in a position to show what kind of progress they've made over the previous season. Playing against players of similar age and experience puts everyone on mostly equal footing, but allows the best and most ready players to make a more significant impact. It won't be the difference for them to make the big club this season, but it puts their NHL coaches and management teams on notice that they're going to deserve a long look when they get to the main camp.
I wanted to focus on some of the bigger-name prospects that I feel are worth watching a little closer this week, for various reasons.
Juraj Slafkovsky, LW, Montreal Canadiens
The No. 1 pick from the 2022 NHL Draft is going to have all eyes on him at the Prospects Challenge hosted by the Buffalo Sabres. After spending much of the summer preparing in Montreal, he is expected to get some games in this tournament. Slafkovsky is also expected to compete for a spot and very likely end up on Montreal's opening-night roster. The rookie tournament will give the 6-foot-4, 230-pound winger a chance to show where he's at amongst his peers while getting his first real taste of North American pro hockey.
Expecting him to dominate the event might not be reasonable, but he should be among the top players. He's played a few seasons at the senior level in Europe and has been pushed by older players. Now he's amongst players of similar age and he's so much more physically advanced than many of his peers. These are just the first few steps he'll be taking, but he can do himself a few favors if he's able to have some success early. The spotlight in Montreal is going to be exceptionally bright on him to start and for a segment of the fanbase, he was a controversial pick. Fans shouldn't expect him to be everything they want him to be right away, but he should be able to have some success here.
Simon Edvinsson, D, Detroit Red Wings
There's no question that Edvinsson is among the top defensive prospects in the game right now. There is a valid question, however, if he's ready to play in the NHL this season. He took a big step forward last season with Frolunda in the Swedish Hockey League and his overall potential is tantalizing. Now he'll have a chance to show off that progress even more at the 2022 Prospects Tournament in Traverse City, Mich.
As a 6-foot-6 defenseman, he's such a fluid, comfortable skater who can make some plays. I still think his offensive game has more maturing to do and while at the summer World Juniors, he didn't necessarily look like a guy that was about to jump into the NHL. This rookie tournament will give Edvinsson a chance to show where he is relative to the other defensemen in Detroit's system. It will also give the Red Wings another data point in how they need to make their decision about him. Given how cautious and patient they are with their prospects, I would be surprised to see Edvinsson on the team's opening night roster. That said, he can make that decision a lot harder on them with a good showing this week and in training camp.
William Eklund, C/W, San Jose Sharks
When the Sharks sent Eklund back to Djugardens in the Swedish Hockey League last season, I personally thought it was the right call. He's an exceptional offensive talent, but there was room to grow his game and get a better handle on if he'll be a center or wing in the NHL. Eklund, however, had some early success before the Sharks sent him back, posting four assists over his first nine NHL games. He was surprised and clearly disappointed to have to return to Sweden and then the season didn't really get much better from there.
Eklund scored just one goal in 29 games as Djugardens struggled mightily as a team. They ended up getting relegated to the second-division Allsvenskan. Now he has a chance to come back to the Sharks and he'll take his first steps towards reclaiming an NHL roster spot at the Rookie Faceoff in San Jose. I was at this event last season and I thought Eklund was only average at that point, which is why I wasn't surprised when the Sharks sent him back early in the season. He should be able to be more of a leader at the rookie tournament and if he's ready, he could be one of the more exceptional players of this event.
Shane Pinto, C, Ottawa Senators
Before a shoulder injury derailed his 2021-22 season after just five games, Pinto had looked like he was starting to find his game at the NHL level. He had appeared in 12 games the season before and collected seven points. Now fully healthy, the Sens are going to send him to the Prospects Challenge in Buffalo which should allow him to dip his toes into his comeback season. Pinto has size and scoring ability while playing a strong two-way game. Hopefully the injury didn't knock him off his trajectory that he seemed to be on over the last few seasons where his development continually accelerated in real ways over his collegiate career and first taste of pro hockey.
Dylan Guenther, RW, Arizona Coyotes
After a sensational season in the WHL, Guenther has a real shot at making the Coyotes roster out of camp. I think most people over there are essentially expecting him to make the roster. The Coyotes are in rebuild and Guenther is a key piece of that new core they're putting together. Arizona sent him back to junior last year and Guenther just absolutely ran with the opportunity. He put up 91 points in 59 games during the regular season and another 21 points in 16 games during the postseason, which unfortunately ended with him getting injured and missing the Memorial Cup with the WHL champion Edmonton Oil Kings. So now we'll be looking to see how Guenther has recovered from his injury and how ready he'll be to compete for a spot with the Coyotes.
Yaroslav Askarov, G, Nashville Predators
As one of the highest-drafted players participating in the 2022 Prospect Showcase hosted by the Carolina Hurricanes, Askarov would get a lot of attention anyway. But the focus is really ramped up because he's basically making his North American professional debut. The Russian netminder had been playing in the KHL, but came over to the U.S. late last season after his contract expired and got some practices in with Nashville's AHL affiliate in Milwaukee.
Askarov is the highest-drafted goalie in the last decade and is an incredibly raw, powerful talent. He could be one of the great goalies in the league, but the last few years have been trying as his ice time was limited in the KHL and his development wasn't necessarily front and center. The Preds are going to need some time to build him back up and he's almost certainly going to spend at least one full season in the AHL. Just having him in the system now has to make both the Preds and their fans more comfortable about where this talented netminder goes next.
Dylan Holloway, C, Edmonton Oilers
The Edmonton Oilers want to take a big step as a franchise this season and I'm sure they also want to see a big step from Holloway. After dealing with an injury that cost him most of the first half of last season, Holloway showed well in the AHL with the Bakersfield Condors. He even ended up making his NHL debut in the Stanley Cup Playoffs against the Colorado Avalanche. With a good camp, he might stick for the whole season with the big club.
It starts with how he does among his peers at the Young Stars event in Penticton, B.C. Holloway is a heady two-way center with a lot of skill. The pro experience he got last year should give him a leg up on other prospects and if he has his best game, he could be among the best players in this event.
Simon Nemec, D, New Jersey Devils
Selected second overall in July, Nemec has the benefit of playing pro hockey since he was 15 in his native Slovakia. The jump from that league to the NHL, however, is gigantic. Nemec has shown great maturity in his game and he moves pucks exceptionally well, but it might be a tall order for him to be able to make a big enough impact in the NHL for the Devils to justify keeping him with the big club.
That's what makes the rookie tournament in Buffalo a little more important for him if he has designs on making the NHL roster out of camp. How he does here will allow the Devils to see where he's at among their current D prospects. New Jersey is pretty well set down the right side of their NHL blue line with Damon Severson, Dougie Hamilton and John Marino already there, but if their most recent high pick forces them into giving him some NHL ice time at the start of the season, it wouldn't completely shock me.
Marco Rossi, C, Minnesota Wild
Playing in two games against the Chicago Blackhawks prospects as part of the Tom Kurvers Prospect Showcase this weekend, Rossi is one of a few high-profile prospects on Minnesota's roster. The 20-year-old Austrian had a very strong season in the AHL after missing nearly the entire 2020-21 campaign due to lingering complications caused by a bad bout with COVID-19. To see him bounce back from that was hardly a surprise, but now there's another step for him to take.
Rossi appeared in two games with the Wild last season. It was clear at that time he wasn't quite ready for everyday NHL duty. This season, he's going to get another crack at it and should have some moderate expectations to make it. Getting camp started off on the right foot in these games against Chicago should help. With his health in order and his year of AHL experience under his belt, I wouldn't be surprised if Rossi breaks out a bit in these next few weeks and gives the Wild a lot to think about.
Kirill Marchenko, RW, Columbus Blue Jackets
The 22-year-old Russian is making his long-awaited North American debut at the Traverse City Prospects Tournament. Having been a strong performer in the KHL, he has a chance to sneak onto the Blue Jackets roster, though it's more likely he starts his pro journey in the AHL to get used to the North American pro game. Marchenko is a big winger who has high-end puck skills that makes him difficult to contain. At this kind of event, he should be able to do a bit more than his peers even as he adjusts. The Blue Jackets very well could have a blue-chip prospect on their hands here and now they get to find out if he was worth the wait.
Alex Turcotte, C, Los Angeles Kings
Update: According to reports, Turcotte, who was initially included in our 10 to watch, will not be available for the 2022 Rookie Faceoff as he deals with a lingering injury. Kirill Marchenko has been added in his place.