Men's Big Ten Hockey
Recruiting: Minnesota Hockey Lands Top American Prospect Cole Eiserman
Recruiting: Minnesota Hockey Lands Top American Prospect Cole Eiserman
Cole Eiserman is one one of the top U.S. hockey prospects in the 2006 birth year.
Sep 8, 2022
by Chris Peters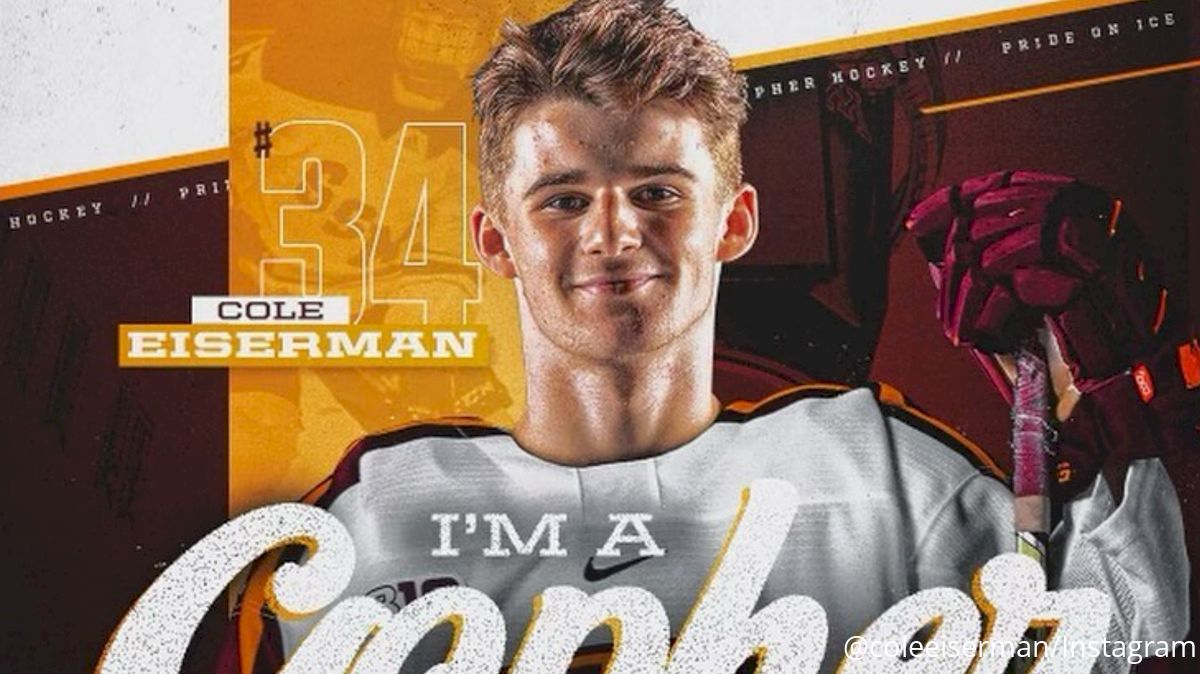 The University of Minnesota made a big splash in its hockey recruiting efforts Wednesday when Cole Eiserman, one of the top 2006-born prospects in the United States, announced his commitment to play for the Gophers on his Instagram. Currently a member of the U.S. National Under-17 Team at USA Hockey's National Team Development Program, Eiserman spent the previous two seasons at the vaunted Shattuck St. Mary's prep school in Faribault, Minn.
Eiserman was the leading goal scorer for Shattuck's prep team last season, despite being a 15-year-old playing at the U18 level. Eiserman, along with teammate and recent Boston University commit Macklin Celebrini were among the most productive players in the country last season, which has led both to be considered among the top prospects in the 2006 birth year in North America and beyond. As such, they have been among the most highly coveted recruits.
Eiserman finished with an astonishing 56 goals in 53 games, while ranking third on the SSM roster with 86 points. Only two players recorded more goals for Shattuck's prep team as a 15-year-old than Eiserman -- Sidney Crosby (72 in 57 games) and Jonathan Toews (64 in 70 games).
The Newburyport, Mass., native is expected to spend the next two seasons at the NTDP, training alongside the best American players in his age group with a schedule that includes a large chunk of games in the USHL, meaning you'll get a chance to see a lot of Eiserman right here on FloHockey.
Listed at 5-11, 191 by the NTDP, Eiserman is average sized, but sturdy and a bit more physically advanced than his peers. He has pretty good burst in his skating and should improve as he continues to tack on strength and some power. His quick hands and elite-level shot are separating traits from his peers. To be a dominant scorer at the U18 level as he was last season was no mistake. He made plays that would end up on any highlight reel and his shot was just too much for goalies at that level.
Eiserman will be joining a couple of other high-profile 2006-born players who also committed to the Gophers this summer. The first was defenseman John Whipple, who will be teammates with Eiserman at the NTDP this season. Whipple, who hails from Minnetonka, Minn., also played at Shattuck St. Mary's, though on the 15 and under team where he averaged over a point per game from the blue line. Brodie Ziemer, who had 108 points for Shattuck's 15U last season and also is headed to the NTDP, was the other.
What makes Eiserman's commitment particularly notable for the Gophers is that he hails from Massachusetts. It is especially rare for the elite Eastern-based prospects to go that far from home for their college years given that there are many top-tier programs in their back yard. It's rarer still that a Massachusetts-born hockey player would commit specifically to Minnesota or that the Gophers would actively pursue players out of New England. In fact, Eiserman may be the first Massachusetts native to play for the Golden Gophers in the modern era. If you've ever seen the movie "Miracle" you might have an idea of the history and rivalry between two of the most hockey-mad states in America.
COLE EISERMAN IS A GOPHER!!!!!! pic.twitter.com/9zCXGkMSj3

— The Future of Pride On Ice (@FutureGophers) September 7, 2022
The commitment of Eiserman represents a growing trend within Minnesota's hockey program that it is not relying exclusively on Minnesota-based hockey players to fill out their roster as had been the case often in years past. The Gophers roster will always be dominated by Minnesotans, but under head coach Bob Motzko, some of their biggest recruiting wins have come from out-of-state commits.
This season, the Gophers will boast a lineup that includes multiple first-round NHL Draft picks including Buffalo Sabres prospect and senior defenseman Ryan Johnson, who hails from Irvine, California. One of the team's top-returning scorers is highly-regarded Toronto Maple Leafs prospect Matthew Knies, who grew up in Arizona. Lastly, the Gophers nabbed one of the most sought-after recruits of the incoming class when it secured a commitment from Pittsburgh-area native Logan Cooley, who ended up going third overall in the 2022 NHL Entry Draft to the Arizona Coyotes in July.
The state of Minnesota has been one of the largest producers of NCAA Division I men's hockey players for decades and its status as a top hockey state remains unquestioned. Despite that, the never-ending arms race in college hockey clearly has the Gophers looking outside the box, or at least outside of Minnesota's borders to help them keep up. This spring will mark 20 years since the Gophers' last NCAA championship in men's hockey, so the pressure is on to snap the drought.
Not often considered a major threat for top prospects outside of Minnesota, Motzko and his staff are proving they want the Minnesota hockey program to be a destination of elite-level talent regardless of where they come from.
---
For more college hockey news and prospect analysis, follow Chris on Twitter: @chrismpeters