2023 NHL Draft
2023 NHL Draft: Preparing For The Season Of Connor Bedard
2023 NHL Draft: Preparing For The Season Of Connor Bedard
Chris Peters examines what makes Connor Bedard the consensus No. 1 heading into the 2023 NHL Draft season.
Sep 6, 2022
by Chris Peters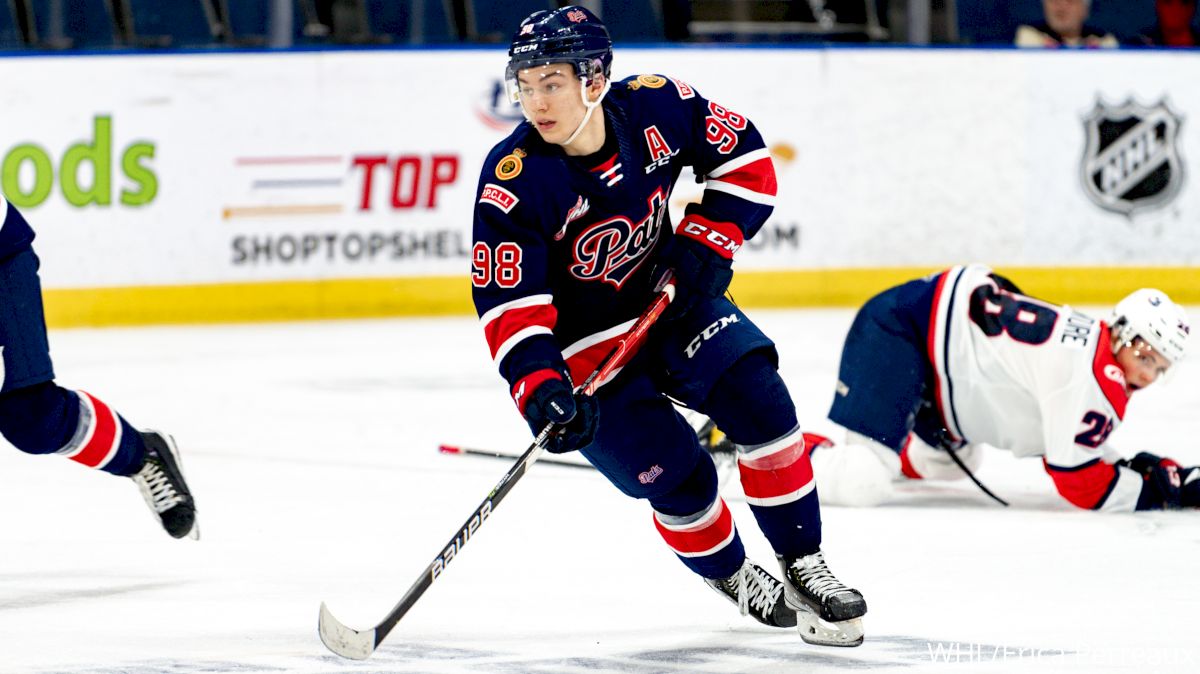 Every NHL Draft season there is always one player that starts out as the anointed one – the player likeliest to go first overall and potentially change the fortunes of whichever NHL team selects him. For the 2023 NHL Draft, that player is most certainly Connor Bedard.
Having just turned 17 in July, it's a lot of weight to put on the youngsters' shoulders, but every step of his career to date has been marked by rising to and exceeding expectations. So as we get set to spend most of this season following and scrutinizing Bedard's every move, I figured we should put together a refresher for anyone who hasn't gotten familiar with him yet and a further examination of what makes him special for everyone that's been hearing about this goal-scoring prodigy for the last few years.
Who is Connor Bedard?
A native of North Vancouver, B.C., Bedard became the first player ever granted "exceptional status" in the Western Hockey League, allowing him to enter the league at age 15 as opposed to 16. Bedard was selected first overall in the WHL's Bantam Draft by the Regina Pats in 2020 and remains with the club today.
Bedard's rookie season was to be the 2020-21 campaign, but the pandemic put a damper on that. With junior hockey across Canada stalled, he spent a few months in Sweden training with and eventually playing with HV71's U18 and U20 teams. The WHL came back for a shortened season later that year. Bedard played in just 15 games for Regina, but showed very early that he was no ordinary rookie.
🚨 ICYMI...

Connor Bedard has joined some Pats greats as @TheWHL Rookie of the Year

📰 https://t.co/FNPgMLnW6N pic.twitter.com/4aKoaBhH1w

— Regina Pats (@WHLPats) June 9, 2021
In those 15 games, Bedard scored 12 goals and finished with 28 points, leading all rookies and running away with the WHL's Rookie of the Year award. He was selected to be part of Canada's national under-18 team which was to compete in the 2021 IIHF World Under-18 Championship, becoming just the third 15-year-old to represent Canada in that particular tournament. Connor McDavid and John Tavares were the others. In that tournament, Bedard posted seven goals and 14 points as Canada rolled to a gold medal. He was named a media all-star and Canada's staff named him as one of the team's three best players while matching the same point total McDavid had in his U18 performance at the same age.
The WHL returned for a full season in 2021-22 and Bedard came back ready. He became the league's youngest 50-goal scorer, finishing with 51 goals and 100 points for Regina. He is just the fourth 16-year-old to finish with 100 or more points in a WHL season and the first since 1986-87.
Despite the young phenom's heroics, Regina missed the playoffs. That allowed Bedard to be available to play in the World Under-18 Championship for the second straight year. Canada was bounced in the quarterfinal, but Bedard was brilliant again, scoring six goals and adding an assist in just four games as the team's captain. Over two U18 World Championships, he has appeared in 11 games, recording 13 goals and 21 points, which is the most ever for a player age 16 or younger.
In the middle of last season, Bedard made the Canadian World Junior team. Before the tournament was postponed by a coronavirus outbreak, he became the youngest player to score four goals in a single game at the WJC. When the tournament was rebooted in the summer, Bedard helped Canada win gold with eight points in seven games.
🇨🇦🥇👏

Congratulations to @HockeyCanada and Connor Bedard on gold at the 2022 #WorldJuniors! #CB98 | @TheWHL pic.twitter.com/u836pipRAA

— Regina Pats (@WHLPats) August 21, 2022
There are few players that boast a pre-draft season resume as strong as Bedard's. His ability to thrive in the spotlight, even as he has had seasons and tournaments disrupted by the pandemic has been remarkable. It sets the table for what is expected to be a dominant draft season.
What Makes Bedard Special
Beyond the numbers, Bedard has a collection of skills that allow him to stand out from his peers. The most critical skill he possesses and the thing that puts him in a class of his own at this stage of his career is his goal-scoring ability.
When we talk about the ability to score, it's a lot more than shooting the puck well. Bedard has some of the best net sense you'll see in a player of his age, or maybe any age. He has an understanding of where the goalie is, how best to beat him and how to use everything around him to create a higher probability of the puck going in the net. There are very, very few players I have ever watched where every time they shot the puck I thought the puck had a chance to go in. Connor Bedard is one of them. One of the others was and is Toronto Maple Leafs star Auston Matthews.
Bedard has clearly borrowed some of Matthews' goal-scoring tactics, most noticeably the way he shoots. Bedard rarely takes a straight wrist shot. When he has time to load his shots, he often pulls the puck closer to his body, changing the angle of the shot immediately before releasing it with incredible velocity. That little bit of deception has been a hallmark of Matthews' game, but Bedard may have mastered it at a younger age. As he continues to add to his game, there's no telling what other tricks he can master before reaching the NHL.
Connor Bedard puts Canada on the board! #WorldJuniors pic.twitter.com/jrLwTAmxYz

— TSN (@TSN_Sports) August 10, 2022
Net sense is something that very few players seem to master. Bedard always knows where to shoot. Goalies might get a piece of it, but he's always going to make them work. No matter where Bedard is on the ice, he has an understanding of how to get his shots off and how best to direct them to net and he's exceptionally accurate. I've seen him score from so many different angles with so many different types of shots, that it makes me believe we are witnessing the development of one of the great goal-scoring talents of the modern era. The fact he has such an understanding of the craft of scoring at this young an age puts him in a very small group of players since I've been tracking prospects.
Mason McTavish to Connor Bedard makes it a 3-0 game! #WorldJuniors pic.twitter.com/YBmN2zIwMv

— TSN (@TSN_Sports) August 15, 2022
He shoots to score every time. There are so few shots that are just thrown on net. Every shot is intentional. He rarely misses the target and those shots come in at a high rate of speed. Goaltenders have to be ready at all times, because that shot is going to be there in a hurry and it's got a corner picked. There are few players I've seen with as consistent shot quality, probably none actually. At least at this age.
While Bedard's goal scoring is his most special trait, he is not one-dimensional. He is always going to be, or at least should be, a shoot-first player. If he has an open look, he's taking it. That's got to be his first option. However, he's got great hockey sense and can recognize when the pass is the better option. And he's actually a really creative passer. The vision that allows him to spot his scoring chances also allows him to find his best outlets. As the focus of every team he plays against, his teammates are going to have better looks sometimes and he is able to maximize those opportunities.
Bedard also has good soft touch puck skills that allow him to beat defenders one on one and create the extra space he might need to get a shot or a pass off. That's what makes him even more dangerous than he would be if he was simply a shooter.
Offensively, there are few players that are going to match what Bedard can do on a regular basis. His consistency and confidence are simply not normal for a player this young. Which is why if he continues on his current trend, he is going to find
What Bedard Needs To Work On
When a player is as good as Bedard is, size doesn't matter as much, but it isn't a non-existent concern. At 5-foot-9, 181 pounds, he would be below-average in size for top-of-the-lineup players in the NHL. It simply means Bedard has to remain dedicated to building strength and other tools to handle himself against bigger, stronger competition as he progresses.
There is so much hype around Bedard and it is warranted, but I'm not prepared to put him in the same class as some of the current league superstars that went No. 1. Not yet, at least. Connor McDavid is not the biggest player, but he is the fastest and does everything at a pace that no one else on the planet can. Auston Matthews is big and strong in addition to having elite offensive tools.
To say Bedard may not project as favorably as two of the absolute best players in the game is far from a knock, though. This is more for managing expectations a little bit heading into what will be a long season. He is exceptional, but he's got a bit further to go at this age than those two players in particular did.
At this point in his development, Bedard is not the swiftest skater at his size, which is something that is going to be scrutinized throughout the season. He has a good, fluid skating stride, but he doesn't have the burst to create separation. It's not a huge concern for me, but it is an area of his game that is not on par with his elite hockey sense and elite shot and worth noting.
One thing we saw at the World Juniors was that Bedard started on the top line and then kind of got bumped down the lineup. His effectiveness waned a little bit as his minutes declined. That shouldn't be a problem for him over the course of the season as he is his team's most important player and was Canada's youngest player in the summer WJC. It got a little harder for him to create in those situations, so it was good to see how he handled adversity. We haven't had many instances where we've had to see how else he can help out if he's not scoring.
Bedard has also clearly been working on becoming more physically engaged as well. He was finishing checks and getting more aggressive off the puck with Team Canada this summer. No one doubts his competitive drive, but at his size, it is harder for him to impact the game physically. He'll have to continue to use his high-end anticipation skills and overall hockey sense more than he can use his physical tools to be a defensively responsible center.
One area of concern regarding Bedard's size is that he'd be well below league average for someone who plays the center position. We're finding out how players like Jack Hughes and Brayden Point can handle the duties of the position despite being of similar stature. It just takes a bit more work. Even if Bedard ended up playing more on the wing, his offensive tools are such that it doesn't really matter which forward position he plays so long as he's producing.
Bedard's Season Outlook
If you're going to be following the NHL Draft this season, here are some key dates to know to follow throughout The Season of Bedard.
Sept. 23, 2022 -- Moose Jaw Warriors at Regina Pats
Regina's season opener is a doozy as the Moose Jaw Warriors come to town. The Warriors feature the No. 2 ranked WHL player for the 2023 NHL Draft, Brayden Yager. The spotlight will be bright on this game as it should be a big season overall for the WHL, but especially so when these Saskatchewan-based rivals square off.
Dec. 26, 2022 - Jan. 5, 2023 -- 2023 IIHF World Junior Championship
Bedard will be playing an even more substantial role for Team Canada as they look to defend their gold medal from the summer World Juniors. This tournament will be played in Halifax, Nova Scotia, and Moncton, New Brunswick, with Canada's games all in Halifax. The WJC has always been a major draft showcase event and we know who will be the player every one is watching closest.
TBA -- CHL Top Prospects Game
It hasn't been announced yet, but usually held in late January or early February, the CHL Top Prospects Game gathers all the top talents across the Canadian Hockey League. Bedard is likely to captain one of the teams in the contest where he'll have a chance to prove himself or even separate himself further from the competition.
Late March -- WHL Playoffs
After there were no playoffs in 2020-21 and Regina barely missed the postseason in 2021-22, getting to and making an impact in the postseason is the last little bit of a test we need to see from Bedard. He's been a tremendous performer in short tournaments, but how will his game hold up during the long grind of a postseason and how far can he carry Regina?