United States Hockey League (USHL)
Everything You Need To Know About The USHL
Everything You Need To Know About The USHL
Every USHL game will be available exclusively on FloHockey starting with the 2022-23 season.
Sep 1, 2022
by FloHockey Staff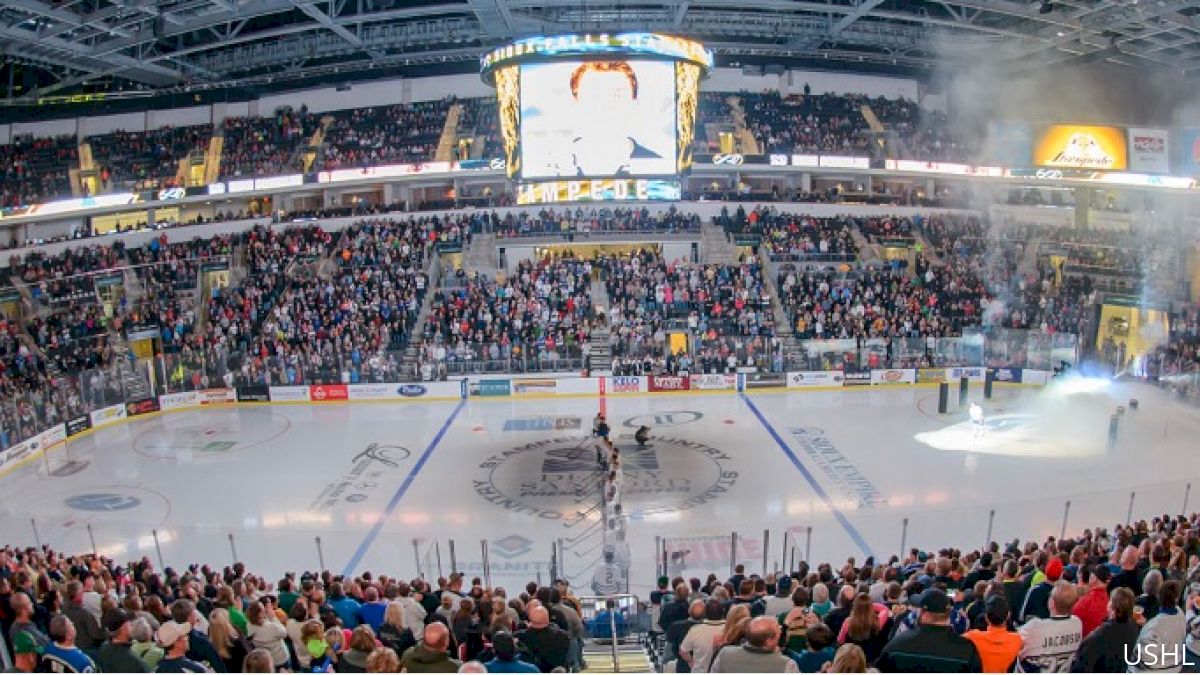 The USHL and FloHockey announced earlier this month a five-year media rights partnership, making FloHockey the new and exclusive home to the entire USHL season through the 2026-27 season. On top of all the great hockey you've been able to watch over the years, previously on FloSports subsidiary HockeyTV, FloHockey has big plans to help you follow the USHL like never before with dedicated weekly content, power rankings and a whole lot more.
If you're new to the league, or just would like a refresher, here's a everything you need to know heading into the 2022-23 USHL season.
What Is The USHL?
The United States Hockey League is the only Tier I junior hockey league under USA Hockey, which governs amateur hockey in the U.S. Players in the league are 16 to 20 years old and retain their college eligibility while playing in the USHL. The 16-team league with a footprint that spans the Midwest is the primary feeder to Division I NCAA hockey and has seen hundreds of players drafted into the NHL.
Each team plays 62 games during the regular season, with the top six teams from each of the Eastern and Western Conferences earning berths into the playoffs. The regular-season champions earn the Anderson Cup, while the Clark Cup is awarded to the postseason champions.
The league has been veritable stepping stone to the NHL since its inception. Since 1979, 990 players with ties to the USHL have been drafted into the NHL. In 2022, a record-tying 57 USHL players were taken in the NHL Draft. Additionally, three players who skated in the USHL have been selected with the first overall pick in the NHL Draft including the NHL's reigning MVP Auston Matthews (Team USA) in 2016, Jack Hughes (Team USA) in 2019 and Owen Power (Chicago Steel) in 2021 as the league has further established itself as a top developer of future NHL talent.
Just last season, USHL alumni were among the top-tier scorers in the NHL including Johnny Gaudreau (Dubuque Fighting Saints), Matthews, Matthew Tkachuk (Team USA), J.T. Miller (Team USA), Kyle Connor (Youngstown Phantoms), Jake Guentzel (Sioux City Musketeers) and Joe Pavelski (Waterloo Black Hawks).
Where And When Can I Watch It?
The 2022-23 USHL regular season begins Sept. 22 at the Fall Classic, which brings together all 16 teams for two games each under one roof in Cranberry Twp., Pa., at the UPMC Lemieux Sports Complex. The regular season runs through April 22 with the postseason often running into late May.
Starting with 30 preseason contests beginning Sept. 8, every USHL game throughout the regular season and playoffs will stream live globally on FloHockey. A full broadcast schedule is available here.
USHL Teams At A Glance
Cedar Rapids RoughRiders
Head Coach: Mark Carlson (24th season)
Led by the dean of USHL coaches Mark Carlson, the RoughRiders are always a tough team to play against. They play their games at ImOn Ice Arena, but it's more affectionately known as "The Stable." The Riders have been through a lot the last few years, as they missed the 2020-21 season due to their arena being partially destroyed by a severe weather event. After a year away, Cedar Rapids came back strong in 2021-22, particularly on home ice, and reached the playoffs.
Notable NHL Alumni: Justin Abdelkader, Alec Martinez
Through a Pandemic and Derecho, the RoughRiders are back!

Thank you to everyone that has made October 16th Opening Night at the Stable possible. We love our community. #WeRideTogether pic.twitter.com/P2rS2SlenU

— Cedar Rapids RoughRiders (@RidertownUSA) June 4, 2021
Chicago Steel
Head Coach: Mike Garman (1st season)
A perennial contender for the Clark Cup, the Steel have been one of the USHL's most reliable producers of NHL draft talent in the last few seasons including No. 1 overall pick in 2021, Owen Power. First-year head coach Mike Garman will have some young players on the roster this year, but that won't change the standard in Chicago. The Steel have played for three of the last five Clark Cups, winning it in 2017 and 2021.
Notable NHL Alumni: Owen Power, Jaccob Slavin
FORMER STEEL DEFENSEMAN OWEN POWER SELECTED FIRST OVERALL IN 2021 NHL DRAFT

Buffalo Sabres choose 2019-2020 USHL Defenseman of the Year with top pick

READ: https://t.co/FOXPKRZBa3 pic.twitter.com/bytFrL4gsf

— Chicago Steel (@ChicagoSteel) July 24, 2021
Des Moines Buccaneers
Head coach: Matt Curley (2nd season)
Home to one of the better home game atmospheres in the USHL, the Bucs are playing in their final season at old Buccaneer Arena before moving to a new facility in 2022-23. Des Moines is looking to recapture the glory that made them one of the top junior clubs of the 1990s with three Clark Cups that decade. The Bucs have some work to do after a last-place finish in 2021-22.
Notable NHL Alumni: Kyle Okposo, Jeff Petry
Polk County Supervisors Angela Connolly and Robert Brownell join other community leaders for the groundbreaking of the new @bucshockey arena. The public private partnership will be a key part of redevelopment at Merle Hay Mall and the surrounding business district. pic.twitter.com/obiDWgY47q

— Polk County Iowa (@PolkCounty_Iowa) May 18, 2022
Dubuque Fighting Saints
Head coach: Kirk MacDonald (1st season)
Since the Fighting Saints returned to the USHL in 2010, they've been one of the league's shining franchises. Dubuque won the Clark Cup twice in its first three years and has been looking to get back on chasing championships. They had a good shot last year, but the roster has experienced a lot of turnover from 2021-22, which will present challenges for first-year coach Kirk MacDonald who joins the Saints after leading Reading in the ECHL for four seasons.
Notable NHL Alumni: Johnny Gaudreau, Michael Matheson
The Athletic: Newest Blue Jacket Johnny Gaudreau spent one season (2010-11) with USHL Dubuque @fightingsaints, but it was his launchpoint toward hockey stardom, writes @ryan_s_clark https://t.co/MDtd3PS392 pic.twitter.com/0JSSEb1K7e

— Aaron Portzline (@Aportzline) July 15, 2022
Fargo Force
Head coach: Nick Oliver (1st season)
In the 14 seasons they've played since joining the USHL in 2008, the Force have played for the Clark Cup five times. They won it just once, back in 2017-18, but it shows that this team is almost always in the hunt for hardware. Though they're a relatively young club, they'll turn to a former player as Nick Oliver returns behind the bench as a rookie head coach 11 years after he last suited up for the Force.
Notable NHL Alumni: Nate Schmidt, Alex Iafallo
It's finally here… tonight, for the first time ever at Scheels Arena, the Fargo Force are hosting Corgi Races‼️

🆚: Waterloo Blackhawks
⏰: 7:05 PM CT
📍: Scheels Arena
🎟: https://t.co/qgWsHBV0QU
📺: @MyHockeyTV pic.twitter.com/ojJGXESbgo

— Fargo Force (@FargoForce) December 17, 2021
Green Bay Gamblers
Head coach: Mike Leone (1st season)
Perhaps the USHL's "cradle of NHL coaches" the Gamblers have three former coaches leading NHL teams including two-time Stanley Cup Champion head coach – and one-time Clark Cup champion head coach – Jon Cooper of the Tampa Bay Lightning, newly-named Detroit Red Wings coach Derek Lalonde who won two Stanley Cups as Cooper's assistant and one Clark Cup as head coach in Green Bay, and the Buffalo Sabres' Don Granato. The Gamblers will have a rookie behind the bench this year in Mike Leone who came from the National Team Development Program.
Notable NHL Alumni: Anders Lee, Blake Wheeler
Last night former Gamblers Head Coach Jon Cooper (2008-2010) added Lord Stanley to his already impressive resume. Cooper is assisted by Derek Lalonde, who was also the Gamblers Head Coach (2011-2014). Congrats Gentlemen!!!

Full Story: https://t.co/oRzUv8Iuno pic.twitter.com/OCnDejYRwf

— Green Bay Gamblers (@GamblersHockey) September 29, 2020
Lincoln Stars
Head coach: Rocky Russo (2nd season)
Playing out of the famed "Ice Box," Lincoln has often been a tough place for visitors to play. The Stars bounced back from missing the playoffs in 2020-21 to finish third in the West with a 35-20-7 record before being stunned in the first round. The resurgent season, however, brought more optimism to one of the USHL's traditionally strong markets.
Notable NHL Alumni: David Backes, Ryan Dzingel
The Ice Box was LOUD on a Monday night! #AllAboard🚂#ClarkCupPlayoffs pic.twitter.com/CzY7un6cuT

— Lincoln Stars (@LincolnStars) April 26, 2022
Madison Capitols
Head coach: Corey Leivermann (1st season)
Owned by current NHL player Ryan Suter and playing out of the Bob Suter's Capitol Ice Arena, the Caps went dormant during 2020-21 due to pandemic constraints. They bounced back better than anyone could have expected in 2021-22, making a run to the Clark Cup Finals where they ultimately fell to Sioux City. Going from dormant to the doorstep of the league's top prize is a heck of an accomplishment and one this team can build off of.
Eastern Conference Champions ✔️
1st playoff berth since return to USHL✔️
2nd ever 5th seed to advance to Clark Cup Finals✔️
Most reg season wins since return to USHL✔️

What a historic season it was! Relive the 21-22 campaign with some of the top shots from it!#GoCapsGo

(a 🧵) pic.twitter.com/bzwmemkGyX

— Madison Capitols (@MadCapsHockey) May 24, 2022
Muskegon Lumberjacks
Head coach: Mike Hamilton (5th season)
Hockey has existed in many forms in Muskegon for decades, but since 2010 it has been a USHL town. Over the years a number of top-quality players have rolled through Muskegon and the Jacks often have highly competitive teams. Last season they made it to the Eastern Conference finals before falling to Madison as the Clark Cup continues to elude the Lumberjacks.
Notable NHL Alumni: Andrei Svechnikov
Throwback to one of the Muskegon Lumberjacks greatest players- Andrei Svechnikov! Former #14 played with the Jacks in the 2016-17 season. He would later be selected as a first-round pick (#2 overall) in the 2018 NHL Draft! Andrei plays for the Carolina Hurricanes! #TBT #GETJACKD pic.twitter.com/cBJcR3wLqn

— Muskegon Lumberjacks (@MuskegonJacks) February 18, 2021
Omaha Lancers
Head coach: David Wilkie (5th season)
One of the most successful franchises in the league's history, Omaha is coming off a tumultuous 2021-22 season that saw multiple coaching changes and ultimately ended in a change in ownership. Despite it all the Lancers still made the playoffs and after a wild season, a familiar face will return behind the bench. David Wilkie, who played 167 games in the NHL, is back for his fifth season after not coaching in 2021-22. The Lancers are owners of a record nine Clark Cups all time, most of which came in their dominant era during the 1990s. They last won the coveted chalice in 2008.
Notable NHL Alumni: Thatcher Demko, Paul Stastny
🚨 ANNOUNCEMENT 🚨

DAVID WILKIE RETURNS AS HEAD COACH, GENERAL MANAGER AND CEO, JAMIE STORR NAMED PRESIDENT OF HOCKEY OPERATIONS
Full Story: https://t.co/XhRMrHnKNC pic.twitter.com/xjWX8Bpd2c

— Omaha Lancers (@OmahaLancers) June 25, 2022
Sioux City Musketeers
Head coach: Jason Kersner (1st year)
The reigning Clark Cup champions, Sioux City is the USHL's second-oldest franchise with a history that dates back to 1972. Their victory last spring marked the end of a 20-year Clark Cup drought. Heavy is the head that wears the crown, though, and the Muskies will have some work to do to maintain their championship status as head coach Luke Strand moved on to Ohio State in the offseason.
Notable NHL Alumni: Max Pacioretty, Jake Guentzel
YOUR MUSKETEERS ARE THE 2022 CLARK CUP CHAMPIONS! pic.twitter.com/rAtqJpS9BX

— Sioux City Musketeers (@Musketeerhockey) May 22, 2022
Sioux Falls Stampede
Head coach: Eric Rud (1st season)
Playing in the only USHL facility that holds over 10,000 spectators, the Denny Sanford Premier Center can absolutely get rocking when the Stampede pack 'em in. Sioux Falls won the Clark Cup in 2019, its third title in franchise history, but have been rebuilding a bit since then. After some offseason hiccups, Eric Rud was named the team's head coach, returning behind a USHL bench for the first time since 2010-11. Additionally, the Stampede have a new GM as former assistant coach Tony Gasparini returned after 15 years as a scout with the Los Angeles Kings.
Notable NHL Alumni: Thomas Vanek, Jeremy Swayman
It's #InternationalDogDay AND #FanFriday, so it's the perfect day to highlight our favorite and most exciting night of the year - when we're the Fighting Wiener Dogs! Keep an eye out for this season's promo schedule 👀 the dogs will be barking.

📸: Adam Thury pic.twitter.com/RERuT8OXvl

— Sioux Falls Stampede (@sfstampede) August 26, 2022
Tri-City Storm
Head coach: Anthony Noreen (6th season)
After winning the Anderson Cup with the league's best record by 10 points last season, the Storm are looking to shake off a bitter defeat to eventual champion Sioux City in the conference finals. Though 39 years old, Anthony Noreen is one of the league's most senior coaches, entering his 10th season behind a USHL bench. He'll have a tough job managing significant turnover to a roster that racked up a league-best 47 wins last season, but Tri-City has been among the league's most competitive teams with him at the helm. Calling Kearney, Neb., home since 2000, the Storm won their first and only Clark Cup in 2016.
Notable NHL Alumni: Jaden Schwartz, Blake Coleman
The Storm celebrated their '21-22 Anderson Cup Championship Friday night, April 22nd, at the Viaero Center. Tri-City set new team records for most wins (47), and most points (98) ever in a regular season, finishing with a 47-11-3-1 record.
Playoff tickets: https://t.co/szlmf9EJKZ pic.twitter.com/su5FV2BNit

— Tri-City Storm (@TriCityStorm) April 29, 2022
Waterloo Black Hawks
Head coach: Matt Smaby (2nd year)
With an absurdly rich history, hockey has been played for over 60 years in Waterloo, Iowa. The Black Hawks have been playing junior hockey since 1980 and own one of the louder buildings in the league as Young Arena's low metal ceiling turns up the volume on their fans' cowbells. The Hawks will be looking to take a big step forward under second-year head coach Matt Smaby, who took over for the USHL's all-time wins leader P.K. O'Handley.
Notable NHL Alumni: Joe Pavelski, Brock Boeser
The teddy bears FLEW!

Thank you Black Hawks fans for joining us on the 50th annual Thanksgiving game here in Party Town! We'll see you next weekend for more exciting Black Hawks hockey. pic.twitter.com/eQMkUSzbs8

— Waterloo Black Hawks (@BlckHawksHockey) November 26, 2021
Youngstown Phantoms
Head coach: Ryan Ward (1st season)
Closing in on 20 years of junior hockey in the Youngstown area, the Phantoms moved from the North American Hockey League to the USHL ahead of the 2009-10 season. Since then, the Phantoms have been up and down with its best season coming in 2014-15 when future NHL star Kyle Connor led Youngstown to the Anderson Cup.
Notable NHL Alumni: Kyle Connor, Scott Mayfield
Congratulations to all of the Phantoms, attending 2022 NHL Developmental camps this week! #ushl #nhl #itstartshere #whosnext pic.twitter.com/xeVjCDzB1B

— Youngstown Phantoms (@YtownPhantoms) July 13, 2022
Team USA
Head coaches: U18 - Dan Muse (3rd season), U17 – Nick Fohr (1st season)
When you see Team USA on the USHL schedule, that is a reference to USA Hockey's National Team Development Program. The NTDP is home to two standing national teams, the U.S. National Under-18 Team and the U.S. National Under-17 Team. The teams are made up top players from around the country in those specific age designations and play a split schedule in the league with the U17s playing a higher percentage of the schedule and the U18s playing USHL games as part of a schedule that also includes NCAA opponents and international games. Both teams' USHL games are reflected in the standings as one "Team USA." It gets a little confusing, but the arrival of the NTDP to the USHL on a full-time basis in 2009-10 has allowed the league to have many of the best players in the United States under the USHL banner.
Notable NHL Alumni: Auston Matthews, Jack Hughes
Two teammates from the @USAHockeyNTDP heard their names called in the top 🖐

Logan Cooley was selected third overall by the @ArizonaCoyotes, while @GauthierCutter is now with the @NHLFlyers after hearing his name called at No. 5. #NHLStats: https://t.co/TZlI8glKgM pic.twitter.com/QcvvxARp61

— NHL Public Relations (@PR_NHL) July 8, 2022