2022 TRIA vs Tradition
Da Beauty League: TRIA Wins John Scott Cup In Thrilling Final
Da Beauty League: TRIA Wins John Scott Cup In Thrilling Final
In a seesaw battle that saw five lead changes over the course of the game, TRIA managed to outlast Tradition for the coveted John Scott Cup.
Aug 25, 2022
by Chris Peters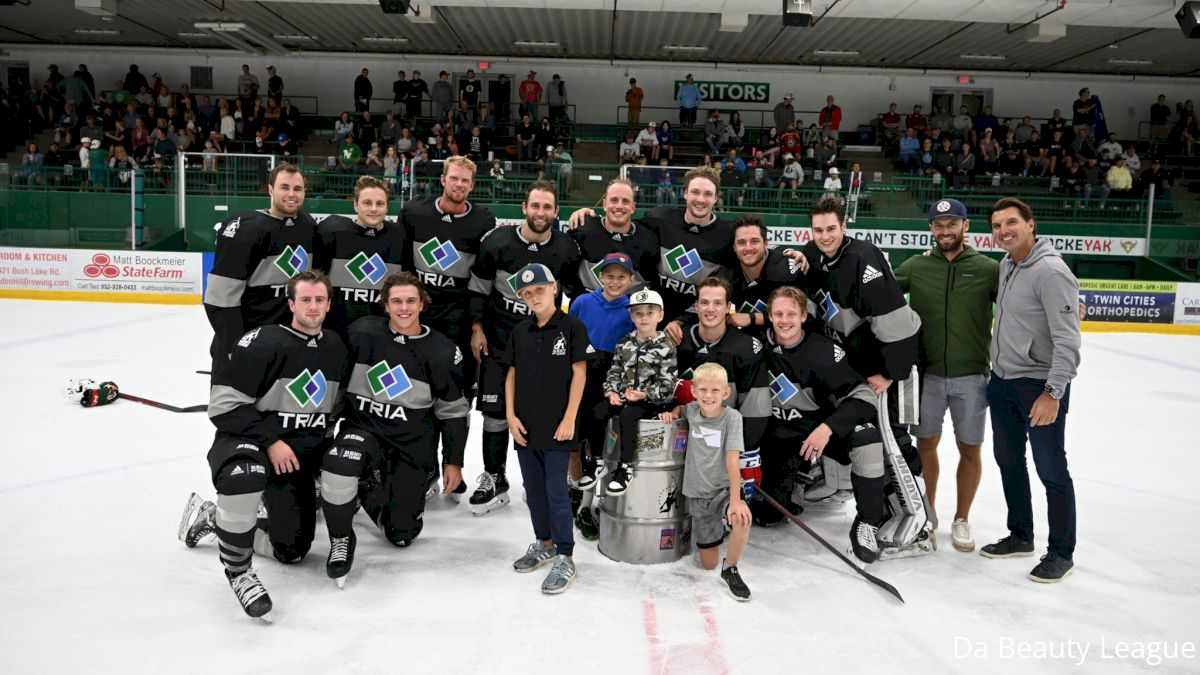 The top two teams in Da Beauty League made sure the fans got a great show in the John Scott Cup championship game. In a battle that saw the leads change five different times over the course of the game, TRIA managed to outlast top-seeded Tradition and pull away late for a thrilling 8-5 victory, securing the coveted John Scott Cup.
Jimmy Schuldt got things started with a goal early in the first half, but Tradition answered with a pair of goals less than two minutes apart off the sticks of Matt Kierstad and Tyler Pitlick. With 1:54 to play in the first, however, Nate Schmidt knotted things up to close out what was a relatively low-scoring half for a game in Da Beauty League, with the score 2-2.
A @nateschmidt29 blast ties it up just before the half 💥

🎥: @FloHockey
📺: https://t.co/mqzJALTjYa#GoJetsGo | @TRIAOrthopedics pic.twitter.com/jwhBsyc3I8

— Da Beauty League (@DaBeautyLeague) August 25, 2022
Things really ramped up in the second half, though. After Freddy Olofsson scored the opening goal of the first half for TRIA, Tradition rattled off three quick goals to take a 5-3 lead and seemingly wrestle control of the game away from TRIA.
Oh My, @cates_noah! 😲

🎥: @FloHockey
📺: https://t.co/mqzJALTjYa#BringItToBroad | @TraditionCo pic.twitter.com/HsUJVGOzlL

— Da Beauty League (@DaBeautyLeague) August 25, 2022
That was not the case, though.
TRIA stormed back in a major way scoring four unanswered goals capped by a "hot puck" empty netter that counted for two from Da Beauty League's most senior player, Eric Staal who can add John Scott Cup champion to his other incredible accolades. After all, Staal is a member of the illustrious "Triple Gold Club" which is for players that have won a Stanley Cup, Men's World Championship and Olympic gold medal.
TRIA takes the victory against Tradition in the championship game for the trophy.

8-5 Da Beauty League pic.twitter.com/5idk7R9fyq

— FloHockey (@FloHockey) August 25, 2022
Johnny Brodzinski and Olofsson were the offensive leaders in the game, with each recording four points for TRIA in the win.
Here are the newly minted John Scott Cup Champions of Team TRIA: Aaron Ness, Blake McLaughlin, Eric Staal, Freddy Olofsson, Jason Zucker, Jimmy Schuldt, Johnny Brodzinski, Mitch Reinke, Nate Schmidt, Nick Wolff, Sammy Walker and Jaxson Stauber.
Anybody else still have chills from tonight? 🥶 pic.twitter.com/zA7ShPi5nu

— Da Beauty League (@DaBeautyLeague) August 25, 2022
After the game, the league named "Da All Beauty Team" which included Pittsburgh Penguins star Jake Guentzel, Philadelphia Flyers prospect Noah Cates, and Da Beauty League leading scorer Vinni Lettieri at forward. On defense, Boston Bruins rearguard Derek Forbort and Seth Helgeson were All Beauty selections, while the goaltender was Vegas Golden Knights prospect Ethan Haider.
Additionally the league named Minnesota Duluth defenseman and Anaheim Ducks prospect Will Francis as the "Comeback Kid." Francis recently was declared cancer free after a lengthy battle that kept him off the ice for over a year. Francis looked great in Da Beauty League games this year as he tries to get his playing career back on track. Francis had 15 points in nine games for Bic.
Lastly, Pittsburgh Penguins forward Teddy Blueger was named Da Beauty League MVP. He was tied for fourth in league scoring during the season with 20 points, then led the playoffs with nine points over two games. He also got into a fight with Lettieri in the John Scott Cup semifinals, which was certainly highlighted by the league founders on their very official All Beauty Team posting.
Just a bunch of beauties making 'Da All Beauty Team' 🤩 pic.twitter.com/0gJEacW9EZ

— Da Beauty League (@DaBeautyLeague) August 25, 2022
While the winners will now have bragging rights and some stories to tell, Da Beauty League continues to be a winning endeavor for so many more reasons than that. While it's great for the players to participate, it's a community event that allows the young hockey players of Minnesota a chance to see their heroes up close. A number of charities benefit from the proceeds of the league and have the chance to continue to spread awareness about their initiatives through their partnership with the league. In the end, it doesn't matter who won or lost as much as how this league continues to make a positive impact on the community and does it ever.