2022 TRIA vs Tradition
John Scott Cup Final: Tradition Takes On TRIA For Da Beauty League Title
John Scott Cup Final: Tradition Takes On TRIA For Da Beauty League Title
The John Scott Cup is on the line as Tradition takes on TRIA in Da Beauty League's finale.
Aug 24, 2022
by Chris Peters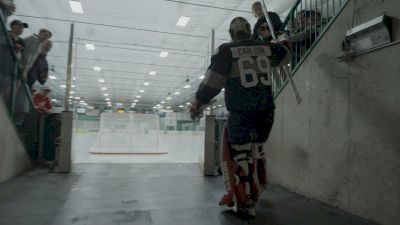 It all comes down to this. After six weeks, nearly 30 games, hundreds of goals, dozens of highlights and even one fight, two teams remain in Da Beauty League. The John Scott Cup is on the line Wednesday night at Braemar Arena in Edina, Minnesota, as TRIA meets Tradition in Da Beauty League's final.
Oddly enough, these were the two teams that kicked off the 2022 Da Beauty League season as Tradition met TRIA in the opening game back on July 13. That was one of the more tightly played games, but Tradition managed to earn an 8-7 victory. TRIA did manage to pick up a 4-3 win in the only other meeting between these two clubs in what was the lowest-scoring game of Da Beauty League season.
These were the top two teams in the league based on record and goal-differential throughout the season. Now they'll meet for summer hockey supremacy and yearlong bragging rights before they head off to their respective professional and college teams.
While Da Beauty League may be summer hockey, the intensity has really ramped up as the coveted John Scott Cup is on the line.
How Tradition Got Here
Tradition went wire to wire as Da Beauty League's top team, finishing the regular season with a 7-2 record and a plus-29 goal differential. That gave them the top seed heading into the John Scott Cup Semifinals and they made the most of it. With a semifinal matchup against Element, Tradition wasted no time in getting their high-powered offense going as Tyler Pitlick and Nick Bjugstad got Tradition off to a quick 2-0 lead.
From there, Tradition never looked back. They scored at will over the course of the game, beating Element 12-3. Pittsburgh Penguins forward Teddy Blueger stole the show with seven total points in the game including four goals and three assists. And then, as the game neared its conclusion, Blueger completed a Gordie Howe Hat Trick by getting into a heated fight with Element's leading scorer, Vinni Lettieri.
"tHe pLaYerS dOn'T eVeN cArE aBouT dA BeaUtY LeAUGe"

I'll just leave this here...😳 pic.twitter.com/pXCKkm27jA

— Da Beauty League (@DaBeautyLeague) August 23, 2022
There are almost never fights in Da Beauty League, but this one was a legit scrap that ended with Lettieri bloodied. So don't try to tell these guys it's just summer hockey. The battle for the John Scott Cup is real.
Blueger was one of Tradition's top scorers throughout Da Beauty League season. He had 20 points in seven games to finish second on the team during the regular season, but when you add in his seven-point performance in the semis, Blueger is scoring at a 3.3 points-per-game pace.
Tradition is a team that can absolutely score in bunches.
How TRIA Got Here
After finishing the regular season 6-3-0, TRIA had a date with Team BIC in the John Scott Cup Semifinals. Jason Zucker got the scoring started and before anyone could blink, TRIA had a 5-0 lead after the first half. BIC stormed back a bit in the second half with three straight goals, but the hole was too deep to get out of. Then TRIA piled on five unanswered goals to secure a 10-3 victory and their spot in the John Scott Cup Final.
Zucker, Sammy Walker and Johnny Brodzinski each had four points in the game, while recent Chicago Blackhawks signee Jaxson Stauber posted 24 saves in what was only his second game of Da Beauty League season.
Shot goes ⬆️ bar goes ⬇️ Sammy Walker putting on a clinic out there 👀

🎥: @FloHockey
📺: https://t.co/mqzJALTjYa#mnwild | @TRIAOrthopedics pic.twitter.com/IykALeZJes

— Da Beauty League (@DaBeautyLeague) August 23, 2022
TRIA averaged 8.1 goals per game throughout the regular season. Their offense has been spread out a lot more throughout the season, with a number of players contributing a high number of points. Defensemen Jimmy Schuldt and Nate Schmidt have been among the most productive defensemen in the league this year. The team also got a boost late in the season when veteran NHLer Jason Zucker returned to Da Beauty League and immediately made his presence felt with 11 points in three games to close out the regular season.
TRIA also added longtime NHLer, Stanley Cup Champion and Canadian Olympic gold medalist Eric Staal to the mix for the end of the season. So this should be a star-studded affair to close out Da Beauty League's 2022 campaign.
Women's Hockey Showcase
Before the John Scott Cup battle commences, Da Beauty League will be hosting a women's hockey showcase at 6 p.m. CT. Several players from the Premier Hockey Federation's Minnesota Whitecaps and a number of notable women's college hockey players will square off as "Minnesota Whitecaps Royal" and "DaBL OG Futures."
.@WhitecapsHockey in-game commentary is unmatched 😅

⏰ Come watch the Whitecaps play right before the John Scott Finals tomorrow a Braemar!#GrowTheGame | #daBL pic.twitter.com/LMqMHpK7Da

— Da Beauty League (@DaBeautyLeague) August 23, 2022
Among the players scheduled to compete is U.S. Olympic gold medalist Sidney Morin, who signed with the Whitecaps in the spring and will play in her first PHF season in 2022-23. Morin was a four-year standout at the University of Minnesota Duluth before embarking on a professional career that has seen her play in Sweden, Switzerland and now the PHF. She was part of Team USA's magical run to the gold medal at the 2018 Olympics in PyeongChang.
Minnesota has long been one of the biggest women's hockey hotbeds in the United States. It is one of the primary feeder states to all top women's NCAA programs and the U.S. Olympic Women's Hockey Team is almost always heavily populated by Minnesota-born players.
FloHockey will also be carrying this game live in addition to the John Scott Cup Finals.
---
Be sure to follow @DaBeautyLeague on Twitter and @dabeautyleague_official on Instagram.