2022 John Scott Cup Semi-Finals
Da Beauty League John Scott Cup Playoffs: What, Who And How To Watch
Da Beauty League John Scott Cup Playoffs: What, Who And How To Watch
Da Beauty League's John Scott Cup semifinals kick off Monday night on FloHockey.
Aug 22, 2022
by Chris Peters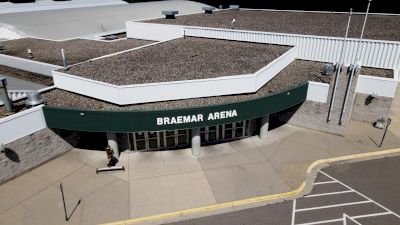 After six weeks of the best summer hockey you'll see anywhere, Da Beauty League's season is finally winding down. After the nine-game campaign for all six of Da Beauty League's squads, only four remain in the hunt for the coveted John Scott Cup. And you'll be able to see it all right here on FloHockey.
Tradition finished the season with seven wins and two losses to take first place heading into the postseason. They'll meet Element, which finished with a 5-3-1 record to finish in third place in the league. The other matchup will include Team Bic, which secured the last semifinal spot with a 4-5-0 record to finish fourth in the league, going head-to-head with Team Tria which finished with a 6-3-0 record to finish in second place in the regular season.
Here's what you need to know before the action gets rolling Monday night. You can find more details on how to watch, right here.
Tradition (7-2-0) vs. Element (5-3-1) -- 6 p.m. CT
During the regular season, Tradition and Element met just once. That game was a bit of a lopsided affair as Tradition rolled to an 8-2 win. Erik Haula had a goal and four assists for Tradition, while Noah Cates and Teddy Blueger each scored a pair of goals in the game. Tradition was also backstopped by Ethan Haider, who made 23 saves in the game, but is not expected to be in Tradition's lineup for this semifinal matchup. Veteran pro goalie Zane McIntyre is currently the listed start for Tradition.
While Element may have lost the first meeting, they do boast the league's leading scorer. Vinni Lettieri, who signed with the Boston Bruins this offseason, is leading all Da Beauty League players with an astonishing 34 points in league play. The next closest player is Noah Cates, who has 21 points. Lettieri appeared in all nine games for Element and averaged a league-best 3.8 points per game which includes a league-leading 24 goals scored.
Element also has Edina's own Steven Fogarty who has 21 points this season, tied with Tradition's Cates for second in the league behind Lettieri.
Muscled away! 💪 @cates_noah gets the nightcap underway.

🎥: @FloHockey
📺: https://t.co/mqzJALTjYa#BringItToBroad | @TraditionCo pic.twitter.com/CAAyyF4d4z

— Da Beauty League (@DaBeautyLeague) August 16, 2022
So what I'm trying to say is, we should probably be expecting an awful lot of goals in this particular semifinal matchup.
TRIA (6-3-0) vs. BIC (4-5-0) -- 7:15 p.m. CT
These two teams have met twice over the course of the DBL season and TRIA managed to skate off with a victory both times. The most recent meeting between the two clubs was a much tighter affair, however, with TRIA narrowly escaping with a 10-9 victory in one of the higher-scoring games of the season.
In that matchup just last Monday, Max Zimmer and C.J. Seuss each had five points, while New York Rangers star K'Andre Miller had two goals and two assists for BIC.
When in doubt, find @kandre_miller 👀

🎥: @FloHockey
📺: https://t.co/mqzJALTjYa#NYR | @BICRazors pic.twitter.com/NBpl3zHMgn

— Da Beauty League (@DaBeautyLeague) August 15, 2022
TRIA, however, had a five-point performance from 2022 U.S. Olympian Aaron Ness and got four-point nights from Blake McLaughlin and Jonny Brodzinski.
BIC is expected to have the goaltending services of Dallas Stars No. 1 Jake Oettinger, who turned in one of the best goaltending performances of the 2022 Stanley Cup Playoffs. That could help give them the boost they need in this big-time John Scott Semifinal.
TRIA, meanwhile, has Da Beauty League's top scoring defenseman at their disposal. Jimmy Schuldt of the Buffalo Sabres organization, has put up 18 points over nine games this season.
What They're Playing For
All four teams have one goal in mind -- The John Scott Cup. The winners of Monday night's games will advanced to the championship game on Wednesday night, which we'll have for you live on FloHockey.tv at 7 p.m. CT.
Congratulations to team @jimmyjohns on winning Da John Scott Cup ‼️🏆

Thank you to the fans for all your support this summer. We'll see you again soon! 👊 pic.twitter.com/EJ6QRmcZ91

— Da Beauty League (@DaBeautyLeague) August 26, 2021
Team Jimmy John's won the Cup last season, while TRIA and BIC are among past champions of the most coveted prize in summer hockey.
You won't want to miss a second of the action. And if you need to catch up, you can see all the highlights and FloHockey's Da Beauty League content from throughout the season right here.
---
For more on Da Beauty League, be sure to check them out on Twitter: @DaBeautyLeague and on Instagram: @dabeautyleague_official