IIHF
Top 22 Players From 2022 World Junior Championship
Top 22 Players From 2022 World Junior Championship
Chris Peters breaks down which players had the best performances at the 2022 World Junior Championship.
Aug 21, 2022
by Chris Peters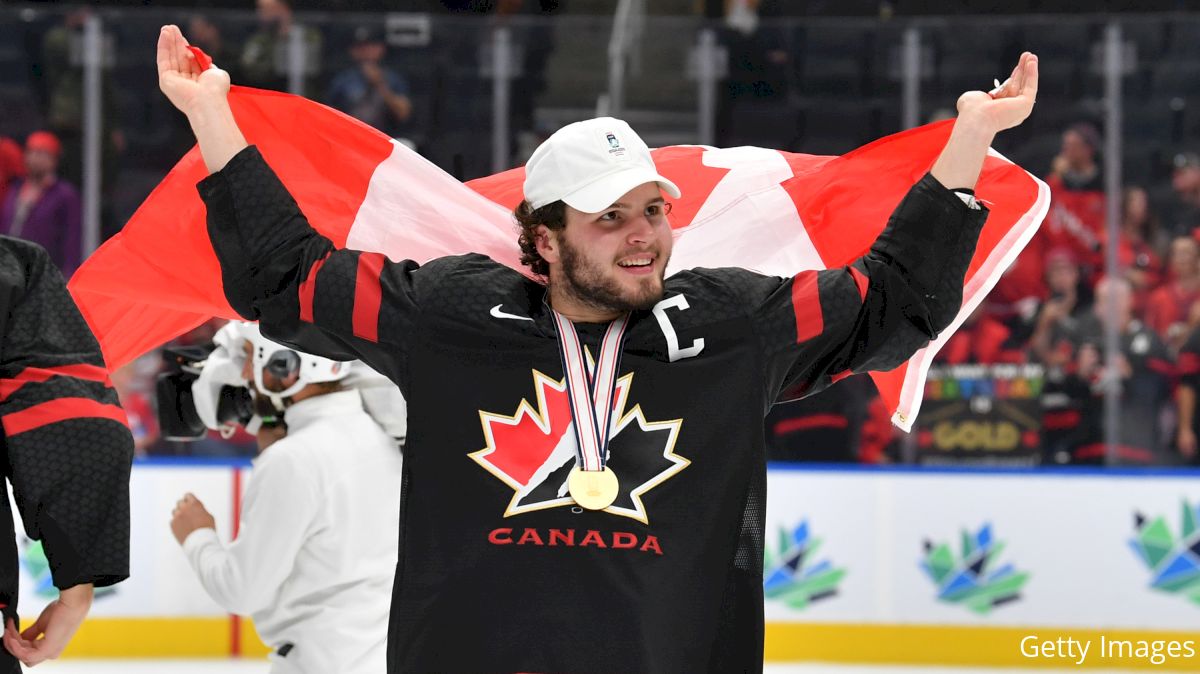 EDMONTON – The most unique World Junior Championship ever held is now in the books. Canada secured its 19th gold medal in the most dramatic fashion and gave what was a kind of weird tournament an especially memorable ending.
I was on scene for the tournament and though an unexpected bout with COVID kept me out of the arena for a few days, I still watched almost every second of every game in the tournament with the first two and last three days live and the rest on video. In order to put a bow on my coverage of this tournament, I wanted to give fans a glimpse of who I thought put together some of the best performances of this tournament as I saw it.
So here are the top 22 performances of the 2022 World Junior Championship as I saw them.
1. Mason McTavish, C, Canada (ANA) -- There's not much you can say that hasn't already been said about Mason McTavish's World Junior Championship. It will go down as one of the best individual performances in the history of the tournament with multiple signature moments, including his soon-to-be iconic game-saving swat of Topi Niemela's attempt in overtime. Beyond that, however, McTavish had 17 points in the tournament, was Team Canada's captain and was an absolutely dominant force from his first shift to his last. He was one point away from tying the single-tournament record for points by a Canadian at the World Juniors, but instead will have to settle with being tied for third with some guys named Wayne Gretzky and Eric Lindros. McTavish should expect to go into Anaheim Ducks camp ready to grab a roster spot and the Ducks should be ready to have their former No. 3 pick be an everyday contributor pretty quickly.
SAVE OF THE YEAR. MASON MCTAVISH. #WORLDJUNIORS pic.twitter.com/mR1UaeULcN

— BarDown (@BarDown) August 21, 2022
2. Jesper Wallstedt, G, Sweden (MIN) -- Named the tournament's best goaltender by the directorate and the media's all-star selection, Wallstedt was the easy choice for those honors. The Minnesota Wild first-rounder from 2021 had a .940 save percentage and did everything he could to help Sweden win except score a goal. The Swedes allowed just one five-on-five goal during the playoff round and Wallstedt just got better and better and better as the tournament went on. As he said after Sweden won bronze, the timing of this tournament was perfect for him to be able to go into Minnesota training camp on a high note as he is about to embark on his first season of pro hockey in North America.
3. Olen Zellweger, D, Canada (ANA) -- Canada's best defenseman in the tournament and the highest scorer among all blueliners with 11 points, Zellweger made his impact felt in every game. He was an integral part of Canada's top power-play unit that was unstoppable until the final. Beyond that, Zellweger played big minutes, was Canada's most skilled defenseman and made a ton of plays. Additionally, Zellweger led the tournament with a plus-14 rating. His rapid maturation over the last two seasons has been remarkable to watch.Meanwhile, he is still eligible to play for Canada in the next World Juniors. He might even be wearing a letter for that squad.
4. Emil Andrae, D, Sweden (PHI) -- Sweden's offensive woes was one of the stories of the tournament, but Andrae was the one player that didn't seem to have much of a problem generating points. Andrae finished as Sweden's top scorer with eight points, including four goals. It seemed like he was always able to make a big play for them at either end of the ice. He scored big goals, made some big defensive plays and was just competitive in all zones. He's not a tall player, but he is physically quite strong which makes him hard to knock off the puck and quite effective defensively. You can see why Sweden named him their captain.
5. Jan Mysak, RW, Czechia (MTL) -- The heart and soul of the Czech team that finished fourth in the tournament, Mysak seemed to only score goals that mattered and he scored five of them in the tournament. He finished with eight points and was an all-star selection for the tournament. Mysak has matured greatly in the years I've been watching him. This tournament, he was a presence in every game, and an offensive driver as this Czech team managed to overachieve despite some stumbles along the way.
6. Logan Stankoven, C/W, Canada (DAL) -- I think he got overshadowed a bit by some of the bigger names, but the reigning CHL Player of the Year was one of Canada's best players throughout the tournament and ended up making an absolutely tremendous play to set up the gold-medal-winning goal. Stankoven finished fourth in tournament scoring with 10 points including four goals and six assists. He seemed to make something happen every game, either with good quickness, his high-end puck skills or outright tenacity. Stankoven may lack size, but he plays so hard and has such tremendous skill that he's difficult to contain.
TEAM CANADA IS THE 2022 WORLD JUNIOR CHAMPION! #WorldJuniors pic.twitter.com/n1P5VAM67V

— TSN (@TSN_Sports) August 21, 2022
7. Joakim Kemell, RW, Finland (NSH) -- The second-leading scorer of the tournament and an all-star selection, Kemell finished with 12 points. He scored four goals including the game-tying goal in the championship game on a perfectly-executed one-timer. Despite technically being an under-ager for this tournament, he was on Finland's top scoring line and was one of its real drivers. He made good decisions with the puck on his stick and was able to create a little bit offensively as well.
8. Kent Johnson, LW, Canada (CBJ) -- Owner of two of the most memorable goals of the World Juniors, Johnson's tournament started a little slow, but ended with a bang. One of the most highly-skilled players in the entire event, Johnson scored with The Michigan move early in the tournament and then showed his tremendous finishing ability on the goal that gave Canada the gold medal. Johnson finished the tournament with nine points and seemed to only get better as the event progressed.
Kent Johnson puts Canada up late in the first with the Michigan! #WorldJuniors pic.twitter.com/CaS79vMuc8

— TSN (@TSN_Sports) August 13, 2022
9. Kasper Puutio, D, Finland (FLA) -- The tournament directorate award winner as best defenseman, Puutio was also named one of Finland's best three players in the tournament by the team. Puutio scored four goals and had seven points while averaging nearly 22 minutes per game. He was a power play weapon and also scored the only goal in Finland's 1-0 win over Sweden in the semifinal. Puutio's offensive output was one of the pleasant surprises of the tournament as he was able to showcase the full complement of his skills.
10. Aatu Raty, C, Finland (NYI) -- With 10 points in the tournament, Raty was Finland's second-leading scorer and tied for fourth in the tournament. He was the driving force of Finland's top scoring line and was difficult to contain for much of the tournament. After getting cut from Finland's team last year, Raty's resurgence during the 2021-22 season showed that his underwhelming draft campaign may have been a fluke. He had a big year in Finland's top pro league and now has a tremendous showing at the World Juniors among his peers to prepare himself for the next step of his career. His physical strength on top of his skill really stood out. If he continues to develop even more power in his game, he should be able to score at the NHL level as well.
11. Connor Bedard, LW, Canada (2023) -- Canada's youngest player had a tournament to remember, finishing with eight points which is good for the third most points by a U17 player in a single World Junior Championship in the event's history. Wayne Gretzky and Robert Reichel are the only two that scored more at the same age. Bedard moved down Canada's lineup as the tournament progressed, but he played a ton in the gold-medal game and was on the ice during the critical sequence where McTavish saved the game. In fact, Bedard was right there trying to help keep that puck from bouncing in. The thing that stood out most about the projected No. 1 pick for the 2023 draft is that his confidence level is soaring. He is unafraid to shoot from anywhere and with how well he shoots, it feels like it always has a great chance to go in. He finished the tournament with four goals.
What. A. Shot. Connor Bedard 👀🚀

🇨🇦 3 🇫🇮 0 Period 1 #WorldJuniors2022

🎥: @TSN_Sports pic.twitter.com/SVxxWpQDFk

— SiriusXM NHL Network Radio (@SiriusXMNHL) August 15, 2022
12. Roby Jarventie, RW, Finland (OTT) -- A power-play force, Jarventie was named one of Finland's three best players in the tournament by the team. He scored four goals, all on the advantage, but also made key plays at five-on-five. Jarventie has learned to effectively use his size along with his skill to make himself a greater force offensively. He finished the tournament with nine points and played well enough that the opposition always had to be aware when he was on the ice.
13. Topi Niemela, D, Finland (TOR) -- He was a whisker away from joiining Kasperi Kapanen and Rasmus Ristolainen as Finland overtime heroes, but McTavish swept his chance off the line. It would have been Niemela's first goal of the tournament, but despite that close miss, Niemela was essential to Finland's World Junior hopes. He had six assists and averaged nearly 23 minutes per game as one of the tournament's most utilized defensemen. He played nearly 26 minutes in the gold-medal game and assisted on the game-tying goal. Niemela is simply a mature, stable, smart puck-moving defenseman who can take care of his own end. Finland doesn't get to where they are without his play.
14. Luke Hughes, D, USA (NJD) -- Team USA's tournament had a disappointing finish and so did Hughes's, as he was injured early in the quarterfinal game and that limited his best trait – his skating. Before that, however, Hughes looked like the best defenseman in the tournament. He had six points, which was good for fifth among all defensemen. He defended well throughout the tournament, kept pucks moving north and was a goal-scoring threat from the point. He should be in for a big, big year at Michigan and is eligible to return to Team USA in December.
The eagle is back. #WorldJuniors 🇺🇸 pic.twitter.com/9wRaRMmqGn

— USA Hockey (@usahockey) August 10, 2022
15. Dylan Garand, G, Canada (NYR) -- Starting all games but one for Canada, Garand wasn't always tested. However, I thought the gold-medal game was his best performance of the tournament and even if McTavish bailed him out on the save of the tournament, Garand always gave Canada a great chance to win with his play. He finished the World Juniors undefeated and posted a .925 save percentage. There were a couple of shaky moments early in the tournament, but when it mattered most, he was as dialed in as he'd been all tournament and the end result was not a fluke.
16. Aleksi Heimosalmi, D, Finland (CAR) -- A crafty puck-mover with excellent mobility, Heimosalmi scored in the gold-medal game and finished the tournament with seven points. His ability to skate pucks out of trouble and create openings by walking the offensive blue line were important to helping Finland generate offense. He's not the biggest guy, but he knows how to use his skating and his puck movement to make positive plays.
🚨 @leijonat is coming back!

Aleksi Heimosalmi gets Finland's 1st goal of the game 4:09 into the 3rd. #WorldJuniors 🏆 #CANFIN pic.twitter.com/iWuxX5fbr7

— IIHF (@IIHFHockey) August 21, 2022
17. Jiri Kulich, RW, Czechia (BUF) -- Finishing with seven points in the tournament, Kulich was an important piece to Czechia's run to fourth place. Despite being an underager, he was a top-line player and was able to hang with Mysak throughout the tournament. They made each other better. Beyond the offense, Kulich's competitiveness and hustle were standout traits that made him more successful in the tournament.
18. Thomas Bordeleau, C, USA (SJS) -- Team USA's leading scorer in the tournament with eight points over five games, Bordeleau was a jack of all trades for the U.S. His two-way play, faceoff prowess and high-end skill made him a factor in all three zones. USA leaned heavily on him and he mostly delivered even if the Americans had a much earlier than expected exit.
19. Carter Mazur, RW, USA (DET) -- Tied for second among all goal scorers at the WJC with five, Mazur came up with several big goals for Team USA. He was used in the bumper position on USA's top power play and that was a role he played well. On top of the goal scoring, Mazur played a competitive, complete game that allowed the U.S. to rely on him in many different situations.
20. Fabian Lysell, LW, Sweden (BOS) -- One of the quickest players in the tournament, Lysell was a continual threat with his speed. He was able to back down defenders, take them wide or chip pucks in and win races. He scored some really nice goals including an incredible wraparound in the bronze-medal game. He still needs to get stronger in order to make a more consistent impact, but he's comfortable using his speed and quick hands to make defenders miss often. He finished with two goals and four assists.
WRAP AROUND GOAL! Fabian Lysell kicks things off for @Trekronorse!#SWECZE #WorldJuniors pic.twitter.com/dUsF9B8g10

— IIHF (@IIHFHockey) August 20, 2022
21. David Spacek, D, Czechia (MIN) -- Named one of Czechia's three best players in the tournament, Spacek played big minutes and got a lot of tough matchups. He's a defensively-responsible, mature player who used physicality and a good defensive stick to his advantage. Spacek also was able to competently move pucks and help aid the Czech transition by getting pucks up ice to their forwards.
22. Ralfs Bergmanis, D, Latvia (Undrafted) -- Latvia was the best story of the tournament and Bergmanis will go down as one of its central heroes. He led all players in the tournament with an average time on ice of 24:40. He was just always out there. Then he had a hat trick in Latvia's historic win over Czechia that put them into the playoff round. It was Latvia's first ever victory in a preliminary-round game at the World Juniors. He also played big minutes against Swden in the narrow 2-1 loss in the quarterfinal. Maybe there were players that had better overall tournaments, but Bergmanis was among the players most valuable to his specific team.
RALFS BERGMANIS GOES 200 FEET FOR THE HAT TRICK! 🔥🎩🎩🎩

Latvia will win their first ever game in the #WorldJuniors top division preliminary round and finish 3rd in Group A!

🔗: https://t.co/IOqjculoippic.twitter.com/NUoAcF3IQs

— Elite Prospects (@eliteprospects) August 15, 2022
Honorable Mention
Ridly Greig, C, Canada (OTT) -- Had he not gotten injured early in the quarterfinal, he probably would have been among the top five players on this list. I probably still should have listed him anyway, but wanted to spread around the accolades from the tournament to cover a few more teams. That said, Greig is definitely worthy of inclusion because he was excellent in the early goings of the tournament. He had six points through the first four games, provided a physical presence, speed and a dominant two-way game throughout the tournament. Hopefully Greig can recover from his injury soon because he looks like he could push for a roster spot with Ottawa as early as this season. He's not far away.