IIHF
2022 World Juniors: Mason McTavish Saves Canadian Gold In Dramatic OT
2022 World Juniors: Mason McTavish Saves Canadian Gold In Dramatic OT
Canada won the gold medal after OT heroics by Mason McTavish and Kent Johnson.
Aug 21, 2022
by Chris Peters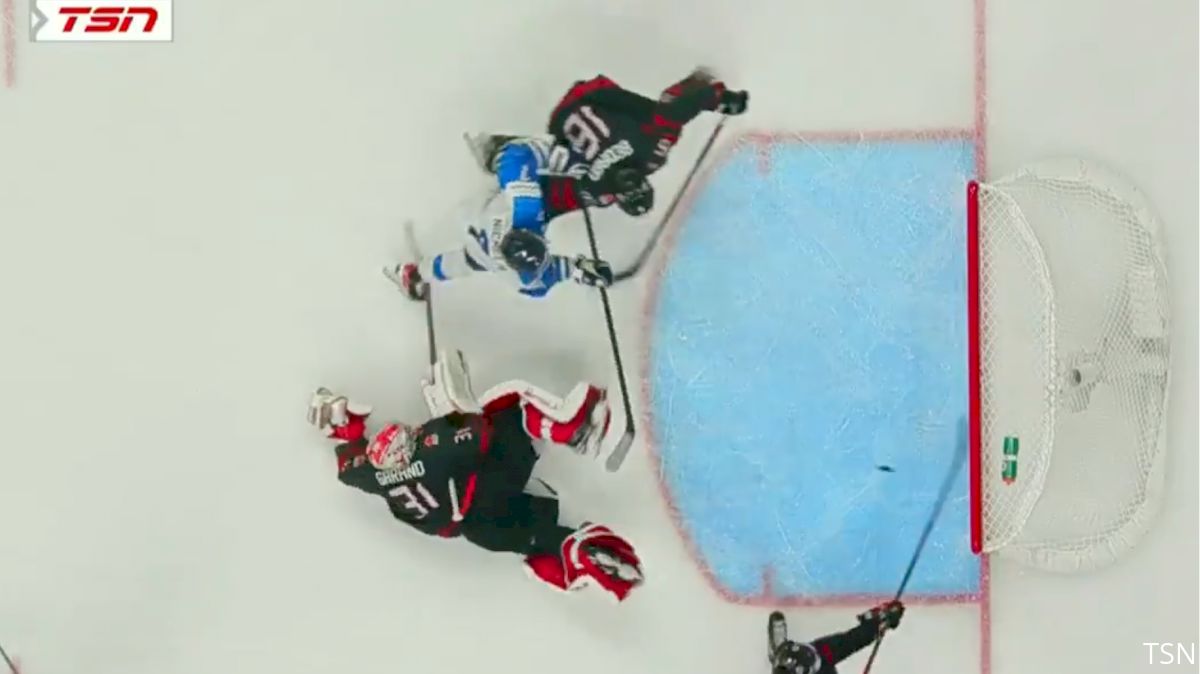 EDMONTON -- In one of the most dramatic finishes you'll ever see at the World Junior Championship, Canada won the gold medal with a 3-2 overtime win against Finland. After Canada had surrendered their 2-0 lead in the third period, Canada captain Mason McTavish made a play in overtime that will allow this championship game to live on as one of the most memorable in the event's illustrious history.
Early in the overtime period, Finland had a golden opportunity to win it all with an odd-man break. Finnish defenseman Topi Niemela chipped a puck over Canada goalie Dylan Garand that started floating to the open net. That was when McTavish dashed to the crease and desperately swatted at the puck, knocking it out of mid-air and straight down. Luckily for Canada, it stayed on the right side of the goal line and McTavish was able to keep it off the line despite it bobbling. Niemela was so sure it was in, his hands were raised, but it never fully crossed the goal line.
MASON MCTAVISH. THAT IS THE TWEET.#WORLDJUNIORS pic.twitter.com/1wlgnbq1Bm

— TSN (@TSN_Sports) August 21, 2022
Just over a minute after the gold medal was an eyelash from being Finland's, Canada's Logan Stankoven jumped on a neutral-zone turnover, skated the puck into Finland's zone and managed to get a pass over to Kent Johnson despite taking contact. The Columbus Blue Jackets 2020 top pick had his first shot stopped by Juha Jatkola, but followed his own rebound and fired it over the goalie to kick off the celebration in Edmonton.
TEAM CANADA IS THE 2022 WORLD JUNIOR CHAMPION! #WorldJuniors pic.twitter.com/n1P5VAM67V

— TSN (@TSN_Sports) August 21, 2022
It was an incredible sequence of events to close out what was an absolutely wild final from start to finish to close out what was one of the most unique World Junior Championship that has ever been or will ever be played.
Canada got the scoring started earlier in the first period after McTavish fired a shot that Jatkola couldn't handle, leaving the rebound for Joshua Roy to clean up and he did not miss. At that point, it appeared Canada was in complete control of the game, but Finland bounced back and put a barrage of shots at Garand to end the opening stanza. He managed to turn all nine aside to give Canada the 1-0 lead after 20 minutes.
The Canadians then looked like they could really get rolling early in the second period as William Dufour fired a hard wrist shot right past Jatkola on the far side, making it 2-0 just 49 seconds into the second period. That triggered a quick timeout by Finland to try and regroup.
A long string of penalty calls -- five straight against the Finns -- during the second period looked like it could sink the away team's chances, especially since they had the worst penalty kill in the tournament coming into the championship game. Amazingly, however, Canada's power play that was clicking at over 57% before Saturday could not find a goal on the advantage.
The third period belonged to the Finns who still had three more penalties to kill over the closing 20 minutes. Defenseman Aleksi Heimosalmi scored to cut the deficit in half just 4:09 into the third. As the halfway point of the period ticked by, the Finns got another great look as Topi Niemela found Joakim Kemell wide open in the left circle. Kemell drilled a one-timer into the open net to tie the game.
🚨 JOAKIM KEMELL TIES IT UP FOR @leijonat WITH 9:14 TO GO IN THE 3RD!#WorldJuniors 🏆 #CANFIN@PredsNHL pic.twitter.com/lfkvJ8Pazy

— IIHF (@IIHFHockey) August 21, 2022
Both teams had a few close calls near the end of regulation, but 3-on-3 overtime was going to be required to decide a winner.
The OT period lasted all of 3:20 but you could have packed a full game's worth of action into it, it seemed like. McTavish made his game-saving play 2:09 into the extra period. Then Johnson ended it 1:11 later.
It was fitting that both McTavish and Johnson had the plays that led this team to victory. They were among the players that are expected to compete for NHL roster spots this fall with the Anaheim Ducks and Blue Jackets, respectively. Most players in their same position opted out of the tournament, but both McTavish and Johnson very quickly made the commitment to play for Canada. Now they're both part of World Junior history in a significant way.
With Saturday's victory, Canada now owns a record 19 gold medals at the World Junior Championship. They also have won four of the last 10, edging Finland and the United States for most gold medals over the last decade as the latter two each have three.
🏆 CANADA IS YOUR #WORLDJUNIORS CHAMPION 🏆@HockeyCanada pic.twitter.com/xl2Eybk077

— IIHF (@IIHFHockey) August 21, 2022
McTavish Named Tournament MVP
Even before Mason McTavish made the play of the tournament, he was the undisputed best player of the event. He collected two points in regulation to push his tournament-leading total to 17 points in just seven games. He tied Hockey Hall of Famers Wayne Gretzky and Eric Lindros for third for the most points scored by a Canadian in a single World Junior Championship.
He was a no-brainer choice for tournament MVP, which is what he was voted by the assembled media. McTavish also won the Directorate Award as the tournament's best forward and was named to the media all-star team.
Joining McTavish among players honored were Finland's Kasper Puutio, who was named the tournament's best defenseman as selected by the directorate, and Sweden's Jesper Wallstedt, who was named the tournament's top goaltender.
The media all-star team also included Canada defenseman Olen Zellweger, Sweden defenseman Emil Andrae and goalie Wallstedt, Finland forward Joakim Kemell, and Czechia forward Jan Mysak.
Sweden Beats Czechia For Bronze
Prior to the chaotic final, Sweden met Czechia in the bronze-medal game. It was a tight game the whole way, but goalie Jesper Wallstedt stood tall and Sweden's offensive game came to them after getting shutout in Friday's semifinal loss to Finland.
The Swedes managed to get a goal in each period to outlast a Czechia squad that had upset the United States in the quarterfinal and at least put up a fight against Canada in their Friday semifinal. In the end, Sweden was able to send off outgoing head coach Tomas Monten with a medal in his sixth and final year at the helm of their U20 program.
Final Stat Leaders for 2022 World Juniors
Top Five Scorers
Mason McTavish (Canada): 8-9--17
Joakim Kemell (Finland): 4-8--12
Olen Zellweger (Canada): 2-9--11
Logan Stankoven (Canada): 4-6--10
Aatu Raty (Finland): 3-7--10
Top Goaltenders By Save Percentage
Jesper Wallstedt (Sweden): .940
Dylan Garand (Canada): .925
Kaidan Mbereko (USA): .921
Juha Jatkola (Finland): .918
Bruno Bruveris (Latvia): .916
Time On Ice Leaders (Per-Game Average)
Ralfs Bergmanis (Latvia): 24:40
Noah Delemont (Switzerland): 23:33
Maksymilian Szuber (Germany): 23:26
Topi Niemela (Finland): 22:58
Simon Edvinsson (Sweden): 22:58