IIHF
2022 World Juniors: Mason McTavish Leads Players To Watch In Semifinals
2022 World Juniors: Mason McTavish Leads Players To Watch In Semifinals
Chris Peters previews Friday's semifinals with players to watch for all four teams remaining at the 2022 World Junior Championship.
Aug 18, 2022
by Chris Peters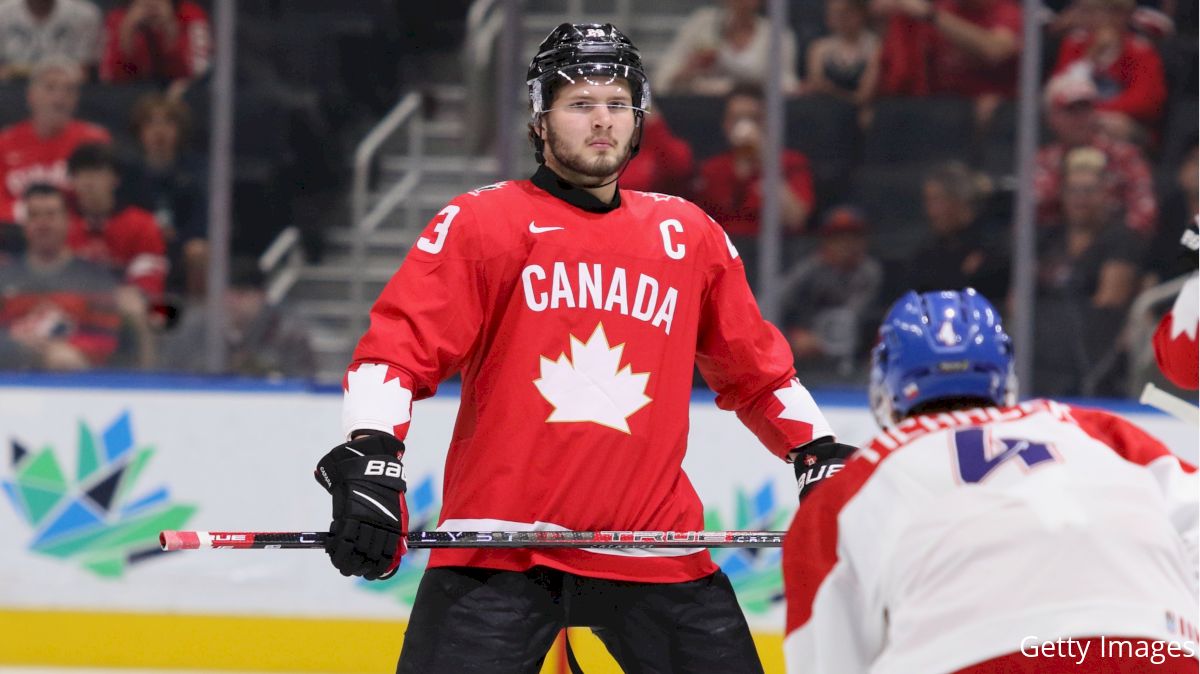 EDMONTON -- The semifinal field is set. After a marathon Wednesday that featured four quarterfinals from 10 a.m. to nearly 11 p.m. local time, only four teams remain in the hunt for the 2022 World Junior Championship gold medal.
Finland started the day with a morning win over Germany, pulling away late for a 5-2 win to be the first team to punch their ticket to the semis. Sweden followed that up with a narrow defeat of Latvia, 2-1, in an early afternoon tilt. Then it was host Canada who defeated Switzerland, 6-3 to advance to the semis on home ice. Lastly, it was Czechia upsetting the United States with a 4-2 win to close out the eventful quarterfinals.
Canada will meet Czechia at 2 p.m. MT Friday, while Sweden will take on rival Finland at 6 p.m. MT.
As we get set for the highly-anticipated semifinals, here's a look at four players from each team who have stood out among their team's most important players at this single-elimination stage of the World Juniors.
Players to Watch for Canada
Mason McTavish, C (ANA) -- The tournament's leading scorer with 14 points over five games, McTavish has been Mr. Everything for Canada so far. While his production is exceptional, his all-around play has made him noticeable in every single game. Offensively, he drives Canada's top line and has had such tremendous precision. He looks like he should be in the NHL tomorrow with how advanced his game looks relative to his peers.
Connor Bedard, RW (2023) -- The odds-on favorite to go No. 1 in the 2023 NHL Draft has not looked like Canada's youngest player. He's been a driving force offensively with three goals and seven points to date. He may have the best shot outside of the NHL right now and you'd be able to put it up against most of the league and he'd still probably be in the top tier. The fact that Bedard only just turned 17 and is as big an offensive threat in this tournament as he is tells you a lot about his outlook. We are looking at the blossoming of one of the league's next great offensive talents.
Mason McTavish to Connor Bedard makes it a 3-0 game! #WorldJuniors pic.twitter.com/YBmN2zIwMv

— TSN (@TSN_Sports) August 15, 2022
Kent Johnson, LW/C (CBJ) -- The owner of the tournament's best goal may not be lighting the scoreboard up as frequently as expected, but he's been a factor in every game he's played. With elite hands and tremendous offensive sense, he makes his linemates better. If Ridly Greig is out of Canada's lineup, the second line has to be a factor for Canada as other teams focus on the McTavish line. Johnson has a goal and four assists thus far, but should be a massive piece for Canada in the semis and beyond as they look to claim another gold medal.
Kent Johnson puts Canada up late in the first with the Michigan! #WorldJuniors pic.twitter.com/CaS79vMuc8

— TSN (@TSN_Sports) August 13, 2022
Olen Zellweger, D (ANA) -- The second leading scorer among defensemen in the tournament with seven points, Zellweger has rewarded Canada for making him one of their top defensemen. His ability to move pucks up and be a factor on Canada's deadly power play helps make them tougher to match up against. Zellweger will be eligible for Team Canada again in the winter for the 2023 WJC, but he's not waiting to be an impact player with his performance in this event.
Players to Watch for Finland
Roby Jarventie, LW (OTT) -- Finland has scored a lot, but their attack has been balanced. Even so, Roby Jarventie has taken a big step in a positive direction with his four goals to lead the team. He's also picked up four assists and currently sits tied for third in tournament scoring with nine points. Jarventie is a big body with improved skill and tremendous net-sense to exploit goaltenders and find the right play.
Finland @leijonat trims the Czech @narodnitym lead to 2-1 with a one-timer from Roby Jarventie. Second period coming up. #WorldJuniors pic.twitter.com/JuZD8KOrbL

— IIHF (@IIHFHockey) August 11, 2022
Joakim Kemell, RW (NSH) -- Leading Finland with 11 points, Kemell is typically more of a goal scorer, but he's been equally as valuable as a set-up man. The highly-skilled first-rounder from this summer's draft has a tournament-best eight assists so far and has proven he can produce well off the rush, on the power play, at even strength or any other way you need him to. Finland needed one of their younger players to step up and Kemell has in a big way.
Aatu Raty, C (NYI) -- After his breakout season in Finland's top pro league in 2021-22, Raty has kept it rolling right along. His size, strength and skill have challenged all of the teams Finland has played to date and it has led to nine points including three goals. While others may get more points, Raty has shown he is the driver of this team's offense.
Aatu Raty breaks the tie in the 3rd! #WorldJuniors pic.twitter.com/BkFNyTuqmB

— TSN (@TSN_Sports) August 11, 2022
Topi Niemela, D (TOR) -- Averaging 22:38 of ice time so far in the tournament, Niemela has been a steady, stable presence for the Finns. His offense hasn't popped like I thought it would, but he does have four assists and can play in all situations. The ice time he's getting shows how important he is to his team and he's delivered positive plays more often than not when he's on the ice.
Players to Watch for Sweden
Emil Andrae, D (PHI) -- I think Andrae has been the best defenseman in the tournament to date. He is the top scorer for both his team and all defensemen in the event with eight points. Beyond the production, though, Andrae is one of his team's most reliable defenders, playing strong in his own end and winning his fair share of battles. His game has matured greatly in the last two years and has allowed him to lead Sweden as not only their captain, but their best player in this tournament.
Midway through the 3rd period and its 2-1 for Sweden. Emil Andrae freezes the defender with a fake and rifles it into the back of the net putting @trekronorse back up by 1. #WorldJuniors pic.twitter.com/QGcvJIP7v0

— IIHF (@IIHFHockey) August 17, 2022
Jesper Wallstedt, G (MIN) -- Though he's had some shaky moments in the tournament, Wallstedt is the most talented goalie in this tournament and very well could be the best NHL netminder to come out of this group. He's mature, poised and reliable. Sweden clearly plays with more confidence when he's in the net. He has a .922 save percentage through three starts and could be the difference if Sweden continues to struggle with goal scoring.
Fabian Lysell, LW (BOS) -- Among the swiftest forwards in this tournament, Lysell continues to be a menace in transition. He creates offense with his speed and backs down defenders. While he's looked threatening, the numbers have only marginally translated as he has five points through five games.
Sweden's Fabian Lysell RIPS it into the Austrian net for his first goal of the 2022 #WorldJuniors, @Trekronorse in control up 5-0 vs. Austria pic.twitter.com/ifnIep36Zg

— IIHF (@IIHFHockey) August 12, 2022
Simon Edvinsson, D (DET) -- There is speculation Edvinsson is playing through some sort of injury as he hasn't necessarily been as effective as expected, but he still logs big minutes and Sweden looks better with him on the ice than off of it. The massive defenseman has some of the best range of any player in this tournament and as he gains a little more maturity offensively, he could be among the best blueliners to come out of this event when we look back on it.
Players to Watch For Czechia
Jan Mysak, RW (MTL) -- Clearly the heart and soul of this Czech team, it seems like Mysak never leaves the ice. He has averaged 21:21 of ice time throughout the tournament and it seems like all four of the goals he's scored in this tournament have been meaningful. He's played with a lot of competitive fire, some jump and a good dose of skill. I don't know that he's ever put it all together quite like he has in this tournament, which is a good sign for his outlook.
Jan Mysak streaks through the middle and BURIES it for a 4-2 Czechia lead! #WorldJuniors pic.twitter.com/hlyYpDi4wZ

— TSN (@TSN_Sports) August 9, 2022
David Jiricek, D (CBJ) -- He's barely produced at all, just one assist in this tournament, but Jiricek plays big minutes and is always out there against tough matchups. His size, range and mobility have all allowed him to defend at a high level and give his team a chance in games. He's one of the few players Czechia has that looks like he could play on any team in this tournament.
David Spacek, D (MIN) -- Although Jiricek has the higher pedigree, Spacek has been this team's most important defenseman. He is an excellent defender and has managed to do some of his best work in his own zone. He blocks shots, wins board battles and protects the net-front well, all while averaging 21:45 of ice time. His game has really come a long way in these last few years.
Unbelievable defensive play by David Spacek to save a goal as Matt Coronato had a wide open net pic.twitter.com/SX2uc7LSaH

— Spoked Z (@SpokedZ) August 18, 2022
Jiri Kulich, LW (BUF) -- A dangerous scoring threat, Kulich was one of Czechia's best players against the U.S. He never quits on a puck and when the puck is on his stick, he's a threat to create some offense. He has just five points in the tournament, but has generated a lot of chances throughout. He has a really solid skill level, but he also simply competes and plays with a lot of heart.