IIHF
World Juniors: Breaking Down USA's Upset Loss To Czechia In Quarterfinal
World Juniors: Breaking Down USA's Upset Loss To Czechia In Quarterfinal
After going undefeated in the preliminary round, USA gets upset by Czechia, 4-2.
Aug 18, 2022
by Chris Peters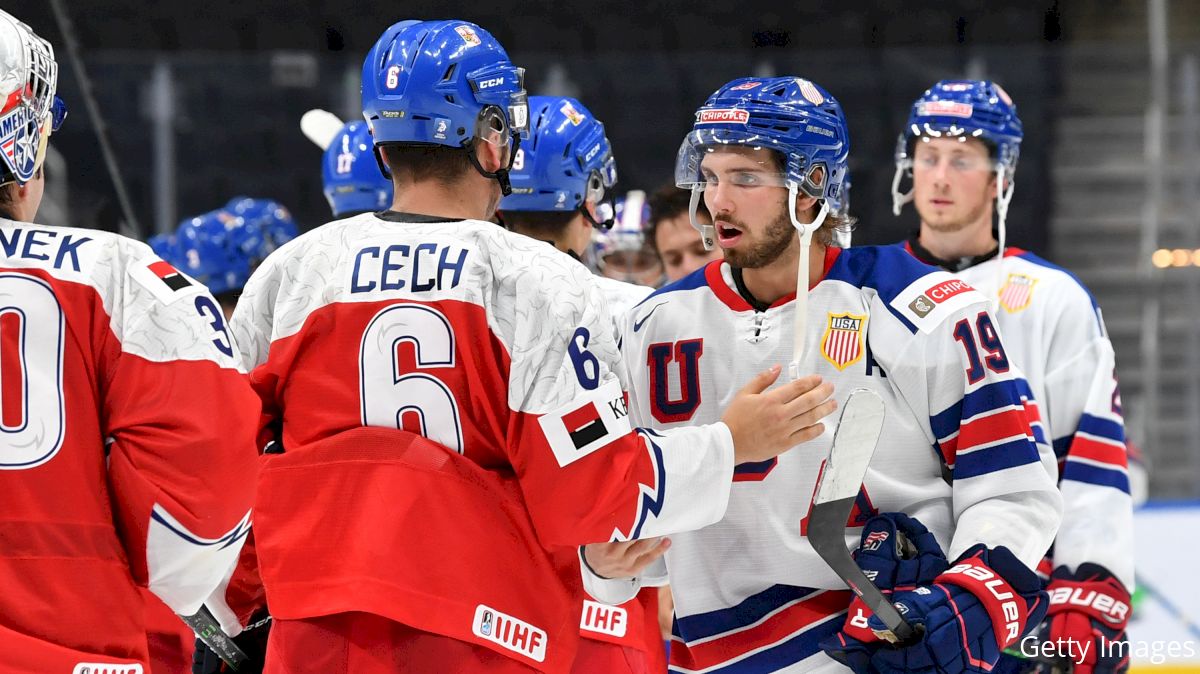 EDMONTON -- A perfect 4-0-0-0 record in the preliminary round, the top seed in Group B and after one quarterfinal game, the U.S. National Junior Team will not be playing for a medal of any color at the 2022 World Junior Championship. The U.S. was stunned by Czechia in a 4-2 defeat in the last of four quarterfinals played Wednesday at Rogers Place.
Czechia, which surprisingly finished fourth in Group A after a stunning loss to Latvia in their final preliminary-round game, managed to suffocate the Americans' vaunted team speed with tremendous play through the neutral zone. Additionally, trouble found Team USA early when star defenseman Luke Hughes (NJD) was clearly hobbled by a lower-body injury as he appeared to tweak something in one of his legs early on in the first period. That hampered Hughes the rest of the game, though he tried to play through the injury.
The Americans still managed to strike first when a bad bounce off the wall put the puck on Matt Coronato's (CGY) stick and left Czech goalie Tomas Suchanek out of position. Coronato whirled the puck to the net and though Suchanek got his stick on it, Logan Cooley (ARI) managed to slap home the rebound to make it 1-0.
We'll take it! #WorldJuniors 🇺🇸 pic.twitter.com/1BiSZiJxEO

— USA Hockey (@usahockey) August 18, 2022
Czechia didn't wait long to respond as captain Jan Mysak (MTL) scored when he deflected defenseman Jiri Tichacek's shot past U.S. goalie Kaidan Mbereko with just over two minutes to play in the opening period.
The wheels really seemed to fall off in the second period for the U.S. as they struggled to get their game going. Hughes was clearly laboring, but even the healthy players couldn't seem to find a way to cut through the neutral zone as they had so easily earlier in the tournament. The Czech team was content to be more of a counter-punching team and in that second period, they punched hard.
Fourth line forward Petr Hauser gave Czechia their first lead of the game -- which was also Team USA's first deficit of the entire tournament -- with a perfectly-placed wrist shot that caught the inside of where the cross bar and post meet on the far side. That seemed to put the Americans on their heels.
About three minutes later, disaster struck as Jiri Kulich (BUF) took a seemingly harmless shot from just inside the blue line, but Mbereko misplayed it and somehow it dribbled through him and in. In these short tournaments, these are the kind of goals that can really break a team's back. You can't put it all on the goalie, though, when the team simply wasn't generating enough chances. The U.S. had dug itself quite a hole to try to dig out of at this point.
🚨 Matyas Sapovaliv sneaks one through to extend 🇨🇿 Czechia's lead halfway through the 2nd period.

🇺🇸 USA 1 - 3 🇨🇿 Czechia

LIVE NOW: TSN4 | #WorldJuniors pic.twitter.com/zuNDIjEu1w

— TSN (@TSN_Sports) August 18, 2022
The Americans certainly didn't make it any easier on themselves in the final frame. Early in the third period, USA forward Brett Berard, one of the returning players from last year's gold medal team, took a careless slew foot penalty that led to his being ejected from the game. It also meant the U.S. had to kill off a five-minute major penalty, which they managed to do, but that's not a great situation to be in when down two goals.
The U.S. got a bit of a gift midway through the third when Czech defenseman Stanislav Svozil (CBJ) got a major penalty and game misconduct for kneeing Cooley right at the blue line. Cooley initially stayed down for a bit after taking the contact, but said after the game it was more of a charley horse and nothing serious. He did not miss a shift.
Despite a litany of chances, the U.S. managed to put just one puck past Suchanek, a rebound jammed home by Carter Mazur (DET). Team USA created a few more chances, but couldn't find the equalizer they so desperately needed.
With the American goaltender pulled and a faceoff in the Czech zone with about 1:40 to play in regulation, Team USA called timeout and drew up a play. Whatever it was, they weren't able to execute and Kulich picked off a blind pass through the middle by Hughes to score the empty net, essentially ending Team USA's hopes in the game.
"These games are tough," said head coach Nate Leaman. "I thought we struggled to get into our game today. Our first 10 minutes were good, we scored the first goal and I thought that would get us going a little bit. We struggled managing the puck a lot tonight. I give credit to Czech. They play hard, they block a lot of shots, you tip your hat to them."
The Czech players celebrated loudly at the final buzzer, with recent top draft pick David Jiricek (CBJ) essentially grabbing every teammate he could to give a hug to after the game. It has been an absolute rollercoaster for this Czech team throughout the tournament.
THE MOMENT CZECHIA SEALED THE DEAL TO THE SEMIS 🇨🇿 pic.twitter.com/bPury0ZNN7

— TSN (@TSN_Sports) August 18, 2022
No one really expected Czechia to be in this particular matchup to begin with. They had taken Finland to a shootout and played Canada reasonably tough, but the stunning loss to Latvia at the end of the preliminary round put Czech at the bottom of their group. In the end, that may have been what saved them.
"I think we learned a lesson from that game," said Mysak. "[Latvia] wanted it more than us. Today we tried to do the same."
USA had gone perfect in the preliminary round for just the fourth time ever, with all four wins coming in regulation. The other three teams the U.S. accomplished a perfect prelim they had played for medals, winning gold in 2004 and 2017 and losing the bronze-medal game in 2008. This only the second time in the last seven World Juniors that the Americans will finish off the podium. They leave the tournament in fifth place.
"This is one of the closest teams I've ever played on," said USA captain Brock Faber (MIN), who was on the 2021 team that won gold. "It stings, you know. We're going to be taking off early in the morning tomorrow and I may not be able to play with any of these guys again, so it's tough for sure."
Analysis
Czechia's Neutral Zone Play Made The Difference
Team USA had been the fastest team in the tournament by a fairly large margin. Their transition game and forecheck had absolutely killed the first four opponents they faced, including Sweden which remains in the hunt for a gold medal in this tournament. Czechia, however, didn't get themselves caught very often. USA's defensemen was trying to pass through a lot more layers and that led to a lot of turnovers or broken up passes.
"We didn't manage pucks well in the neutral zone," said Leaman. "A lot of those pucks ended up coming back at us and I think that was one of the major differences in the game."
The U.S. just didn't have the urgency they showed in previous games. Center Thomas Bordeleau (SJS) said that for whatever reason, the team lacked energy through the first two periods and by the time they found it, it was too late. Even though Czechia had struggled in the tournament, they had the talent to wait out mistakes and capitalize, which is exactly what they did. They won their share of puck races and battles, too. USA hadn't faced much adversity in the tournament, never trailing in any game previously.
Team USA had 16 shots in the first period, but only 14 over the second and third combined. That second period was remarkably flat for the Americans and as Bordeleau notes, by the time they got it back, there just wasn't enough time for them to climb out of the hole that had been dug.
The Luke Hughes Injury
Luke Hughes said he was injured in a "hockey play" at some point during the first period. It had clearly impacted his skating and he wasn't able to play at his top speed. As a result, his usual D partner Brock Faber (MIN) had to change his game a bit as well. Hughes could still make passes, but he had little burst going up the ice and struggled to pivot, which is a major part of how he plays.
"He talked about how he couldn't skate very well, so I did a lot more of the jumping [up on plays]," said Faber. "It sucks he had to go through that."
The hottest debate on social media throughout the game was whether or not Hughes should come out. Instead, he played over 18 minutes of his 24:27 of ice time in the game over the final two periods. I didn't think he was effective at all in the second, but he really started to get a little more active in the third period, especially when Team USA had an extended power play and he was able to generate from the top of the point.
"You give him a lot of credit trying to play for his country and play through it, but he was clearly missing a step," Leaman said after the game. When asked if he ever considered pulling Hughes out, Leaman said, "Well, he wanted to go, you know. I think he's a winner and you're going to go with your horses."
Hughes never considered asking to be pulled either.
"It's a single game elimination, you're trying to do whatever you can to win," said Hughes after the game.
Hughes also said that he was not sure of the severity and said "we'll see" when asked if he knew if there would be anything long-term to be considered about.
Whether he should have played is up for debate, but it's also hard for a coach to take a player out that feels he can still contribute. He did contribute a fair amount in the third period push to come back, but the errant pass that led tot he empty-net goal by Kulich also came off of Hughes's stick.
Hughes said he's not thinking about the next tournament yet, but he will be eligible to play for USA at December's 2023 IIHF World Junior Championship to be played at it's regularly-scheduled time in Halifax, Nova Scotia, and Moncton, New Brunswick.
Other News, Notes and Observations
Carter Mazur (DET) finished the World Juniors as USA's leading goal scorer with five in the tournament. He was an excellent power play scorer, often set up in the bumper position on USA's top unit. His ability to get inside presence and get pucks to the net was especially important to USA's efforts on the man advantage.
Logan Cooley (ARI) scored a goal, drew a major penalty and also went 13-for-13 at the faceoff dot in USA's loss to Czechia.
USA's three best players of the tournament as named by the team were: Thomas Bordeleau, who led USA in scoring with eight points; Carter Mazur, who led the team in goals scored; and Luke Hughes, who led Team USA's blueliners with six points.
Team USA finished the tournament with a 42.9% success rate on the power play and killed 84.6% of its penalties.
Nine members of this summer World Junior team will be eligible to return for the 2023 World Juniors held at the normal time in December including Logan Cooley, Luke Hughes, Sean Behrens, Charlie Stramel, Kaidan Mbereko, Andrew Oke, Sasha Pastujov, Jack Peart and Red Savage
Elsewhere at the World Juniors
Finland Outlasts Germany
🚨 POWERPLAY GOAL! Roby Jarventie gets his second of the game and puts @leijonat up 4-2 over @deb_teams #WorldJuniors #FINGER pic.twitter.com/822QWbq2je

— IIHF (@IIHFHockey) August 17, 2022
Finland played the first of four quarterfinal games Wednesday morning in Edmonton, taking on an upstart German team that finished third in Group B. Though the game was close for long stretches, Finland managed to pull away late in the third period for a 5-2 win. Ottawa Senators prospect Roby Jarventie was a standout performer with two goals and an assist for Finland.
Sweden Squeaks Past Latvia
Midway through the 3rd period and its 2-1 for Sweden. Emil Andrae freezes the defender with a fake and rifles it into the back of the net putting @trekronorse back up by 1. #WorldJuniors pic.twitter.com/QGcvJIP7v0

— IIHF (@IIHFHockey) August 17, 2022
In a game that was much closer than anyone anticipated, Sweden needed a third-period goal off the stick of defenseman and captain Emil Andrae (PHI) to get by upset-minded Latvia. I don't know that we'd call it an entertaining game between these two teams, but Sweden found a way to win, thanks in part to strong goaltending from Jesper Wallstedt (MIN) and timely scoring.
Canada Advances With Win Over Switzerland
🚨 Logan Stankoven capitalizes on the Swiss turnover to extend Canada's lead in the 1st period.

🇨🇦 Canada 3 - 1 🇨🇭 Switzerland#WorldJuniors pic.twitter.com/xKhNLE0wQq

— TSN (@TSN_Sports) August 17, 2022
On paper it looked like an incredible mismatch and the end result probably doesn't tell the whole story. Canada managed to earn a 6-3 win over Switzerland, riding a four-goal outburst in the first period to be the difference in the game. The Swiss never went away though and Kevin Pasche came on in relief as the team's backup goalie and allowed just one. Unfortunately, Canada had already put up four. Logan Stankoven (DAL) was Canada's player of the game with his two-goal, one-assist performance. The big news out of this game, however, was that Ridly Greig (OTT) left the game after the first period and did not return. He was Canada's third leading scorer and the heart and soul of their impressive third line. That will be a situation worth monitoring.
Canada will meet Czechia in the first semifinal Friday at 2 p.m. MT, while Sweden will take on rival Finland in the second semifinal at 6 p.m. MT. The winners of those two matchups will meet Saturday for the gold medal, with the losers playing for bronze. Stay tuned to FloHockey for a full World Juniors semifinal preview coming soon.
---
For more World Junior Championship news, notes and analysis, follow Chris on Twitter: @chrismpeters